I'm on a quest to catch a fish in each of the 50 U.S. states – and to use each adventure as a means to explore conservation, the latest fisheries research and our complicated connections to the natural world.
Looking at the riffles ahead of me, I could be on a gorgeous trout stream. But the water's a bit too warm and shoal lilies line the bank. I won't find trout here, but the aesthetic is pretty much the same.
A pool of slack water lies above the riffle and I note a dimple in the water, perhaps a feeding fish. I launch my fly – a foam popper that loosely resembles a frog – near the spot. The popper hits with an indelicate splat. The fish doesn't mind. The water boils around it and the foam frog disappears.
I strip my line and raise my rod, tight to a hard-fighting fish. It leaps and shakes, giving me a glimpse of its green, mottled sides. One more shake of its head and my line fell slack. I tugged hopefully but no luck.
It hardly mattered. Already this fish had become one of the favorite species I've encountered: the Bartram's bass.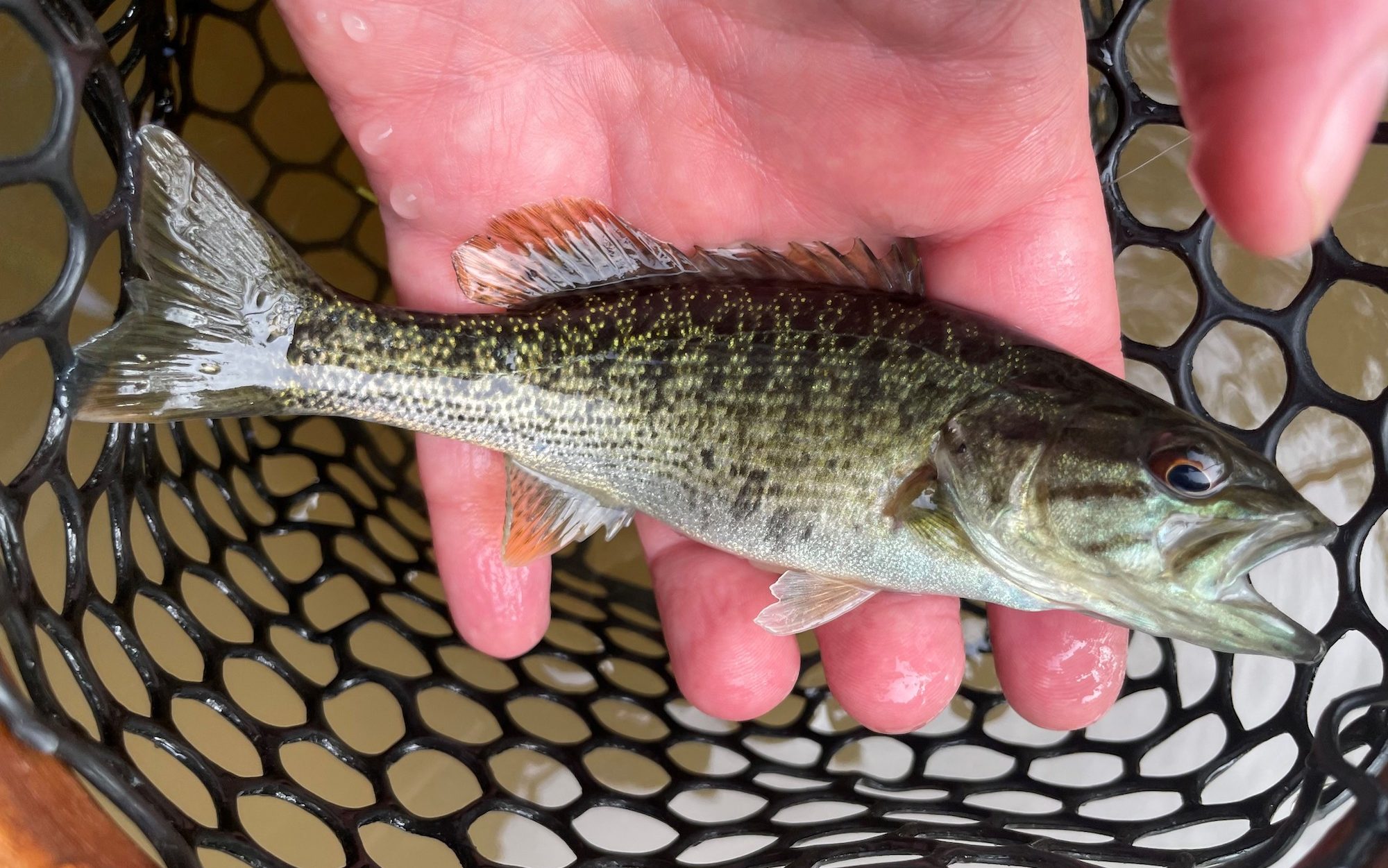 The Bass That Thinks It's A Trout
Bass fishing is arguably the most popular form of fishing in the United States. And bass fishing can be one of life's simple pleasures. Bass fishing also demonstrates that humans have a nearly infinite capacity to overcomplicate things.
A lot of the bass fishing scene today is a far cry from casting lures into a farm pond. It's typified by fast and glittery boats, televised tournaments with logo-clad stars, plastic worms with names that sound like science fiction characters and warehouse-sized stores dedicated to the fish. It's a nearly $3 billion-dollar-a-year industry.
That means the popular bass species – largemouth, smallmouth and spotted – get a lot of attention. It might seem the world of bass fishing has no mystery left. But that's not quite true.
Native bass diversity extends beyond the most popular species. Swimming in waters in Alabama, Georgia, South Carolina and a bit of Tennessee are redeye bass. For many years, these fish were largely unnoticed by anglers.
They often are found in streams and smaller rivers. They don't reach large sizes. Few studied them. In fact, when researchers started looking into redeye bass, they found genetic differences in the fish found in different drainages. Some have proposed that there are as many as 7 redeye species: the Tallapoosa, Chattahoochee, Altamaha, Coosa, Warrior, Cahaba and Bartram's bass.
I've heard some describe the redeye as "the bass that thinks it's a trout."
I could see the parallels with the native cutthroat trout I love to pursue in the western United States. Like cutthroat trout, redeye bass have evolved to adapt to different drainages. They're both often found in small, beautiful, wild streams. And both will hit flies on the surface.
Native Bass and Fly Rods
I pull off a South Carolina country road early on a May morning, plants still wet with dew. I'm meeting two staff with the South Carolina Department of Natural Resources, Will Mundhenke, aquatic education coordinator and Scott Keener, certified fishing instructor. I had met Will at a conference and he invited me to come fish for Bartram's bass, a redeye variety found only in the Savannah River basin of northern Georgia and northwestern South Carolina.
As we string up fly rods, I quickly find that both Will and Scott are kindred spirits, and discussion ranges to native fish conservation, turkey hunting, outdoor ethics and freshwater biodiversity. Diversity that includes redeye bass.
There's a growing angling subculture that specializes in fly fishing for redeye bass, something that makes sense to me but at times seems mystifying to the broader outdoor community. While Bartram's bass can reach 12-14 inches, in most streams an 8-inch fish is a good-sized one.
"They may not be big, but they're such a beautiful fish," says Mundhenke. "And as you'll see, they're found in beautiful places. As an outdoor enthusiast, I'm interested in the overall experience."
Me too. It becomes apparent we could stand by our vehicles talking outdoor topics all day, but we're here to fish. We hike down to a stretch of a small river running through a private-land conservation easement. It is, as advertised, a postcard-worthy stretch of water, with rocky riffles and pools that just look fishy.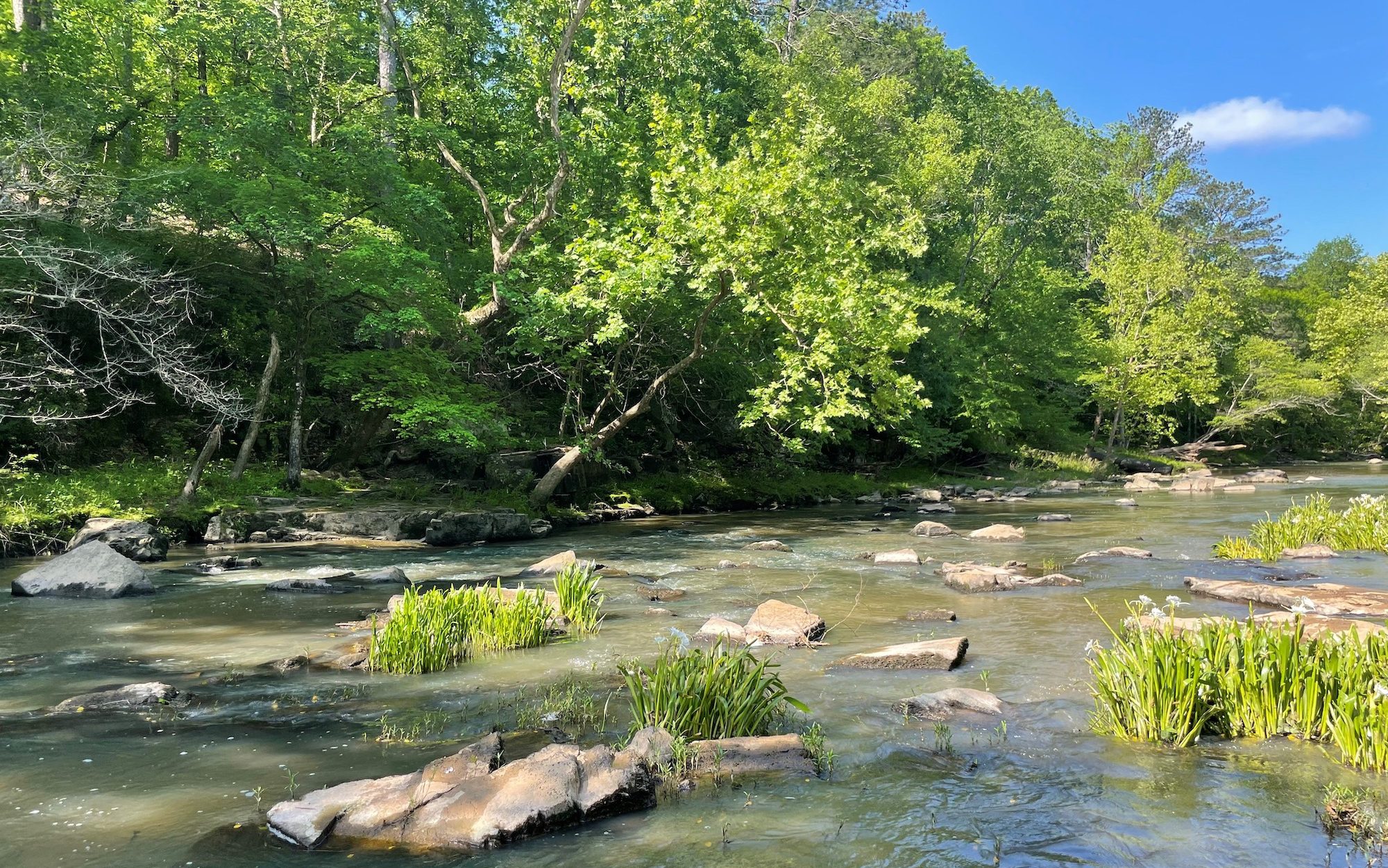 Will has warned me that water levels are cooler than he'd prefer for redeye bass – unlike trout, the bass are more likely to eat when the water warms up. And there has been some recent fluctuation in water levels.
Nonetheless, the river looks promising and I begin casting a foam fly called a popper. These flies float on the surface and, after casting, you jerk them back towards you making little ripples on the surface, imitating escaping prey.
Bartram's bass usually attack so quickly that you don't have to even bring the fly back. I cast out into a little pool, and within minutes see a splash at my fly. I'm tight to a fish, and as I reel in, see it's a redbreast sunfish. The aggressiveness of this smaller species is always surprising and I love the sunfish's bright colors. Not a Bartram's bass, but it's a fish for South Carolina (the 36th state where I've caught a fish, in case you're wondering).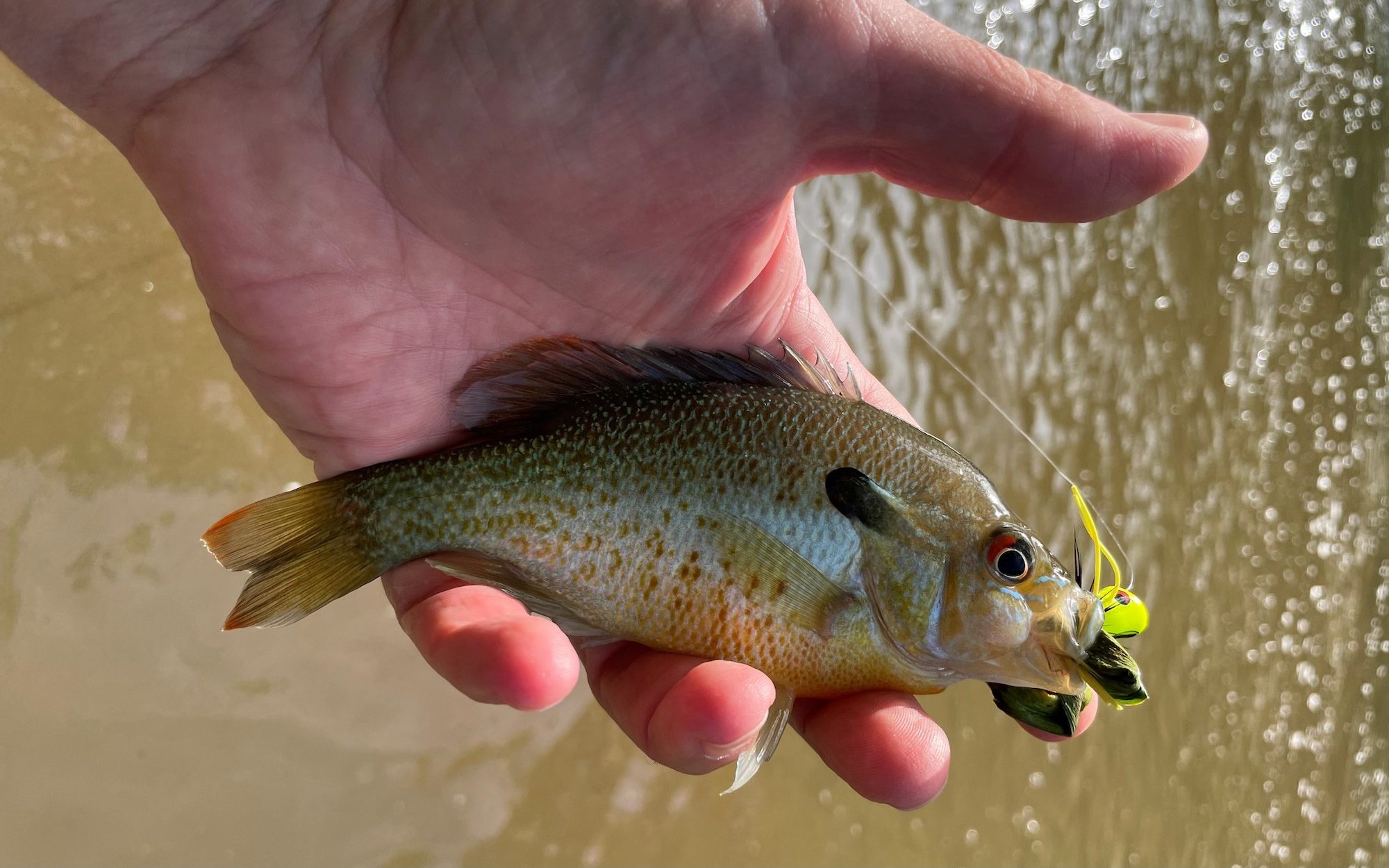 I can tell Will and Scott are a little antsy, eager for me to catch a Bartram's bass. I know the feeling, the pressure of showing your guest good fishing. But I'm happy enough to be on this river and casting.
And a few minutes later, a whirlpool appears where my popper was. I give a strip of my fly line and lift my rod, and find I'm tight to a fish. A bigger fish than a sunfish. Will is immediately heading my way with a net. And then, I lose the fish. He seems more heartbroken than I was.
"That was a nice bass," he says. "I hope that one doesn't haunt us."
It doesn't. Despite worries about condition, the bass are hitting. It doesn't take long before I have a small Bartram's in the net.
I have a great appreciation for all fish, but I have to say, with its green barring, red eyes and white fin linings, this is the most charismatic bass I've ever seen.
The future of these bass may rest on other anglers sharing that sentiment. Because Bartram's bass and many other redeye varieties face a perilous future.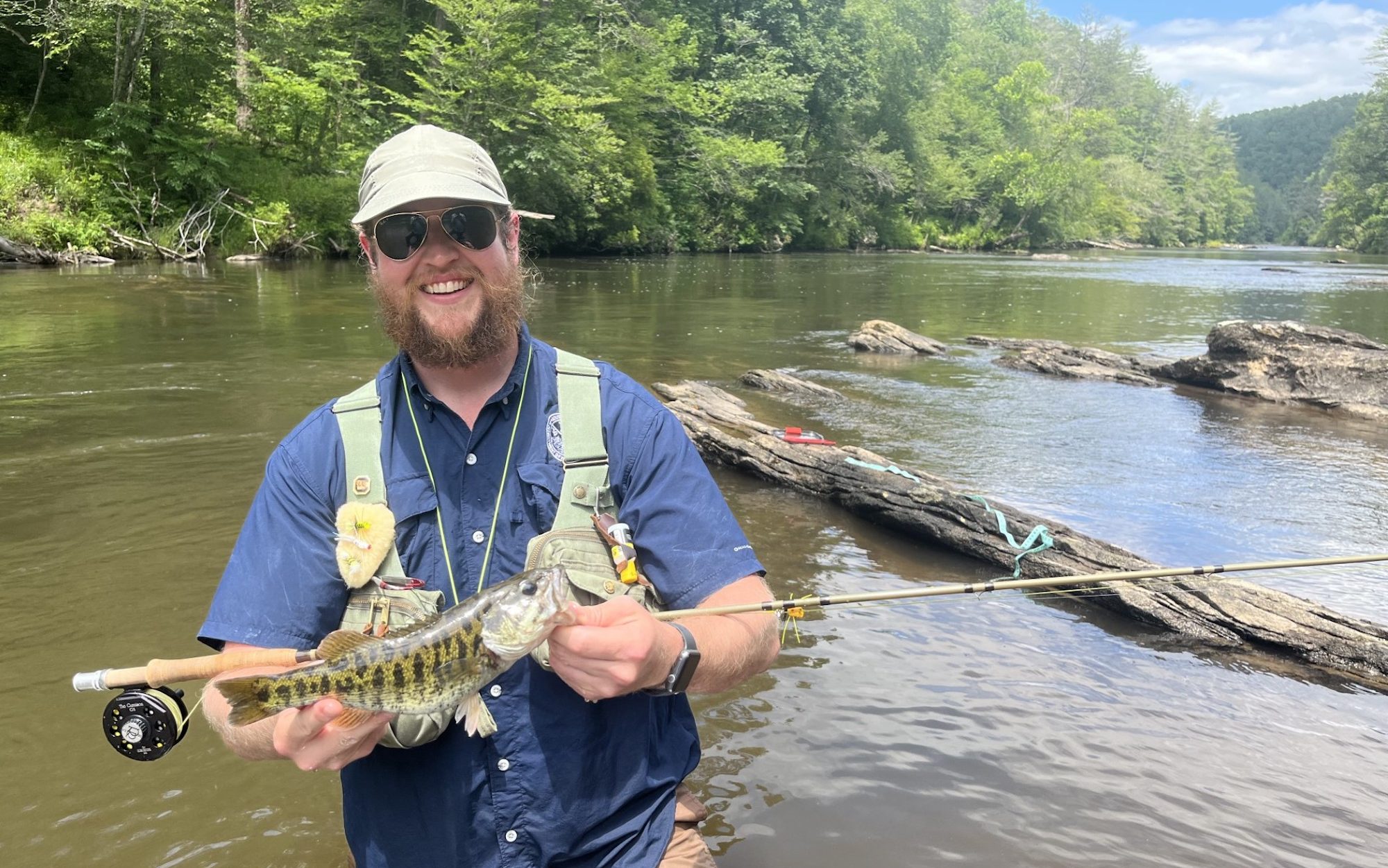 The Threat of Bass in Buckets
There's a real risk of losing much native bass diversity in the southeast. As might be expected, habitat loss and changing stream flows can play a role. But arguably the bigger threat is, well, other bass.
The popularity of fishing for largemouth, smallmouth and spotted bass described above means that these fishes have been moved far and wide to create new sport fisheries. I can catch largemouth and smallmouth a short distance from my home in Idaho, nearly 1,500 miles away from native bass range.
Here, non-native bass can eat salmon smolts and outcompete native trout.
In the Southeast, bass introductions can have even greater impacts. The Alabama bass – a species of spotted bass – lives naturally alongside some redeye species, but not all. This species has been moved around a lot, and when introduced to new watersheds, it often hybridizes with the native bass. Ditto for smallmouth bass.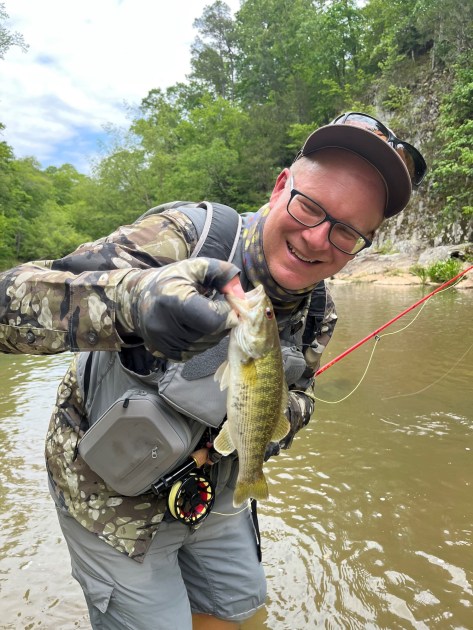 While state agencies no longer stock non-native basses in the Southeast, many anglers still do this on their own. They might catch a big Alabama bass and think it would be cool to have a population in their local creek, filled with "only" small Bartram's bas, and some may not even realize the fish are different species. The Alabama bass are hauled with a bucket to the new water, and they begin to hybridize the Bartram's bass out of existence.
In many waters in redeye bass native range, it has become difficult to find redeyes that aren't hybridized. There are still pure populations of all species, often protected by stream barriers (like waterfalls) or because they're found in smaller waters. But they're all only one bucket away from danger.
This "bucket biology", as it's often called, is not done out of malice. Many anglers simply don't know.
Native fish advocates like Will and Scott are working to change that, and there are encouraging signs. Freshwater fish – even among biodiversity champions – are often out of sight, out of mind, so it can be difficult to generate support. Anglers may be causing problems for the fish, but they also can be part of the solution.
That's why conservationists are thrilled to see a fly fishing subculture grow up around native redeye bass. This received a boost when bass biologist, writer and angler Matthew Robert Lewis penned the book, Fly Fishing for Redeye Bass, a compact volume filled with info on conservation and what makes these fish special. (Dr. Redeye, as he's known to friends, will appear more in a forthcoming "50 Fish" feature).
Fishing takes many forms, and not everyone enjoys the realm of bass boats and tournaments. Many anglers found that they'd rather hike small streams in search of beautiful native fish. Enthusiasts seek out "redeye slams", taking all 7 varieties of the bass. And they work towards educating other anglers about these fish and why they deserve conservation attention.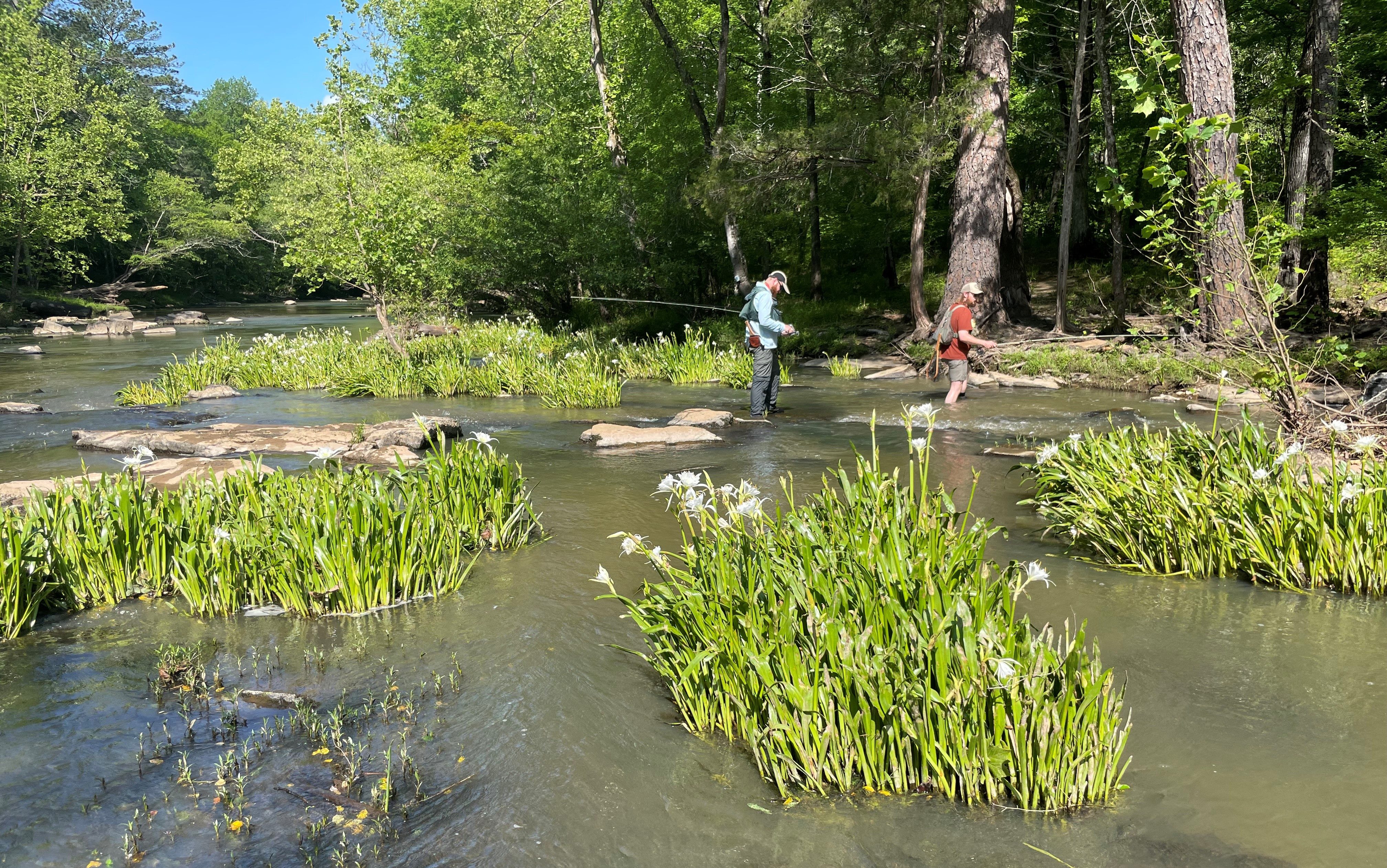 The Redeye Special
The stretch of water we're fishing today has been spared the introduction of Alabama bass. Surveys by South Carolina DNR have found these fish to be genetically pure.
In the afternoon, we head to a public stretch of water, but no other anglers are around. A large, ratty teddy bear sits by the river, a strange landmark that's apparently been there for years. But, creepy stuffy aside, the river is again pristine with long, deep pools and burbling riffles.
It doesn't take long to find the Bartram's bass. A cast into a deep pool sends a nice fish rocketing out of the depths, smashing into my fly. It doesn't get hooked, but just seeing the fish leap out of the water is enough. I appreciate freshwater biodiversity for its own sake. But I'm also an angler to my core, and I love the exciting takes of these fish hitting the fly.
The afternoon continues like this. I lose plenty but also catch some nice Bartram's bass as do my companions. We're lost in the trance of the river, casting poppers over and over, with enough fish to keep it exciting.
The rivers of the Southeast are the most diverse in North America and much of that diversity still goes largely unnoticed. Even bass, among the most popular fishes on the planet. As I wade along the South Carolina river, I can only hope more anglers appreciate these brilliant little fish and the places they're found. Their future depends on it.