I'm on a quest to catch a fish in each of the 50 U.S. states – and to use each adventure as a means to explore conservation, the latest fisheries research and our complicated connections to the natural world.
This one seemed a bit random. I'd be passing through Delaware in January, traveling with my parents. I wouldn't have much time. January is hardly peak fishing season. Still, going fishing is almost always better than not going fishing. So I looked at Google Maps and identified the public waterway closest to our route.
A little research revealed it was home to a long list of fish species. A communication with Eric Burnley, who writes the useful Delaware Fishing Report, said it was as good a place as any if the weather wasn't too cold.
And so I pulled off the highway just south of Dover, drove through some neighborhoods and ended up at a grassy park, with a creek running through it. The creek originated as a tailwater to a reservoir located a short distance upstream, and the water flowing out of the dam created a deep pool. On a nice day, I'd guess the place had a lot of promise.
It wasn't a nice day. As I pulled in, I could see the wind whipping the water. I buttoned up against the cold, strung up my rods and headed to the water. It was that kind of park where lots of ducks line the banks. No one was fishing, but people were out and about walking dogs, jogging, taking a break from work.
My mom walked a bit of the trail, returned, and reported she had not seen a single fish. She and my dad would wait in the car while I fished.
Given limited time, I kept it simple: an ultralight spinning rod, a split shot and a redworm. With m parents waiting and Fishing 101 gear, I felt a bit like I was 10 years old. Not necessarily a bad thing.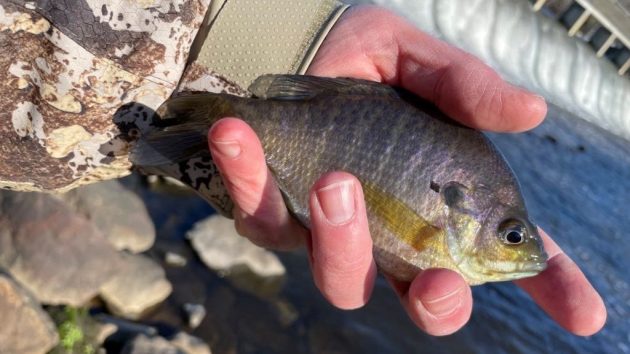 The Places You Find Bluegills
Despite the dreary weather and my mom's prognosis, this water just looked, well, fishy. Sometimes you just know. I began casting in any deep pool I could find. It didn't take long. A long cast yielded a few taps on my rod. I moved to get closer, cast into a little eddy and watched my line tightened.
I had fished maybe 20 minutes and had a fish. A bluegill. I released the fish and cast again. I soon had another bluegill on the line, and another. Bluegill fishing is like that.
As you travel around the United States, there are some fish species you encounter again and again. Oftentimes, this is because the fish is a popular game species and has been widely stocked. The bluegill is one of them.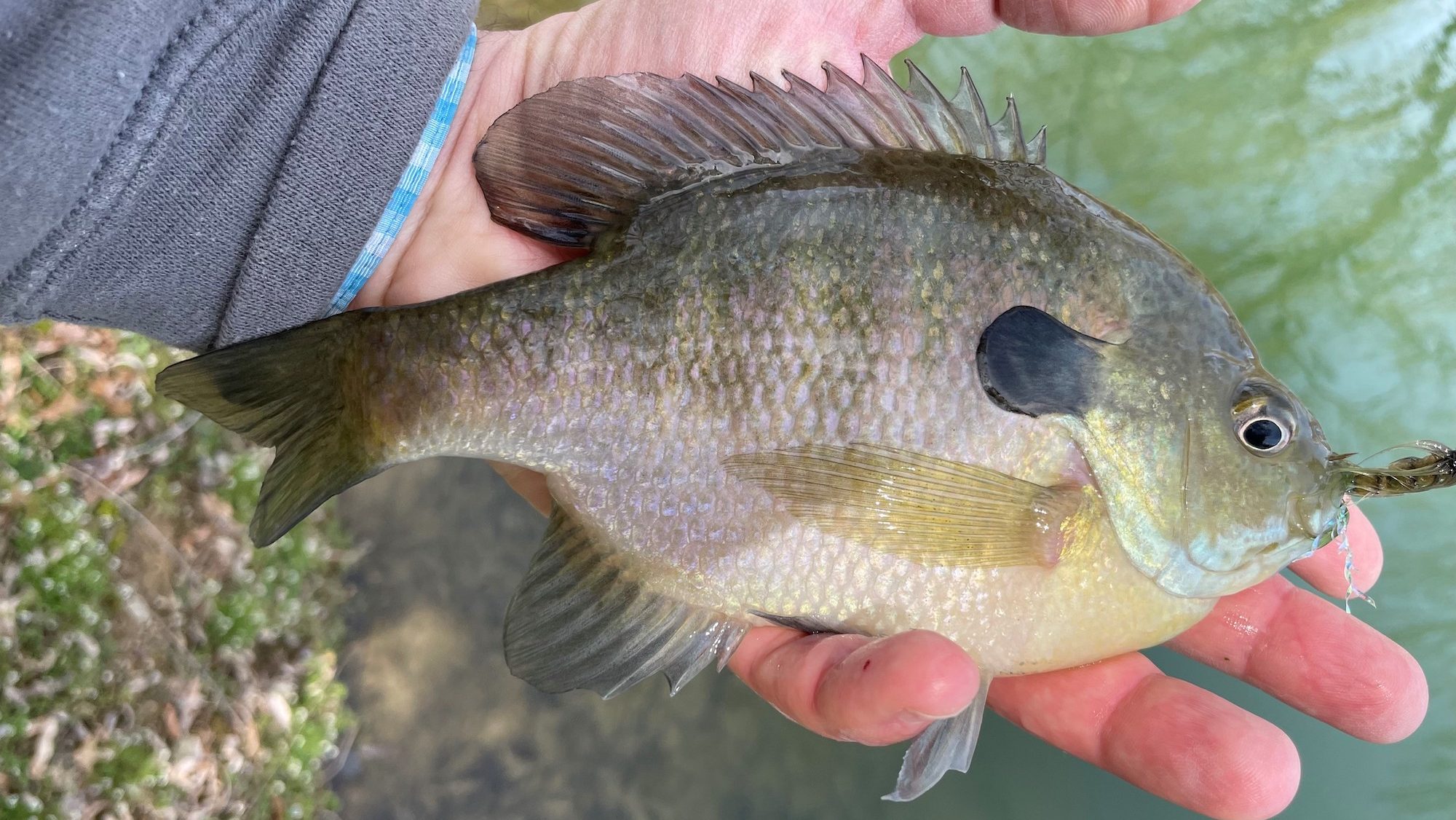 Bluegills and other members of its genus – Lepomis, the true sunfishes – bite aggressively, fight hard for their size and are prolific. This means they're the fish that many of us first encounter as anglers. They are the fish of ponds, family picnics and oversized red-and-white bobbers.
One Memorial Day weekend, my 5-year-old son decided to see how many bluegills he could catch out of a local park pond. I made him stop when he got to 100. That's bluegill fishing.
Some might consider bluegills and other sunfishes to be solely child's play, but for others their charms never cease. In summer, I keep a 1-weight fly rod strung up, and visit ponds late in the evening, casting foam beetles along lily pads. The bluegills attack with a frenzy, the perfect antidote to job stresses and various worries.
This popularity means they are now found in nearly every state (as well as around the world). I've caught bluegills and sunfishes in farm ponds, city parks, tiny streams and large reservoirs. I have caught them in flood control ditches in downtown Houston. I've caught them in the Everglades waterways, Wisconsin lakes and Phoenix canals. I even caught a large one while fly fishing in Hawaii.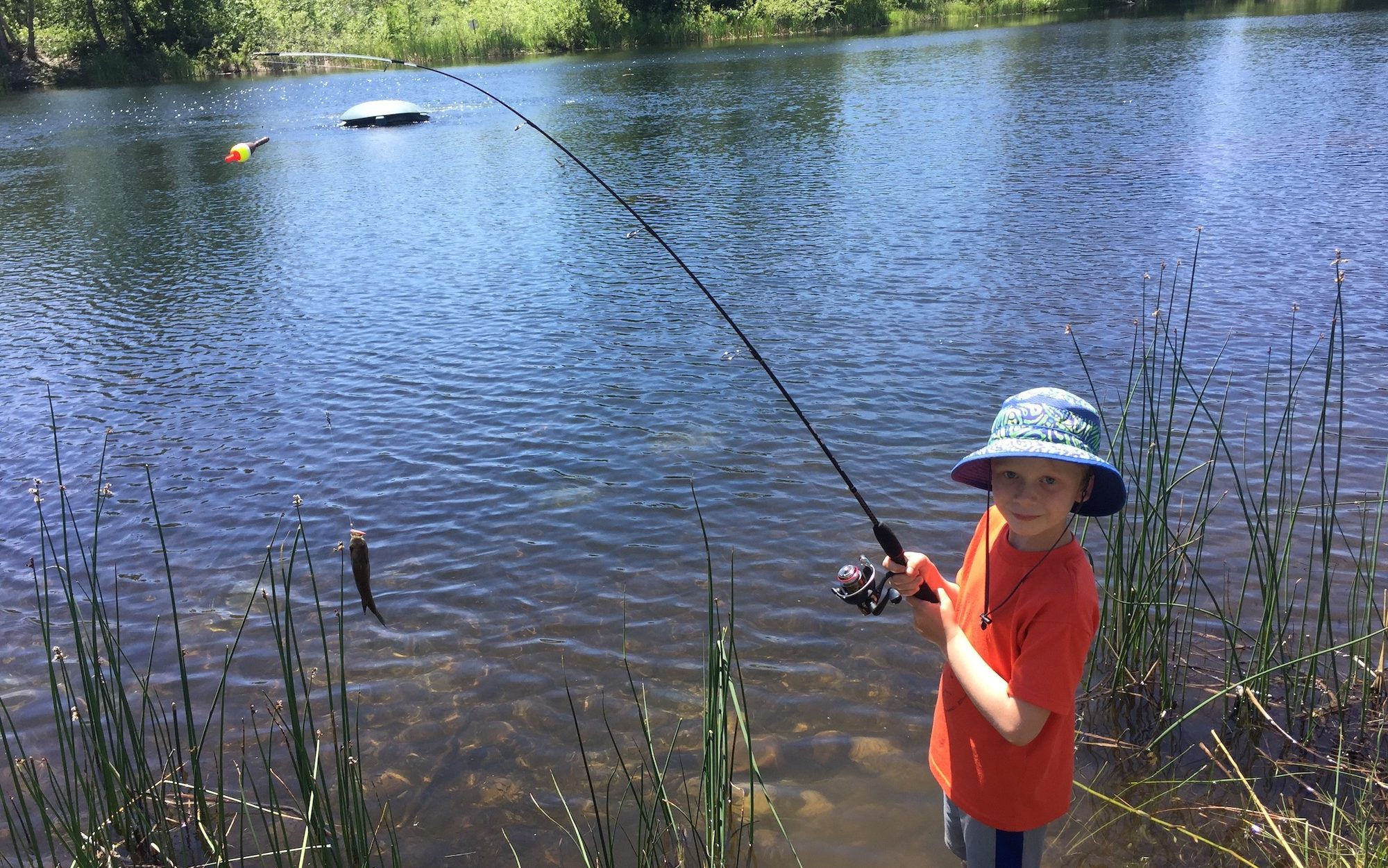 The bluegills I would catch in Delaware were small and fairly drab, but the sunfishes can be some of the most attractive fish. The longear sunfish is particularly colorful, and its palette varies by region. (Recent research suggests that the longear sunfish is actually multiple species).
When it comes to bluegills, familiarity may not lead to contempt, but it does lead to a false sense of knowledge. For years, conventional wisdom held that bluegills were prone to overpopulating waters and needed to aggressively harvested to prevent stunting.
Research by fisheries biologist Andrew Rypel and others suggest otherwise. Rypel analyzed size trends going back to the 1940's and found that bluegills (and other panfish species) steadily declined in size over a 70-year period. The evidence suggests, in many waters, bluegills are being overharvested, not under-harvested.
There's still much to learn about bluegills. And much to appreciate. Especially on a cold January day when nothing else is biting.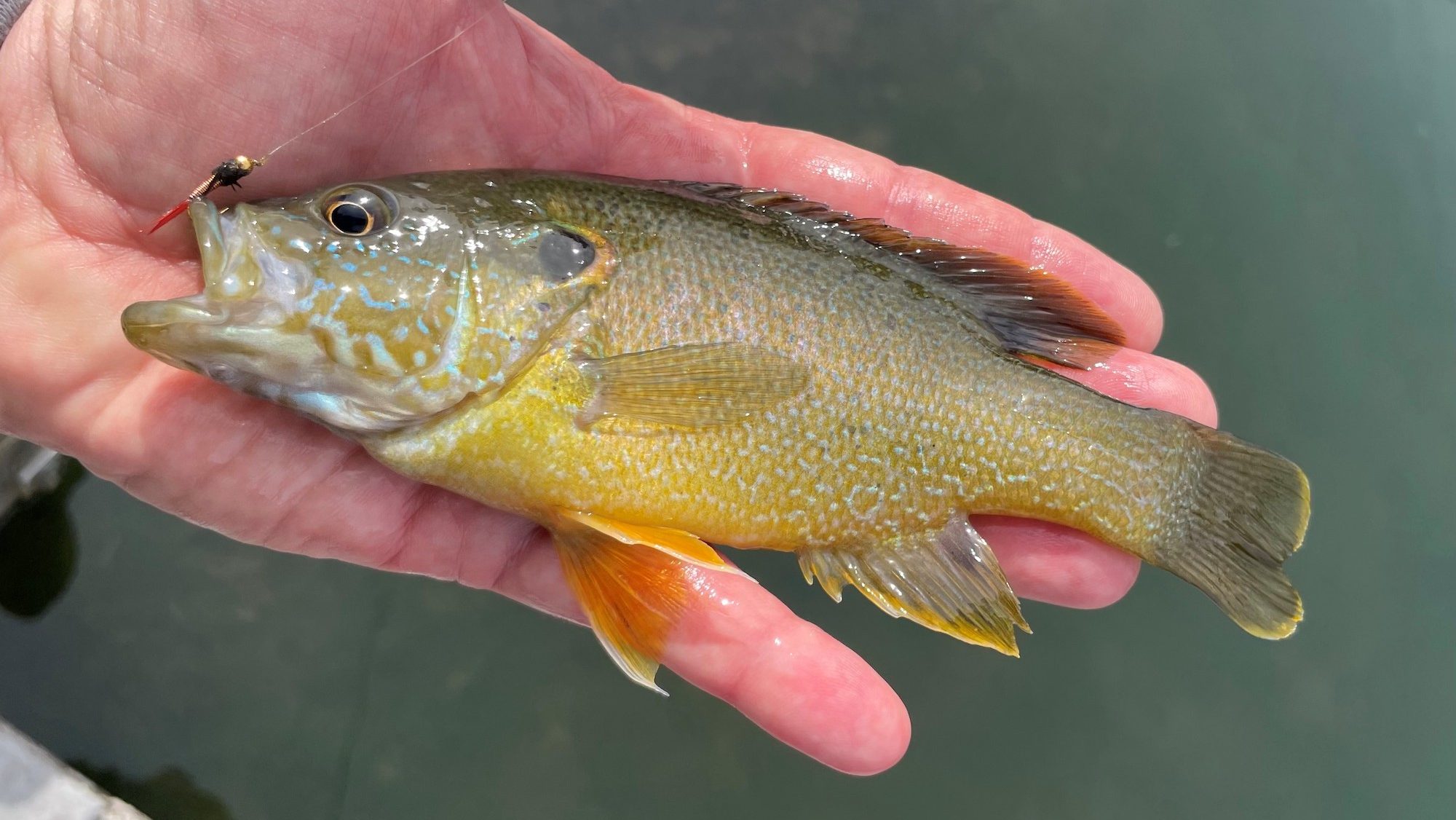 Simple Things
As far as bluegill fishing, it's not complicated. And that's not a bad thing.
Many years ago, when I was working as an arts writer, I'd visit a small Pennsylvania lake after work to fish for bass. I dealt with deadline pressure by casting plastic worms and crankbaits. I'd fish four, five, times a week, and got to know one of the other regulars who frequented there.
Tom had been a workaholic geologist, devoted to scientific publications and advancing his career at the expense of pretty much everything. He realized he barely knew his own family, had no hobbies, and, as he put it, "had put all his eggs in one basket."
Then he had a terrible car crash, leaving him with periodic bouts of vertigo and unable to concentrate for long periods of time. He couldn't work anymore. And so, every evening he did the simplest thing he could imagine: he fished for bluegills. He told me it meant more to him than any paper he ever published and don't think he was exaggerating.
Fishing is probably not meant to be taken too seriously, although many try to do so. Bluegills are so ubiquitous that they remind us that it's often just enough to cast a line and enjoy what you find.