I'm on a quest to catch a fish in each of the 50 U.S. states—and to use each adventure as a means to explore conservation, the latest fisheries research and our complicated connections to the natural world.
I walk along the path in the dark, the moon illuminating swaying marsh grass and light waves. For a while, the only sound is the lapping of water and low murmurings of waterfowl.
In the distance, I hear a shrill whistle, like a high-pitched elk bugle. And that's exactly what it is. It's a sika deer, an Asiatic deer species that behaves much like an elk. They were introduced to Maryland and Virginia by some Boy Scouts in the early 1900s.
I'm on a pathway leading to Chincoteague National Wildlife Refuge, located in coastal Virginia. For the past couple of days, I've been meeting with my colleagues Cara Byington and Justine Hausheer to chart out the future of this very publication, Cool Green Science.
We've worked together a long time. None of us are the kind of people who enjoy those too-common meeting marathons that run all day, then keep going way too late into the night. We take breaks to do a little birding or hiking or beach combing. At night, I go fishing.
That's why I'm here this breezy evening. I'm not much of a saltwater angler, so I keep it simple: a travel spinning rod, a bit of weight and a chunk of shrimp. I move around, casting, not really having much luck. Then I pitch my bait into a deep channel with an incoming tide, and my rod bounces, once, twice, and I'm fast to a fish.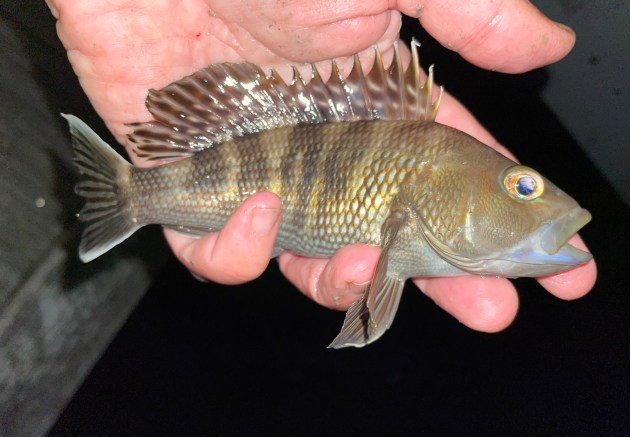 It's a feisty black sea bass. I hook a fish on the next cast and the next. The sika deer whistles, a goose honks somewhere nearby.
And I'm enjoying a national wildlife refuge, a part of a federal program that is one of the great success stories not only for conservation but also outdoor recreation.
The National Wildlife Refuge System
In the early 1900s, if you walked down the street of any U.S. city, you'd see a tremendous diversity of birds, from warblers to egrets. They wouldn't be on the air. They'd be on, well, people. Wearing hats and other clothing made from wild bird feathers were the very height of fashion. Women wore hats with entire birds on them.
This industry took a tremendous toll on wild bird populations. Water birds like ibises, egrets and herons were particularly hard hit. This lead to bird lovers, recreational hunters and local citizens to call for legislative actions. In 1903, President Theodore Roosevelt declared Pelican Island, located in Florida, to be a federal bird refuge.
It was one of first federal reserve in modern times specifically dedicated to wildlife conservation. (And the ensuing recovery of ibises, egrets and herons is one of the conservation movement's biggest successes).
This was the first national wildlife refuge. Roosevelt would declare 54 more areas as federal wildlife reserves. Today, the National Wildlife Refuge System has grown to include 567 refuges covering 96 million acres.
Many of these refuges are dedicated to providing habitat for waterfowl and other migratory birds, but there are refuges that protect isolated habitat, endangered species and herds of large mammals.
One of the many things I love about these refuges is that they have always also prioritized wildlife-dependent recreation, including fishing, hunting, birding and photography. These activities are managed in ways so they don't interfere with the primary focus of each refuge.
As someone passionate about biodiversity conservation and outdoor recreation, I value these places where these activities coexist.
Part of the funding for refuge acquisition comes from the Federal Migratory Bird Hunting and Conservation Stamp (more commonly called the "Duck Stamp"), required for waterfowl hunting in the United States. These stamps have also become popular with collectors and refuge visitors.
The Nature Conservancy has also played a role in the establishment of and additions to many national wildlife refuges. One of my favorites is Ash Meadows National Wildlife Refuge in Nevada, a series of unique springs destined to become a housing development. The Conservancy acquired the property and transferred it to the U.S. Fish and Wildlife Service. Today, you can walk the boardwalks and see pupfish species found nowhere else on earth.
The Conservancy continues to acquire lands that assist refuges, such as the recent transfer of 3,500 acres that will become part of the Silvio O. Conte National Fish and Wildlife Refuge in Vermont.
On Chincoteague
One of the most popular national wildlife refuges for tourists is Chincoteague National Wildlife Refuge. (The refuge is actually located on Assateague Island, but refuges are often named after the nearest town).
This was a favorite vacation spot of my family. I grew up reading Marguerite Henry's Misty of Chincoteague, a tale of a wild pony that lived on the refuge. The ponies are still there, but the refuge is for the birds. On summer vacations, we'd enjoy wildlife viewing, biking, hiking and other activities, but I don't recall ever fishing. To someone used to fishing small farm ponds, the vastness of the marshes and ocean at Chincoteague seemed daunting.
Since then, I'll cast a line just about anywhere. And so I brought a couple rods along to my recent meeting at Chincoteague.
I still find surf casting a bit indecipherable, but there's no shortage of places to fish on the refuge and surrounding areas. On the first day, while my colleagues enjoyed a birding break, I found a little marsh channel where the water was boiling with fish.
A few herons perched nearby, enjoying the bounty. A cast a Tenkara rod—a Japanese-style rod that attached line directly to end of the rod, without reel. Within seconds I was catching one pinfish after the next. They reminded me of saltwater bluegills. On light tackle, it was great fun.
You Never Know What's Going to Show up on Your Line
And then came the evening. I admittedly had low expectations, given fairly cold weather and no real idea where to go.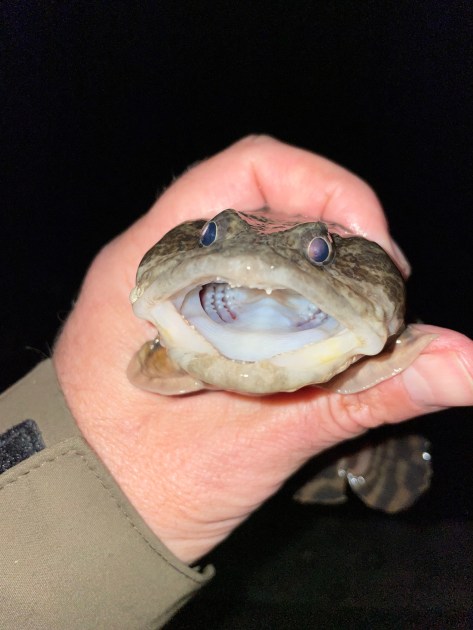 Still, there are worse ways to spend an evening than listening to wildlife and waiting for a bite. And I never had to wait very long. The black sea bass were particularly aggressive.
And then my line thumped and bent. The fish didn't seem larger than the sea bass, but the fight was like a bulldog. A closer look at the fish did nothing to dispel that impression. It was a squat fish with powerful jaws, a bizarre looking creature that looked almost like a grumpy frog. It's moments like these were the sea still feels like an alien realm.
The fish? An oyster toadfish. They are common in the Chesapeake Bay and live in shallower waters, and, as their name implies, near oyster reefs. I'd later learn they readily bite baits. Perhaps their most interesting trait is that males a call that sounds like an "underwater foghorn" to attract mates.
I'd catch several more during my trip, more than reason enough to justify sitting alone in the dark for a few hours.
I've had many memorable moments at national wildlife refuges over the years. I've listened to the calls of thousands of sandhill cranes as they circled overhead. I've been up close with huge flocks of canvasbacks, snow geese, pintails and other waterfowl. I've seen bison and roadrunners and pupfish. Now I can add oyster toadfish to the long list of species I've encountered.
It's a tremendous conservation achievement, and I never tire of seeing the results of federal conservation programs. And I love this too: that I can enjoy these places, that these places we can sit and cast a line, or tick birds on our life list or take a bike ride. They have, in effect, become a refuge for people too.