As TNC's lead scientist in the Caribbean, Dr. Steve Schill often works from a boat, collecting underwater data that are used to document the condition of coral reefs and other marine habitats. He considers this work the best part of his job. Throughout the years, he has learned that the resiliency of nature will always surprise you. In fact, you can find ecological gems in the least expected places.
Last year, while surveying coral reefs in Southern Haiti, he didn't expect to find many healthy reefs due to high levels of overfishing and sediment runoff that exists across Haiti. However, Schill recalls, "in one of the sites we surveyed, I took my first look underwater, and was amazed to see we were floating across some of the healthiest reef I've seen in the Caribbean, with high coral cover and species diversity. It's places like this that need to be mapped, protected, and studied so we can understand what makes these corals resilient and use that knowledge to help make other coral reefs equally resilient."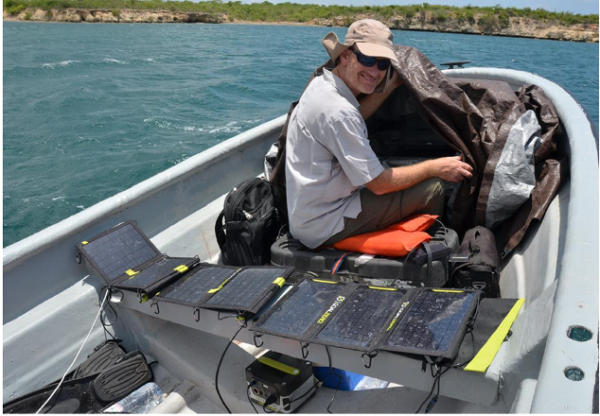 Mapping and identifying such underwater habitats across the Caribbean is what Schill and his team have been working on for more than two years – efforts that have led to one of TNC's most remarkable achievements in the Caribbean.
Using a combination of technologies, from satellites and planes to aerial and underwater drones to divers, TNC scientists have – for the first time – mapped all the shallow underwater habitats across 30 Caribbean countries and territories.
Why? "Because, conservation is inherently spatial," Schill says, "Good maps are foundational tools for smart conservation. Without knowing how much of a resource you have, its spatial distribution and condition, how can effective management strategies be implemented? Our goal – as always – is to use science to help people make the best decisions for managing and conserving their natural resources. Better maps equal better decisions, better use of conservation investments and better outcomes for the plants and animals and people of the Caribbean."
These maps reveal in never-before-seen detail the location of coral reefs, seagrass beds, and other oases of underwater life, making it possible to more accurately monitor the impacts of climate change, measure the effects of hurricanes and identify areas that need protection and restoration.
"You'd be surprised how many countries do not have underwater maps of their shallow coral reefs," said Schill, who led the mapping project for TNC. "Without detailed, place-specific maps, countries have to rely on low-resolution global datasets. Unfortunately, those datasets don't have the detail needed for conservation planning at the scale of small islands – activities such as designing Marine Protected Areas and determining the best use of ocean resources in ways that preserve ecosystems and benefit communities."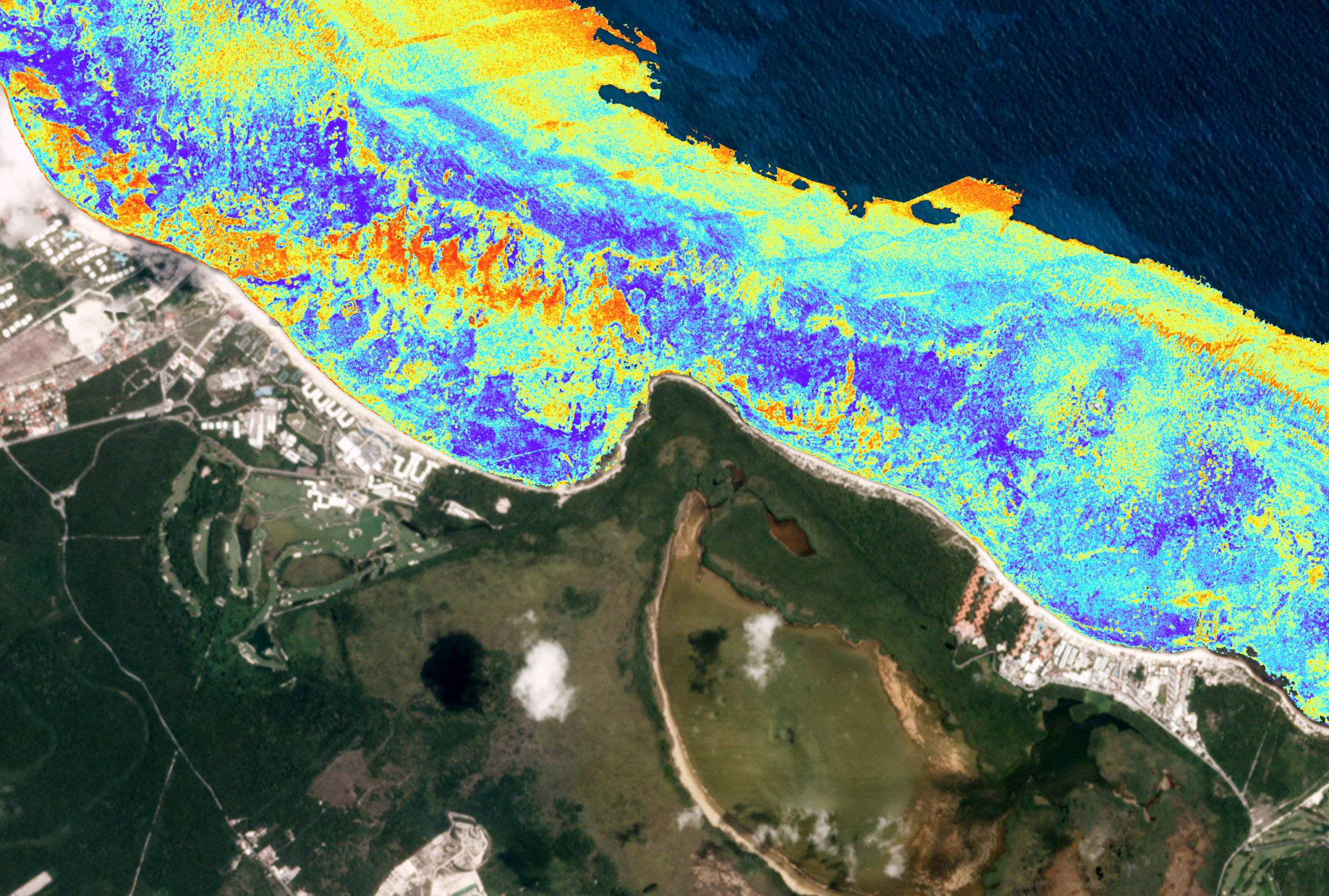 'We Mapped from Space to Sky to Sea'
The maps themselves are a feat of combined technology and field experience and technically, it wouldn't have been possible to create them, noted Schill, "even four years ago." And while these maps are new and their scope unprecedented in the Caribbean, they build on TNC's underwater mapping work that has been going on here for more than a decade, starting with Schill's first underwater map for St. Kitts and Nevis in 2010.
"We've always had the goal of mapping the entire Caribbean," said Schill. "We just didn't have the technology to make it possible in terms of both time and cost until recently."
The difference? Satellites, cloud computing, and artificial intelligence.
"The key to a good map is a good satellite image. When mapping underwater, it is important to use images with the best water clarity. We used imagery from Planet Dove satellites because they provide a daily archive of imagery to select from. Over 200 satellites, each the size of a toaster, work collectively as a satellite 'constellation' to map the entire Earth every day – like a giant scanner, collecting a whopping 11 terabytes of data, every single day. Without cloud computing resources to crunch those huge volumes of data, it wouldn't have been possible."

To cover the entire Caribbean, TNC scientists, partnering with Arizona State University Center for Global Discovery and Conservation Science (ASU GDCS) and Planet Labs Inc., stitched together and blended more than 38,000 high-resolution satellite images – a process similar to putting together a massive puzzle piece by piece. The finalized maps are now available at CaribbeanMarineMaps.tnc.org and TNC is working with Vulcan Inc. to make them available on the Allen Coral Atlas in 2021.
"Working with local experts and partners," says Schill, "we identified 13 classes that we could map from the imagery. Habitats like coral reefs, seagrass beds whether sparse or dense, as well as muddy or sandy bottom. The years of field data that had been previously collected was essential for training the classification algorithm, through artificial intelligence, to recognize habitat patterns and class validation. Additional data were collected by the ASU GDCS's Global Airborne Observatory, a plane equipped with special sensors that can map the percentage of living coral, and then of course, there were diver logs and drop cam videos from our work all over the Caribbean."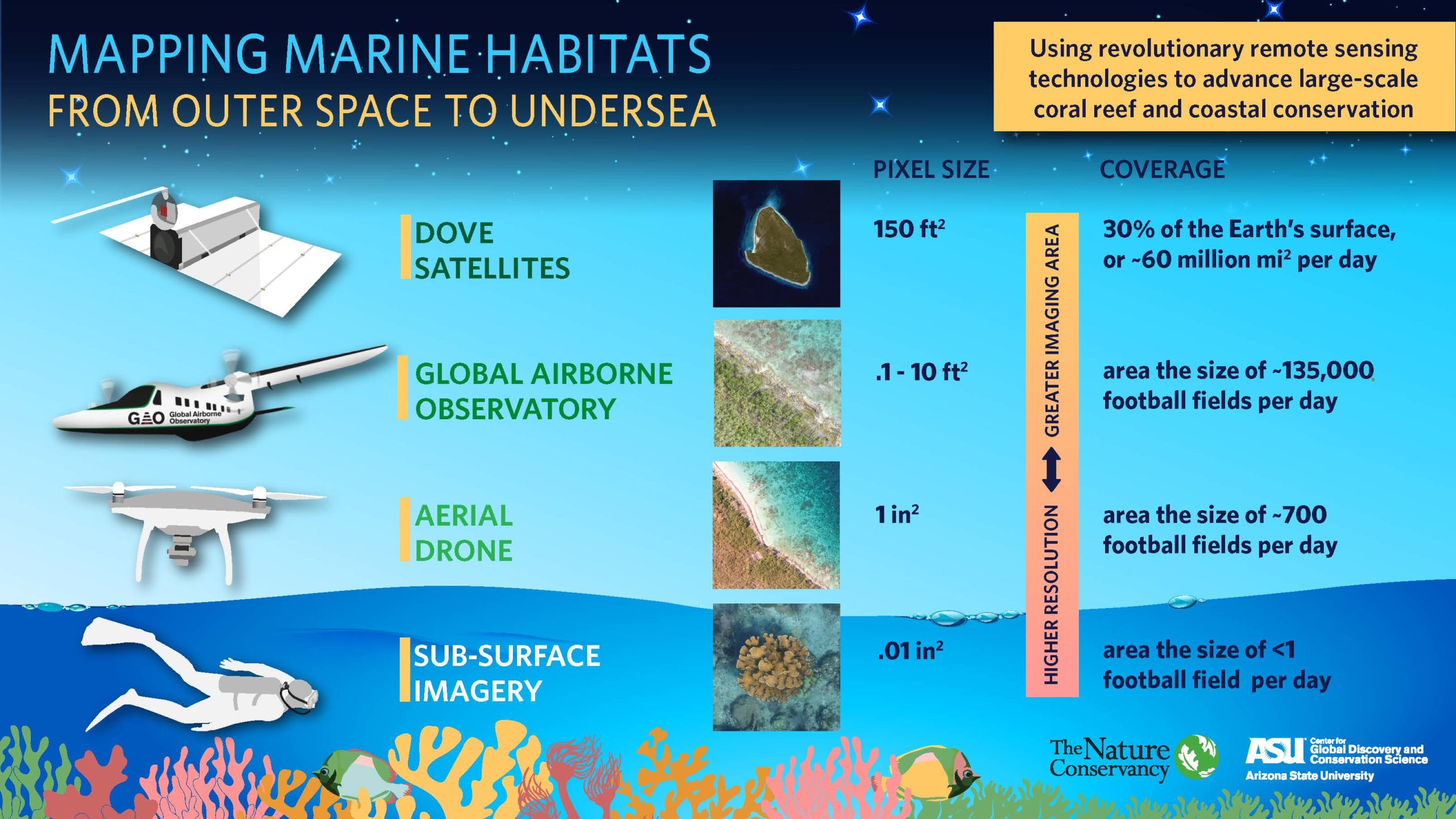 Even with all of that technology, the maps themselves still represent over two years of work by a lot of people at TNC and in partner organizations. This, however, is a small-time investment compared to how long it would have taken without satellites, high-tech planes and drones, artificial intelligence, and cloud computing.
"Using traditional approaches," notes Dr. Joe Pollock, Senior Coral Reef Resilience Scientist for TNC, "it would have taken approximately 250 million diver hours to map such a large area. New technologies have helped deliver these desperately needed maps at a tiny fraction of the effort and cost."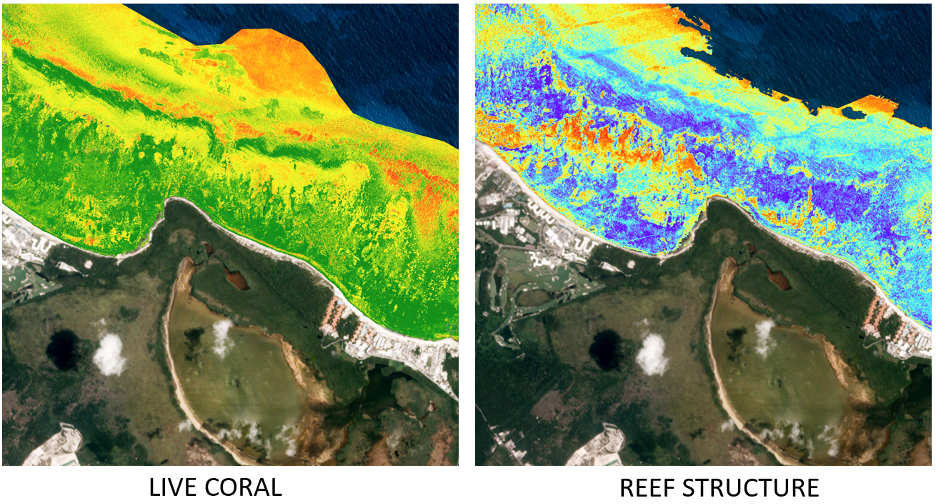 These maps, with the potential to catalyze an array of important conservation actions, will improve the design of protected area networks and marine spatial plans, quantify the ecosystem benefits provided by coral reefs and seagrass beds, optimize coral restoration, and expand public outreach and education. By applying newly available technologies and a unique approach, TNC and partner scientists have delivered a tool that precisely visualizes all nearshore ocean habitats throughout the Caribbean – and brings to light those hidden ecological gems that Schill has seen firsthand – so we can better protect and manage them today and in the future.
The maps are now being distributed and made widely available to a variety of stakeholders across the Caribbean and are publicly available at CaribbeanMarineMaps.tnc.org. They'll also be available in 2021 on allencoralatlas.org.