Cutthroat trout, so-named because of the red, pink or orange markings under their mandibles, evolved in the Pacific Northwest, Rocky Mountains and Great Basin.
Dr. Robert Behnke, generally considered the world's leading authority on salmonids, recognized 14 subspecies.
The large, piscivorous yellowfin cutthroat, probably restricted to the headwaters of the Arkansas River, is extinct. And the Alvord cutthroat, native to streams in the Alvord basin in Oregon and Nevada, is presumed extinct, though fish with Alvord characteristics persist in Oregon.
The yellowfin and Alvord were victims of genetic swamping by non-native rainbow trout flung around the landscape like confetti by fish managers and anglers in the days when "a trout was a trout" and rod bending was perceived as the function of gamefish.
Extant cutthroats have also suffered from introgression with non-natives — not just stocked rainbows but also cutthroat subspecies moved around basins by 19th and early 20th century managers.
All save a small percentage of once-pure subspecies have been converted to mongrels called "cuttbows" and "hybrid swarms" or outcompeted by alien fish.
None of the extant pure cutthroats has suffered more than the greenback, the easternmost subspecies, native to the South Platte basin. In fact, it was considered extinct until 1969 when Dr. Behnke announced that he'd found survivors in tiny Como Creek on the Roosevelt National Forest, isolated from genetic contamination and presumably stocked by pioneers.
It was nearly as exciting for native-fish advocates as the alleged rediscovery of the ivory-billed woodpecker was for birders.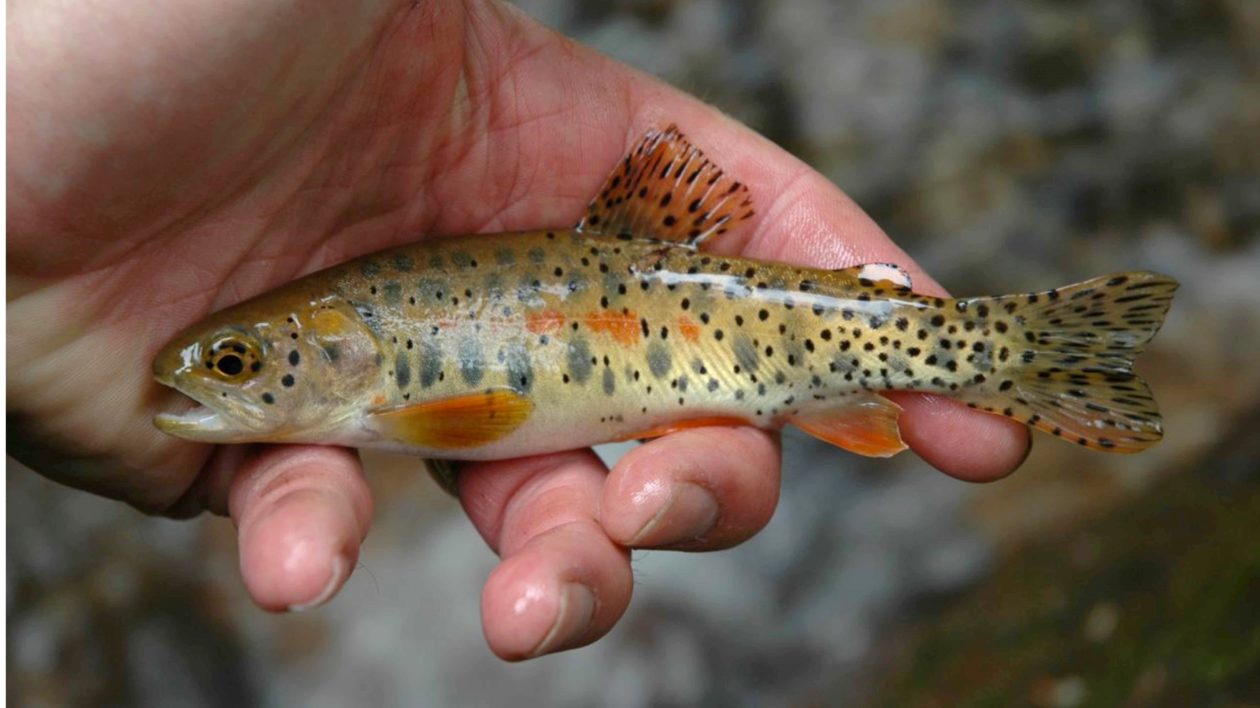 In 1973 the greenback was listed as endangered.
To remove non-native trout, streams were treated with chemical piscicides (antimycin, which is no longer available, and rotenone). And fish cultured from the Como Creek population (and subsequently discovered populations) were introduced.
Greenbacks were downlisted to threatened in 1978, a political but intelligent decision that allowed catch-and-release angling, a prerequisite for the avid public support that followed.
In 2005, the Colorado Division of Wildlife (now "Parks and Wildlife") reported that greenbacks had been reestablished in 58 streams and lakes of Rocky Mountain National Park and surrounding national forests.
Four years later Bruce Rosenlund of the U.S. Fish and Wildlife Service told me this: "The recovery goal was 20 populations. We're well above that, probably over 60 populations now."
The downlisting decision was paying off, he said. Anglers were pouring into the park to fish for "greenbacks," which were attaining lengths of 18 inches and doing far better than the scrawny, alien brook trout.
Delisting was imminent. Greenback cutthroat recovery was touted by the environmental community and media as the greatest success story of the Endangered Species Act. No writer was more effusive than I.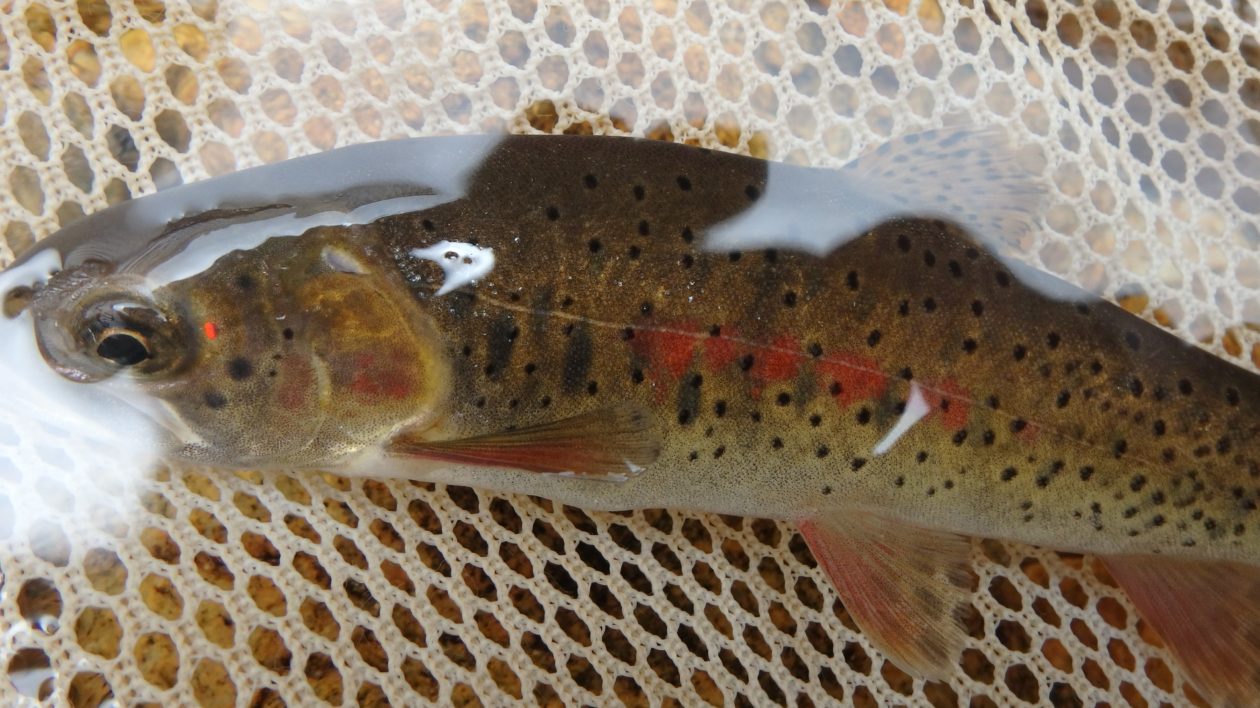 A Case of Mistaken Identity?
To me and my fellow native-fish advocates and most of the fisheries management community it was inconceivable that Behnke could be wrong about anything to do with trout.
So we were unconvinced when, in 2007, a young PhD student at Colorado University named Jessica Metcalf claimed to have found genetic markers in the alleged greenbacks that proved they were really Colorado River cutthroats from the west side of the Continental Divide.
Behnke responded as follows: "Administrators and biologists making decisions based on genetic analysis lack an understanding of the various methods of modern molecular genetics, their limitations and how the data can be open to different interpretations. A little learning without an in-depth understanding of the subject matter can be dangerous… Natural genetic variation once widespread in the ancestor that gave rise to the small, isolated populations was wrongly interpreted as evidence of hybridization… If it looks like a duck, walks like a duck, and quacks like a duck, we should call it a duck. Getting into the molecular structure of a duck can result in confusion and chaos. Now substitute greenback cutthroat trout for duck, and move on."
Rosenlund was conflicted, but at the time he told me this: "I guess I'm not convinced that [Metcalf's] markers indicate much of anything. I tend to be more in Behnke's camp."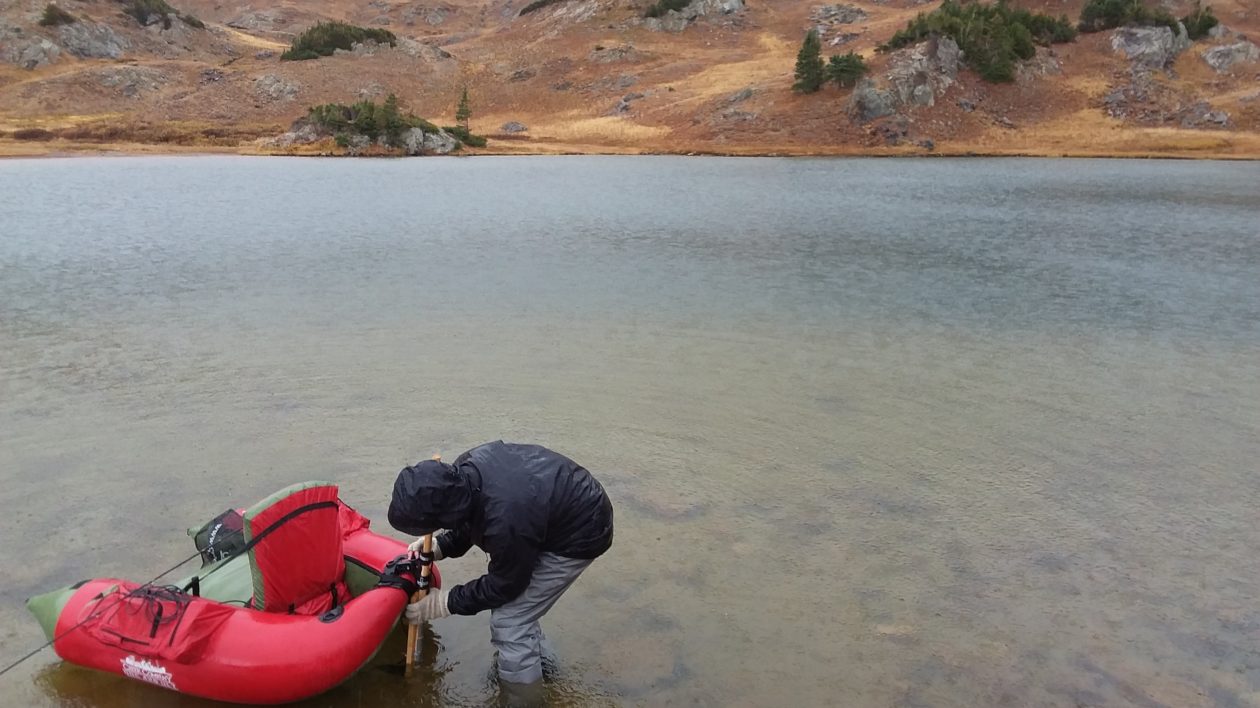 Metcalf was part of the young generation that had learned to format data electronically and apply new techniques for DNA analysis. Gradually, Rosenlund and everyone else came to understand that she was correct.
Behnke, who died in 2013, was my friend and mentor. I'm pretty sure that even he eventually saw the light, though he never said so, perhaps because he was preoccupied fighting cancer.
All the putative greenbacks were Colorado River cutthroats from two clades that Metcalf labeled "green lineage" (native to the headwaters of the Colorado, Gunnison and Dolores Rivers) and "blue lineage" (native to the upper White and upper Green River systems.)
When I interviewed Rosenlund on April 22, 2019 he said: "Everyone stands on shoulders, and they get a better view. We felt sick and heartbroken, but that's the way it goes. Science always changes. It moves on."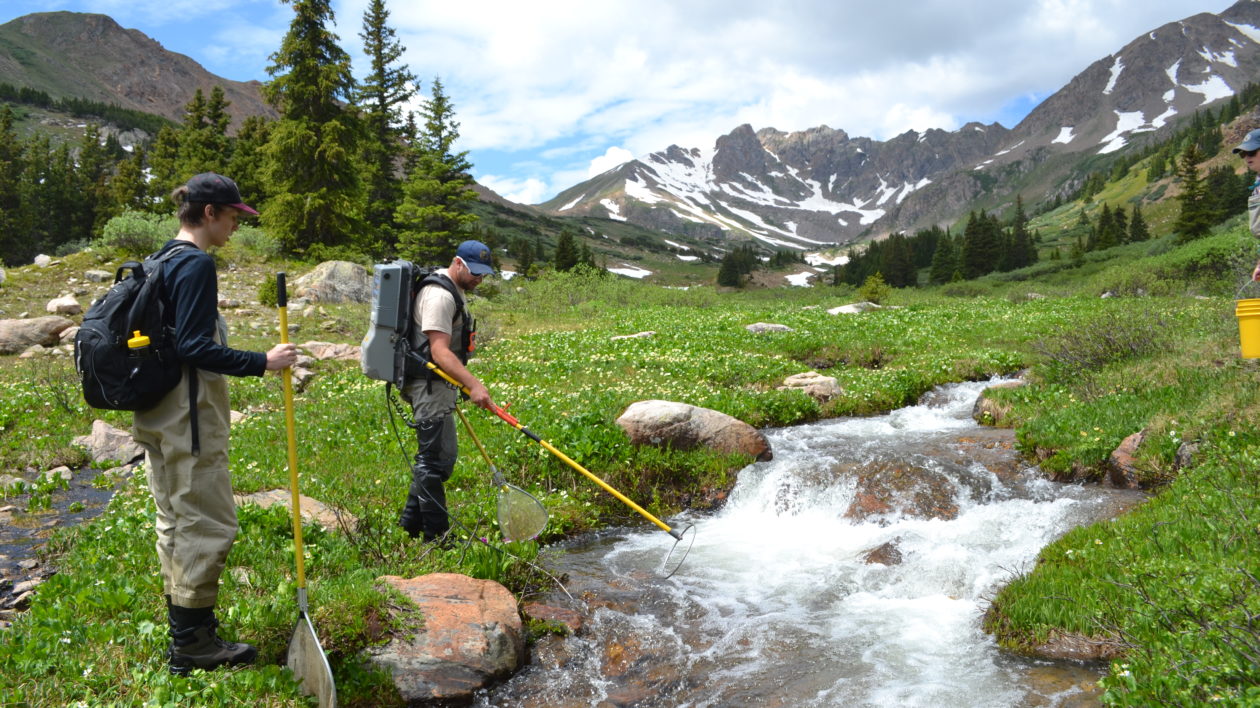 A Brief Extinction
The greenback's return to the extinction list lasted only briefly. In 2012 Dr. Metcalf and her colleagues discovered that the planet's entire supply of known greenbacks persisted only in a four-mile stretch of Bear Creek on the south slope of Pikes Peak, outside their native range.
Bear Creek had probably been fishless until the 1870s when J. C. Jones homesteaded the area in hope of building a hotel for tourists climbing Pikes Peak. He constructed ponds and apparently stocked them with greenbacks, some of which escaped into Bear Creek and were isolated from genetic contamination by impassable waterfalls.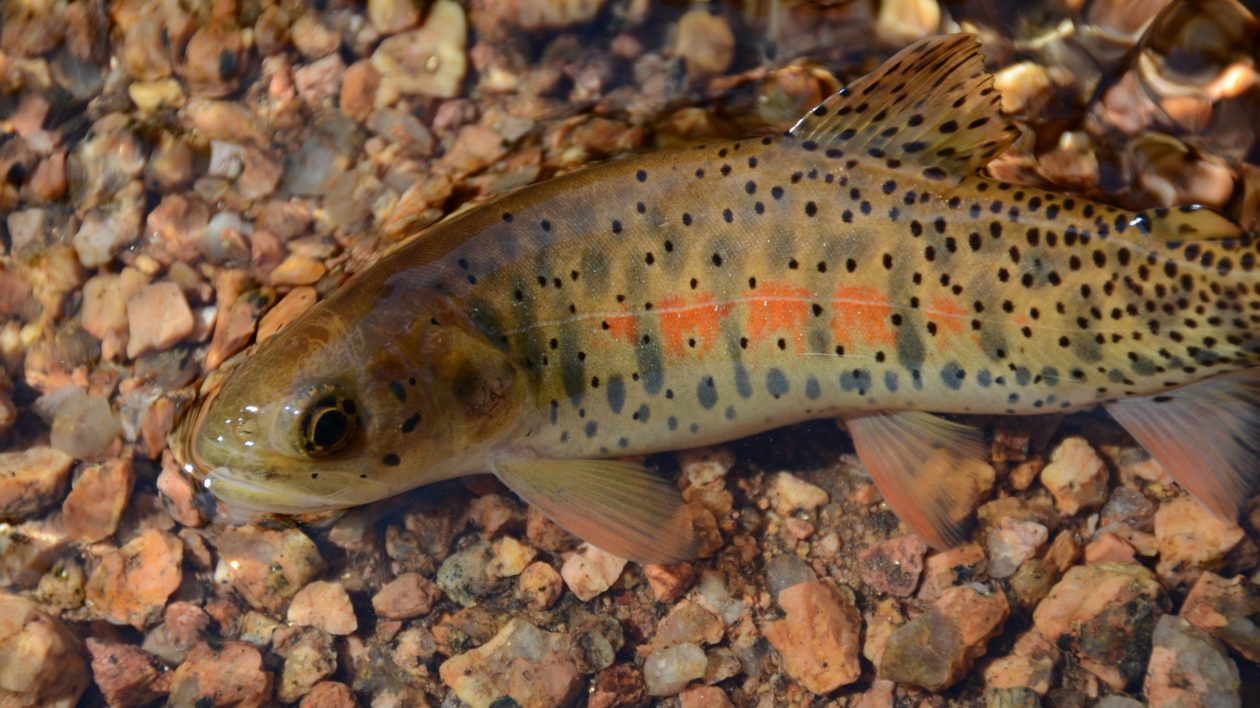 Metcalf found that populations of different cutthroats furthest apart geographically were often closest genetically. "That doesn't happen in nature," says Kevin Rogers of Colorado Parks and Wildlife, a former Behnke student at Colorado State University. "She correctly posited that stocking had been much more widespread than managers had guessed.
"Behnke knew there had been lots of stocking, but in remote waters like Como Creek he assumed it had been done with nearby fish. If I'm the fish commissioner in 1908 and my boys took 10 million eggs [from blue-lineage Colorado River cutthroats] at Trappers Lake [on the upper White River on the west side of the divide], I'm not bothering to go catch fish downstream of a population to stock upstream."
"This year," Rogers continued, "we published a follow-up study where we looked at visual characteristics of 50 populations across the native ranges of all our cutthroat lineages in Colorado — many of the same populations Behnke looked at. He couldn't separate them because stocking had jumbled them up."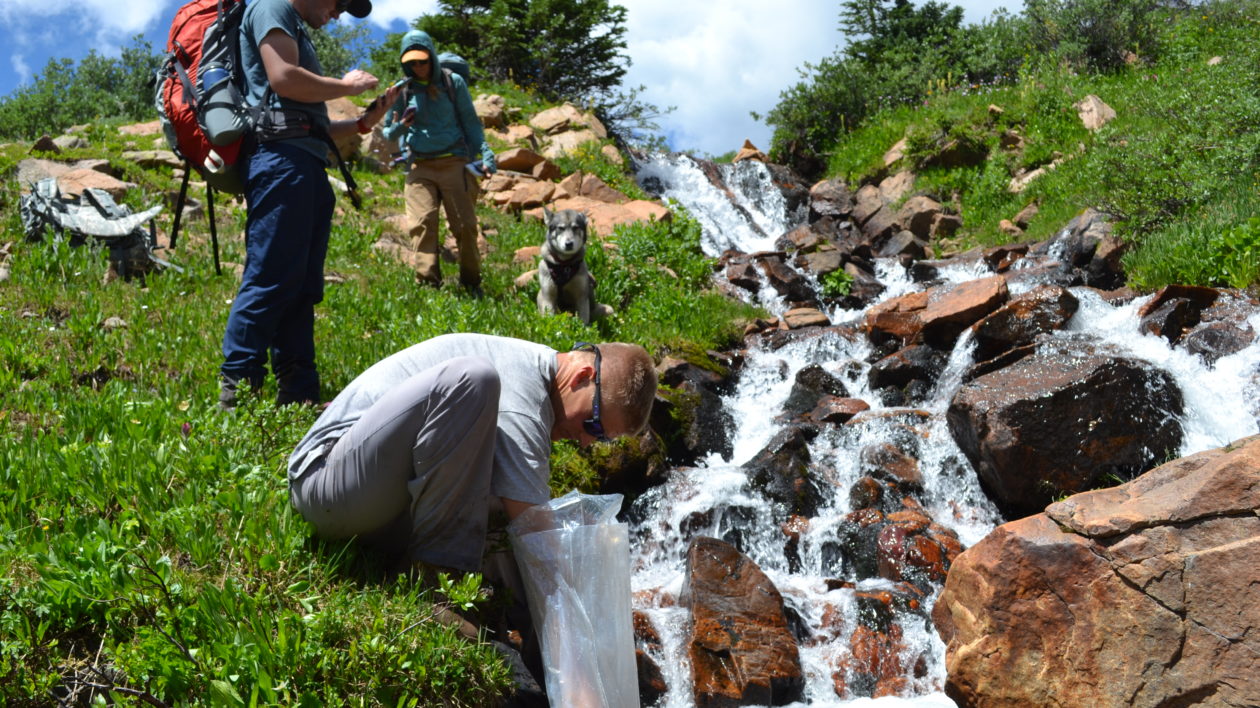 The Once and Future Greenback
So greenback recovery is again underway, this time with the right fish.
Rosenlund, who retired in 2011, helps Parks and Wildlife and partners with a new round of rotenone projects.
Two populations of real greenbacks appear to be doing well in Herman Gulch and Dry Gulch on the Arapaho National Forest.
At some unknown time Dry Gulch had been stocked with pure blue-lineage Colorado River cutthroats, valuable native fish in their own right. So before applying rotenone, managers salvaged about 90 percent of the population by electro-fishing and moved them to native habitat, a stream in the Yampa River system that had also been treated with rotenone.
In 2013 ten-acre Zimmerman Lake, high in the Poudre River basin, was cleared (with rotenone) of non-native fish to create a brood source for greenbacks, stocked the following year. Natural reproduction is rare in Zimmerman because the inlet stream is so cold, but the fish thrive there.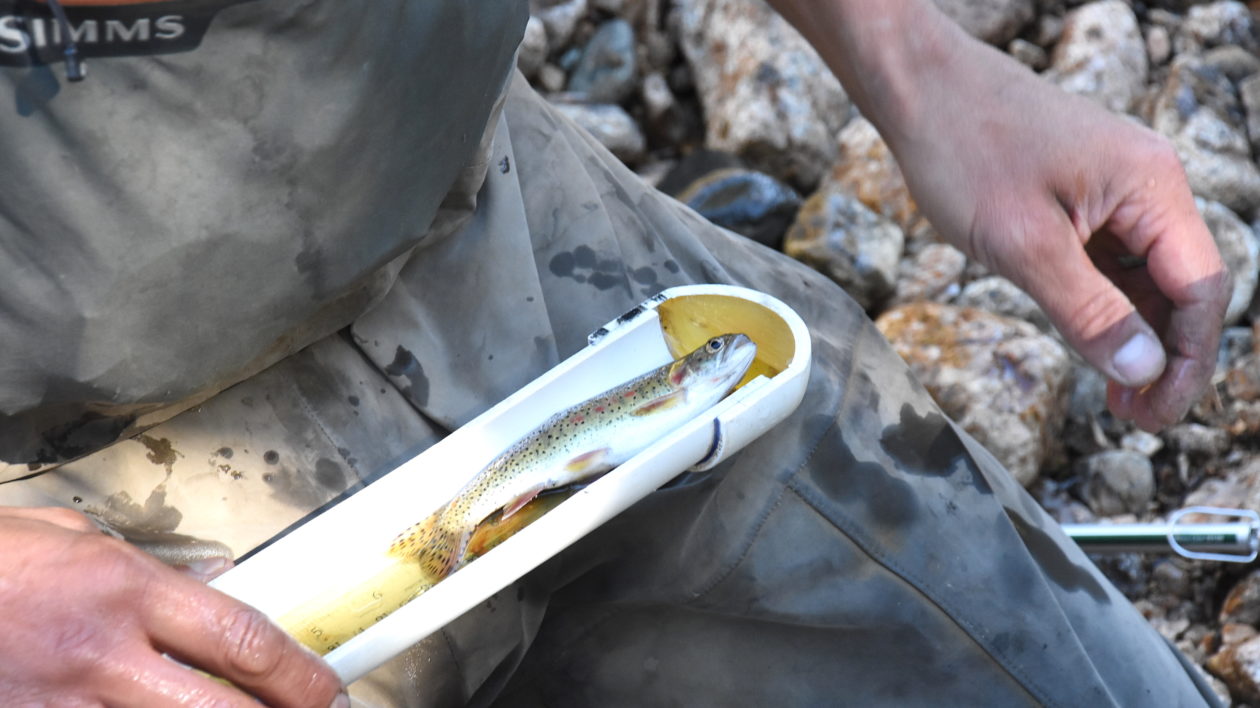 To minimize inbreeding all greenbacks in Zimmerman are tagged and tracked so that, prior to fertilizing eggs, managers can determine which fish are likely the least related.
Still, the small source population in Bear Creek renders inbreeding a major concern.
This from Parks and Wildlife biologist Boyd Wright: "In addition to Herman Gulch and Dry Gulch we're engaged in two multi-phase projects — 14-mile-long George Creek and a major tributary [in the Poudre River watershed] stocked with what we previously thought were greenbacks. We've got it divided into three sections that we're sequentially treating with rotenone because it's again overrun with brook and brown trout. In the headwaters of the South Platte we'll be restoring greenbacks to eight miles of Rock Creek and a major tributary."
"This year the park will reintroduce greenbacks to West Creek," reports park biologist Mary Kay Watry. Because it's small and wildfire and flooding have eliminated most of the mistakenly stocked Colorado River cutthroats, eradication will be attempted by electro-fishing rather than rotenone.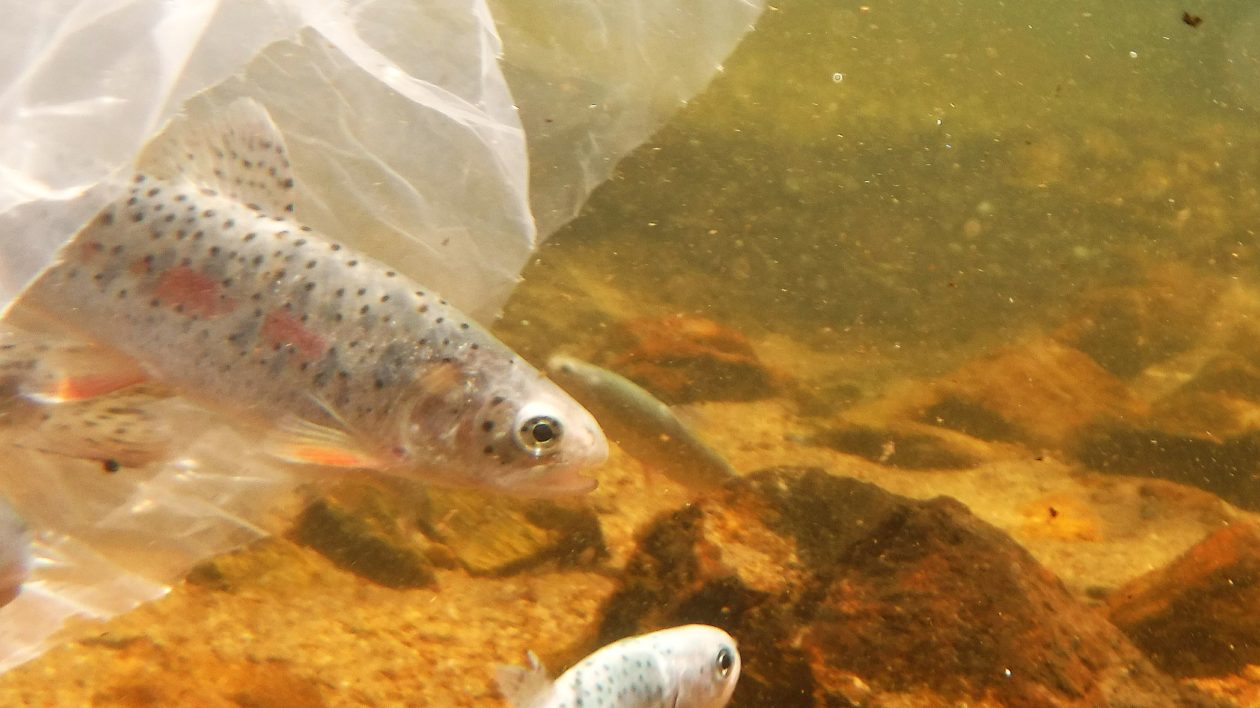 For the benefit of anglers, evacuated fish will be released below the natural barrier of West Creek Falls, water already infested with non-natives.
"Just in Rocky Mountain National Park there were 13 projects stocked with the wrong cutthroats," says the Fish and Wildlife Service's Chris Kennedy, who works in the park. "Some were lakes, some streams, some combinations of the two."
But there was a bit of good blown in by the ill wind of mistaken greenback recovery. "We definitely learned a lot about techniques for removing fish," Kennedy says.
The Park Service and Forest Service are starting a project that will restore 104-acre Longdraw Reservoir and 37 miles of connected habitat in the Poudre River system in Rocky Mountain National Park and the Arapaho National Forest. The entire project area is infested with non-native trout.
"We'll have to construct large fish barriers," says Forest Service biologist Matt Fairchild. "One barrier [the reservoir dam] is already in place. We have a design team working on the other barriers. We'll do six phases of rotenone treatments."
The current interest in identifying and recovering cutthroat subspecies, and all native salmonids, is largely Behnke's doing. While he was misled about greenbacks by all the early stocking, he nailed the bigger and most important message.
I put it this way in the foreword of his book "About Trout": "Shining from every page is Behnke's love for these beautiful and complex works of evolution, his commitment to their conservation and recovery, and his rage at those who would mix, pollute, and waste their genes. He shows how our ceaseless game of musical chairs with species and subspecies has destroyed much of the grand diversity earth was blessed with, homogenizing it into muddy sameness."