"Conservation" is no longer enough. Instead of just saving what's left we need to restore what's lost.
Only in the last half century or so have Americans begun to appreciate fish as having a function beyond bending rods and posing prettily on platters.
Consider the fate of America's landlocked Arctic char. As the last glacier retreated sea-run char stranded in North American lakes, adapting to a freshwater life cycle.
The landlocked form wasn't rare in New England until about a century ago when professional and amateur "bucket biologists" started dumping fish species everywhere they didn't belong.
In New Hampshire and Vermont non-indigenous lake trout hybridized the char they didn't eat out of existence. In Maine's sprawling Rangeley Lakes non-indigenous smelt chowed down on char fry and outcompeted them for zooplankton. Non-indigenous landlocked salmon finished off survivors.
Today the only Arctic char left in the contiguous states survive in a dozen ponds in northern Maine. They are never heard; they are rarely seen, even by anglers; they are furless, featherless and cold.
But they are wildlife – ice-age relicts as important to our nation as California condors.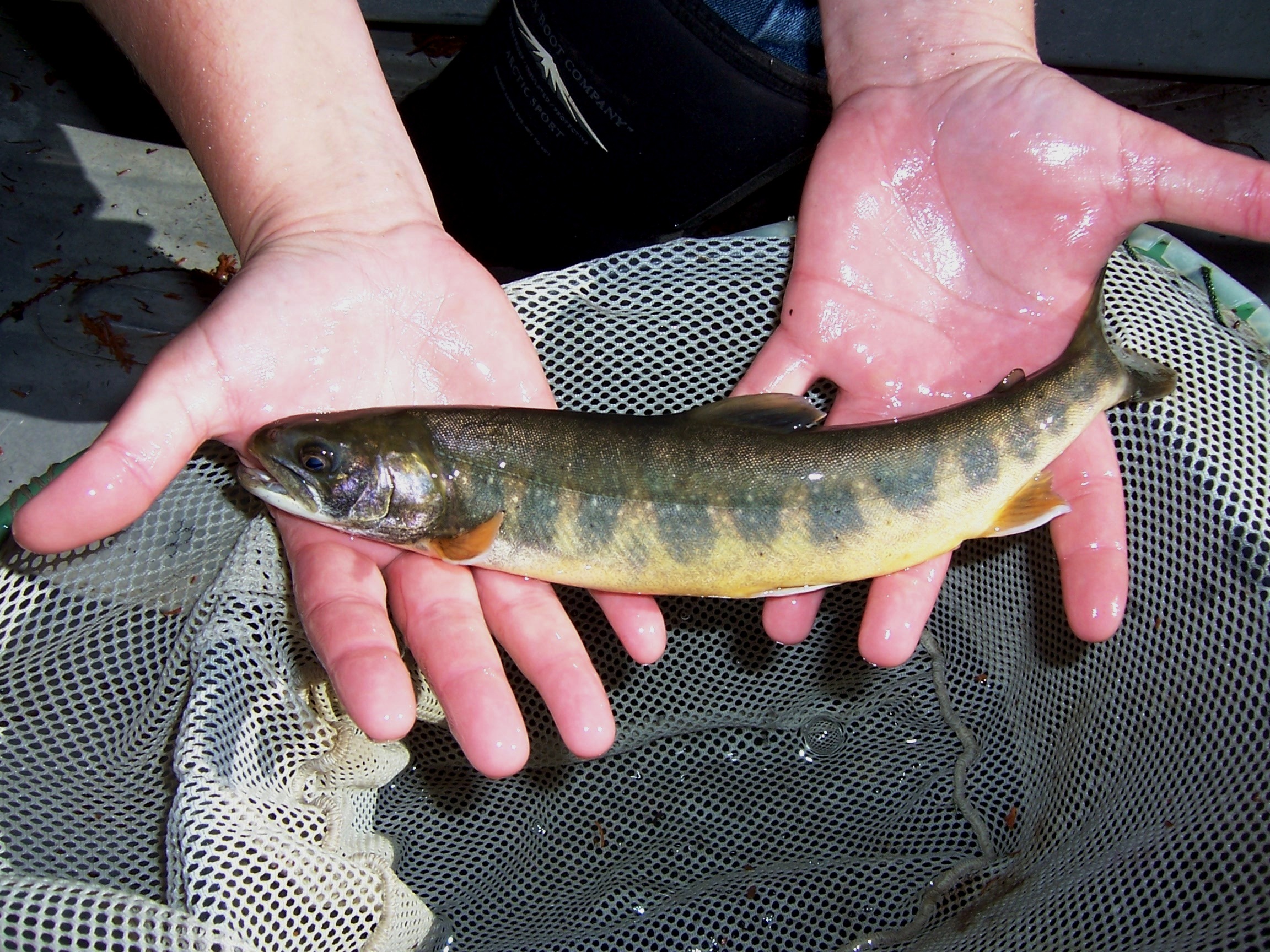 The char of Maine's Big Reed Pond were nearly lost to illegally introduced smelt. Big Reed itself is a relict. Maine is laced with 10,000 miles of logging roads, and 85 percent of the state is heavily cut "commercial forest." But Thoreau's Maine woods survives around Big Reed. This 90-acre jewel is embraced by the largest old-growth forest in the Northeast – almost 5,000 acres owned by The Nature Conservancy.
In fall 2010 the Conservancy, state biologists, the Maine Army National Guard and other partners began the most ambitions fish-recovery project in Maine history. Tons of equipment and supplies were flown in by helicopter and floatplane. A large boat was dragged a mile through thick woods to deploy a short-lived, organic fish poison called rotenone. Never is the decision to poison terrestrial or aquatic invasives made casually, but the partners had two choices – rotenone or char extirpation.
"It was clear that the population was decimated and that action was necessary," says Bill Patterson, TNC's northern Maine program director.
Enormous genetic variation in char populations required biologists to work with Big Reed fish. In the three years preceding treatment they managed to capture only about a dozen. These were transported to a private hatchery where they produced some 600 fry which, along with progeny of Big Reed's native brook trout, were stocked the following spring, months after the last trace of rotenone had vanished.
The brook trout population, which also had been devastated by smelts, has exploded. The now-mature char are thriving, but reproduction has yet to be documented – probably because the species has a much longer life cycle than brook trout.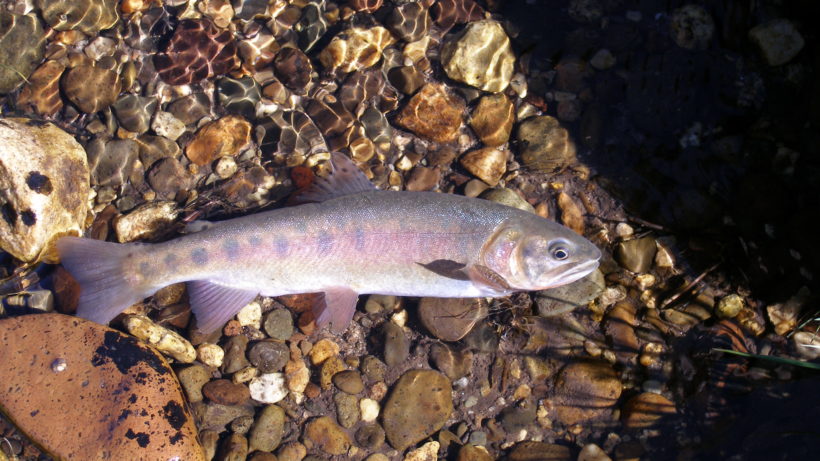 Saving Species in the Sierras
In California's High Sierra rotenone has apparently prevented extinction of America's rarest trout, the federally threatened Paiute cutthroat native only to Silver King Creek. This fish was being hybridized off the planet by rainbow trout unleashed by early 20th century bucket biologists. Ironically, an earlier bucket biologist preserved the Paiute cutthroat by dumping pure fish into vacant habitat above impassible Llewellyn Falls.
This protected upstream population will provide stock for reintroduction after rotenone treatments are completed this summer. The project will be the world's first restoration of a threatened or endangered fish to 100 percent of its natural habitat.
Also in the High Sierra the National Park Service plans to use rotenone to help save two species of critically endangered mountain yellow-legged frogs. Alien trout, with which California saturated naturally fishless ponds during the age of ecological cluelessness, are eating the tadpoles and depleting the adults' invertebrate food supply. Unless trout are removed from a few of these ponds, the frogs face almost certain extinction.
Dr. Phil Pister, known as "the father of native fish restoration in America," spent much of his career recovering golden trout, California's state fish. When he started in the 1970s alien brown trout outnumbered native goldens by something like a hundred to one. Pister told me this: "I can safely say that had I been unable to use rotenone, the California golden trout would now be extinct."
In Yellowstone National Park elimination by rotenone of some of the alien brown, rainbow and brook trout has pretty much guaranteed a future for three imperiled natives–river-dwelling Artic grayling (previously extirpated from the park), westslope cutthroat trout (nearly extirpated), and Yellowstone cutthroat trout. In upper Soda Butte Creek years of manual brook-trout control with electro-fishing gear has failed. If these aliens drop down into the Lamar drainage (too big for rotenone treatment), a huge swath of Yellowstone cutthroat habitat will be lost forever, so the park plans to apply rotenone.
Elsewhere rotenone has permitted local but major recoveries of depleted or endangered fish such as Bonneville, Lahontan, westslope, greenback and Colorado River cutthroats, Gila and Apache trout, Little Kern golden trout, Volcano Creek golden trout, redband trout, native brook trout in the East and Owen's pupfish, to mention just a few.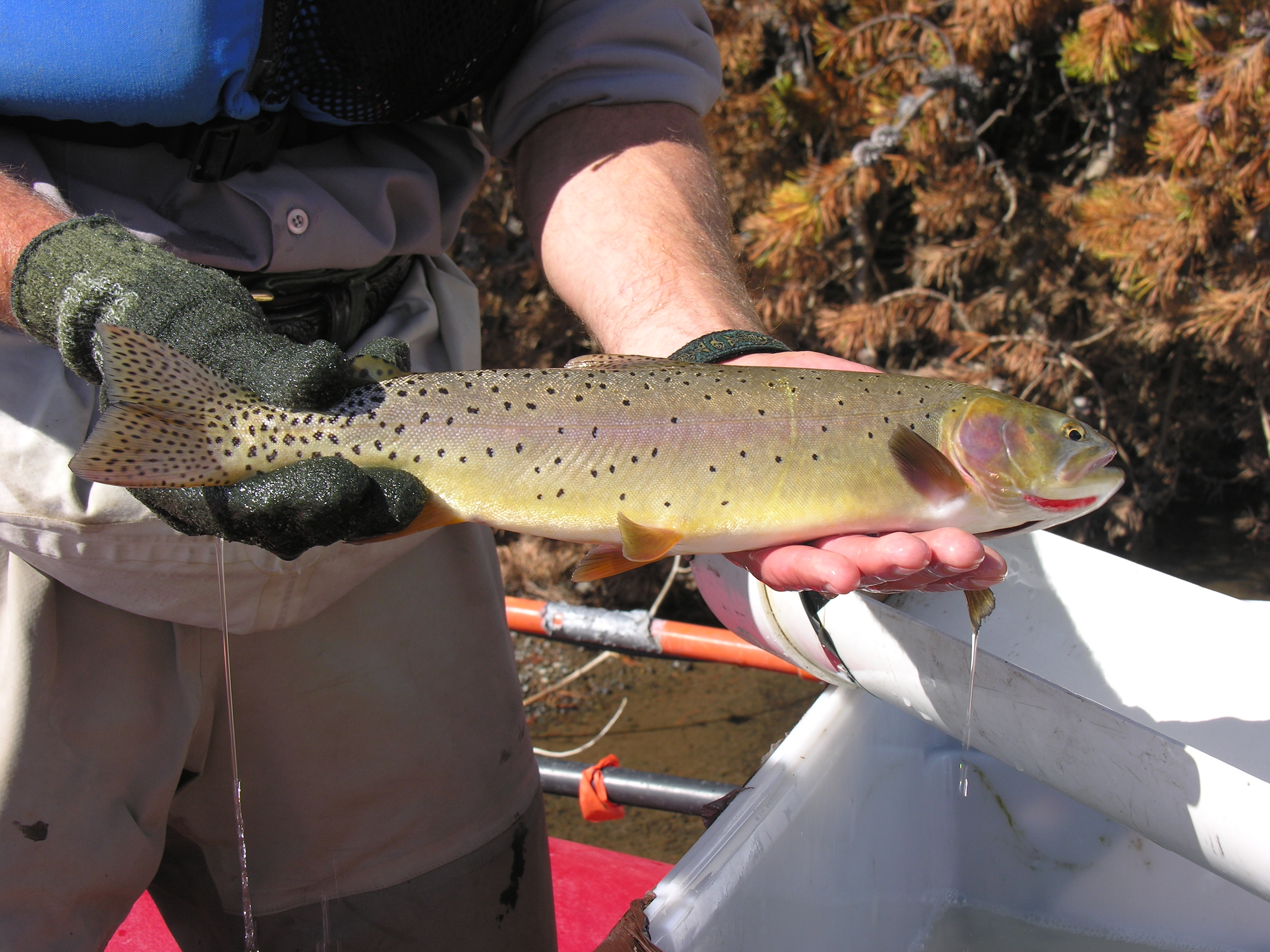 No Rotenone in My Backyard?
Rotenone affects only gill breathers. It can (usually doesn't) kill aquatic insects. When larvae sense the change in water chemistry they dislodge and let the current sweep them to safety; and because they fly as adults they quickly repopulate. Rotenone, applied in modern fisheries management at less than 100 parts per billion, has never been seen to harm a human, wild mammal, bird or reptile or to permanently affect an aquatic ecosystem except to restore it.
But rotenone is a "poison," and that word terrifies a large element of the public. So wives' tales abound, none more pervasive than the alleged "link" between rotenone and Parkinson's disease.
This fiction derives from a study in which implanted pumps injected concentrated rotenone into rats' jugular veins. After 18 months no rat had Parkinson's. The purpose was to establish a "Parkinson's-like condition" (tremors) in an animal model.
Paiute cutthroat recovery was blocked for more than a decade by lawsuits and appeals by individuals and groups fearful of rotenone because they hadn't bothered to learn about it. Representing litigants was the Western Environmental Law Center which alleged in a press release that: "The chemical does not just kill the fish in the water but the entire ecosystem, including turtles, snakes, frogs, birds, terrestrials, insects and other animals that live in or drink from the poisoned water." My requests for a retraction were denied.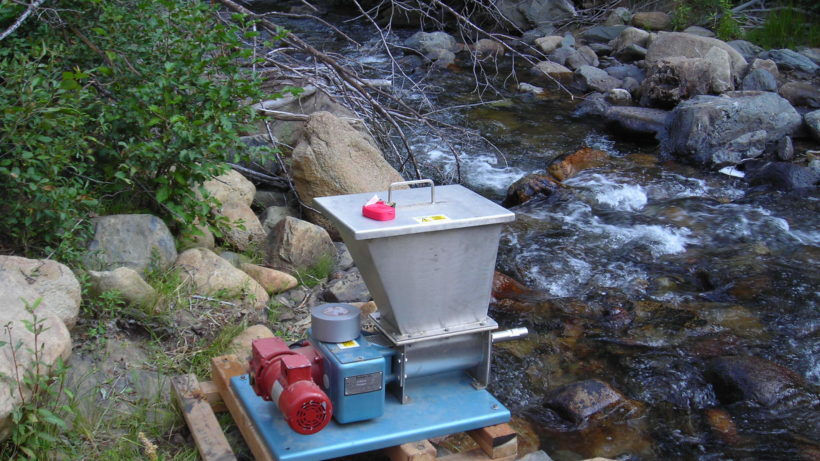 "I am a bit of a mongrel myself," responded a typical rotenone opponent and alien-hybrid defender on the conservation blog I administer for Fly Rod & Reel magazine. "We abhor those who seek human genetic purity! American military men and women have died and continue to die for the freedom of others oppressed by those who wish to impose the same limitations on man as you are seeking to impose on trout.. . . 'Purity' is a word often used by racists, Nazis and bigots."
When California applied rotenone to Lake Davis in an attempt to save endangered races of steelhead trout and chinook salmon from illegally introduced pike, protestors held all-night candlelight vigils, wept, cursed, chained themselves to buoys, and marched around the shore brandishing placards that read "Burn in Hell, Fish & Game!" Police were obliged to deploy 270 officers and a round-the-clock SWAT team.
But Maine's Big Reed project elicited scarcely a whisper of opposition. "Why?" I asked Jeff Reardon, New England conservation director for Trout Unlimited.
His answer explains much of the mindset obstructing native fish recovery nationwide: "It's about NIMBYism," he said. "People don't want rotenone used near their backyards."
At Big Reed Pond, one mile from a 45-mile, dead-end gravel road, there aren't any backyards.
Editor's Note: This is the first installment of a regular column called "Recovery" by Ted Williams. He writes about fish and wildlife for national publications.