You get used to two beeps.
I was on Palmyra Atoll, a remote island 1,000 miles south of Hawaii, on a trip to tag giant and bluefin trevally. (Read more about the Fishing for Science program in my previous story). We were catching fish using hook and line methods, quickly measuring them, inserting a microchip (also known as a PIT tag) for tracking and getting the fish quickly back in the water.
The first day, we fumbled. Research trip leader Kydd Pollock had done this procedure countless times, but it was new for fellow angler Kawika Auld and me. But soon we fell into a routine whenever the angler hooked up. The other angler was at the ready, heavy gloves on, gear at the side. We lifted the fish on board, measured it and then ran a device that looks like a scanner over the fish. This was done to see if the fish had been previously tagged.
One beep meant the fish had already been tagged. Two meant no tag was detected.
You get used to two beeps.
You run it once, then run it again to make sure. Then call out "No tag detected" so the trip leader can record it.
For six days, it went like this, processing well over 100 trevally. Beep beep. No tag detected.
The afternoon had been going normally. Lots of small bluefin trevally hitting squid lures. A comfortable routine. And then, not for the first time, my rod almost bucked out of my hand. The sound of line peeling off the reel signaling a bigger fish.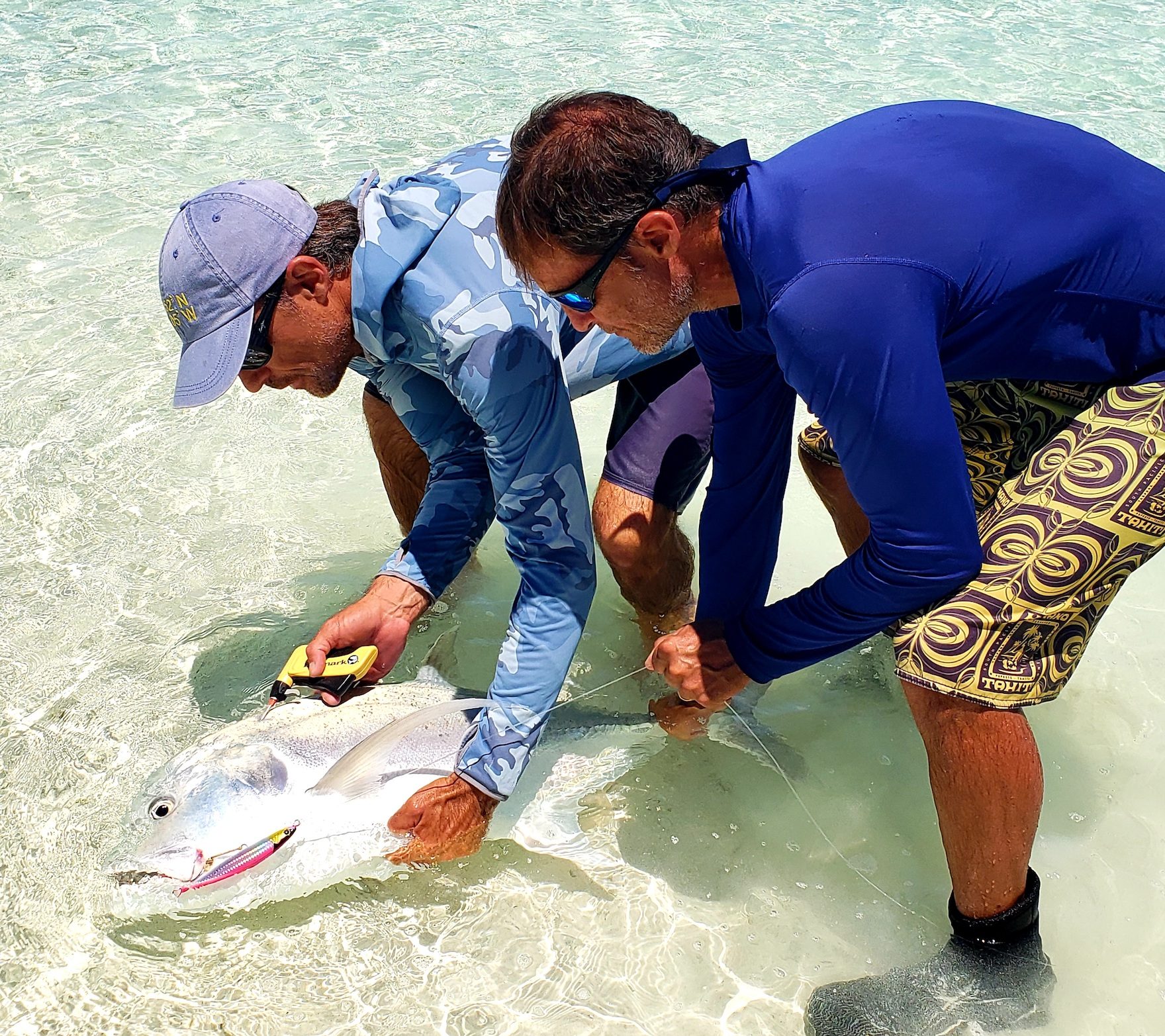 "GT!" called Kydd, angler's slang for giant trevally.
As giant trevally go, this one came to the boat relatively quickly. Kawika was by my side, lifting the fish onto the measuring board. He covered its eyes with a wet cloth to calm it and called out measurements. I dropped to his side with the scanner, ran it over the fish.
Beep.
Wait. What?
I ran the scanner again. Beep. No mistake. It's one beep. This fish has been tagged before.
There are many ways to mark a successful fishing trip. Big fish, lots of fish, special time with family and friends. On this trip, at the nexus of fishing and science, a recapture is a highlight. It tells the researcher (and the angler) how much the fish has grown, perhaps where it has moved, and, not insignificantly, that it survived being caught previously.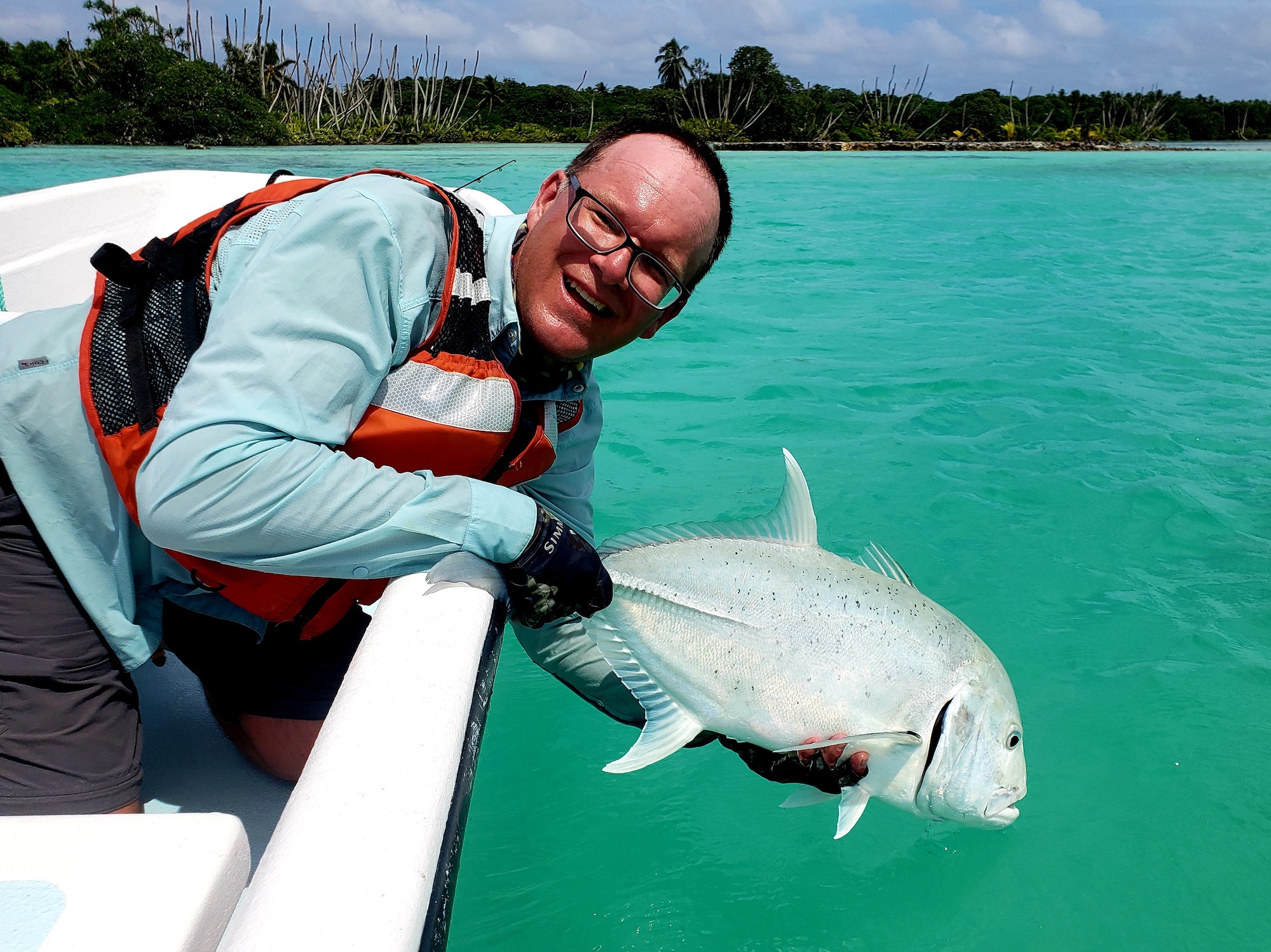 Tracking Fish
Wildlife biologists utilize various methods to track the movements and survival of wildlife. Duke Ferdinand put a band on a gray heron in 1669. (Amazingly, it was recovered 60 years later by his grandson). Bird artist John James Audubon put a silver thread on an eastern phoebe to monitor its return.
Today, wildlife tracking is ubiquitous. Most naturalists are familiar with various radio collars that track an animal's movements regularly. This technique – often used on large mammals – is also expensive and in many circumstances impractical. More common are devices – ranging from low-tech bands to PIT tags – that provide data upon recovery or recapture.
What many don't realize is that recaptures are quite rare. As a nature writer, I've participated in various wildlife tracking activities involving everything from monarch butterflies and timber rattlesnakes and have never recovered a tag.
Bird banding is one of the world's largest citizen science efforts. Sixty-four million birds have been banded in North America alone. Of those, only 4 million bands have ever been seen again. For banded songbirds, the recovery rate is under 0.5 percent.
It's a numbers game. That's why Palmyra's Fishing for Science program focuses on getting PIT tags in as many fish as possible. Frequent recaptures might seem a good thing, but it's generally not. If every Fishing for Science program involved lots of recaptures, it would suggest a small fish population.
But Palmyra is extraordinarily productive and well protected. There are a lot of trevally. The odds of catching one a second time is quite low. And a cause for celebration when it happens.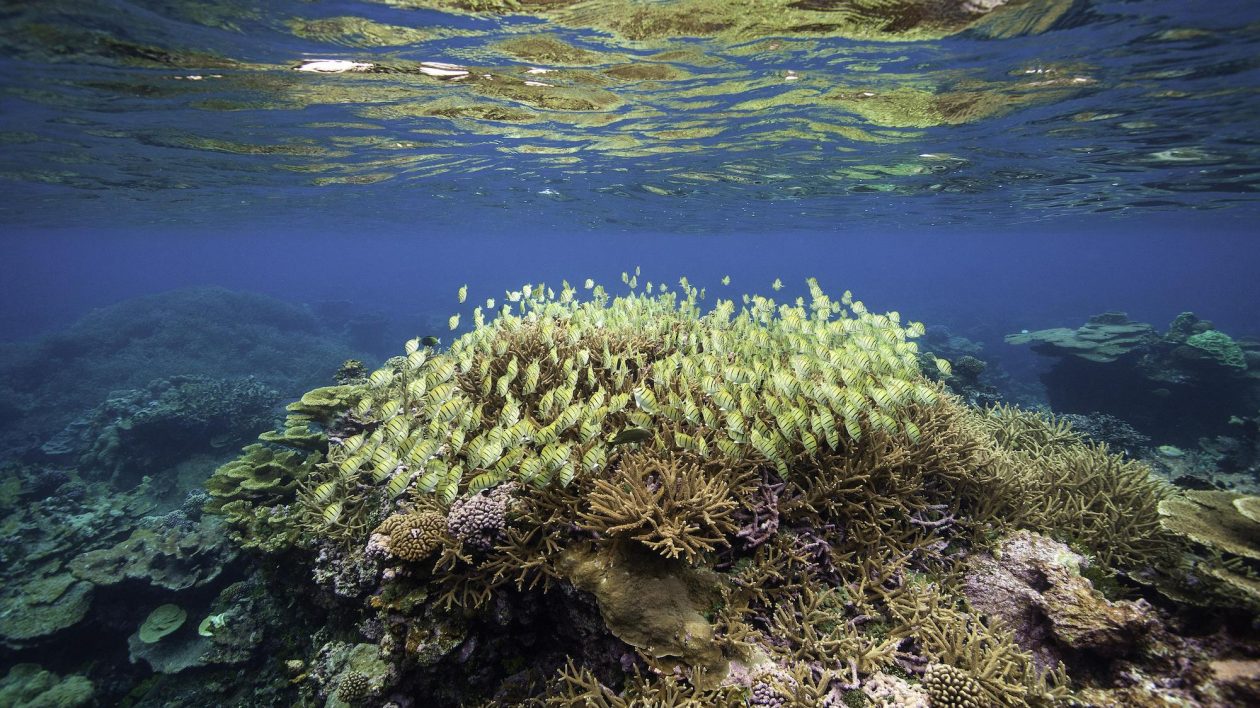 The GT's Story
There are always a lot of stories during dinner at Palmyra Atoll. The research station is the only human habitation on the atoll. Palmyra is a beautiful, idyllic setting, but the days are always long and involve a lot of physical activity. Meals are the one time that the various research teams and seasonal staff gather.
And this particular evening, there's a special story. Kydd has already entered the data and matched it with the first capture.

The giant trevally I caught that day had been first tagged by a scientific angler on February 3, 2020 in Palmyra's Western lagoon. The fish's length was 55 cm at the fork of the tail, with a total length of 62 cm.
I recaptured the fish on November 13, 2021 in Palmyra's Central Lagoon. The fish had grown to 71.5cm at the fork, with a total length of 79.5 cm. It had grown 16.5cm or about 0.8 cm a month between captures.
It was "at liberty" – as researchers put it – for 648 between captures, at that point a Fishing for Science record.
My recapture record was short-lived. On the next Fishing for Science trip in February of this year, a scientific angler caught a bluefin trevally that had been tagged on February 6, 2020, at liberty for 753 days.
To date, nine fish have been recaptured on Palmyra Atoll, only two of them giant trevally. The first giant trevally tagged is an interesting story, too. It was first captured on December 20, 2018, the very first fish of that Fishing for Science trip. It was also one of the larger trevally landed in the project, measuring a 111 cm fork length. Given the size, and that it was early in the project, the fight and processing time took longer than usual. As is the case with larger fish captured in the project, the fish was "walked" to shallow water and allowed time to recover.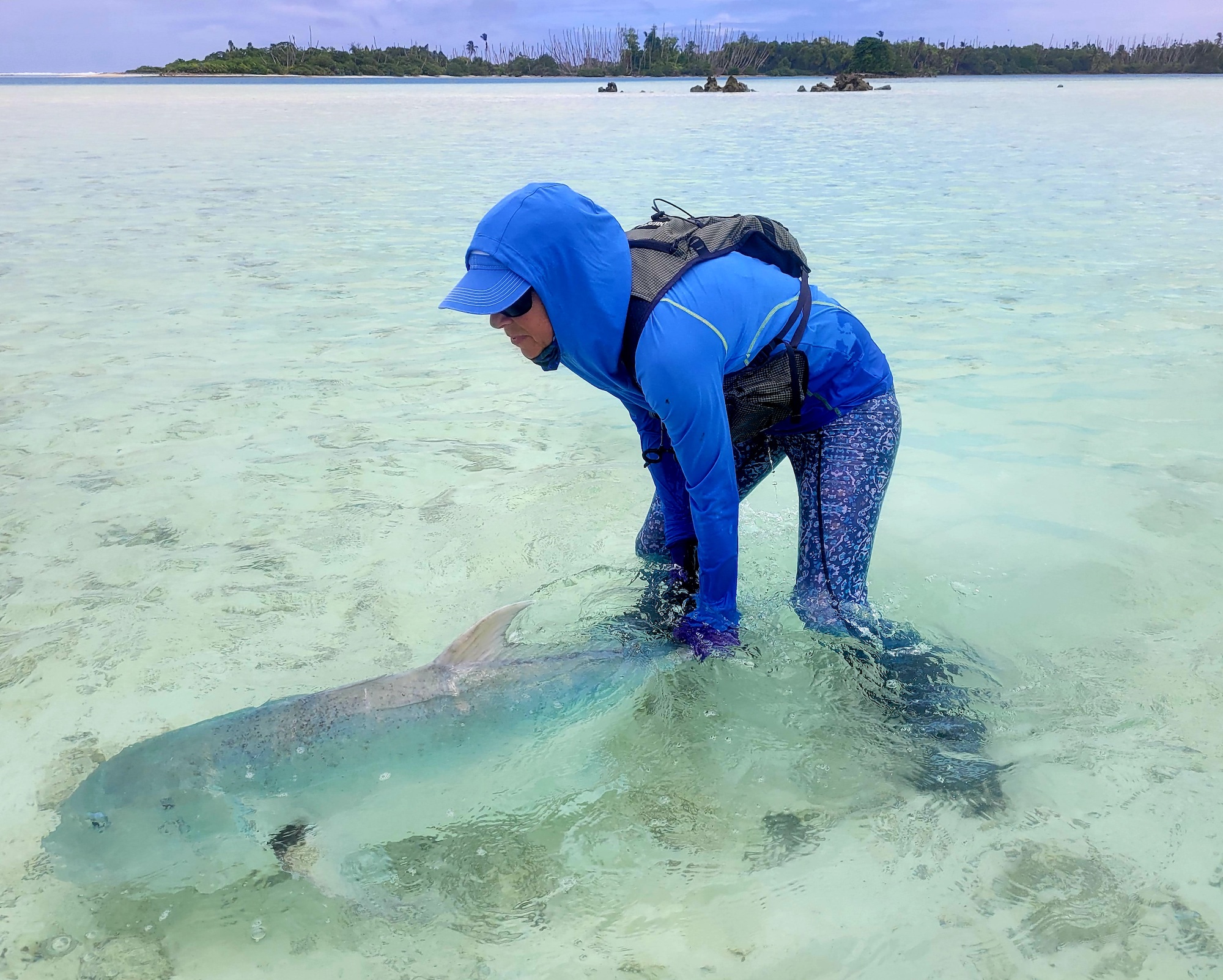 That giant trevally was recaptured on June 20, 2019, healthy and robust. And coincidentally, it was the very last fish caught during the June expedition.
Kydd has been refining methods each trip since the launch of the program in 2018. Our trip resulted in more fish tagged than any, and that number will likely increase more in coming years. The more fish tagged, the more insights about trevally at this protected atoll. And Kydd adds that the larger goal is to be able to utilize this scientific data to assist with similar catch-and-release sportfishing management at other tropical locations around the world.
"It's always an exciting moment, when you hear that single beep and immediately scan it again," says Pollock. "You know that you have a story waiting for you back at the research station, that you can understand a bit more about that fish's life. The more we tag, the better our understanding of these fish, and the sustainability of a catch-and-release fishery on Palmyra, will be."