On my drive to work this morning, I caught an unpleasant whiff of striped skunk several times. For the past week, skunk musk has assaulted my nostrils with increasing regularity. Perhaps you've noticed the same thing.
No, there isn't a sudden population explosion of skunks. It's all tied to their behavior. There are indeed times of the year when you're more likely to smell a skunk. Here's why.
Striped skunks are solitary, nocturnal critters. Despite thriving alongside humanity, they generally stay out of sight and out of mind. Given their propensity for spraying musk when threatened, you might think – given the high population likely living near you – you'd smell them all the time. Skunks spray as a last resort, and their survival depends on them being somewhat secretive.
But at times, they become very noticeable – sometimes due to their behavior and sometimes due to ours.
Striped skunks give birth to a litter of young, called kits, in the early spring. The kits are born naked, blind and helpless. The mother skunk goes out hunting and foraging and brings food back to the den until the skunks are two months old. Then they start joining her on forays, learning to dig insects and perhaps locate your garbage.
Being solitary, it is soon time for the young skunks to disperse. Depending on where you live, that's right about now. So there are lots of young, relatively inexperienced skunks roaming around.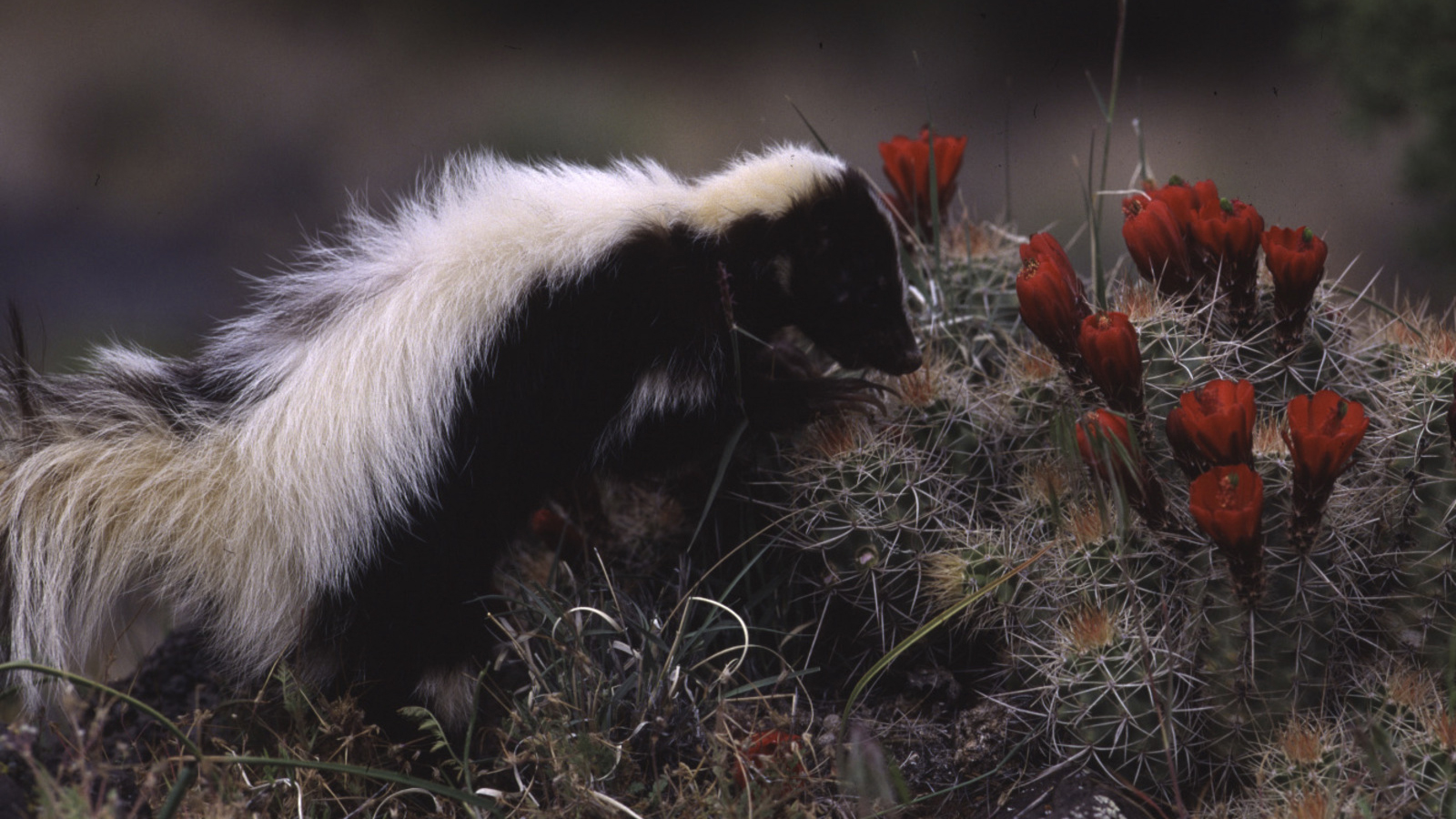 As I think back on skunk encounters, I'm struck by how often I have encountered them in August and September. I recall the night as a youngster I heard some rustling in our backyard. I led my mom and brother on my first of many night safaris. Suddenly a rather perturbed skunk appeared in my flashlight beam. I turned and ran, nearly knocking my mom over — and leaving my light-free family members to face the skunk in the dark. I still hear about my cowardice to this day.
Still, young skunks find themselves in much bigger trouble. The human environment offers no shortage of food: unattended pet food, garbage and litter, grubs and other insects, house mice, backyard poultry and their eggs, and other delicacies. Some skunks even specialize in bee hives, with mothers teaching young techniques for effectively extracting honey.
Suburbia is filled with potential den sites, with spaces under sheds, decks and homes providing ideal skunk condos.
This seeming skunk utopia comes with risks. The first is dogs. While coyotes, badgers and other predators avoid skunks, dogs have not gotten the memo. They attack skunks with abandon, leaving you to douse them with tomato juice or other concoctions that won't work. (Interestingly, one suburban predator that successfully targets skunks is the great-horned owl. One notable owl nest contained nearly 60 skunks!).
An even bigger problem for skunks is roads. Skunks possess excellent senses of smell and hearing, but have poor eyesight. They are poorly equipped to deal with a car going 35 miles per hour.
Right now, a lot of young skunks are dealing with dogs and cars for the first time. You will smell the results.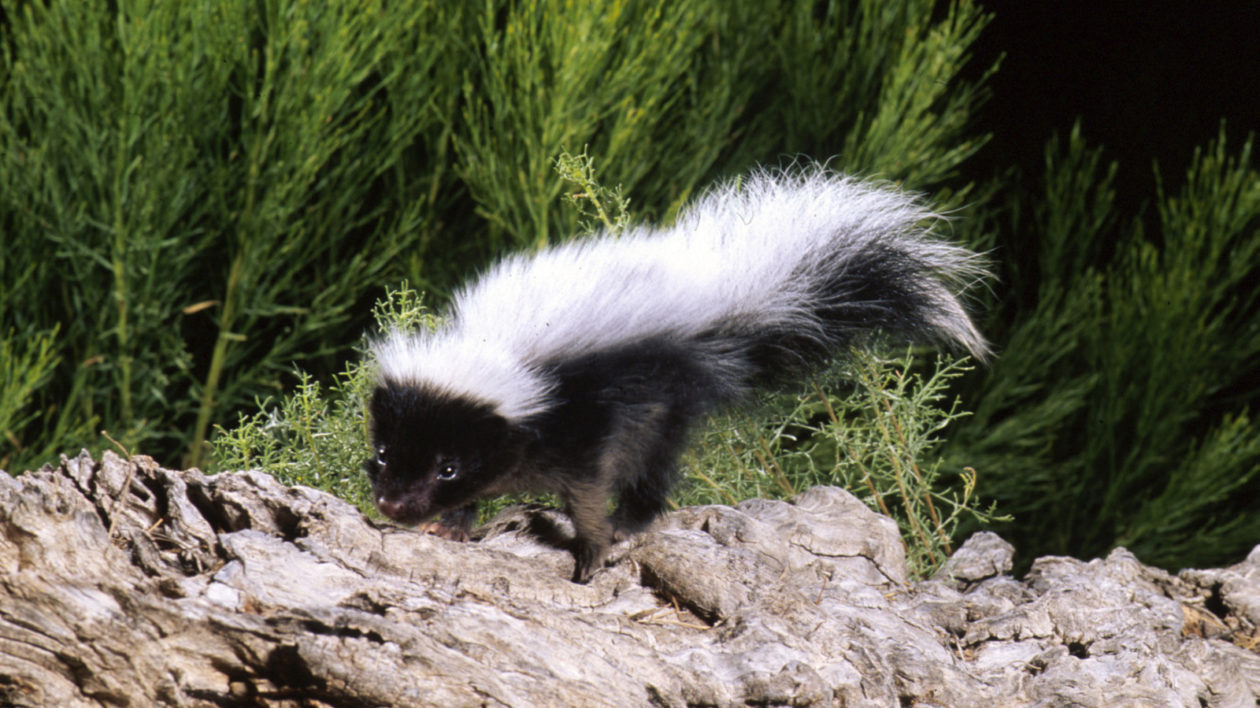 There's one other time of year when you're more apt to smell these animals. That's February, the mating season. Male skunks are fighting. Female skunks may be shooing away males they don't want to mate with. All this stressful activity causes some musk to be deposited. It's not as strong as you will find along the road: you might detect a slight skunky aroma emitting from under your shed in February. That's from skunk activity.
You may not have even realized a skunk was living under your shed until this point.
The rest of the year, the most noticeable sign is when they dig in your yard. They leave small, circular holes around the yard. But they're ridding your lawn of grubs.
Despite their bad reputation, striped skunks are actually low-key, low-maintenance neighbors.
Just keep an eye out for skunks on the road the next few weeks (actually, it's a good idea to drive with wildlife in mind at any time of year). Tend your dog, your garbage and your chickens (also a good idea). And if you go out on a night safari in your neighborhood, make sure the whole family has flashlights.