A Hurricane Sandy Story
Dominick Solazzo likes to say the healthy dunes at Midway Beach and South Seaside Park on the Jersey Shore have a "secret ingredient." Of course, it's a secret that gives itself away pretty readily when the wind blows.
"It's Christmas trees," Solazzo says with a smile. Discarded (natural) Christmas trees donated by the city of Secaucus, New Jersey and given a second life—so to speak—as sand dunes. And, yes, according to him and a few of his neighbors, you can smell the sharp, familiar scent of fir through late winter and part of the spring.
But why Christmas trees? In a word: structure.
"They're like rebar in concrete," explains Solazzo. "They help hold the sand and the dune in place, and give it structure. And good structure matters for dunes. It matters a lot."
Sandy and the Dunes
Solazzo knows all about dune structure. He's the President of the Midway Beach Condo Association and dune beach administrator, and has been helping build and maintain the dunes in this community and neighboring South Seaside Park for decades.
Over the years, he and volunteers from the community—and across the Jersey Shore—have spent countless hours planting seagrass and putting up mile after mile of dune fencing, all for the sake of making the dunes strong.
When Hurricane Sandy roared ashore in October 2012, Midway Beach was one of the only communities without water damage. "Our dunes protected us," notes Solazzo. But the dunes themselves took a beating in the process and lost a lot of their volume. Undaunted, the community, says Solazzo, "got the dune fencing up immediately after Sandy and started getting our sand back from day one."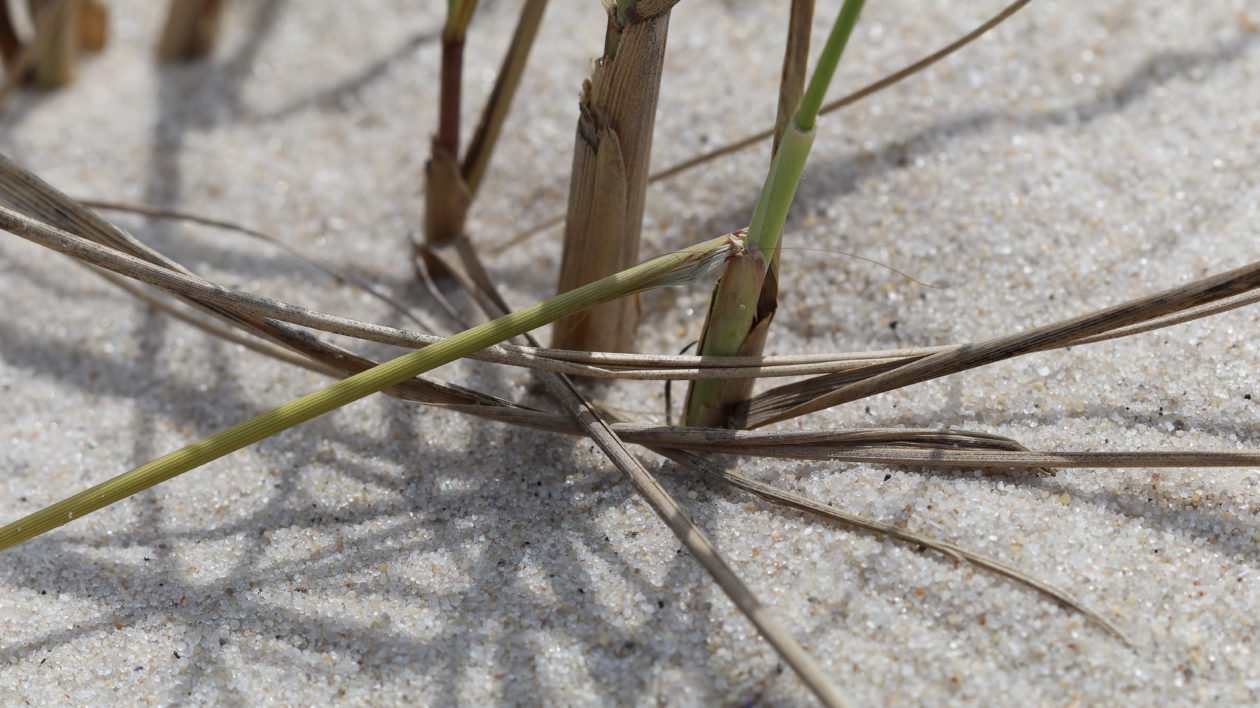 How to Build a Sand Dune (Christmas Trees Not Suitable for All Locations)
Despite what they may look like, healthy sand dunes are not just big piles of sand. To over simplify a bit, they are complex systems built from four key ingredients: wind, beach grasses, sand and air. (Since sand is not what anyone would call "nutrient-rich," air provides the nitrogen beach grasses need to survive so it gets a kind of double mention here).
Dunes are also one of nature's beautiful dichotomies—like a spider web—simultaneously strong and fragile. They can stand up to storms like Sandy and still be damaged by a footstep, which is where the need for human help to rebuild the dunes and maintain their structure (and  the occasional load of used Christmas trees from Secaucus) comes in.
In the natural order of things, dunes form when enough sand is present to provide a toe hold for beach grasses to grow. As the grasses grow, they catch blowing sand and their root systems help hold the dune in place as more and more sand piles up. Over time, detritus from the grasses makes it possible for plants like beach goldenrod and bayberry to take root and begin to grow and provide more structure for the dune—the thing is, that cycle can take a very long time.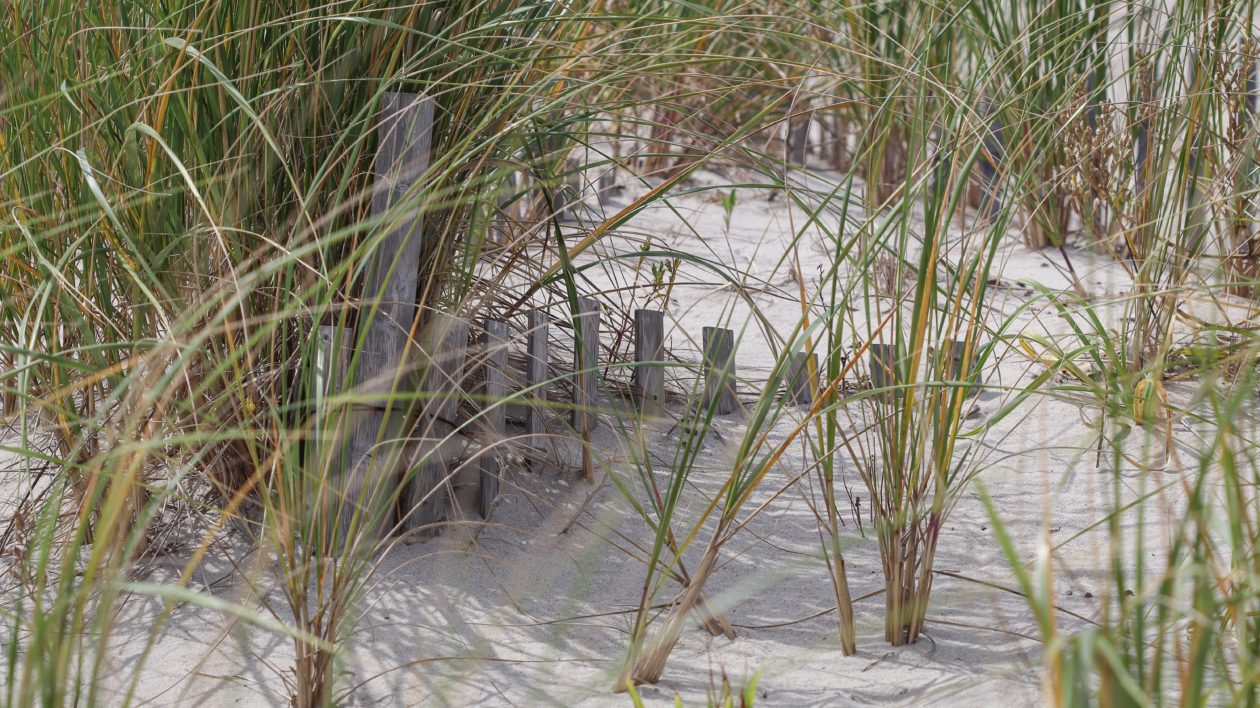 So communities like Midway Beach have found ways to help their dunes grow and stay strong by annually planting beach grasses, and criss-crossing their dunes with wood-slatted fencing to help catch and anchor sand. As the sand collects year over year, it buries some of the fencing which stays in place and helps provide even more, yes, structure.
And sometimes communities also add Christmas trees—lights and ornaments removed, of course—to their dunes because the branch and needle structure of fir trees is excellent at anchoring sand. The trees also provide an extra boost of nitrogen and other nutrients to support the beach grasses and help the dune retain moisture during the summer. But it's important to note, says Solazzo, that Christmas trees are not a one-size-fits-all solution. They're not suitable for all beaches, especially if there are erosion problems.
Fortunately, the trees are great for Midway. So Secaucus gets to recycle its trees and Midway's dunes get some nice structural reinforcement.
That also smells good.
A Piece of Paradise
"Sand dunes that smell like Christmas," says Chuck Cerria. "It's one of the many things my wife and I love about having a place here."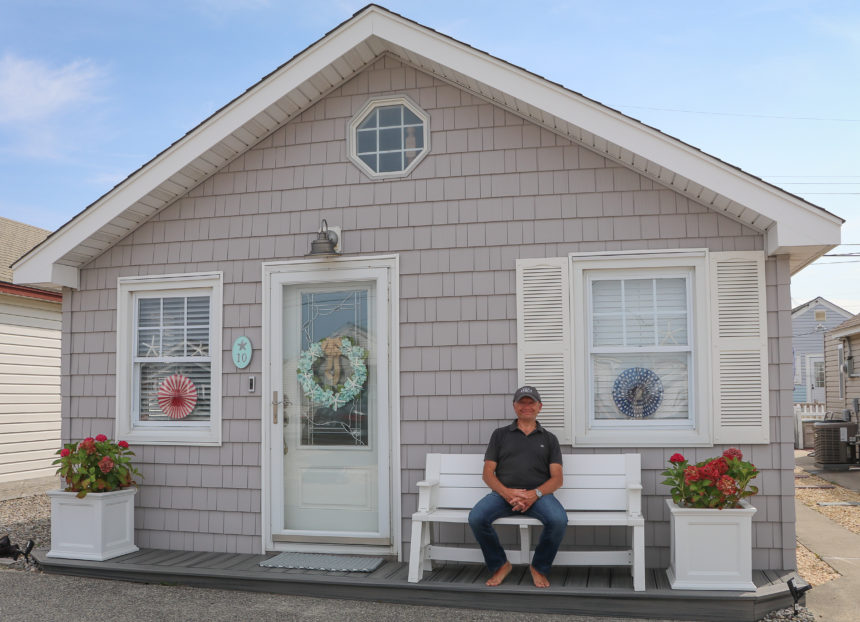 In fact, for the Cerrias, it was the sand dunes that first brought them to this part of the Jersey Shore almost five years ago now. It was the spring after Hurricane Sandy and Cerria and his granddaughter Anna, who was five at the time, volunteered to help replant dune grasses in Midway Beach.
Despite having grown up spending his summers on the Jersey Shore, Cerria had never heard of Midway Beach, but immediately fell in love with the community. "It struck me," he says now, "as a place of rare tranquility and beauty."
He and his family had been volunteering in Sandy Hook and Long Beach Island since January and had seen a lot of the devastation from Sandy up close.
"Everything was just destroyed," he says. "Do you know how much trash you can pick up on a beach after a storm like that? I'll tell you: a lot. And then I got here to Midway and there was no damage. I couldn't believe it. So when a house came up for sale in the community, we bought it."
Chuck and his wife Jill were the first people to purchase property here after Hurricane Sandy, and they've never looked back.
"We call it our little slice of paradise," says Cerria. "If my wife and I can finally realize our dream of having a place close to the Jersey Shore, what better place to be than one that survived the most catastrophic storm we've seen in a long time. There are never any guarantees, but we take a lot of comfort from our dunes."
And, he says with a smile, "Every year, we send a note to Secaucus to thank them for the Christmas trees."