Keep an eye on the ground and any decaying trees as you're walking the trails of the Pacific Northwest and you're likely to see bright yellow spots moving along the ground, look closer and you'll notice those spots are on the "keels" of a dark millipede about 2 inches long. That's the yellow-spotted millipede (Harpaphe haydeniana) — AKA almond-scented millipede, AKA cyanide millipede.
Just like the bright colors of the monarch butterfly, and other aposematic species, these yellow spots are a warning to potential predators – "Don't mess with me!"
If you were to pick up a yellow-spotted millipede, it would likely curl into a spiral and exude hydrogen cyanide on you, accompanied by the strong scent of toasted almonds (that's the smell of cyanide). The amount secreted by an individual millipede is not enough to seriously harm a human, though it may stain the skin or burn and blister if you're sensitive (wash your hands if you handle one). This amount is lethal, however, to birds and rodents. Similar cyanide producing millipedes in the Appalachians can produce 18 times the amount of the toxin needed to kill a pigeon. The threat is enough to protect these abundant arthropods from most predators (they do have a beetle nemesis).
Cyanide is so toxic to most living organisms that it was once thought that cyanide millipedes were running the risk of killing themselves each time released this secretion; that they must close off the openings that they use to breathe in order to survive. But scientists found that the millipedes are immune to cyanide — able to process it and convert it into harmless chemicals.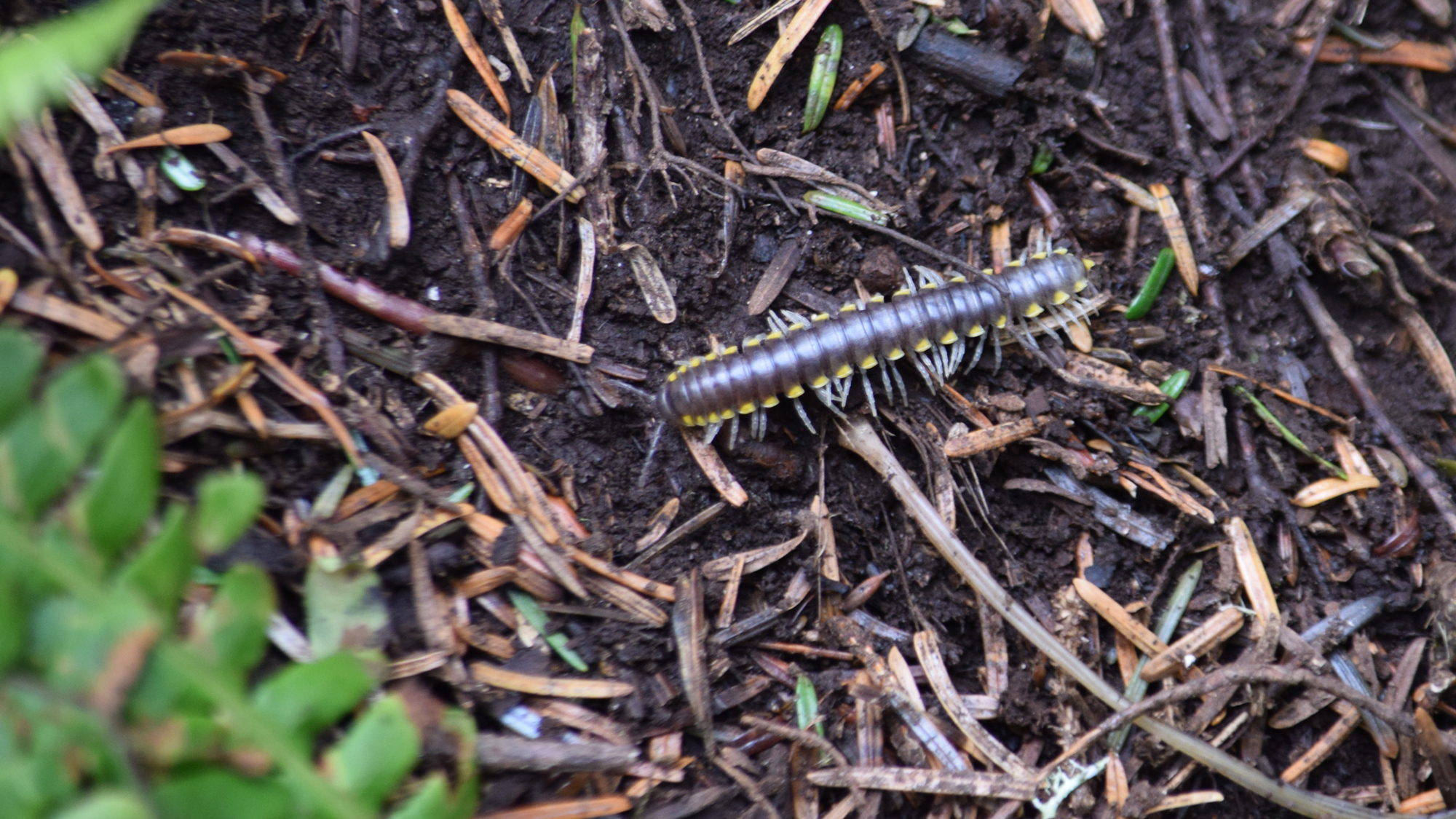 Abundant may be an understatement for the yellow-spotted millipede. In some places, yellow-spotted millipedes can reach densities of 20-90 individuals per square meter, an unusually high density for millipedes in a conifer forest. So many millipedes with so few predators eat a lot of food and their favorite food is leaf litter, primarily needles from trees like the Douglas fir and Sitka spruce.
"They are in fact the most important detritivore, or organism that actually feeds on dead leaves and litter and turns it into feces so it can enter the soil decomposition recycling chain," Andrew Moldenke of Oregon State University said, as reported by the Nature Conservancy in Washington. "From a conservation point of view, they're absolutely critical."
Within their range yellow-spotted millipedes eat 33 to 50 percent of all coniferous and deciduous leaf litter. For a millipede, eating is a complex process – they crush their food, filter it, and crush it again increasing the availability of nutrients 40,000-fold. The millipede uses the nutrients it needs and then excretes much of that rich nutrient load onto the forest floor where it becomes part of a complex food web.
And if you think all that is crazy, this is how they reproduce.
"What people are totally blown away by are their mating habits," Moldenke reports. "They get together by tens of thousands to millions in one spot and mate."
Despite their abundance and importance, millipedes remain understudied. 12,000 species of millipedes have been identified globally, but estimates of the true number of species out there on Earth range from 15,000 to 80,000 – either way there are at least 3,000 millipede species out there to discover. You can contribute to scientific knowledge of millipedes by reporting your sightings to iNaturalist.