An octopus that steals coral? Dolphin volunteers? Welcome to the unexpected side of coral reef restoration.
I have been working to restore coral reefs in the US Virgin Islands, and the wider Caribbean for more than four years now and what I observe during these adventures never ceases to amuse and entertain me.
The Nature Conservancy's process for coral restoration is straightforward: We rescue pieces of threatened elkhorn and staghorn corals that have naturally broken off and would otherwise die if left unattended.
As these two coral species are the foundation of coral reefs in the Caribbean, it's critical that we assist in their recovery—to bring back a reef system that by some estimates has been depleted by as much as 80 percent.
Those rescued corals are maintained within underwater coral nurseries, which are tended similar to gardens. Some of our nurseries are filled with structures made from cinderblocks that are anchored to the seafloor by rebar and covered by PVC sleeves to ease the cleaning effort.
Other nurseries are filled with PVC "trees" upon which corals are hung, similar to a Christmas tree. After a year, corals are multiplied within nurseries or transplanted to local reefs using a non-toxic two-part epoxy.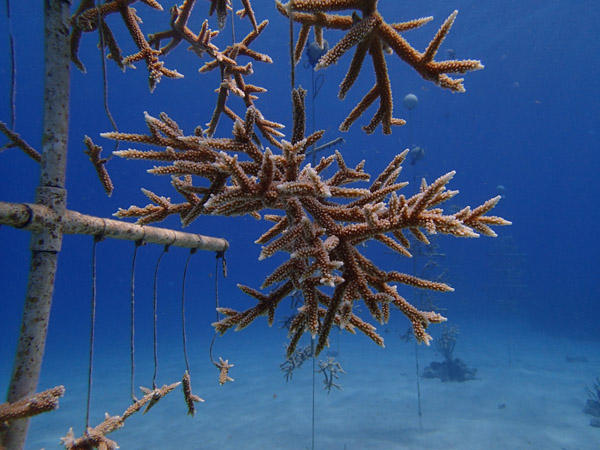 We occasionally have community volunteers come visit our coral restoration projects and help support various activities needed to maintain the nurseries.
We've also received help from a number of surprising characters!
One curious volunteer we had a while back was a bottlenose dolphin that was hanging out with us during a coral nursery maintenance dive.
When I revisited the nursery a few days later, I noticed that the PVC sleeves had been removed from the rebar anchors and were scattered on the sea floor.
I observed this again after a few subsequent dives and believe that the dolphin tried to help us out (I guess we could have spent more time demonstrating how to replace the PVC sleeves onto the rebar anchors!).
We also received help from parrotfishes as well as blue tangs, doctorfish, and surgeonfish that eat the algae growing on our coral nursery structures.
These are extremely helpful volunteers, given that we need to remove algae that compete against coral for space. In fact, we now situate our nursery structures close enough to healthy reefs so that these coral reef-dwelling herbivores can readily remove algae on our behalf.
Our latest volunteer recently stumbled into one of our staghorn restoration plots at Cane Bay on St. Croix. This little common octopus tried to take one of our recently transplanted staghorn corals for his own.
The epoxy had not yet hardened and we struggled to rescue our staghorn coral colony from this sneaky "klepto-octopus."
When it was clear that we would win the battle for the coral, the octopus still thought he could get away with just the epoxy. But, we won that battle also.
See for yourself in the video below. Although I'm underwater, you can clearly hear my reaction.
And every time that I replay this video, I am reminded that I have a pretty awesome job.
Dolphins and octopus are among the most intelligent marine organisms in our oceans and both have provided great experiences within our coral nurseries and our restoration sites.
What will visit next? Who knows, but I am definitely looking forward to our next unique "volunteer."