A new paper publishing today in Environmental Research Letters has some sobering news for people living in the Lower 48 states: you may be at risk from river flooding and not even know it until the waters start to rise.
In fact, the study, "Estimates of present and future flood risk in the conterminous United States," found that 41 million U.S. residents – about 13 percent of the entire population of the study area – are at risk from flooding along rivers. That's about three times more than current estimates based on the regulatory flood maps produced by the Federal Emergency Management Agency (FEMA), which primarily map the areas at risk for 1-in-100-year floods in populous river basins.
Why the Big Difference? As Always, it's All About the Data.  
In general, FEMA prioritizes risk-assessment areas based on their population: reserving expensive, field-work intensive methodologies for the more populous river basins, adopting more approximate methodologies in others, and many rivers have not yet been mapped at all.
The sheer size of the U.S. means that flood maps generated in this way are incomplete – it would be too expensive and time-consuming to survey and model every river basin in the country. The national-scale flood maps produced by FEMA therefore constitute a patchy mosaic of local assessments that leave a large portion – about 40 percent – of the country and its flood risk unaccounted for.
For this research, scientists from The Nature Conservancy and other partners, including the University of Bristol in the U.K., adopted a pioneering methodology that avoids the pitfalls of the FEMA approach – where individual catchments are studied – by making use of big data and fast computers. The study used a new high-resolution model, produced by the flood-mapping organization Fathom, that simulates floods on all rivers across the entire continental United States.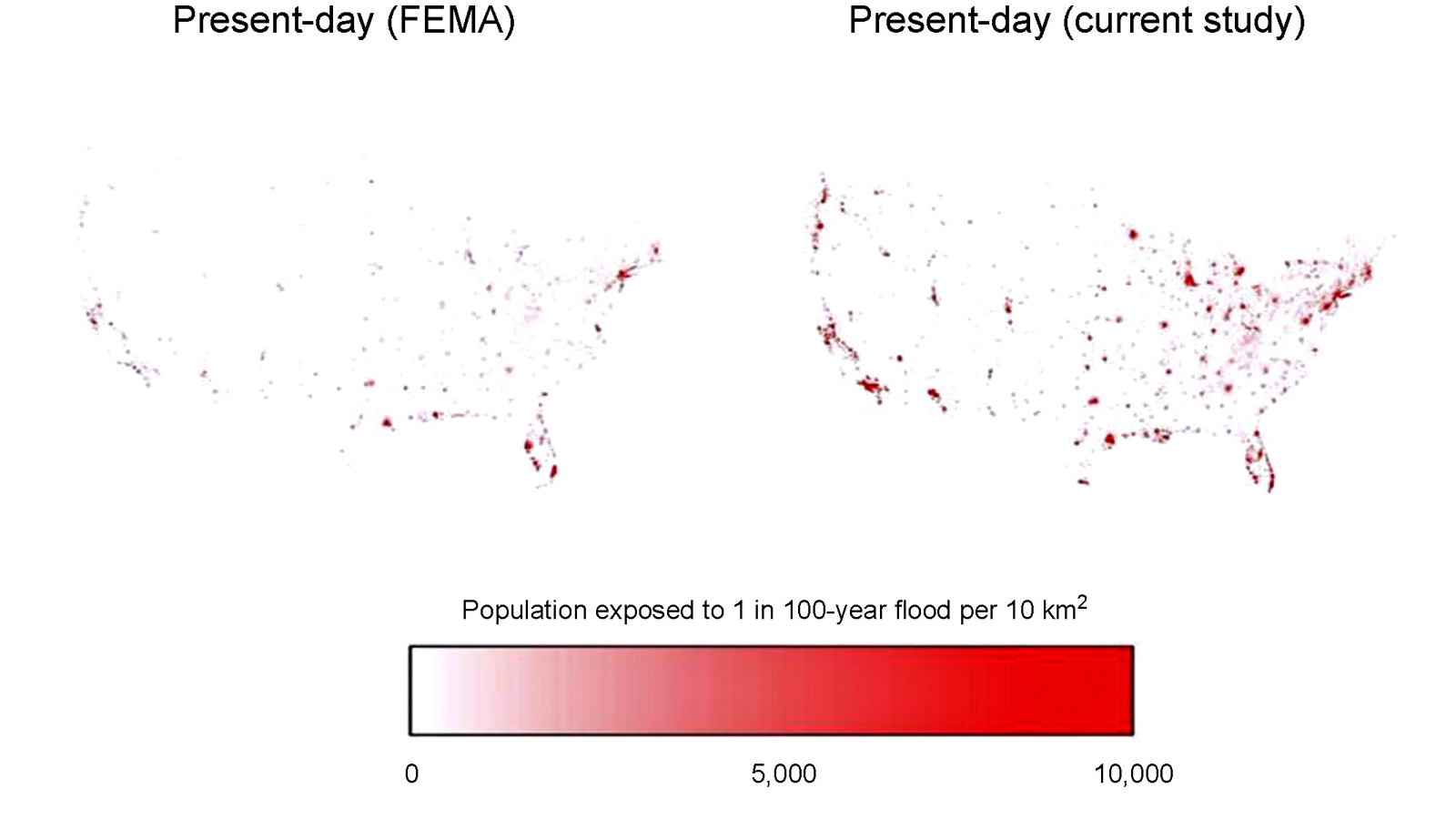 "We were all surprised by how many people are actually exposed to freshwater flooding in the U.S.," said Oliver Wing, lead researcher on the study and a PhD student at the University of Bristol. "It's particularly worrisome considering that most of these people aren't even aware of the risk they face. This study helps fill that critical information gap."
Using streamflow data from the U.S. Geological Survey the research team was able to produce flood risk maps across the country, with a level of accuracy along specific rivers that compares well with the FEMA flood maps that presently serve as the primary source of flood hazard data in the U.S. The increase in numbers of people at risk shown in the study is a result of the expanded coverage of the map combined with the model's ability to estimate flooding on small streams and flooding directly from rainfall – what hydrologists call "pluvial flooding."
This is in contrast to flooding from rising rivers, called "fluvial flooding," which both the new model and the FEMA model consider. The third type of flooding is "coastal flooding" from storm surges, which is already comprehensively modeled by FEMA and is not included in this study.
While the study fills gaps in floodplain mapping across the country, higher concentrations of newly identified risk are also particularly evident along the Pacific coast, in urban centers around the Great Lakes, and across inland western US.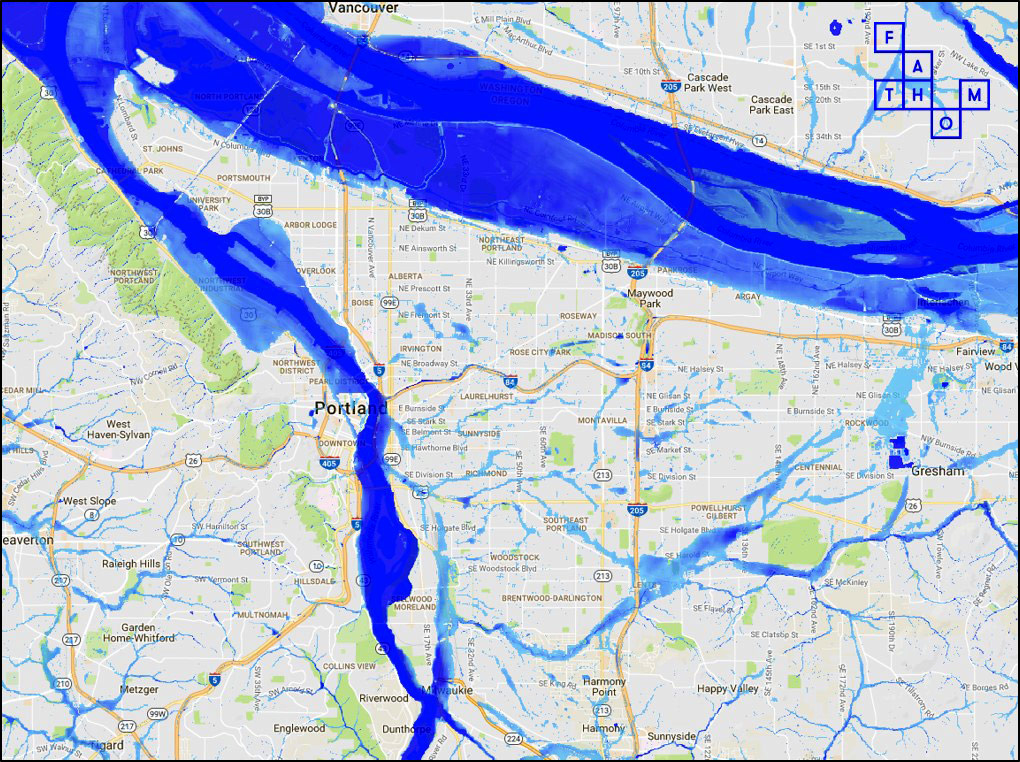 You Can't Manage a Risk You Aren't Aware of
A clear understanding and assessment of flood risk only grows more urgent, Wing added, because people continue to build in harm's way, often without realizing they are doing so. The study—which integrates new maps from the Environmental Protection Agency that more precisely estimate where people live now and where future population growth is expected—predicts that, under potential population growth and development projections, by 2050 more than 60 million U.S. residents may be vulnerable to "1-in-100-year," or "one-percent," floods.
"Because climate change may cause so-called 100-year floods to occur more frequently, even more people may be exposed to flooding in the future. All of this highlights the critical need for comprehensive floodplain and flood risk management planning," Wing said.
The Good News: Nature Finds a Way
Kris Johnson, a Conservancy scientist and co-author of the study, said, "By knowing those places most at risk from floods, we could avoid development in these areas. Protecting floodplains or developing them in ways that can withstand flooding—such as flood-tolerant parks—can prevent unnecessary risk to people and help avoid expensive damage to property and infrastructure. Floodplains also store and convey floodwaters, which can help prevent flooding in nearby communities."
The many important values of floodplains – including their irreplaceable role in protecting wildlife — are a key reason the Conservancy has been working specifically on floodplain management and conservation for decades. From protected areas like Emiquon on the Illinois River to Mollicy Farms on the Ouachita in Louisiana, the Conservancy is showing that restored and managed floodplains can store and convey water during flood events, lowering the flood stage for communities upstream and downstream.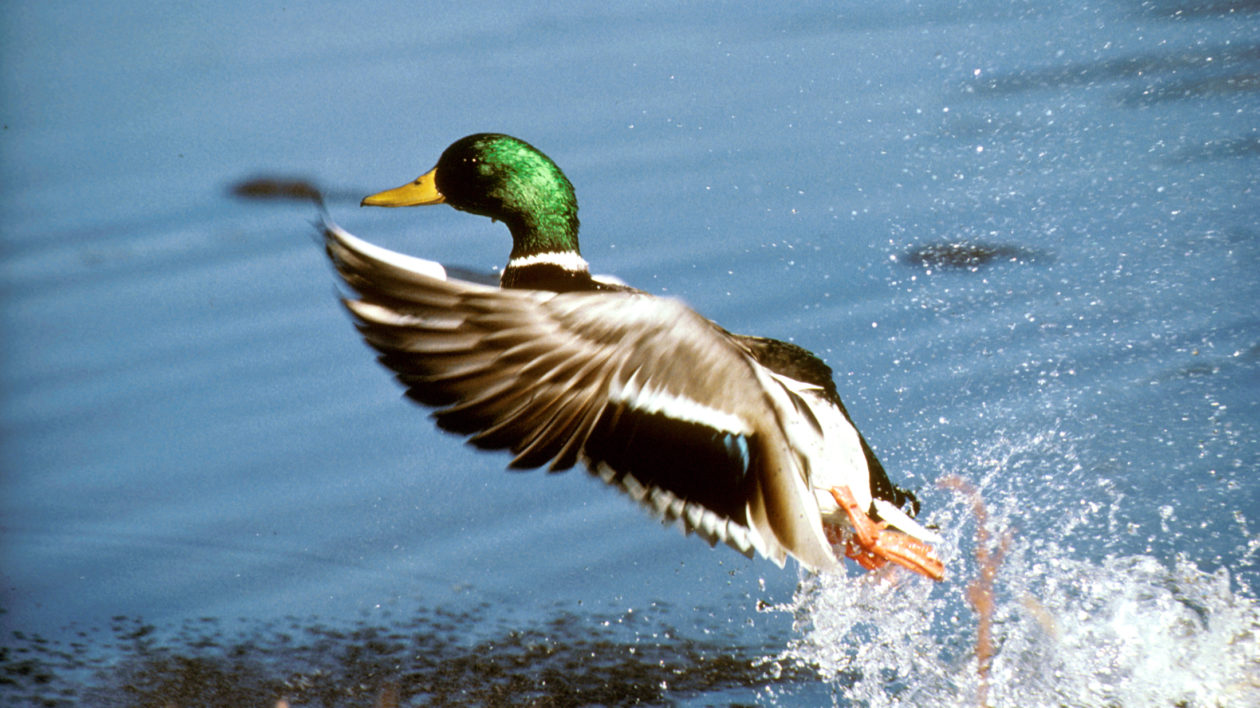 Floodplains have a place in more highly urban settings as well. More than 40 years ago the US Army Corps of Engineers concluded that protecting wetlands and floodplains in the Charles River watershed was the most cost-effective way to reduce potential flood damages downstream in Boston. Protecting floodplains has proven effective in multiple places in the U.S. and around the world but is too often overlooked as a cost-effective strategy to mitigate flood risk.
To capture all the values of floodplains, including their fundamental importance to providing habitat for wildlife, the Conservancy has also partnered with the American Planning Association, the American Society of Civil Engineers, the Association of State Floodplain Managers, and the National Association of Counties on a project called "Naturally Resilient Communities." It's a partnership designed to help communities use nature-based solutions to address multiple needs, with a focus on reducing impacts from floods and storms.
Forewarned is Forearmed
When it comes to flooding, the best risk is the avoided one. The study calculated that in the continental U.S. there already exists $5.5 trillion worth of assets in areas subject to 100-year floods, with a potential of $1.2 trillion worth of damage to these assets if every area experienced such an event. Better planning and the protection of floodplains, Johnson said, is particularly important as average flood losses in the U.S. have steadily increased to at least $10 billion annually.
One measure of this is the current debt of the National Flood Insurance Program, which now stands at some $24.6 billion. Congress also appropriated over $100 billion in response to hurricanes Harvey, Irma and Maria, much of which will aid areas impacted by flood damages.
"Floodplains provide high quality habitats for wildlife, they can offer outstanding recreational opportunities for people, and they help improve water quality," Johnson said. "Protecting and restoring the natural infrastructure of floodplains provides an important complement to built infrastructure like dams and levees. We need comprehensive approaches to reduce the devastating effects that flooding has on so many communities.