NatureNet Science Update
The largest accidental release of greenhouse gases in U.S. history began October 23, 2015 with the blowout of an underground natural gas storage well in Aliso Canyon about 20 miles west of Los Angeles. By the time the well was capped 112 days later, more than 5 billion cubic feet of methane – equivalent to the annual emissions from 600,000 cars – had been released to the atmosphere. It was a disaster for public health, the environment, and the state of California's energy supply.
Unfortunately, that's not the only bad news. A new study by Conservancy NatureNet Science Fellow Drew Michanowicz and his colleagues at the Harvard T. H. Chan School of Public Health, Center for Health and the Global Environment shows that 1 in 5 active underground natural gas storage wells in the U.S. could also be vulnerable to such large-scale accidents because of obsolete well designs, like the one that lead to the blowout at Aliso Canyon.
Published today in the journal Environmental Research Letters, the study presents a first-of-its-kind national baseline assessment of underground storage wells in the U.S. and indicates the need for a better understanding of the risks associated with the obsolescence of aging storage wells. The paper also identifies regulatory data uncertainties, and is intended to aid policymakers, industry and citizens in prioritization and oversight for high risk wells and facilities.
"There could be a lot of potential Aliso Canyons out there," said Michanowicz, lead author on the study. "It's a matter of age, design and circumstance. We identified more than 2,700 active underground storage wells across the U.S. that, like the failed well at Aliso Canyon, were not originally designed for gas storage. They were designed for extraction only. Not extraction and injection of processed natural gas."
These active, repurposed wells have a median age of 74 years, and some are more than 100 years old. Though well age alone may not be an issue, the structural integrity of gas storage wells is a least partially related to when they were built. This is because the materials, design, and construction techniques are reflective of the knowledge and understanding at that time. Therefore older wells are particularly likely to have certain design deficiencies like single failure points – the problem at Aliso Canyon – that do not reflect the engineering lessons learned over time.
Aliso Canyon & the Single Point of Failure
Today, modern oil and gas infrastructure is typically engineered to include substantial precautionary safety margins and redundancies to prevent or quickly seal blowouts and leaks. But not all the country's underground natural gas storage is on par with modern standards because wells were built or repurposed (or both) for storage before those construction standards.
The well that failed at Aliso Canyon was originally drilled in 1954 for oil production. In 1972, it was repurposed for underground storage. The problem seems to be that because it was not originally constructed to store natural gas, only a single steel pipe separated the flow of gas and the outside rock formation. That meant the well's passive structural integrity was vulnerable to a single point-of-failure along a portion of its casing. When part of the subsurface well casing failed, there were no redundancies or safety valves in place to prevent or minimize the blow out.
Today, according to the team's first-order assessment, similar obsolete wells operate in 19 states across 160 underground gas storage facilities that encompass 51 percent of the total working gas capacity in the United States. The oldest wells are concentrated in Ohio, Pennsylvania, New York and West Virginia.
"As Aliso Canyon and other wellbore-related underground gas storage incidents have demonstrated, the vulnerability of even a single well presents a major risk to energy security, mitigation of climate change, and the safety and health of people who live near it," notes Michanowicz.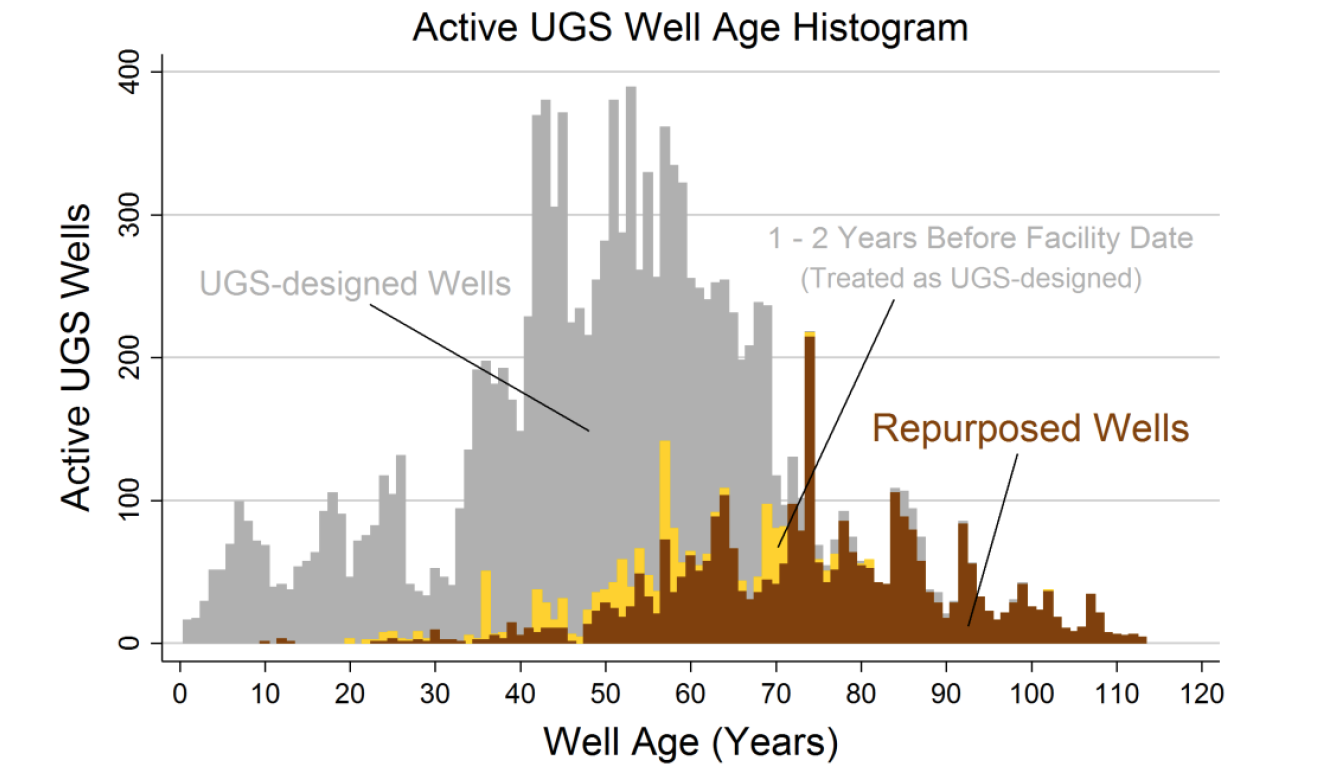 What Now?
In the wake of Aliso Canyon, lawmakers created a commission to develop federal safety regulations for underground storage wells by June 2018. Unfortunately, there is a profound lack of the data and science on underground storage wells that people – policymakers, industry and citizens – need to make effective, data-driven risk-management decisions.
"Partly because no federal safety regulations currently apply to natural gas storage wells or their operations (now pending)," said co-author Jonathan Buonocore Harvard University T. H. Chan School of Public Health, Center for Health and the Global Environment, "very little aggregate information was available regarding these kinds of wells. After we identified this data gap, we realized we needed to build our own database to begin to assess this previously hidden hazard."
The team developed a geodatabase of over 14,000 active UGS wells, using well and facility-level data from 29 individual states, the U.S. Energy Information Administration (EIA), and company system maps. Following recommendations from the Interagency Task Force on Natural Gas Storage Safety to phase out wells with only a single barrier of protection, the team began their assessment by calculating the prevalence and locations of active underground storage wells that were repurposed from hydrocarbon production.
They then referenced well construction dates with the typical construction practices from that era to identify which wells may be more likely to exhibit certain design deficiencies such as single casing protection.
"Another important finding was that older repurposed wells are present in facilities that had constructed new wells in the last decade. This variation of well vintage within facilities suggests that a range of risk management practices and integrity verification techniques are likely needed," said co-author Sebastian Rowland, of the Harvard University T. H. Chan School of Public Health, Center for Health and the Global Environment
"Our study presents a census of active underground storage wells in the U.S. and identifies those that may be high-risk," said Michanowicz. "Our research focused primarily on data availability and original well designs, so further research is needed to refine our understanding of active risk management practices at the state and operator levels. There's still a lot of work to do, but at least now we know where to begin to prioritize efforts to prevent future Aliso Canyons."
NatureNet Science Fellows' Research and Climate Change
"This research is a good example of science to inform science-based policies to reduce risks to the public and the climate as our country transitions to cleaner energy," said Joe Fargione, director of science for the Conservancy's North America region.
Michanowicz's work at Harvard University's Chan School of Public Health is made possible by a Conservancy NatureNet Science Fellowship. NatureNet Science Fellows' research confronts the two overarching challenges of climate change: 1) Halting climate change, and 2) Adapting to the change that is already underway.
Unique among early-career post docs, NatureNet, a partnership between the Conservancy and leading research universities around the world, is designed to push traditional conservation in new and necessary directions by integrating the Conservancy's broad and long-standing scientific capacity in biology and ecology with engineering, materials science, nanotechnology, geography, economics, chemistry, and physics.
NatureNet brings leading early career scientists and engineers from diverse fields into the realm of problem solving at the interface of climate change, technology, and conservation to create a new generation of interdisciplinary conservation leaders who marry the rigor of academic science to real-world application in the field.