Notes from the field: Mbé river watershed, Estuaire province, Gabon
Gabon is a country embarking on a major transformation to convert its economy from one largely focused on petroleum extraction to a more diversified economy that leverages the country's rich natural resources – yet also takes care of them through a "green" development strategy.
Energy security is at the heart of this effort, and getting this right is a high stakes endeavor – it's about power for schools, hospitals, businesses, and much more for rural and urban communities. And nature deserves a prominent seat at the table. Here's why.
A Power Outage Sets the Stage
The darkness of the nighttime when I stepped outside was a stark contrast to the bright lights shining inside the airport.
I had just arrived at the Leon M'ba International Airport in Libreville, the capital city in the central African nation of Gabon. I was there, along with other colleagues, to support the freshwater conservation work that TNC is advancing with partners across the country.
The airport had electricity due to a backup power supply. But the city itself was experiencing a power outage – a periodic occurrence that is part of the rhythm of life in Libreville.
What I would come to learn – and see first-hand in the field over the next two days – was that the energy challenges facing Libreville had a lot to do with a world-class watershed and two hard-working hydropower plants that are several hours drive away from the city.
This watershed is one that most city residents probably think little about and may never visit. Yet it's critically important to their daily lives and the city's energy security.
And the challenges and opportunities in this region illustrate how the still too pervasive narrative of "nature versus the economy" needs to be turned on its head to realize that conservation is a fundamental input to drive real and sustained economic progress.
Reliable and plentiful energy is one key ingredient to quite literally power the transformation that Gabon is planning for.
As of 2010, hydropower accounted for about 45% of Gabon's electricity supply, and the country is already moving to substantially increase its hydropower capacity in the coming years.
How this plays out matters a lot for the residents of Libreville and other cities and villages throughout Gabon that have a growing thirst for electricity and the opportunities it can bring. But where does nature fit in?
Forests, Elephants, and Hydropower, Oh My!
The day after arriving in Gabon, our team made the three-hour drive to the Mont de Cristal mountains along with partners from the Ministry of Forests and Water. We were headed there for the weekend to explore the connections between the condition of the Mbé river watershed and its hydropower facilities.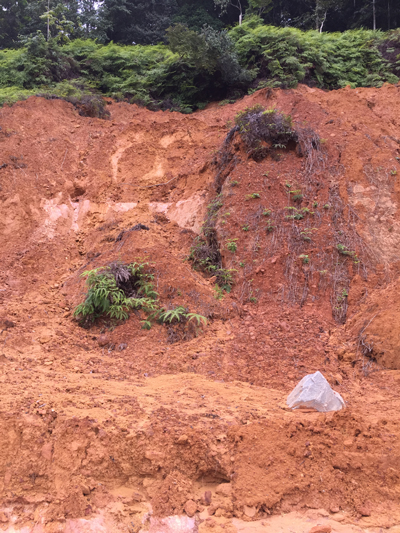 This region is a treasure trove for conservation, with lush forests and rivers being home to diverse fish species, forest elephants, and some of the highest plant diversity in all of Africa.
The Mbé watershed contains the Tchimbélé and Kinguélé hydropower facilities, built nearly 50 years ago, which generate over half of the energy supply for Libreville, where half of Gabon's population lives.
Producing hydropower depends upon a well-functioning reservoir, and in recent years, these facilities have confronted challenges related to low water levels in the dry season and sediment filling up the reservoirs and reducing storage capacity, thereby exacerbating risks in the dry season.
A key issue is that the watershed has rugged terrain, highly erodible soils, and intense rainfall events, which are collectively a recipe for problems when forest cover is removed or unsustainable practices occur with logging, mining, road maintenance, and other activities occurring in the watershed upstream of the hydropower facilities.
For example, during our field visit we frequently came across washout scars along the roads that appeared to be large sources of erosion into the rivers. And we got to see this concern first hand, thanks to an intense rainfall event that occurred overnight during our visit.
Mb
é
River: From Clean to Dirty Overnight
When we went to bed after our first day in the field, the Mbé river was running clear as can be. Yet when we woke up in the morning after the storm, the river was brown and muddied.
After breakfast, we walked into the river a bit upstream of one of the hydropower reservoirs, and the sight before us was striking.
Quite literally, we stood at a spot where to our left there was water so clear you could see to the bottom. Yet to our right was water thick with sediment moving down the fast rushing main channel of the river.
What was the difference?
The tributary stream was forested and relatively undisturbed, including not being close to any obvious road erosion scars, and this appears to have played a big role in preventing erosion into the stream. Yet the main channel was being impacted by exposed and erodible soils coming from upstream areas. In other words, intact vegetation matters – a lot.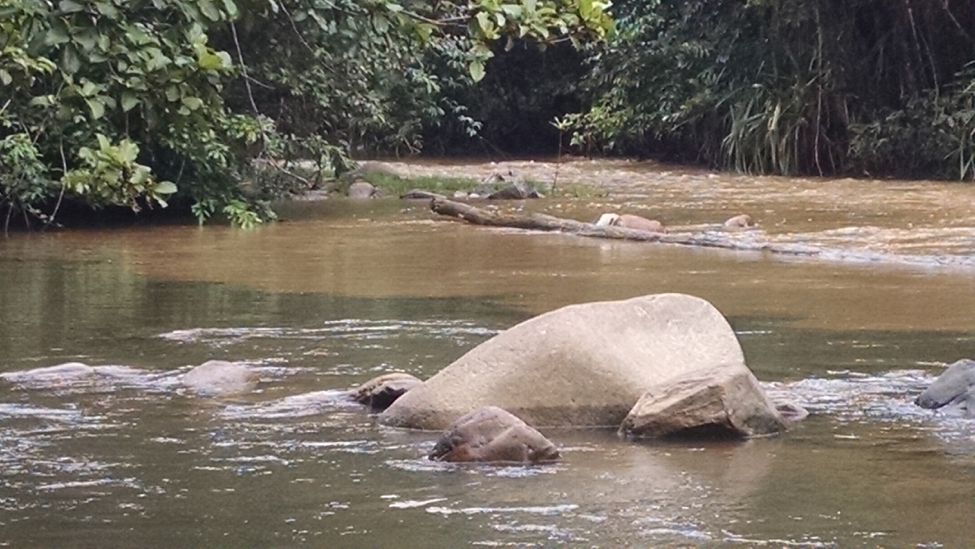 What we saw was a one-time experience that's in line with previous research, yet we can't definitely say anything from it. Still, it was powerful in sparking vibrant conversation amongst our field trip team about the intimate connections between the health of the watershed and its ability to protect biodiversity and support people, including robust energy production.
And as a scientist who spends most of my time working with partners in meeting rooms and running models on my computer, this experience was a fresh reminder of just how essential it is, always, to get out into the field, trek around, and be curious about the world around us.
We are now embarking on a project to get a better handle on what's going on in the watershed to identify opportunities for improved management activities that could benefit conservation, hydropower, and other interests connected to this region.
A Bright Future for Gabon
In the face of economic development, a tough but real question facing conservationists is how to be "smart" about prioritizing what can be lost and what must be protected.
Yet the story of the Mbé watershed turns this question on its head by showing that it's not always a triage situation for nature in the face of development.
Yes, development has real impacts. But healthy forests and rivers are not a luxury, something that can be sacrificed in the name of economic growth and tended to at some later point.
Rather, they are key ingredients to support smart policy and planning. For Gabon, healthy ecosystems are key to its energy security and to powering a bright future for generations to come.