"Jean, I have this tree I want to show you," says Sticky.
We're bouncing along a deeply grooved sand road half overgrown with grass and palmettos on Florida's Tiger Creek preserve, with Lake Wales Ridge conservation program manager Steve "Sticky" Morrison at the wheel of the UTV. To our right, a scorched palmetto clearing still smokes from yesterday's burn.
Eventually we sputter to a halt next to a broad, flat-topped longleaf pine hidden behind palmetto thicket.
"Oh yeah," says Jean Huffman. "This is gonna be old."
Huffman, a fire ecologist at Louisiana State University and Tall Timbers Research Station, is on a mission to archive the last of Florida's old longleaf pines. Overlooked or unnoticed by land managers, these pines store a wealth of data within their rings. But they're also at risk as land managers reintroduce fire into the landscape.
Old Pines in Danger
The Conservancy's Tiger Creek preserve is perched on the Lake Wales Ridge, the remnant of an ancient island that runs down the Florida peninsula like a gnarled spine. Once covered with forests of longleaf pine and saw palmetto, most of ridge's sandhill habitat is in bad shape after decades of extensive logging and fire exclusion.
Land managers are actively reintroducing fire to restore the landscape, but unfortunately this return to the natural cycle can be a deathblow to the few ancient longleaf pines that remain.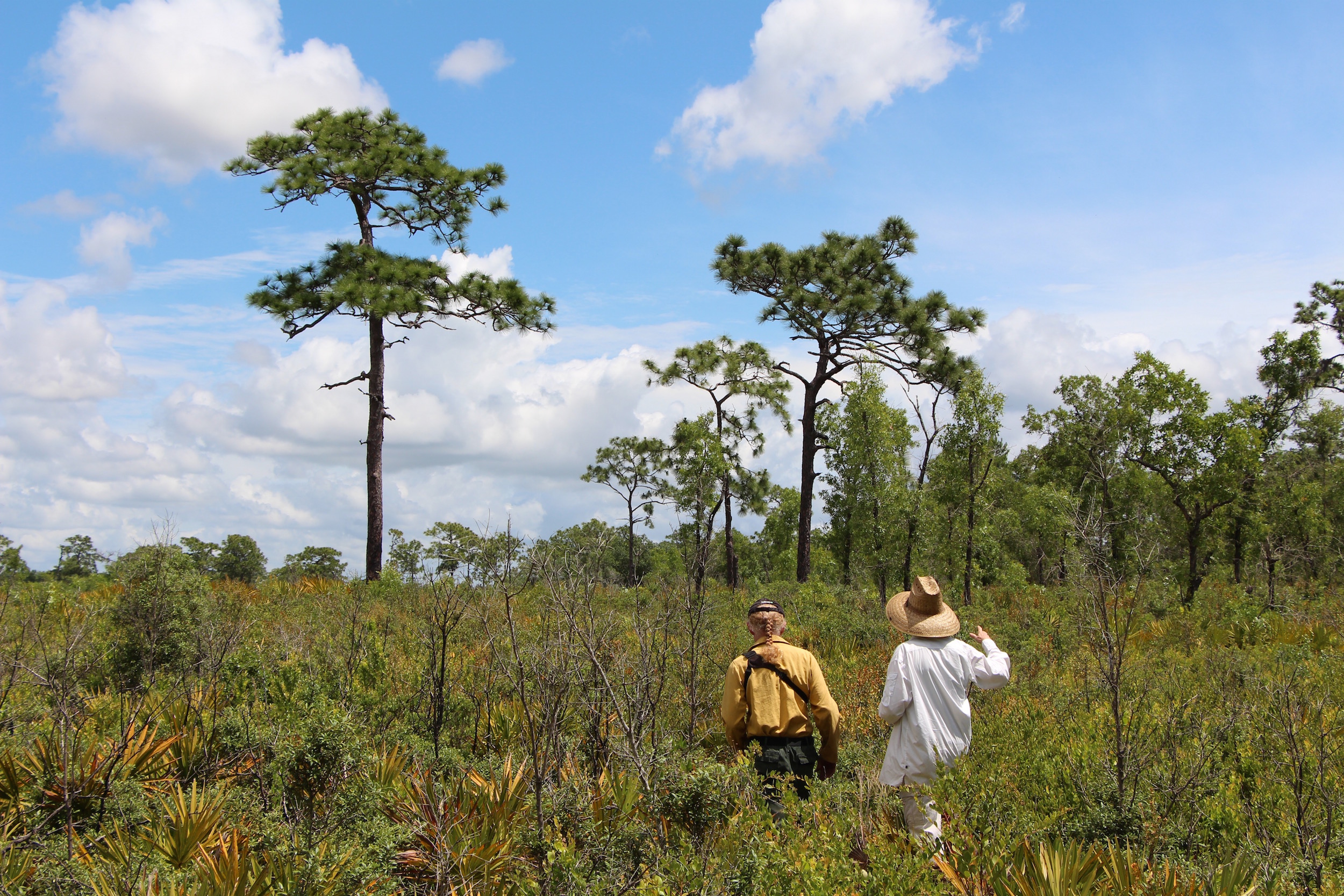 We climb out of the UTV and wade through the palmettos, skirting bleached cow bones strewn amid the blooming yellow sandweed. As we reach the tree, Huffman and Jennifer Navarra set to work.
A plant ecologist at the Florida Department of Agriculture and Consumer Services, Navarra loops a tape measure around the wide trunk, shimmying it up until it's level with her chest. She's measuring the diameter at breast height, or DBH, which dendrochronologists use as an approximate gauge of the tree's size.
As Navarra records the GPS location of the pine, Huffman crouches at the tree's base and begins digging through a thick layer of brown, compressed needles. She explains that this layer of organic material, called duff, shouldn't actually be here.
In a healthy ecosystem with frequent fire, this organic matter would burn off before it could accumulate, leaving a protective layer of sand between the pine's roots and the blaze. But without fire, the needles build up and eventually the tree's feeder roots grow into the duff. When well-intentioned land managers reintroduce fire, the highly flammable needles burn hot, scorching the roots and eventually killing the trees.
Digging down for more than 3 inches, Huffman eventually reaches the white sand underneath.
"That is one of the reasons why so many rare old growth trees have been killed with the reintroduction of fire," she says, "but these trees are a very rare and valuable resource that needs special care and planning."
Navarra adds that the death of old growth longleafs is never intentional, but with thousands of acres that are long unburned, it's difficult for land managers to identify and protect the old trees. To complicate matters, it's nearly impossible to identify these old trees by sight. Although longleaf pines can live to be more than 300 years old, they essentially stop growing horizontally after the first 70 to 100 years, topping out at heights of between 80 to 110 feet.
"These trees aren't big and dramatic looking, and people just don't notice that these trees are really old," says Huffman. "I didn't either, at first."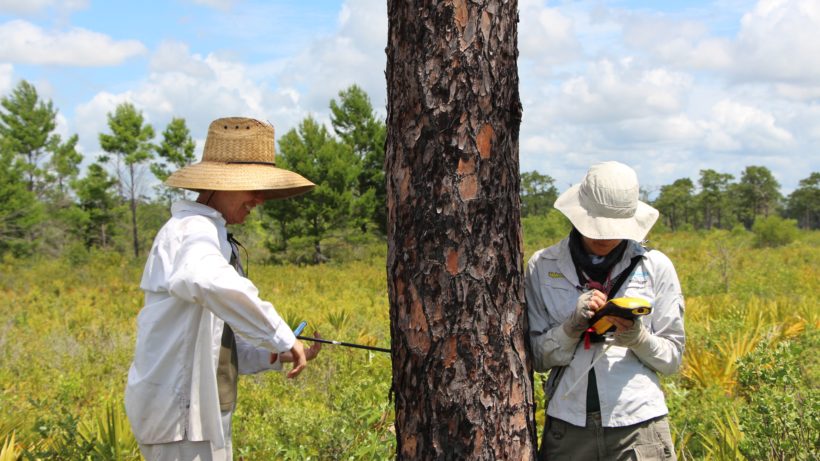 Archiving Old-Growth Trees
Dusting needles off her hands, Huffman begins drilling a core, slowly grinding the blue bore into the trunk. After reaching the approximate center of the tree, she gently coaxes a thin, 5-millimeter core of wood out of the bore. "Oh no, it's rotten," she says.
Huffman quickly counts the pale rings, the wood nearly glowing with resin. The pungent bite of pine sap fills the air even several feet away.
"It's probably more than 200 years old," she says, counting by tens until she reaches the rotten wood at the end of the sample. "It's common for the oldest trees to be rotten in the middle, which means I can't accurately date them."
Huffman then carefully slides the core into a long, white straw, sealing off either end with masking tape. Back in the lab, she will sand down the surface of these cores and count each ring, yielding a final age.
"It's one thing to just say a tree is old," says Huffman, "but when you can tell a manager that a specific tree is more than 200 years old, it changes how they feel about them."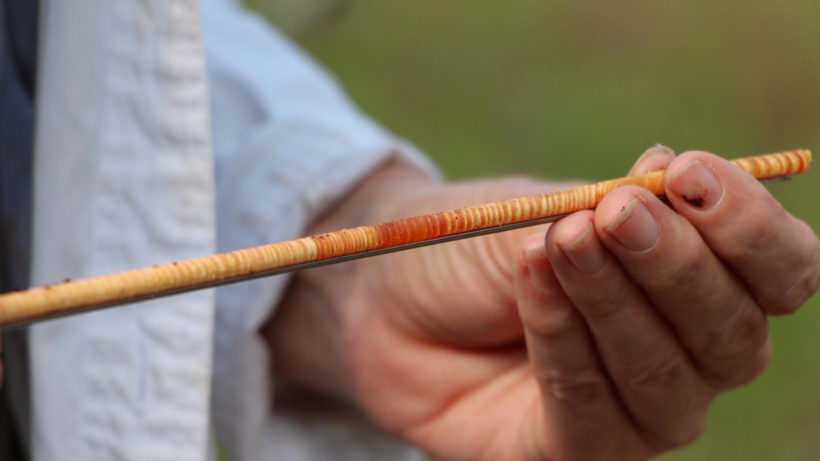 Data from this and other cores Huffman has collected across the state will help her identify and protect old growth longleaf pines. She is also using these cores to help build a regional growth chronology and fire history for Central Florida, as covered previously on Cool Green Science.
"I am really on a mission to preserve this historical record," she says, "because these trees hold all of this information but they are disappearing really quickly. No one is archiving them."
Aside from their valuable data, land managers have another reason to protect their old growth pines — the trees are essential to bringing fire back to the sandhill.
Navarra explains that pine needles are incredibly flammable and actually help move fire across a landscape. "Logging actually changed fire ecology," she says, "because if you remove the pines then it becomes really difficult to get fire to carry."
Morrison says that even parts of the partially-restored Tiger Creek preserve are still difficult to burn, because there are no pines and therefore much less fuel than there used to be.
Huffman hopes that her work will motivate land managers to seek out and protect old longleafs.
"Old pines are the record of our history in the south, and they should be like historic buildings," she says. "They help us envision what the landscape used to be like."