On an icy December afternoon, Chris McGuire braced himself on the deck of the Yankee Rose and tossed $300 of electronic equipment into the sea — then watched it swim away as the sun set over Scituate Harbor.
McGuire, marine program director for the The Nature Conservancy in Massachusetts, has spent the New England winter leading an effort to surgically implant 150 spawning cod with electronic tags – technology that he describes as an "E-ZPass for fish" — in hopes of better understanding the behavior of this famed and fragile fish.
"We want to ensure a sustainable harvest of cod by local fishermen for the next 400 years – just as they've done for the last 400 years," McGuire said.
Cod is as much a part of Eastern Massachusetts as Paul Revere and the Red Sox. Families have fished these waters for centuries, and the cod has historically been so central to the local economy that a gilded effigy of the "sacred cod" hangs in the state capital building in Boston.
Local fishermen have always known that cod return to the waters off the South Shore to breed this time every year – clustering in large numbers, spawning and providing our best hope of a future for healthy cod populations.
Where Cod Gather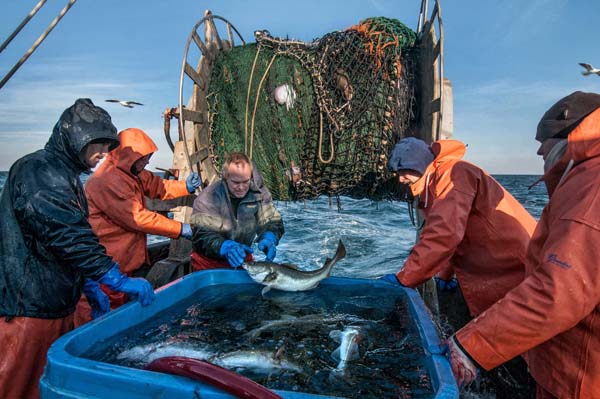 Old timers talk of the mythic "whale cod," huge fish, as long as a man is tall, that retuned every Thanksgiving for fishermen to load into trailer trucks bound for Fulton Fish Market in New York.
But climate change, ecological shifts and fishing pressure have all contributed to a drastic decline in cod stocks, and despite drastic measures to reduce catch, the population remains at historic lows. This year, local fishermen faced a devastating 78 percent cut in the Gulf of Maine cod annual catch limit, which has severely impacted fishermen across New England.
Frank Mirarchi, a retired Scituate fisherman who is working with McGuire and The Nature Conservancy, saw his own son dock the family boat and leave the fishery just this year.
Local fishermen have always known that cod gather to spawn late each fall, but current rules, based on the more common spring spawning cycle, don't offer protection for the fish during this vulnerable time. A fisherman who is less concerned with sustainability can cause serious harm to the population, and to his neighbors.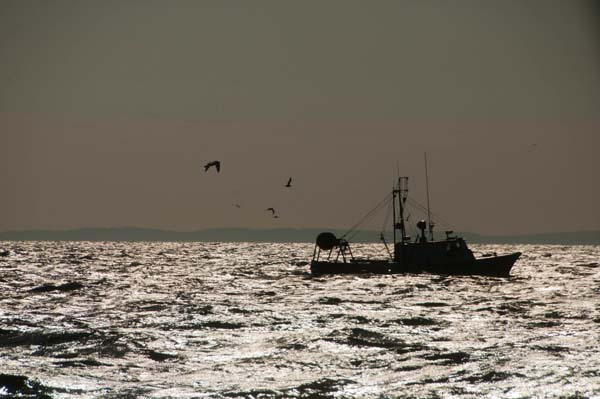 So Mirarchi and other South Shore fishermen did what some would once have said unthinkable ­­– they asked conservationists and scientists to help them close the fishery during spawning season.
"We need to come up with a better way – a smarter way of not allowing these stocks of fish to be hammered, but also allowing the communities that have been here, fishing sustainably, to continue," Mirarchi said.
These cod that gather off the South Shore of Massachusetts are one of the last major spawning aggregations in the Gulf of Maine. They are critical for local fishermen, but the lessons learned here can also benefit the entire system, said David Pierce, Deputy Director of the Massachusetts Department of Fish and Game.
"The groundfish crisis will not go away until this aggregation is protected," Pierce said. "Time and area closures to protect spawning fish are absolutely critical."
The data from McGuire and his partners' ongoing study will be used to advocate for a temporary, small-scale closure to protect the spawning cod. Studies have show that these localized spawning closures can help fish populations rebuild, but only with good data to guide the placement and timing.
"We need consensus. We need science-based information, and this research is how you accomplish that," Mirarchi said.
Tracking a Fish to Save an Industry
Each electronic tag emits a coded sound roughly once a minute for up to six years, a signal that's recorded whenever the fish passes within range of a network of 34 receivers deployed on the sea floor. Each tag has a unique acoustic signature, allowing scientists to track individual fish using the more than 3 million pings each tag will emit over its lifetime, McGuire explained.
"This information allows researchers to visualize the behavior of each fish while on the spawning grounds, and exactly when they leave which is needed for defining a seasonal closure and also to better understand spawning behavior," he said.
Researchers are also recording the grunting sounds that male cod make to defend their territories and to attract females. Underwater microphones, deployed by NOAA scientists, will record the grunts, which can be used to characterize the timing of the winter spawning period, as well as the relative abundance when compared to past data.
The technology isn't new – scientists have listened to whale calls and tracked other fish for years. But thanks to the South Shore fishermen who reached out to The Nature Conservancy, a partnership between fishermen, academics, conservationists and state and federal researchers was developed, and that collaboration is allowing data to be used in new ways.
"Fishermen have a lot to bring to the table – a lot of experience. We have ideas, but we don't get asked," said Kevin Norton, captain of the Yankee Rose, one of the boats that hosted the tagging work.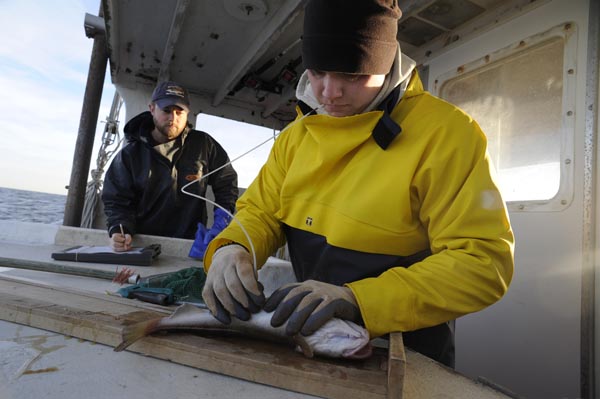 Norton is raising two young sons in Scituate. He wants them to know what it means to be a Massachusetts fisherman. He wants them to understand what this place, this boat mean to him. He hopes that someday they may have the opportunity to follow him. But he just doesn't know what the future will hold, so he takes them out on the Yankee Rose now, so that they'll at least have the memories of summer vacations spent on the water.
"Most of the fishermen in our community right now are borderline losing their boat, unable to support their families," Norton said.  This research project has given him a little bit of hope that fishermen are being heard, and their knowledge about the fishery respected, for the first time in a long while, he said.
"Maybe we can start doing some real life things that can help the fishery," Norton said.
Watch a slide show on the cod tracking research.