A new study emphasizes that the goals of solar energy development and biodiversity conservation should be addressed together by incorporating the preservation of animal movement into clean energy planning processes.
The Gist
The good news (for climate): within 30 years, the US could produce nearly half of its electricity from solar energy. The not-so-good news (especially for biodiversity conservation): little is known about how such large-scale, land-intensive development could impact animal movement.
To begin to answer that question, TNC scientists and partners examined five spatially explicit projections of solar energy development through 2050 and found 7−17 percent of total solar development is expected to occur on land with high value for movement between large, protected areas, while 27−33 percent of total development is expected to occur on land with high value for climate-change-induced animal migration.
Fortunately, the study, published in Environmental Science & Technology, also finds only a minor decrease in installed energy capacity when more restrictive environmental considerations are used to predict future solar development.
In short, with careful planning, the U.S. could produce nearly the same amount of solar energy and still protect lands important for animal movement and climate-driven migration.
The Big Picture
"There are some caveats here," said lead author Michael Levin, "and it's important to note that there is substantial variation in how much land is likely to be converted at state levels. Some states are projected to see really high levels of development occurring on land with high value for animal movement."
Scientists note that though solar development is not projected to be a massive driver of land-cover change relative to other drivers, such as agriculture or urbanization, some land covers with higher value for animal movement (deciduous forest in particular) are projected to be converted to solar energy more than other land covers with lower value for animal movement, such as barren lands or intensive agricultural landscapes.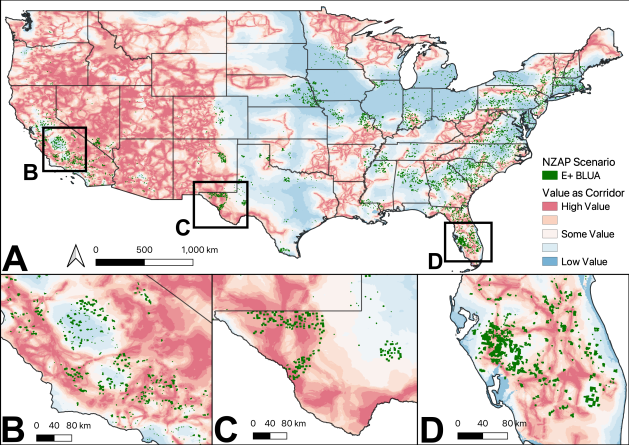 In fact, among the most startling findings, is that—in three out of five development scenarios scientists examined—as much as 1 percent of the deciduous forest remaining in the continental U.S. could be lost in a conversion to solar.
"Among dozens of other considerations," said Liz Kalies, co-author and TNC's lead renewable energy scientist, "solar energy development must begin to explicitly account for concerns regarding the preservation of animal movement or risk exacerbating those so-called 'green-versus-green dilemmas' to the point where the goals of solar development and wildlife conservation risk decoupling. As solar energy's footprint grows, it is likely to add pressure to landscapes already altered by dozens of other challenges—another reason site-level wildlife mitigation techniques will be extremely important as we move forward with solar deployment."
Careful solar facility siting based on local data and stakeholder engagement is likely the most important and effective means of avoiding negative impacts of solar development on animal movement.
The Takeaway
As noted in the paper, the U.S. is on the precipice of dramatic changes to its national energy portfolio, with solar energy technology poised to become a substantial contributor over the next 30 years. This is a positive development for the decarbonization of that portfolio, but also represents a substantial planning challenge.
Future renewable energy movement ecology research may choose to focus on (1) species most likely to be affected, (2) siting practices and configurations that can avoid the negative impacts of solar energy on wildlife movement, and (3) testing mitigation strategies such as wildlife-friendly fences and corridor development to allay negative effects of solar development on animal movement. A more specific focus on the species most likely to be affected will clarify what siting configurations, facility designs, and mitigation interventions are most effective across broader geographic scales.
This early phase of solar energy development can be guided by the lessons gleaned from these disciplines and later refined by additional research to fill in the most pressing gaps.
TNC has been conducting field research on wildlife mitigation for the past several years to produce guidance for developers, and Levin will lead a study this winter tracking bobcats through solar landscapes to empirically study the potential movement constraints.
"A transition is imminent and ongoing," said Levin, "but there is still time to execute a national response that balances goals for climate change mitigation and the preservation of biodiversity."