Farmers in the tropics can harness the cooling benefits of tree cover by incorporating trees within their pasturelands. Known as silvopasture, this practice can reduce local temperatures up to 2.4°C for every 10 metric tons of woody carbon added per hectare, according to recently published research.
The Gist
Depending on the density of planting, researchers found that silvopasture can reduce localized temperatures up to 2.4°C for every 10 metric tons of woody carbon added per hectare by 2050. The research, published recently in Nature Communications, was led by scientists from the University of Washington, in collaboration with The Nature Conservancy and other partner universities.
"You don't have to plant across a vast swath of land to reap the cooling benefits of silvopasture," says lead author Lucas Vargas Zeppetello, a postdoctoral fellow at Harvard University. "Even in the smallest patches of silvopasture, less than 1 square kilometer, there's a clear signal that trees are providing cooling benefits."
The research team also mapped where expanding silvopasture could help rural communities counteract a substantial portion of the local projected warming in 2050 due to climate change.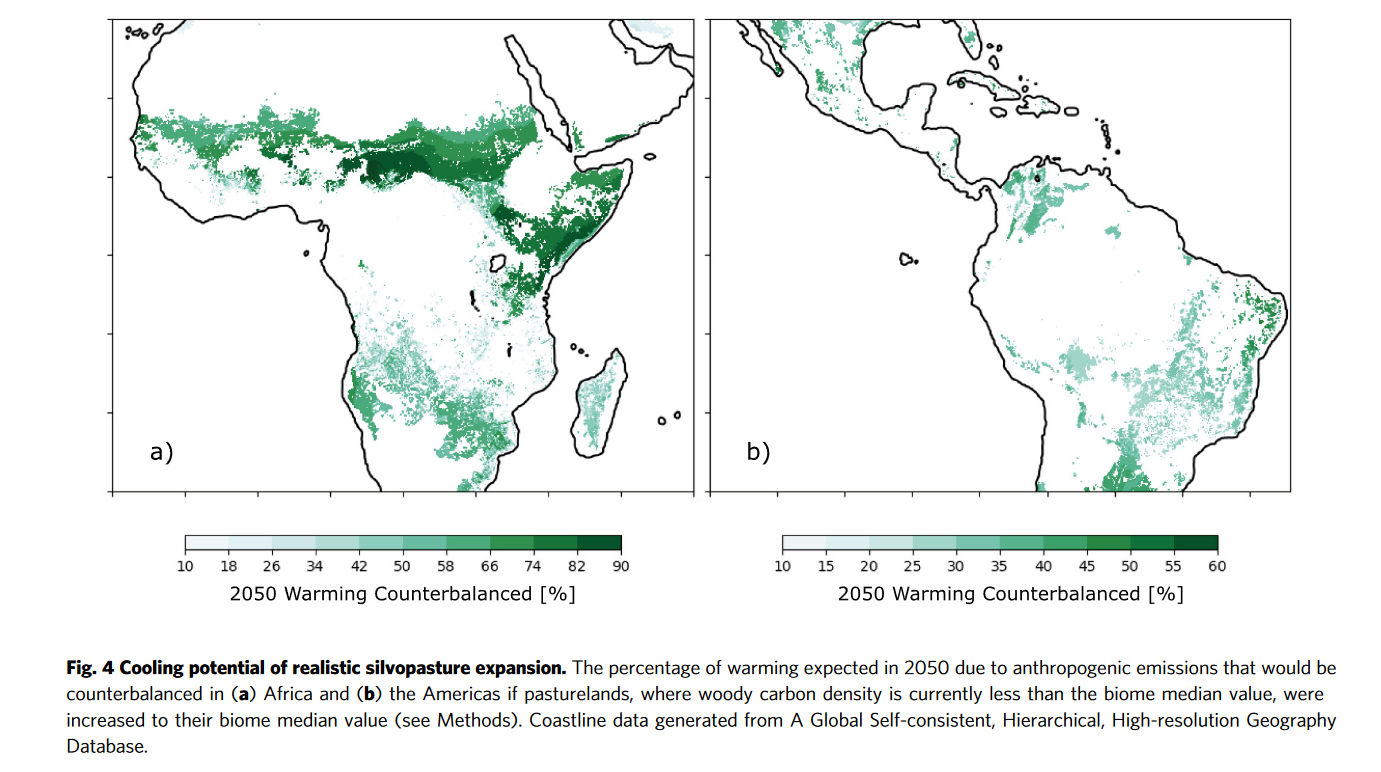 The Big Picture
The integration of trees and shrubs to farming landscapes, known as agroforestry, is widely recognized as a carbon-storage tool. The practice also has a host of other co-benefits: helping farmers improve soil fertility, bolstering food security, and providing habitat refugia for biodiversity. But until now, no study has quantified the potential cooling services of adding tree cover to pasturelands.
Silvopasture can reduce local temperatures through evapotranspiration, shade, and increased soil moisture. These cooling benefits are critical for people living in the tropics, where the combination of local deforestation and climate change is making outdoor work increasingly dangerous for rural communities.
"We know from our previous research that keeping forests intact helps keep the local landscape cool, says Yuta Masuda, social scientist at TNC and co-author on the paper. "But what can we do on land that's already been converted to get benefits for people and climate mitigation? Agroforestry, including silvopasture, is part of the answer."
The Takeaway
Agroforestry has potential to contribute to many international climate and development agendas, including Paris Agreement contributions, the Sustainable Development Goals, and the UN Decade of Restoration. The researchers note that recent studies estimate that agroforestry systems currently store 6,930 Tg C4, and that global expansion could sequester up to 284 Tg C/yr.
This research highlights another important contribution that can directly benefit local communities where agroforestry projects take place. "Carbon offset programs often incorporate agroforestry, and it is important to understand the multitude of benefits these programs can provide that is relevant to local communities," says Masuda. "Silvopasture can help reduce local temperatures, and that's just another motivation for landholders to engage in tree planting."