For the past 10 years, The Nature Conservancy has supported a leatherback turtle monitoring program at Haevo, a small, remote stretch of sandy coastline in Isabel Province, Solomon Islands. It's one of three turtle monitoring programs in the Solomon Islands to train and employ the country's first women rangers.
In December 2022, I traveled to Haevo as part of a leatherback tagging study. Our research team attached 10 satellite tags to nesting turtles. The data from those tags will help guide conservation planning for this critically endangered population and reveal their migration routes back to their foraging grounds.
During my time there, I spoke to four of the women at Haevo to learn about their experiences.
Anita Rosta Posala
"I want to help train other women rangers in the country."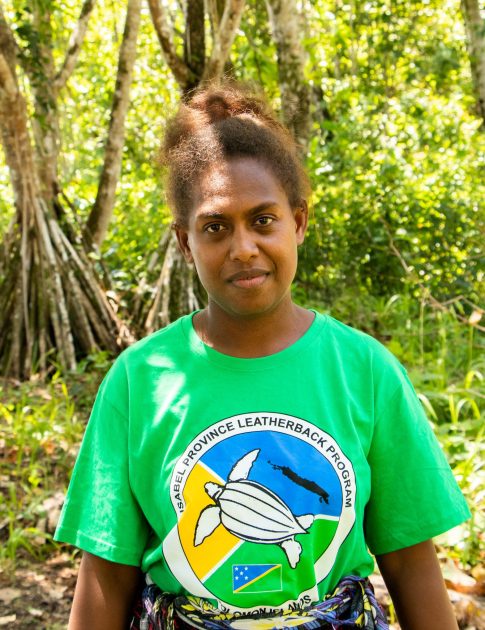 I work as a ranger. When the leatherbacks come up [to nest] we help her to dig the hole where she lays her eggs. For each turtle that nests we fill out the data sheet, writing down the date, time, how many eggs she laid, and the numbers of her PITT and flipper tags. We record everything, and we use a razor blade to take a DNA sample from a white spot on her skin, near the shoulder.
After she completes laying we relocate the eggs, inside a bucket, to a safe place in the hatchery. We have to be careful with the eggs. We can't shake the bucket, or it will damage them. We relocate every nest because of climate change. The waves at high tide are getting higher and washing away the sand. If the eggs get wet, they won't hatch. If we don't relocate the nests, the turtles will die.
I'm interested in everything: I want to help her dig, pick up the eggs, and relocate them to the hatchery. I am one of the first women rangers, and eventually, I want to become an expert on leatherbacks. I'd like to get more training, because I want to help train other women rangers in the country.
Jessica Rhoda Haraputti
"I wasn't occupied by a lot of things at home… now I feel free."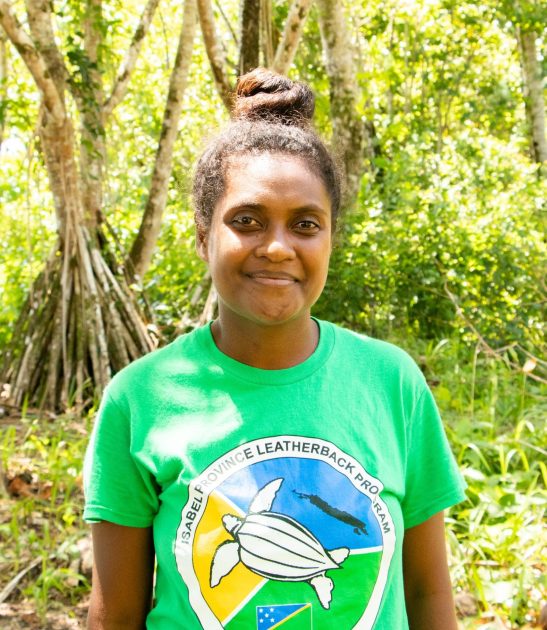 I became a ranger because it's important to me and also it's an easy way to make some money. For those of us that live at home, out in the community, it's very hard to find a source of income. And it's also the first time I've been able to learn about the lifecycles of turtles and how to study them. So that's interesting to me and it's one of the things I like about being a ranger.
My favorite part of my job is definitely the patrols. I really like being on patrol, when we get to find a turtle that's come up and report that to the other rangers so everyone comes together. So far I've found one turtle. I was on patrol with one other person and they said it was a log, but I knew it was a turtle coming up. When I found her I was so happy I wanted to scream, but the other rangers said don't scream or the turtle will go back into the ocean.
In the past, there were no female rangers. We need to have gender balance because, at that moment, all the conservation work goes to men and only men. We women have ideas as well, and we want the opportunity to work, like men. We want to be involved and have responsibility.
I think having women rangers will help change the attitude of the chiefs. In the past, men always wanted to be our bosses, but this time it's changing. There are women standing for parliament and we have women premieres in Isabel province, so now I think others are trying to apply the same thing to conservation.
When they picked us to be the first women rangers I was really proud to represent my village. I'm really happy, because if I hadn't become a ranger, I'd still be stuck at home, struggling. I wasn't occupied by a lot of things at home… so now I feel free.
Lynette Haehathe
"In the past, we treated turtles like they were our enemy."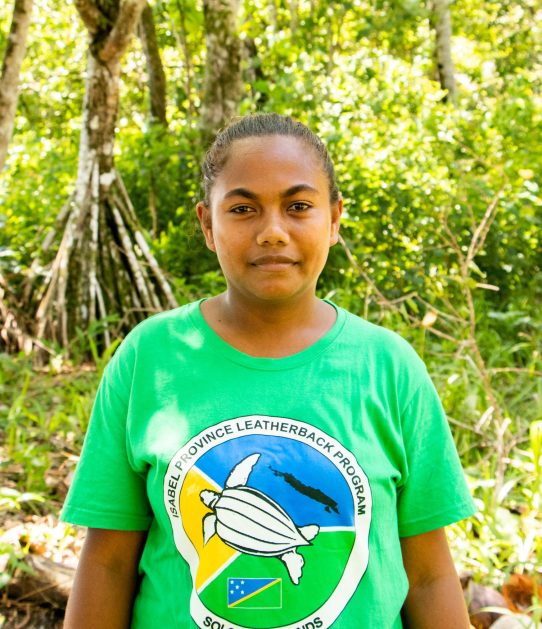 In the past, we treated turtles like they were our enemy. In the past, when we saw turtles come up to nest all the men in the village would get out their axes and knives and they would kill the turtle. Then everyone would come from the village with their pots and their pans to collect the turtle meat, and then we would eat it.
When the conservation started, and we became rangers, we realized that the turtles were innocent, they are just there to nest and yet we greeted them with axes and knives, as if they were our enemy. So I'm really happy to be a ranger to help save them, because their numbers are declining because we're always killing them.
And as a ranger, I get to learn a lot of new things, like how to save the hatchlings, how to tag them, things like that. My favorite thing is to pick up the eggs once the turtle starts to lay, and relocate the nest, and observe the new hatchlings.
I feel proud to be one of the first women rangers. It's the first opportunity for girls and women to do this type of work. And it provides an opportunity for those of us who have to stay in the community. I didn't expect them to pick me to be a ranger. My family are really proud because they picked me, and I am thankful that my family supports me to do this work.
Nora Tuti
"I'm interested in so many things we're doing here."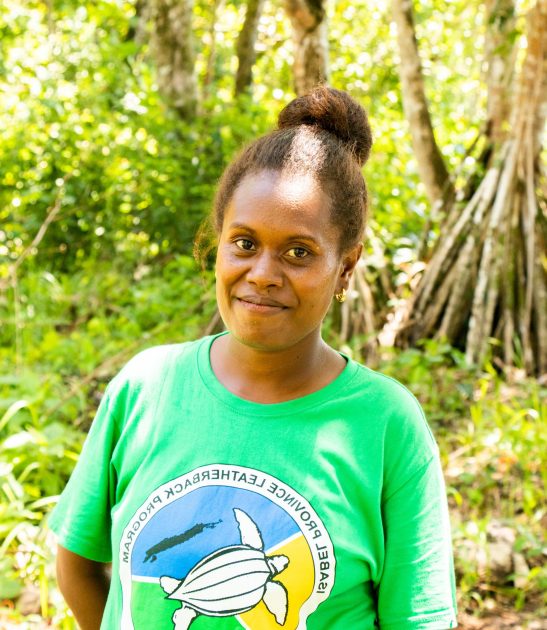 I've only just become a ranger, but I am interested to learn about how to do the tagging and how to look after the turtles as well. I wanted to become a ranger so I could learn a lot of new, important things from knowledgeable people.
My favorite part of being a ranger is picking up the eggs and relocating them to the hatchery. I really want to see hatchlings and watch the babies go down to the sea. I want to learn how to tag as well. I'm interested in so many things we're doing here.
I feel really happy to be one of the first women rangers, and my family is proud and they let me come and work. We are the first women to understand how to monitor and conserve the turtles. In the future, I want to see everyone working together so that many more turtles come to nest. I want to look after the turtles so there are lot of them. These are our turtles, so we need to protect them and not eat them.