When Tom Silvester began as manager of Loisaba Ranch in northern Kenya in the 1990s, the landowner showed him a rhino skull. It was the last eastern black rhino to survive at Loisaba; it had been poached in 1973.
As Silvester met with local community members, he found that they felt the loss of the rhinos deeply. They recognized that poachers had robbed them of their natural heritage.
"Looking at that skull, I was moved by the thought that rhinos could one day return, if we were successful in conservation," Silvester says.
Today that thought is close to becoming reality.
In 2014, The Nature Conservancy and partners came together to transfer the ranch from a private seller into the holding of a newly established Kenyan community trust, called the Loisaba Conservancy. There is currently an approved proposal to transfer 20 eastern black rhinos to Loisaba.
It's a bold plan. But this part of northern Kenya is known for bold conservation plans – and big conservation successes.
Kenya is changing the rhino conservation narrative. Here's how Loisaba can play a key role in the next chapter of that story.
Rhinos Need Room to Roam
Kenya is facing a rhino conservation challenge, but it's probably not the one you think.
If you follow wildlife conservation, you likely know that over the past several decades, rhinos have been poached relentlessly for their horns. Rhino killings, particularly in southern Africa, continue to make news headlines. The situation can seem overwhelmingly bleak.
Kenya's population of 20,000 black rhinos dropped to a low of just 400 animals in 1987. This probably conforms to the rhino narrative in your head. But since then, the population has increased to 800 black rhinos. And here's a bit of spectacular news you might have missed: last year, Kenya lost zero black rhinos to poaching (and zero elephants, too)! The Kenya Wildlife Service (KWS) has done a stellar job protecting rhinos, imposing significant fines on poachers and working with local communities.
"Wildlife is a national heritage for the people of Kenya," says Munira Anyonge-Bashir, Kenya program director for The Nature Conservancy. "Tourism is the second largest source of revenue for Kenya, and tourism is dependent on wildlife. And if local communities benefit from wildlife conservation, they are likely to conserve it."
Here's where the surprising rhino conservation challenge emerges: on many Kenya rhino sanctuaries, there are actually too many rhinos.
Black rhinos are somewhat famously solitary animals. This is in contrast to the somewhat more sociable white rhinos that are even being bred on ranches. Black rhinos need personal space.
Rhino sanctuaries have an ecological carrying capacity, determined by available browse, food and water. "When the rhino populations on those reserves reach that capacity, they essentially stop breeding," says Tom Silvester, now CEO of Loisaba Conservancy. "And breeding rates are slowing on many rhino sanctuaries."
The Kenya government has a goal of 2,000 rhinos, the minimum to ensure a stable, genetically diverse population. Black rhinos are well protected. But now they need space.
"Space is our biggest challenge for wildlife conservation in Kenya," says Anyonge-Bashir. "These rhinos need more space. The government of Kenya is looking for homes for these animals."
And Loisaba Conservancy has all the attributes needed to sustain rhinos.
A Recipe for Rhino Conservation
For a site to serve as a viable rhino sanctuary, it has to meet several requirements: the overall suitability of the site, water availability and security from poaching.
"Loisaba was previously rich in rhinos," says Silvester. "The area has a very high ecological carrying capacity."
Silvester also notes that the community support has been vital. "One of the real highlights has been to see the community embracing this," he says. "There has been a real passion in the room for seeing this animal back on the landscape."
Loisaba has been conditionally approved to be home for 20 relocated rhinos, which would roam a sanctuary of 24,000 fenced acres within the Conservancy. Whatever you say about good fences making good neighbors, they tend to be disliked (to put it mildly) by wildlife conservationists. They are known for breaking up wildlife migration routes and fragmenting the landscape.
Loisaba's motto is "land connected, life protected." How does this jibe with new fencing?
"The fence is not to keep any wildlife out," says Silvester. "It's to keep rhinos in due to their vulnerable position with poaching."
Conservation efforts are assisted by a quirk of rhino behavior: They won't step over a fence that is more than 24 inches high. This means that most wild animals at Loisaba can simply hop over or crawl under the fence, and it will be designed to minimize the impact on all native species.
"It will allow wildlife to move over, under and through it," says Silvester. "We also have a wildlife corridor that will allow the movement of elephant and other large animals."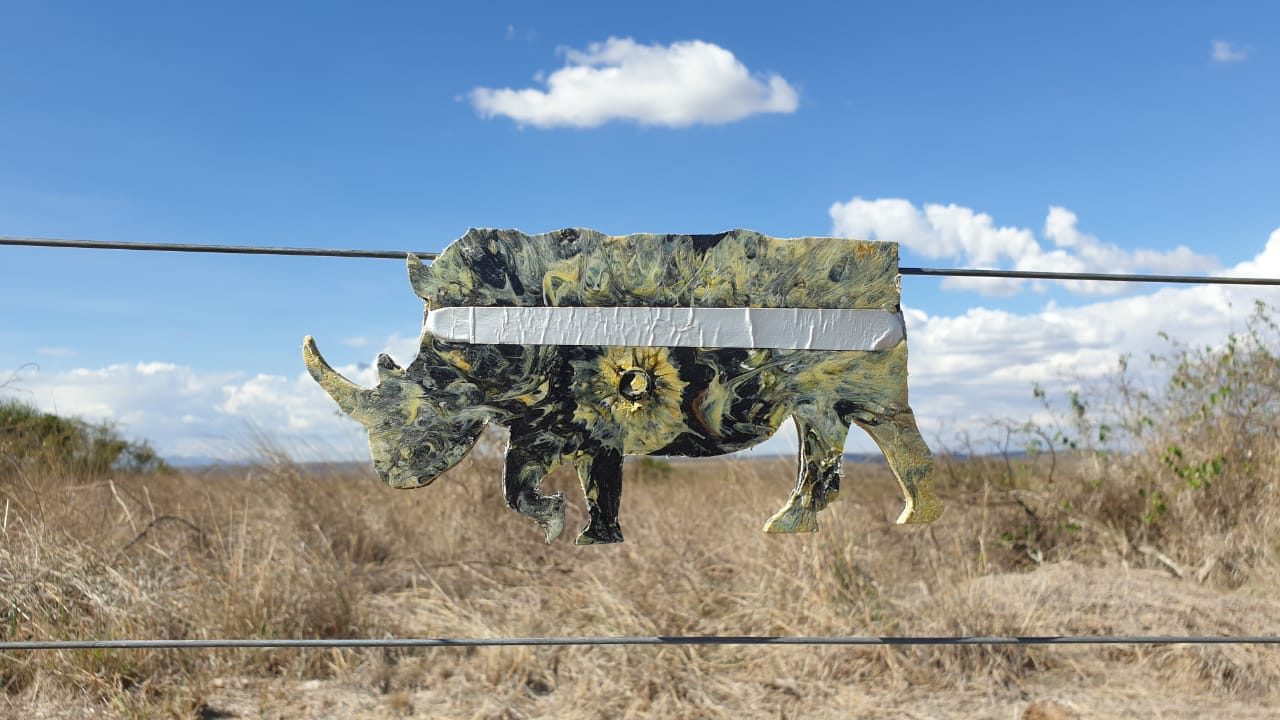 Tourism is an important driver of both conservation and community wellbeing at Loisaba, and rhinos could also draw new visitors to the area. Many tourists have a goal of seeing the "Big 5" animals – lion, leopard, Cape buffalo, elephant and rhino. The return of black rhinos would enable them to see all those animals in one location.
"Increased tourism means more jobs for the local community and more community development projects," says Anyonge-Bashir.
"Loisaba already has much of the basic infrastructure in place, including trained security teams and good roads," adds Matt Brown, The Nature Conservancy's Africa director. "It has a wildlife research and monitoring program, and it has community support."
Brown notes the Kenya Wildlife Service is a critical partner for wildlife conservation efforts and they have a fantastic track record of working closely with private, NGO and community partners.
The next step in Loisaba's rhino conservation story is to raise the funds necessary to fulfill the conditions established by the Kenya Wildlife Service. Specialized infrastructure will need to be built, and the total costs will run $5.1 million.
It's a significant funding challenge, but Brown notes that Conservancy supporters have rallied to support Loisaba in the past, including transitioning it from a privately-owned ranch to a conservancy. Your support matters in making a difference for rhinos.
"We have the opportunity to restore a species that had been poached out of this area, and to play a role in Kenya's ambitious rhino conservation plan," says Brown. "Rhinos need space, and Loisaba has that. To be able to play a role in restoring rhinos, and in restoring Loisaba, feels really good. Rhino conservation news often seems bleak. But right now, we have the opportunity to increase black rhino populations in Kenya."