Queen Conch, the iconic marine mollusk that inhabits the turquoise waters across the island nation of The Bahamas, is in need of help to ensure sustainability and healthy oceans. Important to the incredible marine biodiversity of The Bahamas, Queen Conch are vital to seagrass ecosystems, contribute around $3 to 4 million annually to the country's economy through the Queen Conch fishery, and support livelihoods of thousands of fishers.
"Queen Conch provides employment within the fishing and tourism sectors, and is also used in iconic dishes and even building materials. Needless to say, conch is a cornerstone of our Bahamian culture and economy," says Natalie Miaoulis, who leads The Nature Conservancy's fisheries work in The Bahamas.
Despite the economic, ecological, and cultural importance of Queen Conch in The Bahamas, conch populations are at risk. National landings of the species have experienced decline, fishers have reported fewer and smaller conch individuals and a recent study found that conch densities have dropped below levels needed for sustained reproduction. Hurricane Dorian, considered the worst natural disaster in the history of The Bahamas, has further exacerbated the challenges fishers face in a country dependent on fishery resources for local livelihoods.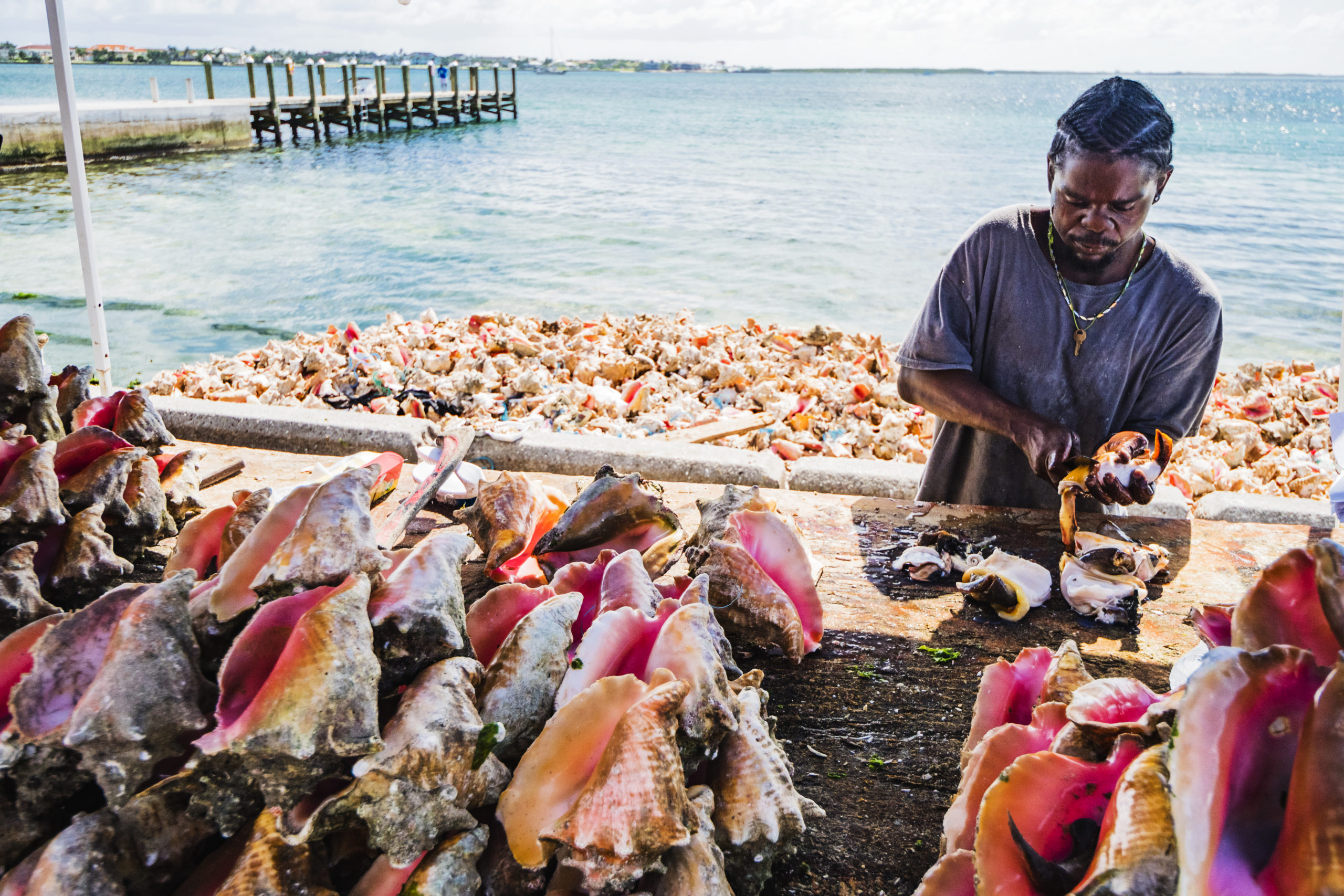 FishPath Identifies Solutions
To address Queen Conch fishery challenges, in 2017, The Nature Conservancy (the Conservancy) and The Bahamas Department of Marine Resources began applying the FishPath approach in the Queen Conch Fishery. FishPath is a stakeholder engagement process, supported by an online decision-support tool, that helps put fisheries on a path to sustainability.
The Conservancy led a series of tailored FishPath workshops, which involved convening stakeholders, analyzing available data, identifying next steps to address conch fishery challenges, and specifically engaging fishers to hear their perspectives and incorporate their views into management decisions.
"The FishPath process really helped to organize our thoughts and our efforts [in the Conch fishery], and identify steps we can take based on the resources, realities, and needs that we have", says Dr. Lester Gittens, a Senior Fishery Officer at The Bahamas Department of Marine Resources.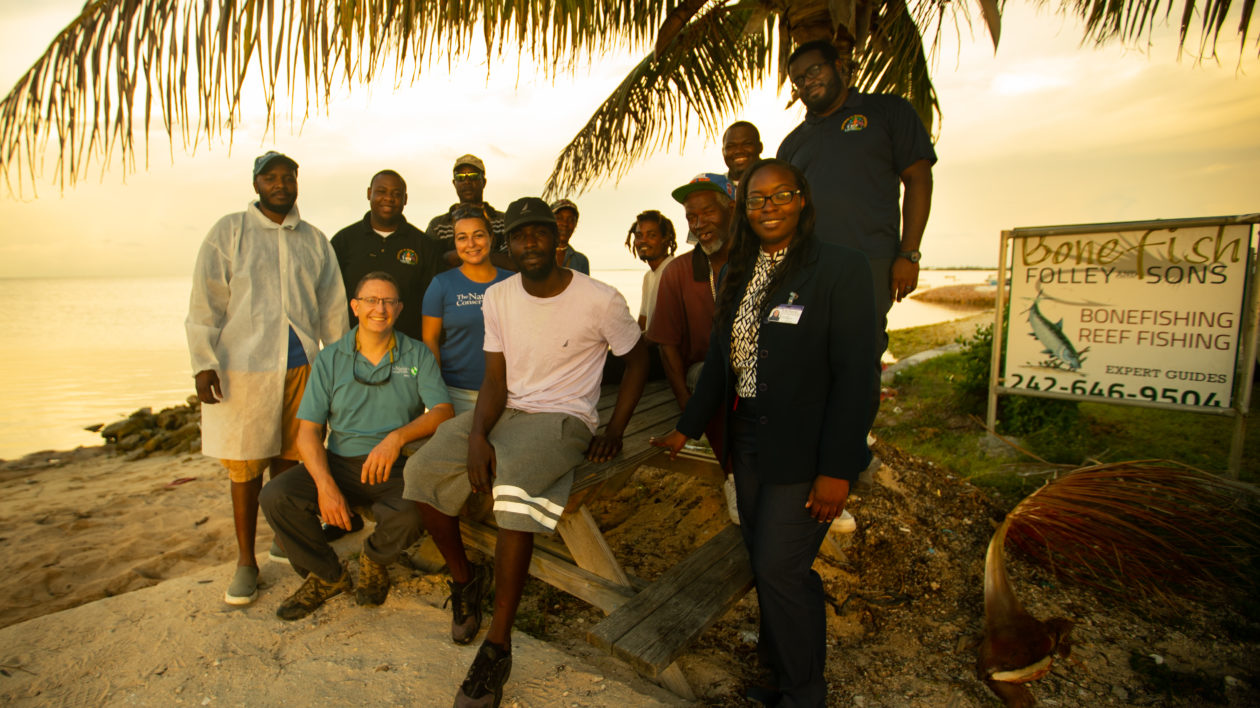 One of the key needs identified by stakeholders through the FishPath process was a lack of clarity around how to accurately identify and measure mature conch. To ensure a sustainable conch fishery, enough mature conch must remain in the water to reproduce and maintain conch populations into the future. The "lip thickness" of a conch shell is considered the best proxy for maturity. Accordingly, current regulations in The Bahamas specify that Queen Conch must have a "well-formed flaring lip" to be legally harvested. Yet interpreting what a "well-formed flaring lip" really means, and determining how to measure lip thickness as a proxy for a "well-formed" lip was found to be unclear to many fishers and managers, without a standardized measurement protocol.
Fishers often state that correlation between maturity and lip thickness is different depending on where one fishes. Fishers asserted the conch in their fishing grounds mature earlier than in other parts of The Bahamas and that lip thickness is therefore not a reliable proxy.
"If there is no science-based understanding by fishers, scientists, and managers regarding the relationship of lip thickness to conch maturity, it will be impossible to ensure that only mature conch are harvested and therefore impossible to maintain a sustainable fishery", says Miaoulis. "For this reason, our recent work has focused on overcoming this bottleneck by engaging directly with fishers in lip thickness sampling."
Numerous scientific studies and experts working across the Caribbean support the use of lip thickness as a reliable proxy for conch maturity. For one example, conch scientist James Foley from the Conservancy's Belize Program has worked extensively with conch biology and conch fisheries. In Belize, Foley's team found that Queen Conch lip thickness is the most reliable proxy for maturity with a lip thickness of 16mm.
"In general, across the Caribbean, it's a similar story – Queen Conch populations are declining", says Foley. "Overfishing of juvenile conch often drives this problem, which may continue unless we work to educate fishery stakeholders about lip thickness as an indicator of maturity, and the importance of keeping immature conch in the water." The ability to correctly measure and identify a mature conch would allow fishers to be more selective when they are fishing before the animal is caught, taken out of its shell, and sold as food, as well as allow the government to establish a minimum lip thickness size limit for conch that is supported by fishers.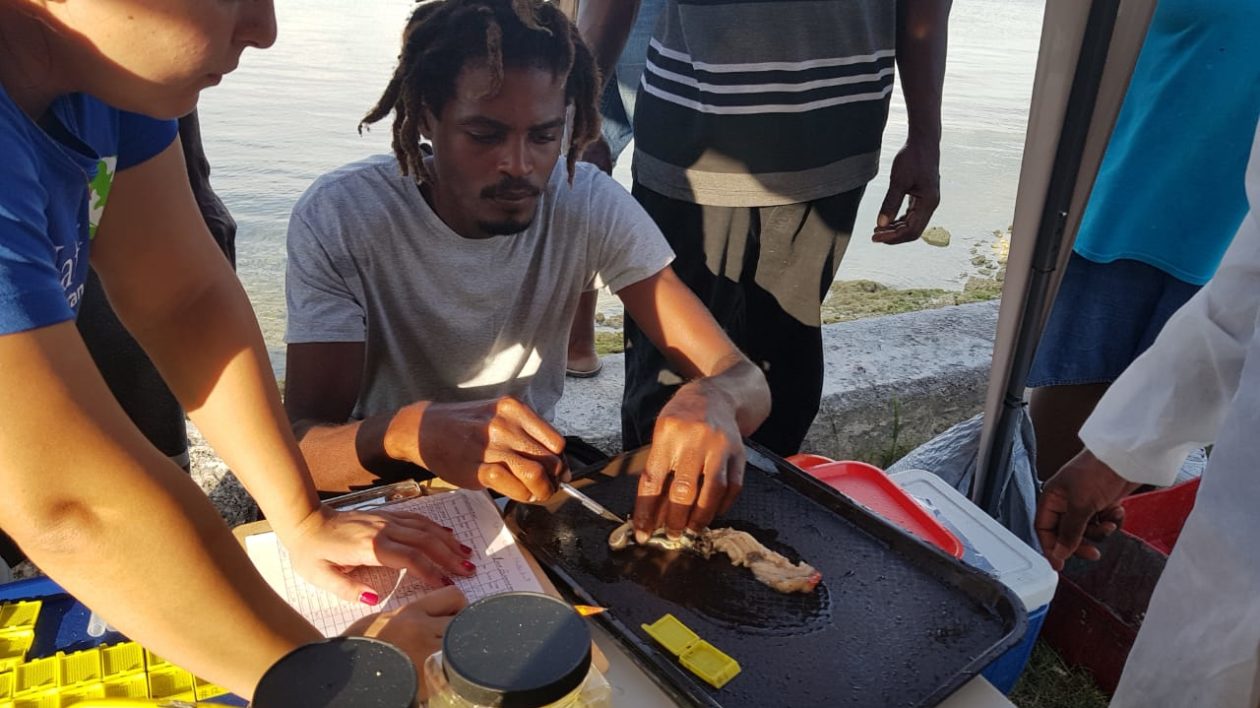 A Knowledge Exchange
The Conservancy team, led by Miaoulis and Foley, traveled to 4 sites across the Bahamas – Abaco, Grand Bahama, Nassau, and Acklins – to engage with fishers about Queen Conch biology and the concepts of lip thickness and maturity. At each site, the team followed a modified methodology developed by Foley to directly involve fishermen in conch sampling and analyses.
"Our project is to collaborate with fishermen in different parts of The Bahamas, work with them to measure different conch shell parameters, and demonstrate how these parameters that can be measured by fishers correlate to conch maturity status", says Foley.
Fishers collected conch using their traditional fishing methods and were invited alongside fishery officers to assist in conducting shell measurements and taking gonad samples. Fishers and fisheries agency officers used calipers to measure lip thickness, and examined example gonad images on computer screens, representing how the lab will analyze samples to determine maturity.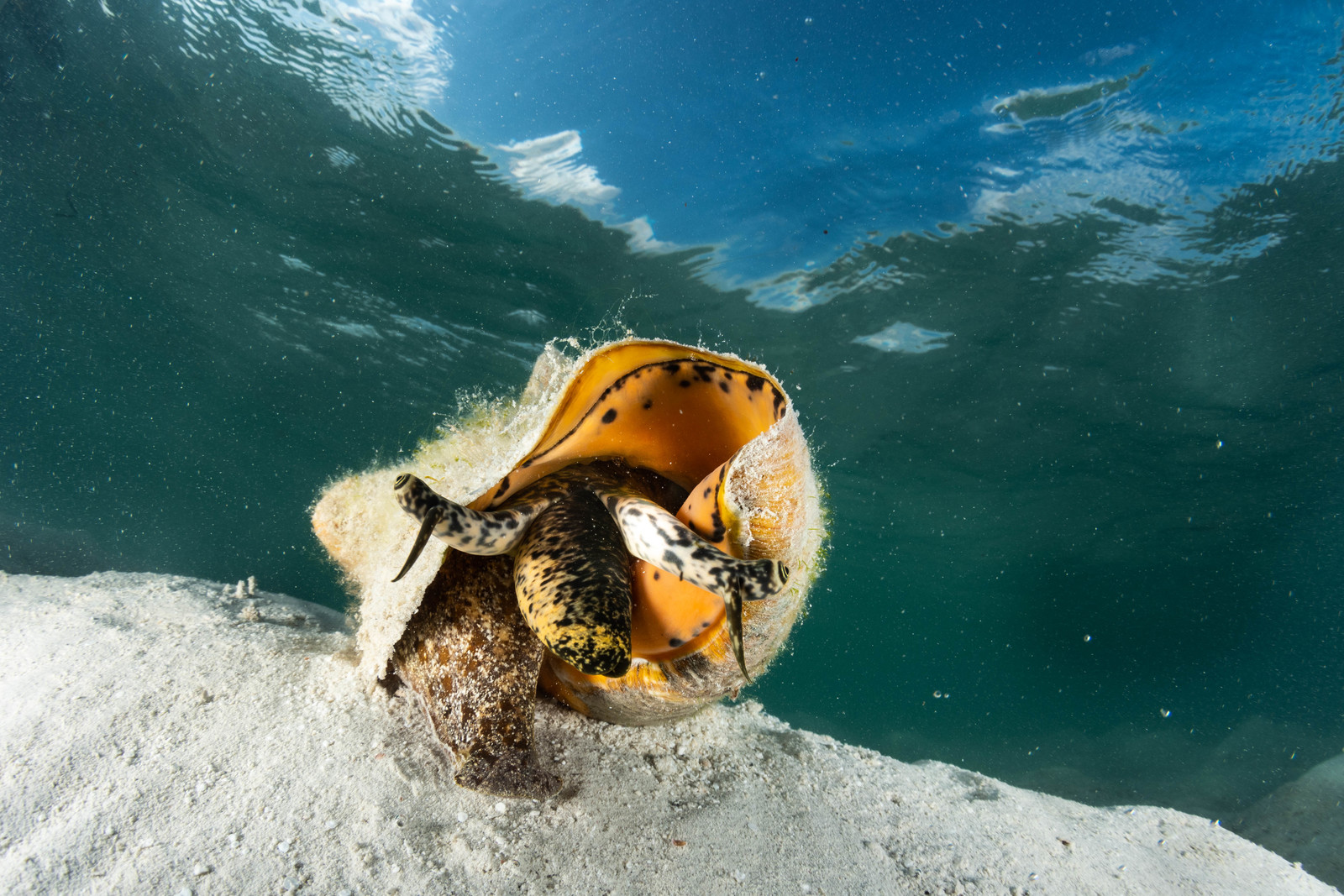 Results from the educational lip thickness engagements have been inspiring and promising. "This is the first time that someone has come to us directly and included us in this process and taught us in the field, met us on our terms," said Carlton Thomas, a Bahamian conch fisherman from Nassau.
Surveys of fishers before and after participating in the educational engagements demonstrated that most fishers showed increased support for management measures for queen conch, including a lip thickness size limit measure. During these engagements, the Conservancy also assisted The Bahamas Department of Marine Resources to implement their National Stakeholder Survey of Queen Conch management with fishers to determine viable management options.
"This is a two-way street—we learn from fishers, and we share our scientific knowledge", says Miaoulis regarding the importance of listening to local ecological knowledge and on-the-water expertise. "More broadly, we are building a stronger foundation for Queen Conch sustainability when fishers and scientists come together in a transparent setting".
Through on-the-ground experience, the Conservancy team knows that successful marine conservation cannot occur without involving the people who are closest to the resources—in this case, the Bahamian Queen Conch fishers. Soberingly, some of the fishers and communities that the Conservancy has been engaging with were severely impacted by Hurricane Dorian, and the Conservancy is working with local and international partners to support recovery efforts and continue to support communities as they rebuild their fishing-dependent livelihoods.
In the Queen Conch fishery, next steps involve building upon the lip thickness engagements and collaborating with Bahamian fisheries managers to provide concrete guidance on improved, standardized conch data collection protocols and continue exploring management options to recover the conch fishery and ensure its sustainability.