One of my first projects for the Conservancy back in 1992 was the place that would eventually come to be known as the Disney Wilderness Preserve in Central Florida. When I first knew it, though, it was a land of cow pastures, ditches, dirt roads and remnant patches of scrub, longleaf pine, and withering wetlands on the edge of Lake Russell near Orlando.
I remember visiting the property with TNC scientists and listening to them talk about the science and feasibility of restoration, and thinking, is restoration of such a place even possible?
That visit – and the conversation about feasibility and what the science said was possible – has been on my mind this week because of new research by Conservancy lead scientist Heather Tallis and her co-authors from TNC, the University of Minnesota and 11 other institutions.
Published in Frontiers in Ecology and the Environment, their study, "An Attainable Global Vision for Conservation and Human Well-Being," asks the big question that so many people are wondering: can the world actually meet people's needs for food, water and energy while doing more to protect nature? Is it even theoretically possible?
According to science, theoretically, yes. It is possible. But science also cautions that the caveats and the requirements for success are many and increasingly time-sensitive. The bottomline, says Tallis, is that the world needs to make significant changes away from business-as-usual within the next 10 years, and will have to overcome major social, cultural and political barriers.

"Our study," Tallis continues, "presents a scientific test of a vision for the future where thriving human communities and abundant, healthy ecosystems coexist. A growing body of scientific evidence shows us that people and nature share many of the same challenges. The analyses we did here are encouraging because they show that we can also share success. We are not looking at an inevitable tradeoff—expected growth in GDP, population and its demands can be balanced with major improvements for climate and nature."
"Of course, it will require big shifts in the way we think about and use natural resources, but our study shows it's possible with expected technology and consumption patterns," notes Steve Polasky, coauthor and Regents Professor and Fesler-Lampert Professor of Ecological / Environmental Economics at the University of Minnesota.
Two Paths
The study modeled what the world would look like in 2050 if human development progressed on its current "business-as-usual" path compared to a "sustainability" path, which would require major changes in production patterns. The "sustainability" path requires a number of paradigm shifts but demonstrates the feasibility – the theoretical possibility — of meeting human demands while also advancing several major conservation goals.
One of the novel aspects of this study is that it brings together models and data that would otherwise exist in isolation. Researchers wanted to see the big picture, so they stitched together leading projections with new models to estimate how demand for food, energy and water will evolve between 2010 and 2050.
Under the business-as-usual scenario, researchers played out existing expectations and trends in how those changes will impact land use, water use, air quality, climate and ocean fisheries. In the more sustainable scenario, they proposed changes to how and where food and energy are produced, asking if these adjustments would result in better outcomes.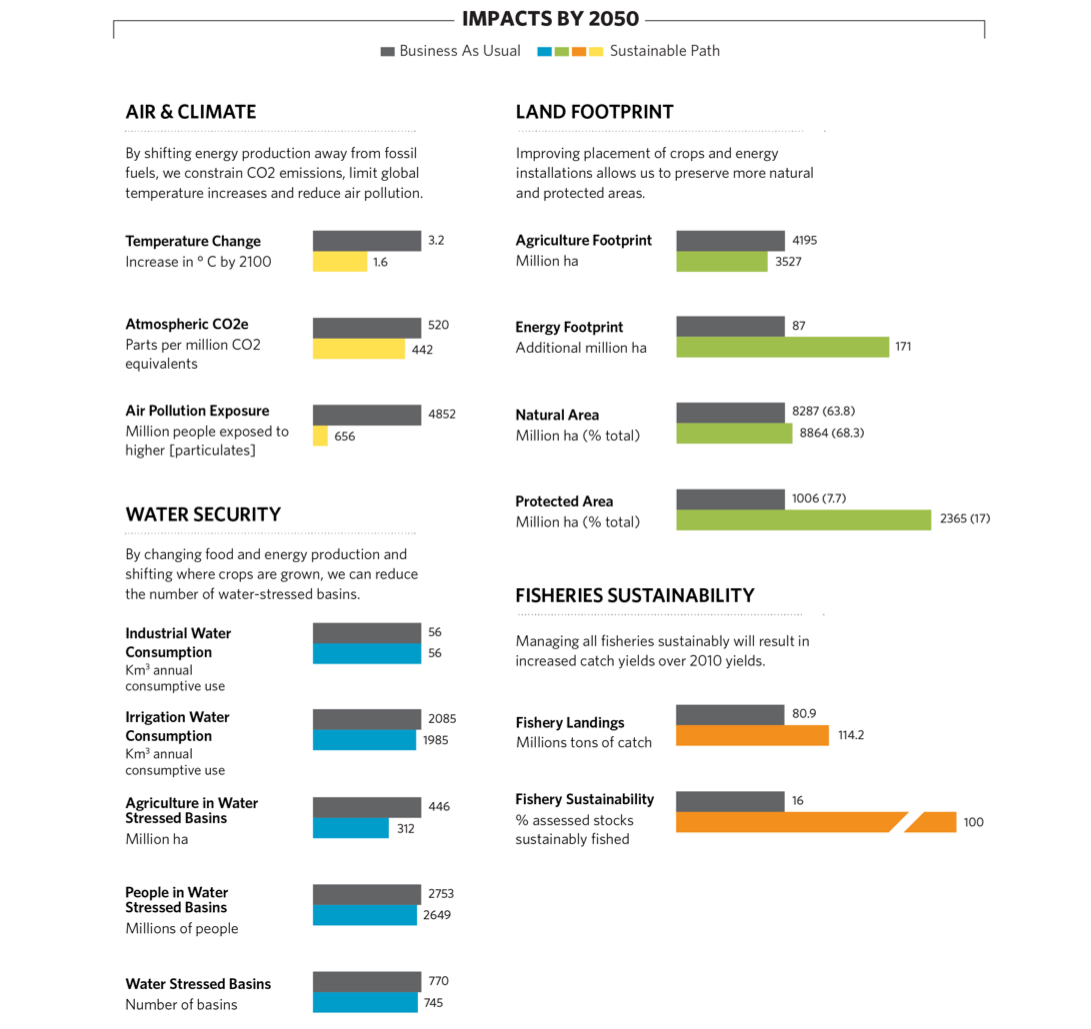 The differences between the two paths are stark but encouraging as they illustrated the world can do much better for people and nature in the future. For instance, under business-as-usual, researchers saw global temperature increasing 3.2°C and increased air pollution affecting 4.9 billion more people. They also saw overfishing of 84 percent of fish stocks and greater water stress affecting 2.75 billion people. All while habitat loss continues, including conversion of over 50 percent of grasslands and several types of forests.
However, if changes are made to where and how the world meets the food, water and energy demands for the same growing global population the picture can look markedly different by mid-century. This path includes global temperature increase limited to 1.6°C—meeting Paris Climate Accord goals—zero overfishing with greater fisheries yield, a 90 percent drop in exposure to dangerous air pollution, and fewer water-stressed people, rivers and agricultural fields. All while preserving more than 50 percent of natural habitats except temperate grasslands.
"Our results show that expected technologies and large-scale adoption of common conservation approaches can make meaningful contributions to multiple economic and environmental objectives," says Polasky. "Protecting nature and providing water, food and energy to a growing world don't need to be either-or propositions."
The study itself, says Tallis, "is not a blueprint. Rather, our goal is to spark new collaboration between the development, health and financial communities—among other sectors—to accelerate progress toward solving the world's shared global challenges. By illustrating a viable pathway to sustainability that serves both people and nature, we hope to inspire the global community to engage in the difficult but necessary social, economic and political change that can make a more sustainable future a reality."
Back to the Future
Which brings me back to Disney Wilderness Preserve and the lesson I've returned to again and again throughout my career in conservation: that people can re-imagine the status quo and that the promise of theoretical possibility – backed by science – can be a powerful motivator and a reliable guide to effective, lasting and healthy change.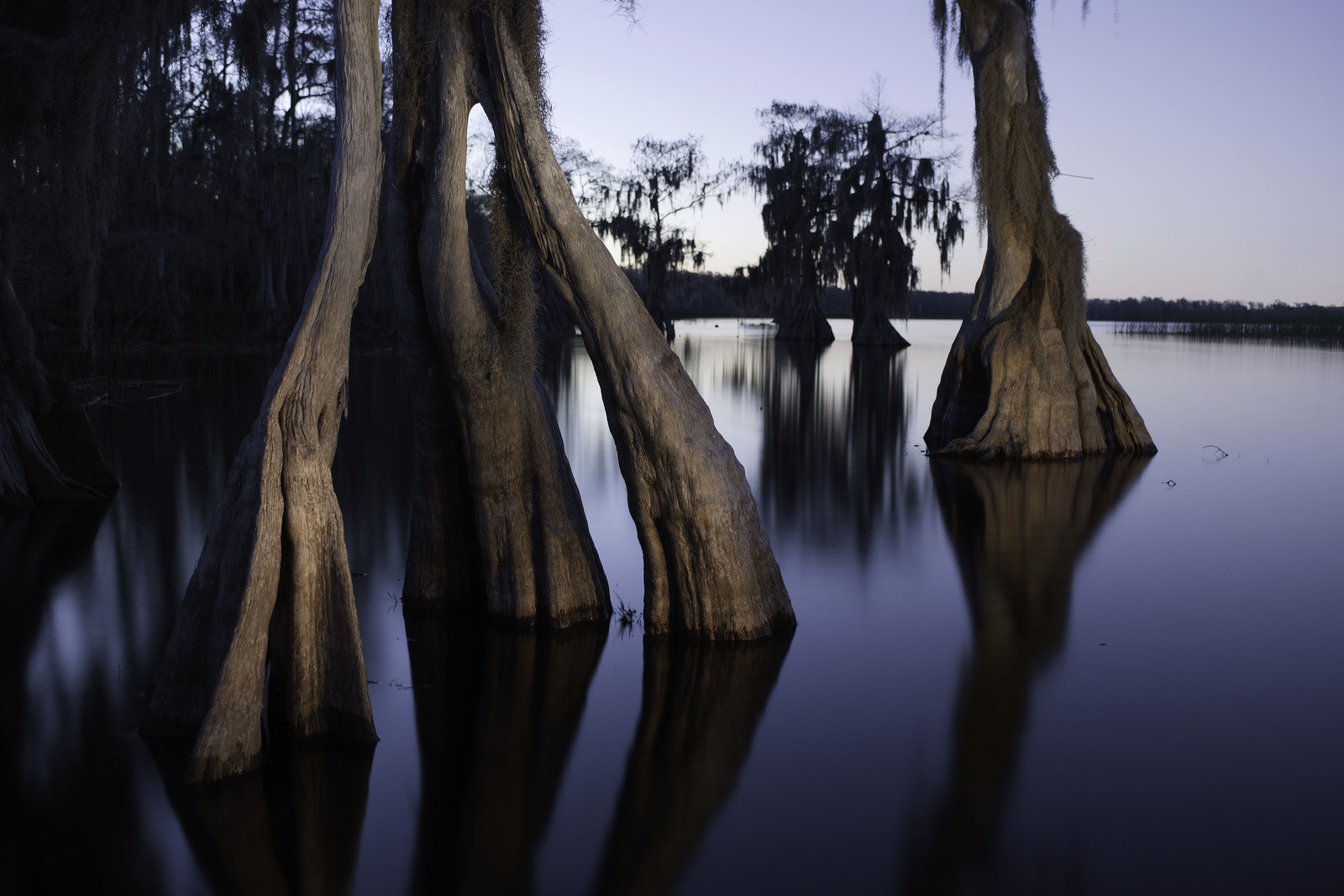 Today, 26 years after my first visit, the Conservancy's Disney Wilderness Preserve is 11,500 acres of beautifully restored, healthy and functioning native Central Florida habitat and a testament to the power and potential of both nature and people to change, to reimagine, rethink, restore and adjust from a business-as-usual mindset to a world of wider possibilities.
And there's something else that comes to mind as well – something that was barely on our radar in 1992. So much can change in 26 years, for the good and the bad. The same years that saw the restoration of Disney Wilderness Preserve, also saw the challenges of climate change steadily rise. Climate change is now the foremost threat not only to human well-being, but also to the Preserve, and many other lands and waters that support all life on Earth.
While we were figuring out how to bring ditched and drained wetlands back to life, the UN's "Earth Summit" produced the  United Nations Framework Convention on Climate Change (UNFCCC), a first attempt at a global effort to recognize and address the causes of climate change. Now, all these years later, the UN has released its latest report and we know we're running out of time to avert the most severe consequences of climate change. And sea level rise must be addressed for Florida Bay and the Everglades, if the last two decades of success at Disney Wilderness Preserve are to last.
The restoration here in Central Florida is and always has been about so much more than this single place. The key thing to know about Disney Wilderness Preserve is that – even though it seems far from the Everglades in South Florida – it is actually a vital part of the freshwater supply that the famous River of Grass needs to survive.
To me, this new study is as much about ensuring the lasting health of the Everglades, and Florida Bay, and Disney Wilderness Preserve – and all the places we care about all over the world – as it is about understanding the global consequences of the choices people make between business as usual and sustainability. This is science that shows what's possible even as it clarifies what's at stake, for the world and for TNC.
In this paper, I see a natural progression of TNC's more than 65-year history of implementing science-based solutions on the ground in local communities. It is animated and informed by the same spirit of science-based optimism that saw the potential at Disney Wilderness Preserve. And it answers the urgent call for new thinking and collaborations demanded by a highly interconnected world struggling toward an uncertain future.
Editor's Note: Opportunities to Engage
Designing strategies to address global challenges for people and nature requires integration of diverse bodies of evidence that are currently largely segregated. Learn more about the emerging coalitions among the health, development and environment sectors that offer opportunities to engage and connect with shared resources.

The Bridge Collaborative unites people and organizations in health, development and the environment with the evidence and tools to tackle the world's most pressing challenges. Learn More

SNAPP envisions a world where protecting and promoting nature works in concert with sustainable development and improving human well-being. Learn More