Fishermen tell tall tales — or so the saying goes. But sometimes, those hook-and-line exploits can become a valuable source of scientific data.
In Australia, scientists working with The Nature Conservancy successfully used historical newspaper records to gather data on recreational fishing in the Noosa Estuary, revealing declines in the fishery over time.
Centuries of Fishing in Australia's Everglades
Just two hours north of Brisbane, Australia lies the Noosa Estuary. The Noosa River winds south for more than 50 kilometers through a vast tract of coastal forest, pooling in a series of shallow, saltwater lakes lined with mangroves and melaleuca trees. The river then flows on — past homes, holiday condos, and backpacker hostels — before spilling out into the Pacific Ocean not far from the community beach.
"If you go back a century, there were articles in the Sydney newspapers about this beautiful place called Noosa," says Ruth Thurstan, an historical ecologist at Deakin and lead author on the research. "Back in the day it was just a little fishing village renowned for the variety and abundance of fish."
Today, Noosa is a popular retreat for Brisbanites looking to escape the city and tourists from elsewhere in Australia. But the estuary has changed much in the last century: both commercial and recreational fishers use the area, while urban development in the lower river and tidal delta cause increased sediment loads and hydrodynamic changes.
In 2014, the Noosa Shire Council approached Nature Conservancy Australia and asked for their scientific support in assessing restoration options for the estuary. "There was a sense that, historically, Noosa had been a much richer and ecologically vibrant estuary," says Eddie Game, the Conservancy's lead scientist for the Asia Pacific region and co-author on the research. "Noosa has always been a popular fishing area, but beyond anecdotes, we didn't know much about the estuary's ecological history."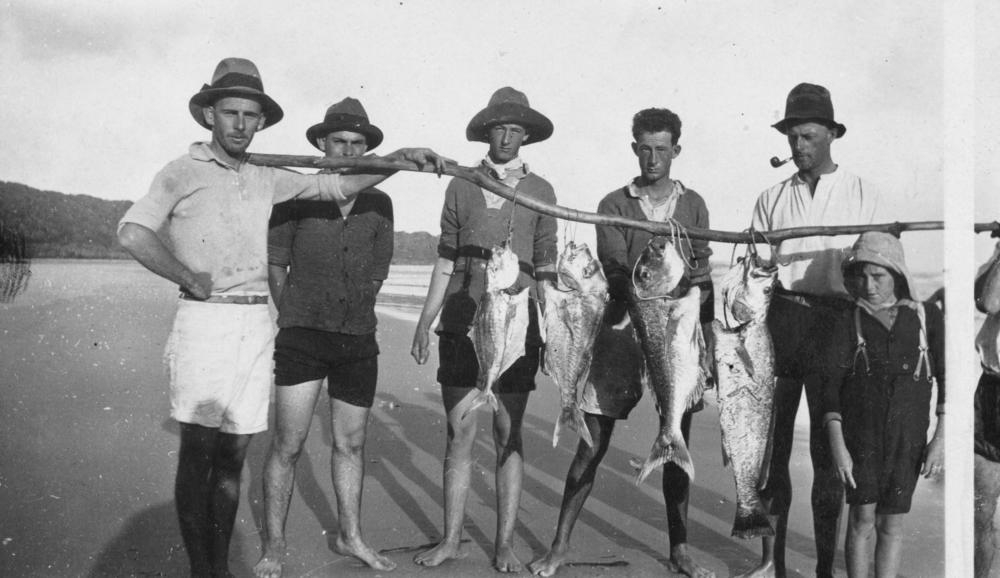 From The Weekend Fishing Report to Ecological Data
To help fill the data gap, the Conservancy partnered with Thurstan for help assessing historical fish populations. Thurstan had previously used media reports to gather data on Spanish mackerel populations on the Great Barrier Reef, and she thought she could do the same for the Noosa Estuary.
Thurstan focused her search on newspapers, which were the most consistent source of data over the past century, often more consistent than even government-collected data. Gathering records from local and state libraries, as well as the National Library of Australia, she identified more than 900 records of recreational fishing in the Noosa estuary.
These records provided a mix of both quantitative data, like number of fish caught and weight of the fish, and qualitative data, like the skill level of the fisher or location of catch. "You also get an instinct for changing societal preferences over time," says Thurstan, "like if it's acceptable for people to be going out and catching 50 fish at once."
…his Excellency and Captain Pennefather showed their proficiency in this branch of sport by bringing home the good basket of 28 taylor, 12 bream, and one trevally.

Gympie Times, 21 July 1900
Thurstan and her colleagues narrowed in on three distinct metrics: the number of fish caught per fisher, the number of fish caught per trip, the weight of the fish, and the number of fish caught per hour.
After sifting through the data, Thurstan quickly realized that the records split naturally into two groups, defined by the fisher's skill levels. The first group were just casual fishers, both Noosa locals and tourists, while the second group were highly skilled fishers with significant experience and local knowledge.
Their results, recently published in PLoS One, revealed that the trends in each of the three metrics differed based on the skill of the fishers. "For the less skilled population, there was a quite sharp decline over time in the returns of the fish, or number of fish caught per trip," says Thurstan. "And for the more skilled fishermen, their returns stayed more stable over time.
For the less-skilled fishers, the number of fish-per-fisher-trip between 1970−1985 declined by an average of 42 percent, compared to between 1920−1945. But within the skilled fisher group, particularly fishing competition winners, there was no such decline. Similarly, the weight of fish caught during competitions (both on average and for the winning catch) did not change over time. The researchers attribute these differences to the experience of the highly skilled fishers, who have spent more time fishing and also have local knowledge of the estuary and river system.
Thurstan acknowledges that historical data isn't perfect. Her data shows the changing experiences of recreational fishers, and not precise measures of fish stocks. And she can't control for changes in fishing gear and technology, increasing numbers of fishermen over time, or increasing minimum landing sizes. But despite these challenges, data from popular media records is a vast improvement over no data at all.
A Healthy Future for Noosa
The Noosa Estuary is in overall better health than many other estuaries in Queensland, with a lot of intact mangrove habitat. But that may change without continued conservation efforts. The Noosa Shire Council established the UNESCO Noosa Biosphere Reserve, which aids in both ecological conservation and sustainable development. The reserve foundation and other partners have now started projects to rebuild local oyster reefs, improve land-use practices to reduce sediment erosion, and restock prawns (shrimp).
"This piece of evidence that Thurstan provided was really important in terms of guiding the work of biosphere reserve to restore fish stocks," says Game.
Thurstan's results also reveal an under-recognized nuance in fisheries conservation. Both conservationists and scientists tend to split fisheries stakeholders into two groups — commercial and recreational fishermen — but they rarely consider fisher skill level when soliciting anecdotal data or crafting conservation messages. "This work shows that even within those groups, people's experience of change and perspectives of what has changed within an ecosystem will differ quite significantly with their skills set," says Thurstan.
That nuance is important — particularly when it comes to conservation messaging — given the iconic role that marine environments hold in Australia and the political clout of the recreational fishing community.
Fittingly, the unique source of this historical data makes it easier to engage with local fishers, because tourists and locals alike read versions of the very fishing reports that Thurstan used as data. "It's really exciting that we can build this reconstruction from the historical archive," says Game, "especially using data from the way many people experience the estuary."