Finding antlers can be an enjoyable spring pastime for the curious naturalist, but can antler obsession be taken to such an extreme that it threatens wildlife?
In today's blog, I'll take a look at the extreme and sometimes downright-weird subculture that has grown around collecting shed antlers – and how that can quickly blossom into a major threat for already-stressed wildlife.
Tomorrow, I'll share some tips for finding shed antlers responsibly.
Antlers & Me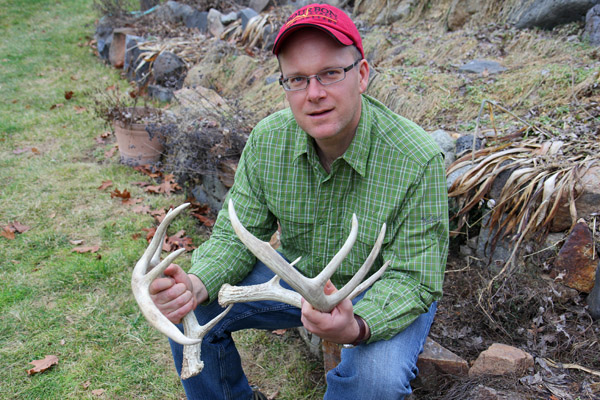 Full disclosure up front: I'm a full-blown antler enthusiast.
No, I'm not the guy who wears the t-shirt with a trophy buck emblazoned on it. But I consider the antlers I've found among my most treasured possessions.
As a life-long deer hunter and deer watcher, I always considered the appeal of antlers self-evident. Who doesn't love antlers?
Then today I received a reality check in the form of my boss, Bob Lalasz. "Why would anyone collect antlers? I don't get it. It's not something I would do," he said.
How to explain?
It's no exaggeration to say I grew up in a culture of deer. The first two days of hunting season were official holidays for my central Pennsylvania school district. I read books about deer, wrote stories about deer, watched them, tracked them, learned everything I could about them.
As a naturalist, I also consider antlers one of the most interesting extravagances of the natural world.
They're only found on members of the deer family – white-tailed and mule deer, elk, moose and caribou in North America. Unlike horns, antlers are true bone structure.
Also unlike horns, antlers are shed every year in late winter and early spring (in North America.
And when bucks discard their antlers, some of us go searching for them.
Antler Obsession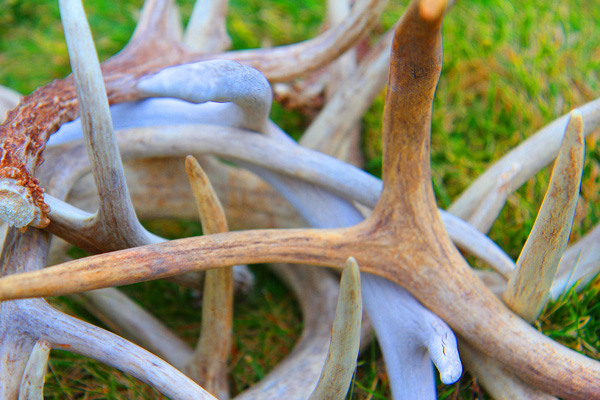 Despite my interest, I've admittedly always been a bit unfocused when searching for antlers – "sheds," as enthusiasts call them.
Sure, I know there are spots where you can often turn up an antler or two. Mostly, I just keep an eye out for them when I'm hiking in the spring, the way I keep an eye out for birds.
But now, like so many activities, some have taken this pursuit to the level of obsession.
It's no longer enough just to find an antler here and there. There are how-to books, blogs, Facebook pages and record books devoted to the activity.
Yes, record books.
There are "shed hunters" who use a measuring tape to record the size of the antlers in a complex process that results in a final "score."
The scores of these antlers are compared in a record book kept by the North American Shed Hunter's Club.
On the organization's forum, members post trip reports as well as tricks for collecting sheds – like how to design a "trap" that collects the deer's antlers by snagging them when they're loose.
Some shed hunters search for antlers for the market, selling them for use as furniture, dog chew toys and other purposes.
Perhaps most bizarrely, you can now also purchase shed-sniffing dogs – often costing thousands of dollars – that will locate the antlers for you.
There's a whole industry built around supplying products for "shed dogs" – how-to books and videos, "training antlers" and a wax scent that smells like antlers.
Of course, with so much time and money invested, things can get a bit…competitive.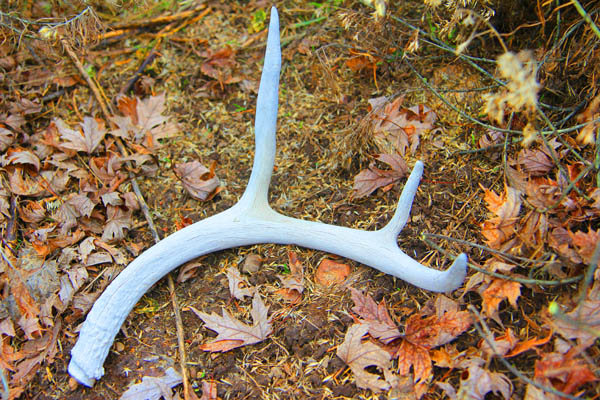 I often see a dozen or more trucks parked near mule deer winter range during prime shed hunting season. The antler seekers often carry high-end binoculars or even spotting scopes to give themselves an edge.
And sometimes they take things farther. Outdoor writer Marilyn Stone tells the story of two shed hunters who follow a trophy deer, waiting for its antlers to drop. When the antler falls, the two race each other to the spot. She writes:
The winner, wearing sneakers, not boots, told the game warden that he had been doing wind sprints to insure victory in a race he'd lost last year.
At a certain point, this starts feel more like a job than a hobby. Scoring sheets? Wind sprints?
Count me out. But if it's your idea of fun, go for it.
However, at a certain point this moves beyond a bizarre obsession to a genuine threat to wildlife, in particular in the case of mule deer.
Adding Stress to Stressed Mule Deer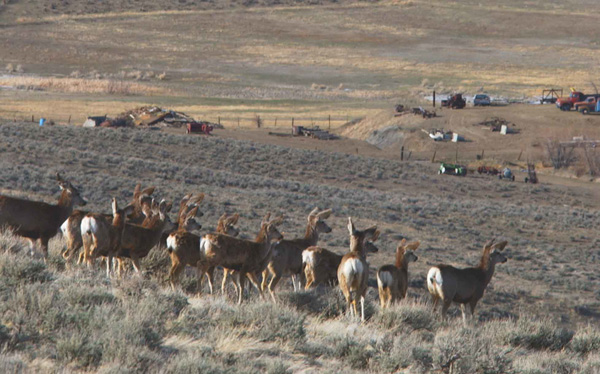 In much of the Rocky Mountain West, mule deer migrate long distances to avoid winter snow. They gather in lower-elevation areas each year, what biologists call winter range.
Large numbers of deer (and elk) gather at winter range. This means that shed hunters can find lots of antlers in one place.
It also means they could threaten mule deer.
As has been covered on this blog and others, mule deer are facing tough times. Their migration routes are interrupted by housing and energy development. Their winter range – once full of nutritious shrubs – has been replaced by invasive grasses.
Every calorie burned can put them at risk of starvation. Even causing a deer to stand could lead to death. They're most vulnerable in the spring, when their energy stores are at their lowest.
Imagine the stress caused by a horde of antler seekers descending upon winter range before the deer have migrated back to the mountains. It could imperil herds of deer.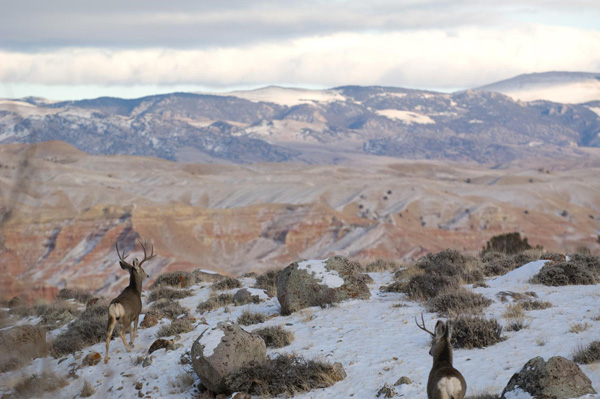 Some states have passed regulations prohibiting shed hunting while deer are still on their winter range.
Utah requires shed hunters to take an online course so they know how to gather sheds responsibly. Shed hunters must carry a certificate proving they've taken the course.
Those that harass mule deer can be charged with wildlife violations.
These are sensible regulations, designed to protect the mule deer we value.
And you can still look for antlers: just wait until April or May, when the deer are back in the mountains, far from their winter range.
The antlers I have found are prized possessions, tokens of a life spent outdoors. Each is unique, and each holds a memory of a specific outing.
I also love them because I love deer. I would never want my activities to put whole deer populations at risk.
I get the appeal of a springtime antler search. Just do it in a way that respects wildlife.
Mule deer don't need any more stresses.
And, frankly, you don't need the antlers that badly.