One of North America's most unusual wildlife watching destination is located just a short distance from the U.S. capital, tucked away in a small nature reserve in Arlington, Virginia.
And right now is the best time to experience it.
It's not wilderness,  but the nearby Longbranch Nature Center and Park has emerged as arguably the best place in the world to see the southern flying squirrel (Glaucomys volans) in the wild.
Southern flying squirrels are almost impossibly cute: with large eyes and the flappy skin that enables them to glide (not fly) from tree to tree.
They're also surprisingly common. In fact, some wildlife surveys in Virginia and elsewhere have found that southern flying squirrels are actually as common as the well-known gray squirrel.
Unlike gray squirrels, flying squirrels are very difficult to see.
"They're very small and nocturnal," says Rachel Tolman, park naturalist at Longbranch. "They live very high up in trees. They're well camouflaged."
Walk through the forest on enough evenings, and you might luck into one. Or not. But Longbranch has a program where you can reliably view this secretive critter.
Longbranch occupies 17 acres in Arlington, a city that consists of only two percent natural lands. But the mature oak forest is home to a surprising diversity of wildlife. It's a great resource, putting on some 500 nature events each year.
The staff at Longbranch maintain roosting boxes for the squirrels – where the squirrels huddle together in winter for warmth. Each evening, from December through March, a naturalist puts peanut butter on trees by the deck of the center to attract the flying squirrels.
Unless there's an owl nearby, or rainy weather, the flying squirrels will probably show. Six or more flying squirrels will visit the feeder in an evening.
About eight times a year, a naturalist also offers an informative lecture on the flying squirrels during the feeding. These events are geared towards families, and offer an entertaining view of the animal's habits. At the end of the presentation, as the sun sets, the flying squirrels come gliding in.
"You'll have an excellent view of the squirrels," says Colson. "You can often observe them for an extended period from just a few feet away.'
There are three of these events during the holiday season: December 21 and 28, and January 3.
Southern flying squirrels are territorial most of the year, but during the winter they abandon the territories for warmth: they will pile en masse in a roosting area. They also are willing to share food.
I first learned of this program through my friend John Fox, a hard-core birder and mammal enthusiast. A few winters ago, I was in Arlington to interview for my current job.
I could stay warm and comfortable in my hotel room, and prepare for my interview. Or I could stand in the cold night and look for unusual mammals. It didn't seem like much of a contest.
I never miss a chance to look for unusual critters, and I think a lot of times naturalists overlook world-class experiences located near, or in, cities.
John picked me up and we headed to the nature center. It was a little haven of peace amidst all that concrete and all those roads. We waited around in the gathering dark, and it seemed as if the flying squirrels wouldn't show.
And then, a slight clicking came from the other side of the tree. A flying squirrel darted around for the peanut butter. Soon another came gliding in and hit the tree with an audible thump. I watched the interactions of the two mammals for a half hour or more.
Then they climbed the tree and glided away into the night, giving me a spectacular view of their spread out, tent-like flaps as they floated silently through the air.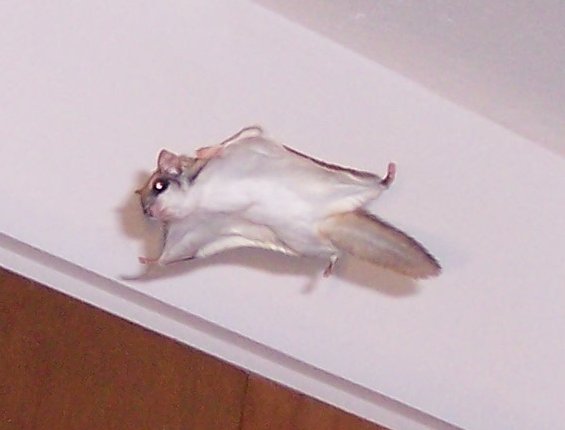 A lot of conservationists and researchers have been urging people to celebrate urban nature – the nature near where most people live. But so often, we then fail to offer meaningful naturalist opportunities.
So many urban nature books feature the usual suspects: crows and gray squirrels and pigeons. These animals can be very interesting to observe. But there comes the impression that cities are still somewhat lacking in the biodiversity department.
But there are biological wonders in the city, too. That's what's so cool about Longbranch's flying squirrel program. Here is an experience you aren't likely to find elsewhere – not in national parks, not in wilderness, not at national wildlife refuges.
"It seems that at every event we do, someone will say 'I never knew these creatures were here,'" says Tolman.
The event is one of the most popular at the center, primarily drawing local families. But Longbranch has also become a favorite spot of serious mammal watchers, enthusiasts who keep life lists of mammals much as birders do (and I count myself among their number).
So if you live in the Washington, DC area – or find yourself there for business or pleasure this winter – be sure to make the urban wild a part of your holiday schedule.
"One of the biggest points we want to emphasize with this program is that we have a surprisingly diverse wildlife population here," says Tolman. "We offer a unique experience at our nature center. I think the fact that it takes place in an urban setting makes it even more special."
Opinions expressed on Cool Green Science and in any corresponding comments are the personal opinions of the original authors and do not necessarily reflect the views of The Nature Conservancy.