Conservationists know beavers perform valuable ecological services, creating important habitat through their dams and tree clearing. They're charismatic animals. Their recovery in the eastern United States is a stunning conservation success.
What happens when those thriving beavers threaten old-growth hemlock groves, one of the most imperiled habitats in the East?
That's the situation at the Conservancy's Woodbourne Forest Preserve in north-central Pennsylvania. It is forcing conservationists to choose between beavers and old-growth trees.
To some, this is a no-brainer for a wildlife sanctuary: leave it to beaver.
After all, haven't beavers been shaping the forests for millennia? Isn't it natural?
The reality is much more complicated. If people and beavers are to exist and thrive together, sometimes tough choices have to be made.
One of those places is Woodbourne.
Beaver Nation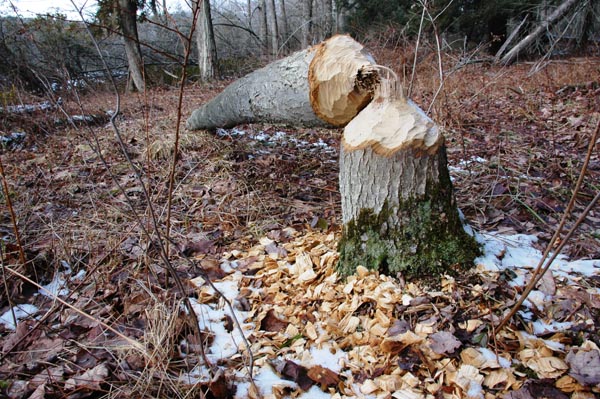 Once, beavers shaped a continent. If that seems like overstatement, consider that beavers likely affected nearly every brook, stream and river from coast to coast.
Beavers don't live in large, visible herds like bison, so we don't have a lot of records as to what their influence looked like.
Almost certainly, even "pristine" streams that we know today would have looked profoundly different in 1491 – due mainly to the presence of lots and lots of beavers.
We know this because, soon after colonization, trappers began capturing staggering numbers of beavers for the fur industry. Millions and millions of beavers. The beaver fur industry changed the course of North American history. (For an excellent account of this industry, I suggest Eric Jay Dolin's Fur, Fortune and Empire).
That trade was unsustainable. Beavers were exterminated from large parts of their range, including much of the eastern United States. They were believed extirpated (or nearly so) from Pennsylvania.
A reintroduction effort begun in 1917 proved spectacularly successful. With regenerating forests, beavers began recolonizing many of the water ways of the state.
"Beavers alter habitat almost as much as we do," says Tom Hardisky, beaver biologist for the Pennsylvania Game Commission.
That tendency can also put them into conflict with people, in a variety of ways. Given the ecological importance of beavers, shouldn't we let them reshape forests and streams as they once did?
Sure. But there are 21st century realities. Sometimes, even a "pristine" forest can't coexist with beavers – creating tough choices for conservationists.
Leave it (Occasionally) to Beaver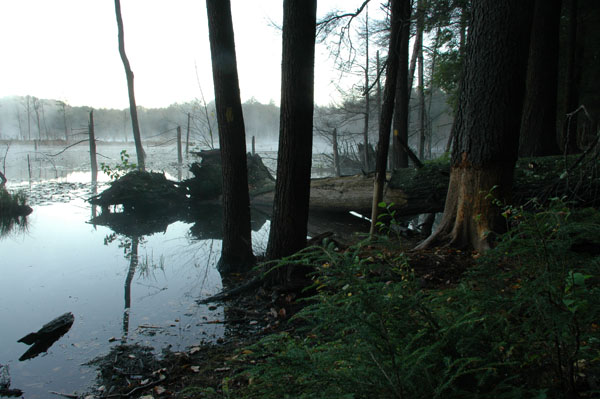 Today, the forest does not stretch unbroken across the East. Millions of people share space with beavers, and not always peaceably.
"Beavers can do a heck of a lot of good," says Hardisky. "But they can also do a lot of damage."
It's easy to say that beavers should be left to their own devices. It's much harder to say that when they're flooding your home or farm field or local road.
"The reality is, we have to balance the beaver population with human needs," says Hardisky. "The state can support a large beaver population, but there is a social carrying capacity – how many beavers people can live with. We manage them so there is a stable, healthy population."
Woodbourne was established by a donor interested in keeping it a sanctuary for old-growth forest and wildlife. Even here, though, beavers have placed new pressures on the preserve.
That may not be apparent at first glance. Hardisky and Mike Eckley, conservation forester for The Nature Conservancy, take me to the large beaver pond that is flooding part of Woodbourne.
At first look, it's incredibly scenic – a picturesque north woods pond, the images of trees reflecting on its glassy surface.
"To most people, this is a beautiful place," says Eckley. "But our major goal here has been to protect old-growth forest. And this pond is impacting that."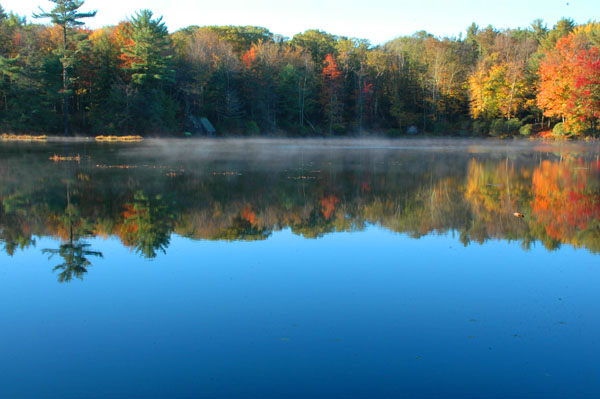 Old-growth hemlocks are rare in Pennsylvania, and become rarer due to hemlock woolly adelgid, a non-native pest covered in a previous blog in this series. The old-growth hemlocks at Woodbourne are special, giving the forest a primeval feel. They could disappear in the face of beaver activity.
"You see hemlocks that are dying because they're too wet from the beaver activity," says Eckley. "We do not want to spend our resources treating hemlocks for hemlock woolly adelgid only to lose them to beavers."
The beaver pond has expanded so that it has also flooded other native plant communities. "I've never seen such heavy beaver damage," says Hardisky.
What about the fact that beavers once existed in much higher populations? Hardisky points out that, in pre-colonial times, if beavers cut down a grove of old-growth, they just moved on to the next grove of old-growth.
Then, old-growth covered much of the state.
The forest had years to regenerate. Today, if they destroy the old-growth groves at Woodbourne, there's no place else to move.
Eventually, that could even harm the beavers themselves.
"The beavers are kind of boxed in here," says Hardisky. "They're just about out of food. They can't just move on to the next place, as this forest is surrounded by agricultural fields and energy development."
This necessitated a difficult decision.
Beavers or Hemlocks?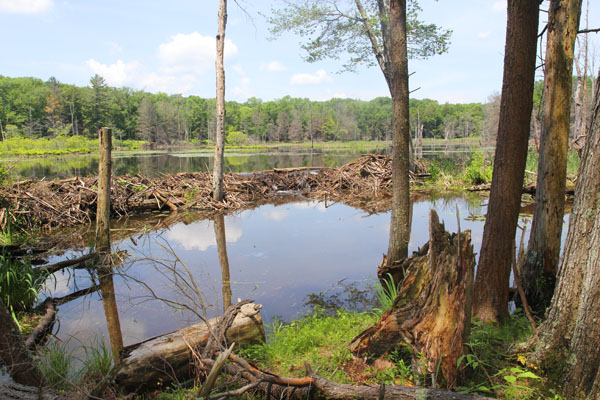 Woodbourne was set up specifically as a preserve where human intervention was not allowed except in extreme circumstances. A local committee had to decide when those circumstances were. In recent years, a number of situations (explored in previous blogs) had arisen.
This one was perhaps even more perplexing.
"Everyone can embrace taking measures to save hemlocks from a non-native forest pest," says Eckley. "Making a decision to control beavers is much more controversial. The committee was conflicted, as almost anyone would be."
The committee decided that controlling beavers was necessary to save the forest. It was ultimately the abundance of beavers, and rarity of old-growth hemlocks, that most influenced the decision.
"We have abundant beavers in lots of other places in Pennsylvania, and around the continent," says Eckley. "There aren't many places with old-growth hemlock. The committee had to decide what they wanted for the future of the preserve. It's not an easy decision, but this forest is special."
Hardisky worked this past winter to humanely remove beavers. He harvested 13 on the preserve, and utilized the furs and even meat from the animals.
Despite that control, there was still heavy beaver activity at the time of my visit, and that activity was again starting to flood the forest and native plant communities. Hardisky and the Conservancy's George Gress split off from our tour to break up a beaver dam, reducing the size of the pond to help to protect the habitat.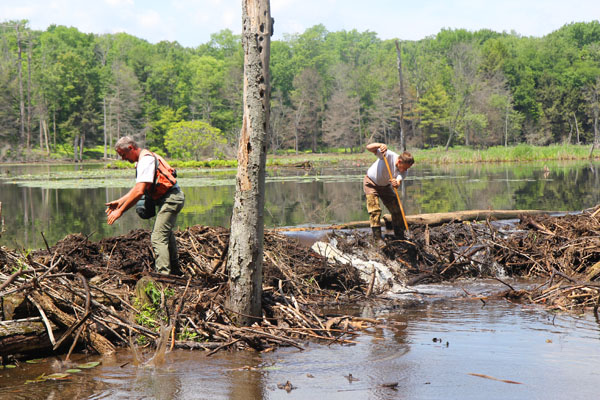 This control won't sit well with some conservationists. They believe the beavers should have free reign at preserves like Woodbourne, period.
In populated places like the East, conservation managers will have to weigh ecological and social considerations, and make decisions.
We do not live in pre-colonial conditions. We are facing 21st century challenges, requiring 21st century solutions. What that means is still very much an open discussion.
I leave Woodbourne feeling that we're in good hands if people like Mike Eckley are wrestling with those decisions, listening to community members and preservationists and deer hunters, reading the literature, walking the land.
Paying attention. And making decisions that benefit the forest, wildlife and people.
"We have to decide what we want for the forest, not only at Woodbourne, but across the country," says Eckley. "In this case, the beaver population is thriving. That's a success. But beavers may not be the only consideration. I think old-growth forest is important, too. This is what we as a society have to decide. There are no easy answers here. We have to be informed and think about what we want the future forest to look like."
Editor's Note: