Can a chainsaw be green? It sounds ridiculous, and in many cases it is.
Yet sustainable logging is the premise of The Nature Conservancy's production forest strategy in the district of Berau in eastern Borneo, Indonesia — a strategy based on the notion that loggers themselves can be a critical ally in helping us maintain biodiversity and mitigate climate change in tropical forests.
Our findings in a new study in the journal of Global Change Biology show that we can measure how green your chainsaw is — step 1 in our plans to green-up commercial logging operations.
But first, some context. The Conservancy is partnering with commercial loggers in Berau who manage one-half of the forests there — about 4 million acres, much of which is habitat for the endangered Bornean Orangutan.  In doing so, we aim to reduce damage to trees in these forests — and resulting CO2 emissions from that damage — by 50%.  Further, we aim to pioneer with our partners a conservation strategy that could be applied to vast areas of remaining tropical forests: over 20% of all tropical forests are designated for commercial logging — more than twice the area set aside as protected areas.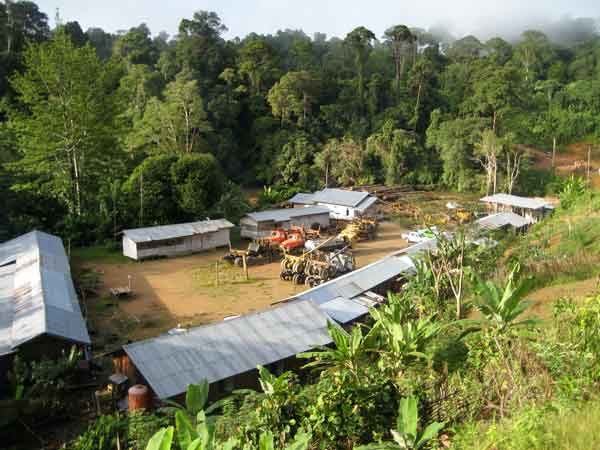 Our strategy is based on three critical assumptions: 1) reduced impact logging (RIL) results in significant and measurable climate benefits; 2) sustainably logged forests sustain healthy populations of native species (everything from orchids to hornbills to orangutans); and 3) loggers can help reduce deforestation.  As discussed in a previous blog, recent studies support assumptions 2 and 3 (Putz et al. 2012, Gaveau et al. 2013), although a debate continues on whether we should seek alliances with commercial loggers (Kormos and Zimmerman, in press).
Our new article takes on assumption 1 with extensive field data across nine logging concessions in eastern Borneo. The good news is: we developed an affordable method for measuring the emissions performance of logging concessions, and this method points to large opportunities for reducing emissions from logging without reducing timber production and jobs.
This new method should solve a practical problem: there has been to date no mechanism available to verify (and monetize) emissions reductions from RIL in tropical forests. Building on the paper above, we are working with the Tropical Forest Foundation and TerraCarbon to develop a new RIL-Carbon methodology for the leading voluntary carbon standard (Verified Carbon Standard – VCS).  This will offer a robust verification mechanism for commercial loggers to generate carbon credits when they implement low impact logging practices that reduce carbon pollution.  Our goal is to help governments link this type of verification method with regulations and incentives at a national scale as part of green development programs.
Now for the bad news: we found no shining examples of consistently low-emissions logging practices in eastern Borneo, even though three of the nine concessions we sampled were certified by the Forest Stewardship Council (FSC).  FSC concessions did demonstrate impressive improvements in some logging practices, such as low-impact skidding of logs. But these benefits were swamped by unnecessary emissions from other sloppy logging practices found in FSC concessions – even ones that should save money if fixed.
We hope that our new measurement methods will alert FSC to some blind spots in their standards that could help FSC certificate holders achieve large and measurable climate benefits — a concept we have dubbed "RIL-C." I want to stress that the Conservancy remains stalwart supporters of FSC because of a host of other benefits certification provides in these forests — such as social equity, legality, and environmental benefits like protection of high conservation value forests within logging concessions.  If FSC can make the changes we suggest, they can claim not only a range of environmental, legal, and social benefits, but also climate benefits.
Our new method is one example of the next generation of conservation measurement tools that are revealing large conservation opportunities — and all the work ahead of us to realize them.