Hydropower is big and getting bigger — good news for developing economies looking for a renewable energy alternative to coal, but potentially bad news for the fish and farmers dependent on rivers.
What's Going On? 
Hydro's already the world's largest source of renewable energy — providing about one-fifth of the electricity consumed by the planet.
And hydro-dam construction and planning is accelerating rapidly worldwide, with the World Bank announcing in 2013 that it would return to financing hydropower as part of its core lending strategy after a two-decade hiatus.
The result? As many hydropower dams are projected to be built over the next few decades as in all of the 20th century. As Giulio Boccaletti, global managing director for water at The Nature Conservancy, wrote in The Guardian recently: "We are entering a new hydro-dam era."
For governments and people of many developing countries, hydropower dams represent low-carbon energy to fuel economic development.
But these dams are also one of the primary reasons that rivers around the world have lost much of their biodiversity and ecological productivity — putting the livelihoods of tens of millions of people who depend on that productivity at risk. And 70 percent of projected new hydro investment is slated to occur in river basins with the greatest diversity of aquatic species, according to a 2015 Nature Conservancy report.
So if dams are to be built, can they be sited and constructed to minimize their ecological impact while still providing substantial levels of electricity to countries eager for rapid economic growth?
The science is rapidly concluding "yes" — but political realities have yet to catch up to it.
What the Science Says
 Science is clear on how dams can reduce a river's biodiversity and cripple its productivity as a protein source — as well as the outsize costs society would pay to compensate for those losses.
For instance, Orr et al. (2012) argued in Science that proposed construction of 77 dams in the Lower Mekong Basin would not only cause fish catch to drop, but that replacing that lost protein and calories with livestock would require up to 63% more land and up to 17% more water than now being consumed by livestock production in Cambodia and Laos
"The results," wrote the authors, "suggest that basic food security is potentially at a high risk of disruption and therefore basin stakeholders should be fully engaged in strategies to offset these impacts."
The problem isn't dams per se or their size, but their location within a river's system and how that location impacts a river's flow and functionality, according to Jeff Opperman, lead scientist for The Nature Conservancy's Great Rivers Partnership.
"Without this system approach," Opperman says, "even a dam that is relatively small — but in the wrong place — can cause huge environmental impacts."
Now, scientists are modeling the optimal siting for hydro-dams to produce the most energy with the least impact on fish and agriculture.
An example: Ziv et al. (2012) studied 26 dams proposed for the Mekong's tributaries and modeled every possible alternative for building those dams — quantifying the amount of energy produced and the dam's impact on biomass and species viability of migratory fish species.
Ziv and his coauthors found that building all 26 dams would reduce the biomass of migratory fish in the whole Mekong basin by nearly 20%. However, by foregoing a few dams, fish losses could be minimized to just 3% — while still producing 75% of the total available energy from tributary dams (see Figure 1).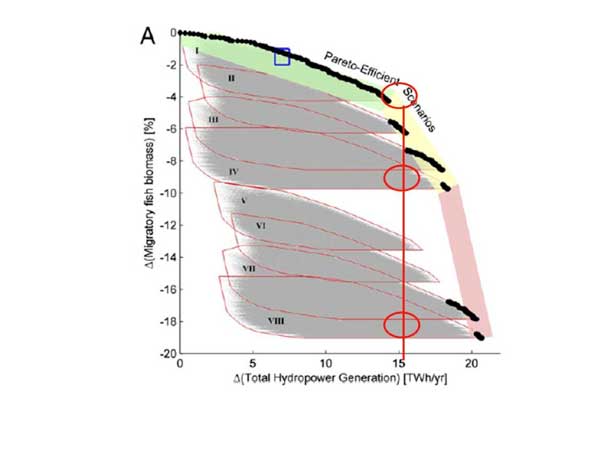 Figure 1. The tradeoff analysis between hydropower generation and fish production for all possible scenarios of constructing 26 proposed dams on Mekong tributaries. Full development of energy potential would reduce basinwide migratory fish biomass by nearly 20%, but note that three-quarters of the energy potential could be developed with as little as a 3% decline in basinwide migratory fish biomass. The three red circles indicate different combinations of dams that achieve 75% of the energy but vary dramatically in their impacts on fish biomass. Adapted from Ziv et al. (2012).
The approach requires whole system thinking instead of a project-by-project approach—and sometimes the tradeoff between energy and fish isn't even a tradeoff. For instance, removing three small dams on Maine's Penobscot River was projected to actually boost overall energy production (due to changes at remaining dams) while catalyzing the return of salmon blocked by those dams (see Figure 2):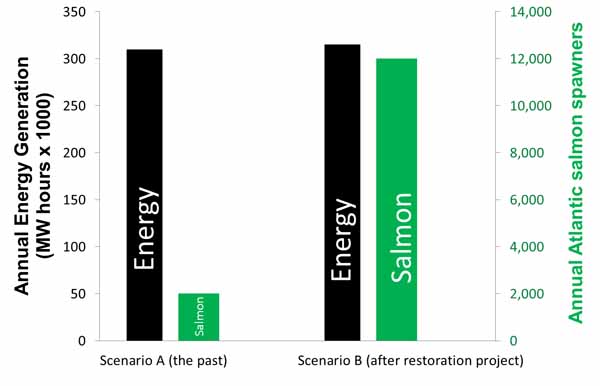 Figure 2. Scenario A represents one way of reaching an energy target, the path that the Penobscot followed for a century. Scenario B represents potential energy and salmon production from the recent breakthrough agreement with Penobscot stakeholders.
A 2015 white paper by The Nature Conservancy argues that the ecological functionality of potentially more than 300,000 kilometers of river could be impacted by the next decades of hydropower dam construction. But the analysis also found that broadly applying an approach the Conservancy calls Hydropower by Design to hydropower construction could keep 100,000 of those kilometers as free-flowing river while also generating significant amounts of electricity.
The Hydropower by Design approach involves siting dams in the best places for energy and nature wherever possible; operating dams in ways that maximize the ecological function of rivers; and offsetting the impacts of dams that have negative impacts on biodiversity and productivity through conservation actions elsewhere.
Why It's Important
Integrating science into decision-making is critical because siting decisions are being made rapidly. For instance, the Cambodian government approved in 2014 the single most impactful dam out of the 26 that Ziv studied (Lower Sesan 2) at a site on the Sesan River just downstream from the confluence of two of the Mekong's most important tributaries: the Sesan and Srepak.
According to Opperman, Lower Sesan 2 will sever the route that migratory fish follow between the Mekong's productive floodplains and spawning habitat in those tributaries. By itself, this single dam would reduce basinwide migratory fish biomass by nearly 10% — half the losses that would be caused by building all 26 tributary dams — for a relatively small amount of energy.
How much more costly would Hydropower by Design be to implement over conventional approaches? The Conservancy paper estimates 15% more— or US$3 billion per year — between now and 2040. But the paper also argues that system-scale approaches will reduce project-level risk and produce economic benefits for nations, including through maintaining and increasing the benefits of free-flowing rivers.
The Bottom Line
Hydro-dam construction worldwide is accelerating with increased demands for energy, especially in the developing world.
But hydro-dams can have huge negative impacts on river biodiversity, fisheries, and flood-dependent agriculture.
The science says siting new hydro projects through a systems approach can provide substantial energy production while minimizing impacts on nature.
Decisions on future dam project siting are being made now. So the urgency is increasing to integrate science and a Hydropower by Design approach into these processes.