What the heck is phenology and why should you care? Phenology is the study of when biological events like flowering, leaves falling, hibernation, and migration happen in relation to the season and the climate. As the global climate warms, phenology is changing; for instance, events like flowering may happen earlier in the year. Studying phenology is a great way to study some of the measurable impacts of climate change.
What's Going On?
Do you think that climate change is only a problem for the future?
Think again. Climate change is already happening: it's changing the seasons and that's a big deal for plants that need pollinators, migratory animals and, ultimately, people.
The study of regular changes in seasons and plants (e.g., the beginning of a rainy season, the first leaf to fall, etc.) over time is known as phenology.
Citizen scientists are tracking these changes through projects like Old Weather, Project BudBurst, eBird and more.
They are tracking the changes that could lead to mismatches for plants and animals, like migratory birds that typically arrive in a location just in time for berries or bears that come from far and wide to eat migratory salmon.
What the Science Says
Scientists have associated many changes in the environment to climate change. Examples Include:
Some animals have shown surprising resilience, such as char that surprised scientists by keeping up with salmon even as the timing of salmon migration changed.
For other creatures, like hummingbirds, the results remain to be seen. Past research has strongly suggested that their migration is driven by the length of days – a factor that will not be changed by climate change. This could lead to a mismatch between their migratory pattern and climate-driven factors like the blooming of flowers.
Citizen science projects like Journey North are tracking hummingbirds to see if their migration will change. This and similar efforts by citizen scientists will be key to informing conservation initiatives as the climate shifts.
Why It's Important
This affects all of us. Not only the plants, not only the wildlife, not only the grandkids: all of us, starting now. Just a few of the biggest known factors include:
Take the example I mentioned above: the phenology of salmon migration is already shifting, and char migration along with it. That will impact fisheries and the livelihoods and diets of many people who rely on salmon for food and income.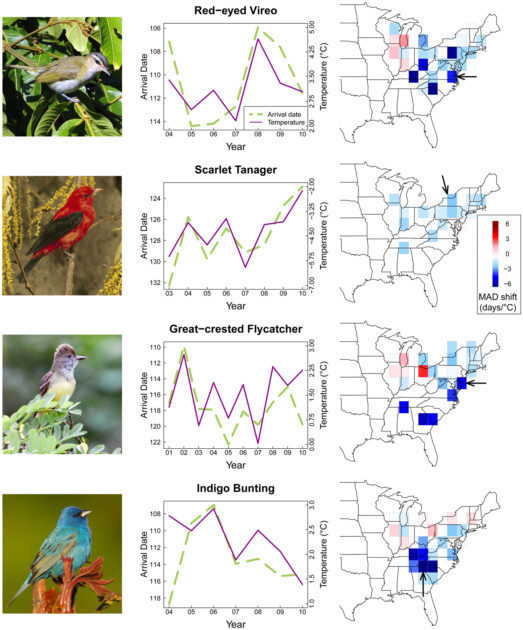 Similarly, food security could be affected if there were mismatches between the arrival of pollinators like wild bees and the flowering of agricultural plants.
Thankfully, however, although their phenology is changing in response to climate, so far wild bees and agricultural plants are in step with one another and seem to be driven by the same climatic factors.
Bottom Line
Climate change is already impacting our experience of the world from a change in the seasons to a change in the animals that we see.
Because climate is already changing and will not stop changing immediately (even if we put an end to anthropogenic carbon emissions today), doing conservation in a changing climate will take some creative thinking.
The good news is that people are already planning ahead; for instance, planning reserves that will be resilient in the future climate, like protecting long sloping sea turtle nesting beaches that will still have beach space even as sea level rises.
Better still, you too can be part of the solution by contributing to citizen science efforts that track phenology like Old Weather, Project BudBurst, IceWatch USA and more.