The world is facing rapid population growth, and with that, rapid habitat loss. But do these trends need to go hand in hand? In California, The Nature Conservancy is betting that giving nature a seat at the table during land use planning processes can disrupt this unsustainable pattern.
The Situation
By 2050, California is going to need to make room for 10 million more people, along with the housing, transportation, and energy infrastructure needed to accommodate that growth.
Unfortunately, in the past, our state's track record for accommodating growth hasn't been great.
In the decade between 2001 and 2011, California led the western US in land lost to urban sprawl, all while housing prices soared. In fact, the amount of land lost to urban sprawl in California during that decade (810 square miles)  was equivalent to the land area of Bryce, Zion, Arches, and Capitol Reef National Parks combined!
Moving forward, can we Californians sustainably accommodate growth while still protecting the vibrant natural and agricultural resources that are essential to our quality of life?
At TNC, we believe it's possible, but there need to be some tweaks to the way California communities plan for growth through General Plans, regional transportation plans and other planning processes.
As good as those processes can be and as well-meaning as they are, they are also incomplete – and based on something of a false premise — because the majority of growth planning in California doesn't effectively include nature so that that decision makers and stakeholders can understand the values that natural and agricultural lands provide to communities and act to protect our land, water, wildlife and agricultural economy.
Considering all the values those lands provide, it's a pretty big oversight. Fortunately, it's relatively easy to remedy.
The Problem? Nature is Missing from the Maps
Have you ever played SimCity? Planners in cities, counties, and regions in California use real urban planning software like SimCity  (though much more sophisticated) to evaluate growth proposals for their communities. These tools compare jobs, housing, and transportation across different scenarios of growth, but lack any information on natural and working lands.
To all intents and purposes, it is as if natural and working lands don't even exist because the maps, information, and tools used by planners simply don't include or otherwise account for these elements. Their maps look a lot like the ones you might pull up for driving directions, showcasing urban areas, transportation networks, some protected areas, and a lot of white, seemingly, empty space.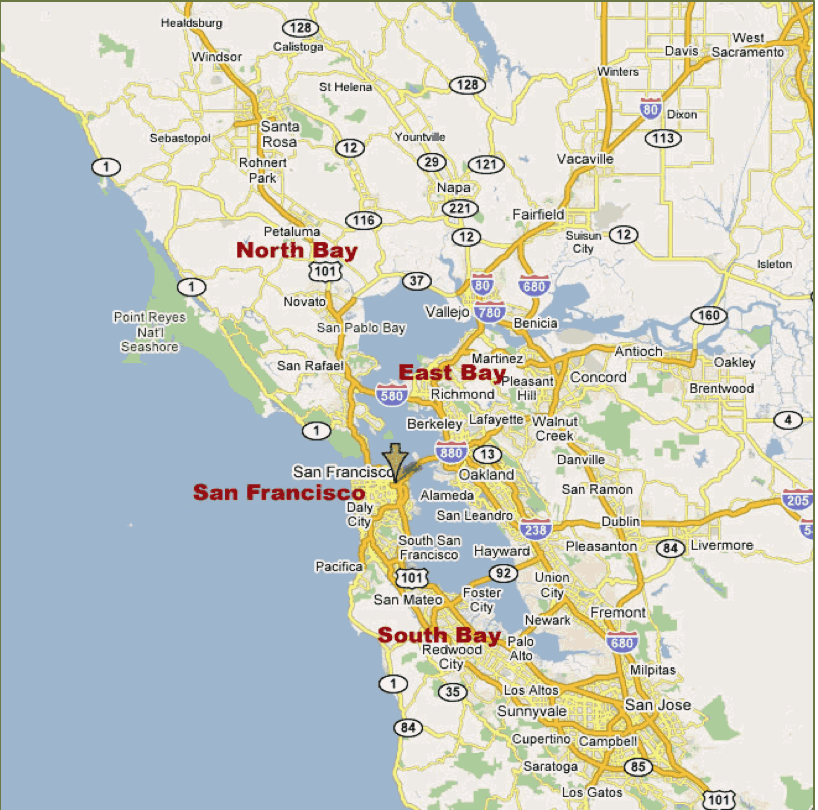 But we know that those white spaces aren't empty: they are areas where vegetation stores and sequesters carbon, helping us fight climate change; where groundwater percolates down to recharge our aquifers; where habitat corridors crisscross the landscape, allowing wildlife to move in search of food, mates, and new habitat. The challenge is to get planners to see all this, too.
Clearly, planners' toolboxes need expanding so decisions normally made solely on the basis of housing, jobs, and transportation might now be informed by a more complete picture of the impacts of different patterns of growth on communities as a whole, including their more natural areas.
The Solution? Put Nature on the Map (Literally) to Improve Planning Processes
So to solve that problem and put nature in the planning process, TNC and its partners built the Conservation Module to fill this gap.
The Conservation Module is a natural resource accounting tool that reports impacts from potential land use changes on habitat, agriculture, water resources, and carbon. To increase the ease, efficiency and likelihood of use, we partnered with two urban-scenario planning software startups, UrbanFootprint and UrbanSim, to embed our conservation technology module directly into the tools that planners are already using, and the software they are already familiar with.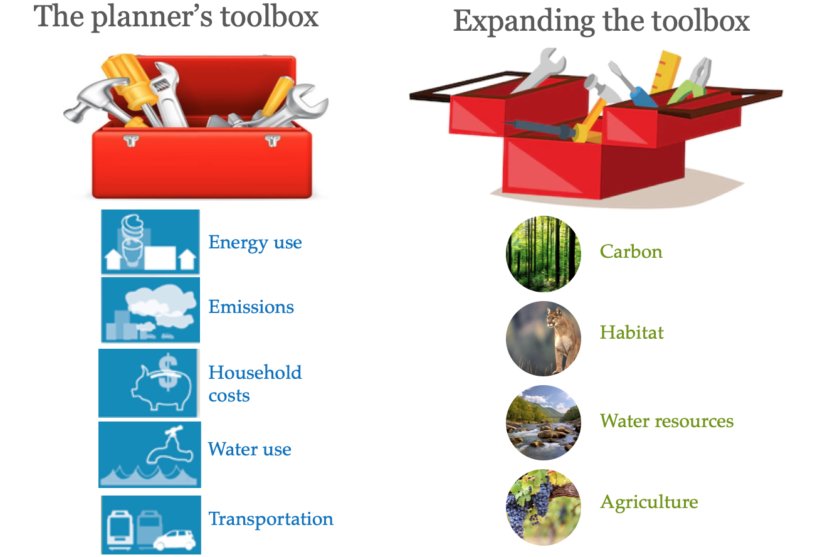 But will those conservation metrics actually make a material difference to planning decisions? Spoiler alert: Yes!
Putting Nature in the Plan: Bay Area
We completed the Conservation Module in 2017 just as the Metropolitan Transportation Commission (MTC), the Bay Area's regional transportation agency, proposed scenarios for future development that could accommodate 2.1 million people, 1.3 million jobs, and 820,000 additional households.
The scenarios ranged from historic patterns of sprawl to more compact growth within urban growth boundaries. The difference in the footprints among those scenarios could have held another city the size of San Francisco.
Scenarios allow planners to evaluate trade-offs such as how commute times or household costs will be affected by potential patterns of new development. This information allows them to make informed decisions so that their cities and regions grow in a way that benefits its existing and future residents.  However, a full assessment of anticipated trade-offs was still not possible because these scenarios still lacked any information on their projected impacts on natural and working lands, as well as the benefits they could provide to residents.
This is exactly the problem we built the Conservation Module to address.
Our partner, Greenbelt Alliance, ran the newly released Conservation Module on these development scenarios and illustrated that, by avoiding future sprawl, the compact growth scenario could:
Protect 800 acres of wetlands
Keep $8 million of local agriculture in the Bay Area's economy
Have climate change benefits by protecting carbon stored on natural lands — equivalent to getting 112,000 cars off the road
Keep 17,000 acres barrier-free for wildlife movement
Protect 5,000 acres in drinking water source watersheds helping to filter and clean our water
Keep 750 acres of floodplains free of new development, helping to attenuate flood risk for downstream residents
And on, and on…
The Conservation Module showed its power and value immediately
Quantifying nature in the planning process — putting it on the map — led to 17 organizations and agencies citing this analysis and signing onto a letter in support of the compact growth scenario. The chair of MTC cited this work at a public hearing.
In the end, MTC not only chose the compact growth scenario, but further modified the scenario to avoid development in areas with extensive impacts. That revised scenario formed the basis for Plan Bay Area 2040.
Our goal was to develop metrics that were easy to interpret and that would inform and influence planner's decisions. And now we know it works.
Getting nature into the planners' toolbox empowers planners, elected officials and stakeholders to make decisions on a comprehensive set of metrics to benefit their communities making them healthier, more vibrant places to live, while protecting nature at the same time.
Carrie Schloss is a Senior Scientist in The Nature Conservancy's California Program. She focuses on multi-benefit conservation planning and climate change adaptation. She uses data analytics and creates decision support tools to encourage the integration of conservation values across sectors. 
Liz O'Donoghue is Director of the Sustainable Development Strategy for The Nature Conservancy's California Program focusing on innovative mitigation approaches, greenprints, sustainable land patterns and transportation policy. She serves on Caltrans' Policy Advisory Committee, the Bay Area Open Space Council's Advisory Council and ClimatePlan's Steering Committee.