A couple of months ago, I spent the weekend at Yale University's "Reality of Climate Change Mixed Reality Hackathon" where I put on a virtual reality (VR) headset for the first time and learned that, though I have never had a fear of heights or flying in any kind of aircraft, flying with a jet pack is a whole other story. A terrifying one.
My flight only lasted a few minutes, but it was certainly an effective introduction to the power of virtual reality. In fact, it was a whole new twist on the concept of "reality" and the ways technology could transform how people experience and therefore respond – and take action – to confront the global reality check of all reality checks: climate change.
Making What's Difficult to See Possible to See
Turns out reality can be trickier than I ever imagined.
The thing is, my mind knew my jet pack flight wasn't real. My mind knew exactly where I was: the Yale Center for Collaborative Arts and Media (CCAM) in an unassuming building at 149 York Street in New Haven, Connecticut. I was not flying erratically over mountain ranges and rivers. I was standing on a hard tile floor. People were next to me, talking to me. Unless I fell over my own feet, I couldn't actually fall. My mind knew all of this.
My body, however, did not. My body thought I was dropping out of the sky and reacted accordingly. My stomach dropped. I'm pretty sure my heart hit a rib, and my breath caught like I'd accidentally sucked in a large insect, possibly some sort of thick beetle. I was falling and not falling at the same time. It was real and unreal. It was visceral.
"Exactly," said Randall Rode, director of campus IT partner development at Yale University, one of the main organizers of the hackathon. "Now that you've had that VR experience, you can really see how empathetic it is. How your body sees you as being in this experience and what a powerful tool that can be for communication. I think the most important things these technologies offer are completely new ways to make what's difficult to see possible to see."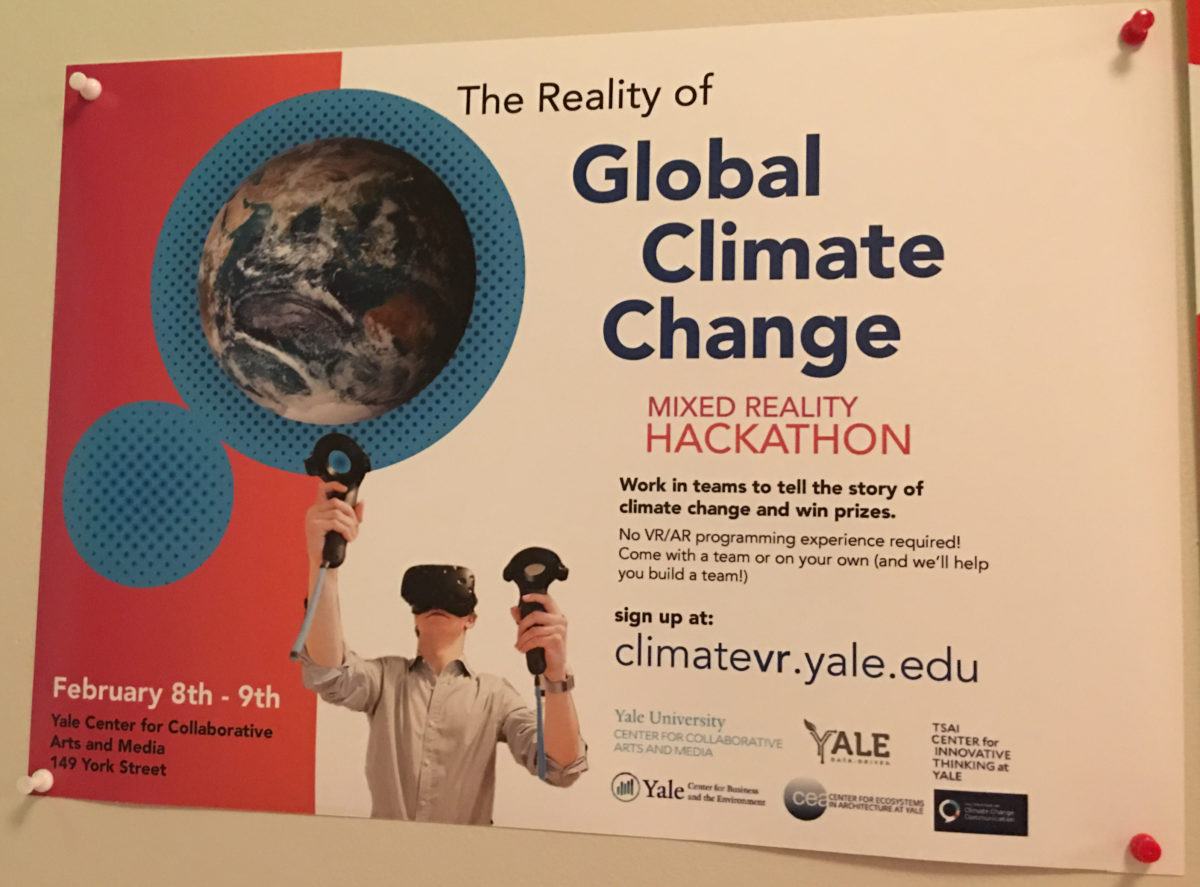 Making the difficult to see possible to see was the simple, but daunting premise of the weekend's hackathon where 50 student participants,  aided by a team of mentors and technical advisors from The Nature Conservancy, Yale, Quinnipiac University, ESRI, SphereGen and others, had 24 hours to conceptualize, develop and build a VR or augmented reality (AR) prototype that brought the reality of climate change to life.
AR, VR, XR: Wait, What Does That Even Mean?
Quick break for some definitions. In simple terms, augmented reality (AR) is additive. It adds computer-generated effects to existing reality so users can manipulate or interact with it. One of the most widely known examples is probably the Pokémon Go gaming phenomenon where people use an app on their phones to find and capture Pokémon in the world around them.
In contrast, virtual reality (VR) is immersive, and uses a computer simulation or recreation of a real environment that you become a virtual part of. It's more sensory and can make you feel like, say, you're flying with a jet pack when you're really in a small room in Connecticut. One last clarification, AR and VR experiences can be grouped under the broader term of mixed reality (XR).
Meanwhile, Back at the Hackathon
"The chief barriers to finding solutions to climate change are not scientific or economic," noted Jon Ozaksut, digital director for the Yale program on climate change communication, and advisor for the hackathon. "The chief barriers to solutions and change are based on collective action. Many people still view climate change as an 'over there' problem – either a problem that is happening somewhere else or at some future time."
When applied to problems like communicating climate change, the hope is that emerging VR and augmented reality (AR) technologies will help tell the stories of climate change in human terms. The importance of these new technologies, noted Ozaksut, are their potential to turn science and data into stories, and those stories into experiences that you can see, hear and feel "with your eyes and ears."
We need to find new ways to make climate change real to people through movement, engagement and empathy – creating experiences that bring data, words, numbers, photographs and video to vivid, emotionally engaging life. After all, nothing seems to spur collective action like shared emotional experience.
Motivate Me: Climate Change is a Communications Problem
"The emphasis on exploring these new tools and technologies for climate change communications – new ways to translate data and information into meaningful experience – is why The Nature Conservancy is here," said Victoria Hoyland, an environmental engineer for TNC in Connecticut and hackathon climate science mentor.
She and several other TNC colleagues served as climate change science mentors and provided climate change data sets and technical guidance as the hackathon participants dove into their projects.
For TNC, as for many organizations working on climate change, "meaningful user experience" means experiences that will spur people to more urgent action. When it comes to our opportunities to mitigate and adapt to climate change, time is ticking for us to choose another path. The one we're on right now has the world on track to a temperature rise of more than 3 degrees Celsius by the end of the century, and possibly sooner.
"That's a problem," said Hoyland. "We have solutions and science, but TNC and our partners and everyone who cares about climate change will not make progress if we are unable to effectively communicate the urgency of challenge and the threat. Innovative approaches to climate change communications are sorely needed and mixed reality programs present an incredible opportunity to connect people to climate change data, the experiences of those affected, and potential solutions in a visceral way that could inspire transformative change because it inspires action."
"Take carbon," said Rode. "We talk all the time about carbon emissions. We all know carbon emissions are bad, but the challenge is: CO2 is an invisible gas. Odorless. If it stunk, and it made things smoky, people would be more active."
So when "we look at a VR experience, it gives us an opportunity to take cold hard facts – that are hard to visualize – in many cases even representing physical events, like the emission of CO2, that you can't see, and then find ways to make them seeable. And that really helps people appreciate the impact of what they're doing."
For example, what if there was an AR app you could be wearing in your glasses that would constantly be showing your personal real-time emissions adding up? Or showing the emissions of industry and activity around you? Being able to see the cumulative effects of activity could be a vehicle to spur that much-needed collective action.
Seeing is Believing?
What if people could see the cumulative effects of their personal lifestyle choices on climate and the environment? If there was an app that showed you what would happen if everyone made the same choices you make, would it motivate you to change your behavior, to urge others to change theirs?
That was part of the premise of Feed Stampede – one of the prototype projects to come out of the hackathon that explored how diet choice impacts climate change. Users choose virtual meals and take them to a large dinner table with a beautiful view of a healthy landscape. A narrator then details the impacts of each meal – meat, vegetarian, even insects – while the landscape alters around the eater.
Eat mostly meat? Get ready for a lot of deforestation and carbon release. More vegetables? Probably better but there are still soil carbon considerations if more land is cleared for cultivation instead of finding ways to sustainably intensify production on existing agricultural acreage.
And while personal choices matter a great deal, giving people a clearer, fact-based visceral understanding of the cumulative effects of global activity and the way people live in the world, from deforestation to unplanned development to energy production, is necessary for reaching the level of urgency that will create change at the scales needed to make a timely difference.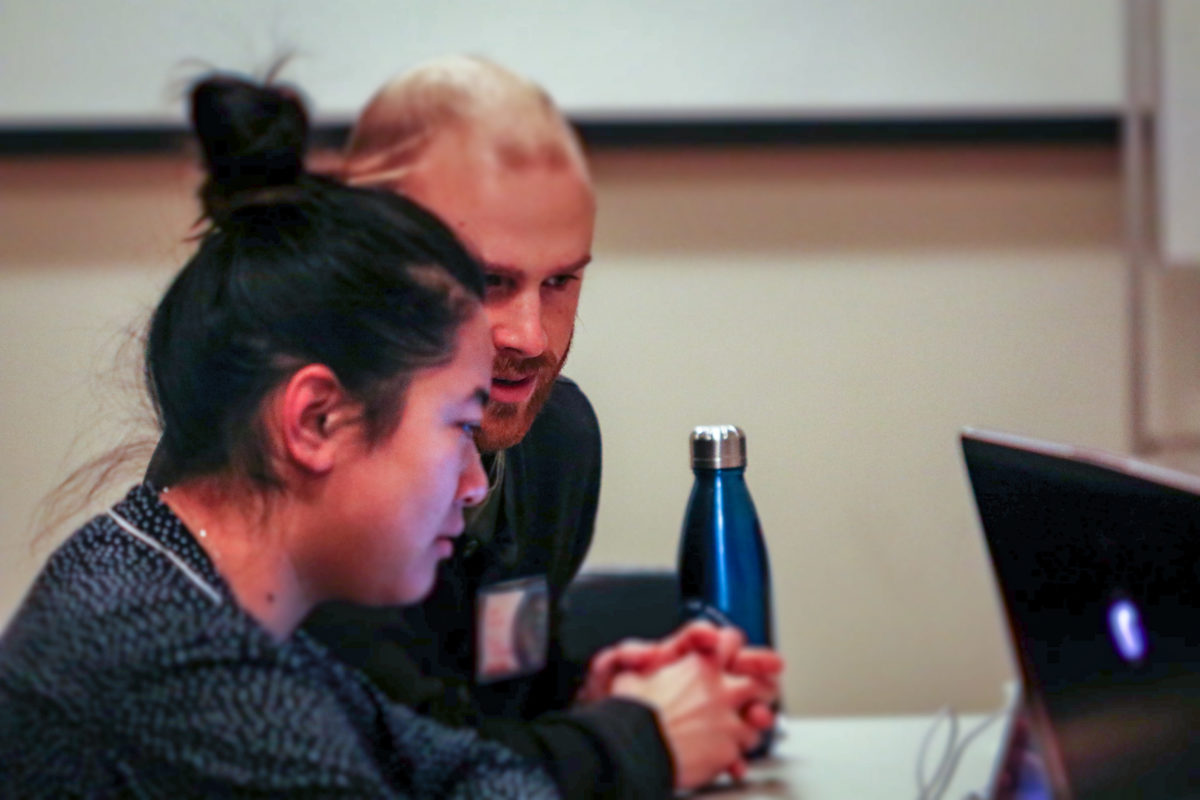 What if there were ways for people to see the ocean losing its ability to absorb carbon, like an over-filled glass? Or if there was a virtual reality experience that could let users experience the heat waves that recently shattered temperature records in India? We hear 118 degrees Fahrenheit and we know intellectually that it's hot, but do we really know what it feels like against our skin? How hard it is to breathe?
Would empathy be an antidote to apathy, or hopelessness? What if you could see the cumulative positive effects for the environment, climate and human health from a clean energy future?
The potential applications of these tools for communication seem limitless – but the challenge, as always, is to turn knowledge into action.