I see the tower every time I shoot photos and footage at Camas National Wildlife Refuge in eastern Idaho. Built for peregrine falcons, the tower sticks out among the relatively flat landscape of tall grasses and shallow ponds. But I've never seen it up close. That privilege belongs to Mark Delwiche.
"From up there, you can understand why the falcons like it," says Delwiche, Friends of Camas board member. "It's a 360 degree view all around the valley. It's spectacular."
Delwiche climbed the tower in 2016 for the organization Friends of Camas. He installed a live web cam on the 12 by 12 foot deck. Friends of Camas hosts field trips at the refuge, built a solar powered pavilion for events and now manages the falcon cam.
"We've set it up just to let people know what's in the area and through that interest, we talk about the needs of those species and how we can help them," says Karl Bohan, Friends of Camas president. "People are not going to care about things they don't know about or understand. If people don't care, it's a lost cause."
The falcon camera at Camas is a challenging cause. It functioned fine in 2017, but only a female falcon showed up. It worked in 2018, but not all season so Delwiche had to track the fledging chick with binoculars when it learned to fly. This year it's working and a male and female hang around on the deck, but no eggs yet. One of them is most likely the offspring of the tower's historic raptors.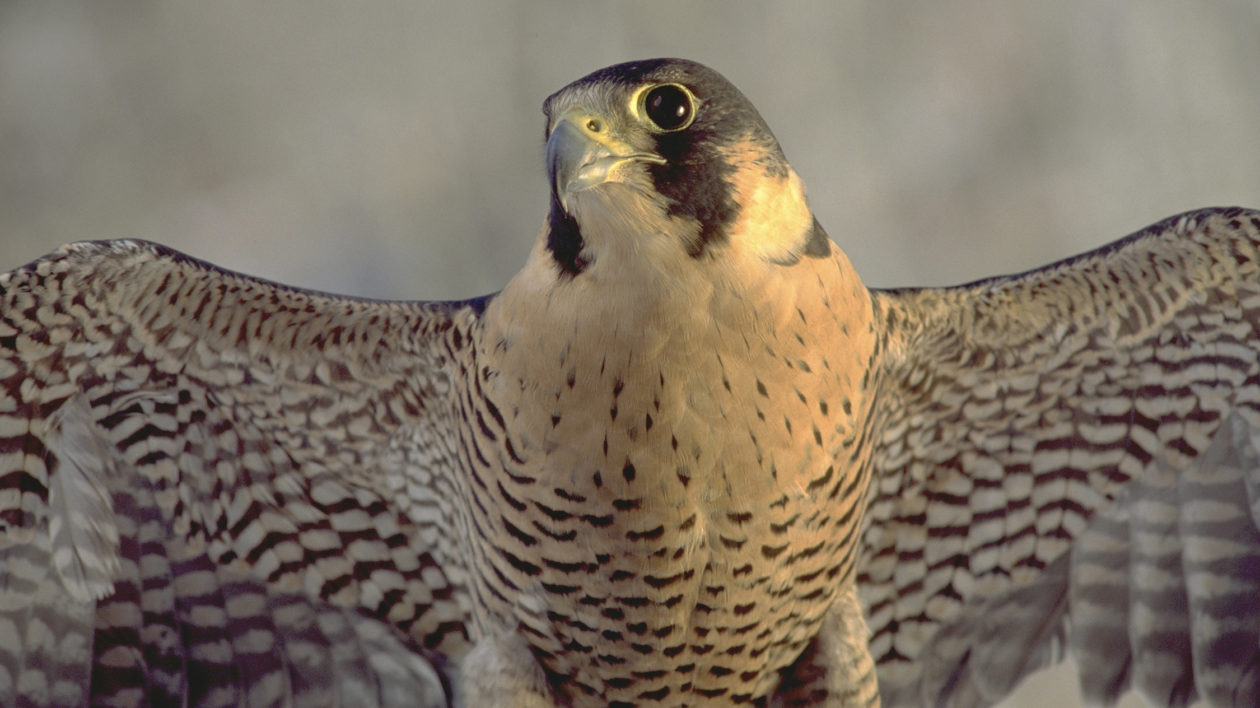 The tower, or hack tower as it is traditionally known, popped up on the refuge horizon in the early 1980s. It was used for 'hacking' chicks instead of hacking computers, the way the word is used today. Hacking chicks is like hatchery fish, but with feathers instead of fin and with less supervision. Hacked chicks are raised by humans from egg stage to hatched. Then they're put in nests and fed by humans without seeing humans. The birds have a provider, they just don't know what that provider looks like.
Hacking peregrines became the go-to process for population recovery when DDT weakened eggshells and the falcon found itself perched on the endangered species list in 1970. Federal, state and corporate (the power company) entities built the tower at Camas. The nest box sits on a platform that's supported by four tall poles. The pole in the northwest corner has rungs, or steps, just like linemen use to climb power poles today. There's also an old fence post with a cross-bar staked by the tower. The provider hung bags of meat on that.
Upon arrival at the top scene, food was shoved through a hole in the roof of the nesting box where chicks waited openmouthed without knowing the hand that fed them. This process was in its third year when the provider climbed the tower with newly hatched chicks only to discover an adult pair of falcons had already claimed it. Hacking stopped and the tower has been a wild nest since.
"It was a viable alternative for bringing species back," says Brian Wehausen, Camas National Wildlife refuge manager. "It certainly worked for peregrines."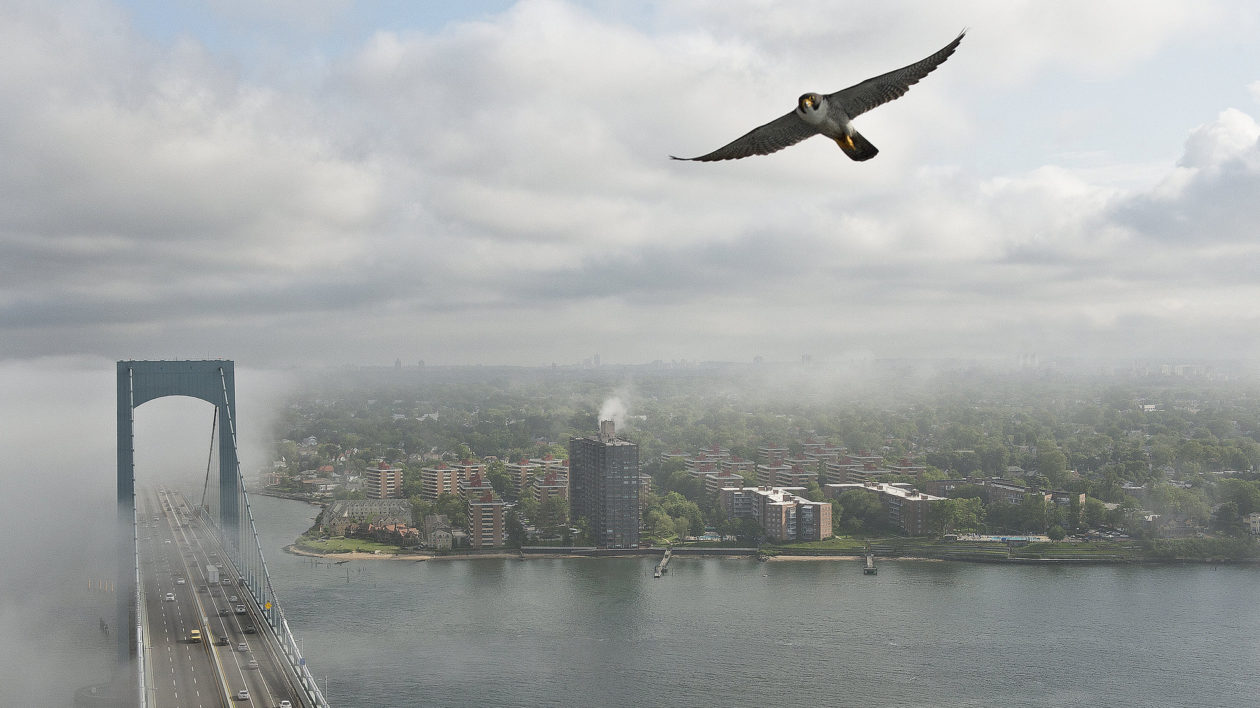 But it doesn't work for pigeons. Falcons like cliffs. Tall buildings are cliff like. That's why many hacks are in cities. Peregrines are partial to duck, but they'll eat pigeon and they do, often. Nest cams in cities across the nation show well-fed peregrine chicks feasting on pigeon. The meat is presented to them by adult falcons with names like Barb and Boh, as is the case with the falcons nesting on the Transamerica building in Baltimore, Maryland.
"In some cases peregrines cleaned up cities," Wehausen says. "They hacked into cities and used buildings like cliffs while cleaning up on pigeons."
The peregrine pair at Camas follows waterfowl migration to and from the refuge in spring and fall. They raise one to three chicks that fly by July and perch in the trees by refuge headquarters. Most in-person visitors miss them, but everyone watching the nest online sees them and hears them. The web cam transmits sound.
"Sometimes I put it on my big screen TV and just leave it on," Bohan says "When they fly in from hunting they squawk at each other. That's how I know it's time to move into the room to watch."
The camera on the Camas couple is unique. While the nest box is human-made, the surroundings are wild (and free of pigeons), unlike the industrial scene you'll see in most other live links to peregrine cams. Each reveals a different stage of spring bird life, varying from no eggs yet to a few new mouths to feed. Enjoy the peregrine peepshow.