Small-scale fisheries around the globe provide food and employment for local communities. Unfortunately, many of those fisheries face problems from overfishing, damaging fishing practices, climate change and other threats.
Conservationists recognize that involving local communities in management and monitoring is critical to sustainable fisheries management. However, there has been a lack of resources to train community members in how to monitor their fisheries.
"We cannot have fisheries biologists at every site, conducting surveys throughout the year," says George Maina, fisheries strategy manager for The Nature Conservancy in Africa. "It's just not feasible. But we can train fishers to monitor their own reefs. They are already out there. However, there has been a shortage of effective tools that these fishers can use."
In the Lamu archipelago on the northern coast of Kenya, a new guidebook developed by The Nature Conservancy, Northern Rangelands Trust and CORDIO provides a practical, user-friendly tool for community-led reef and fisheries monitoring.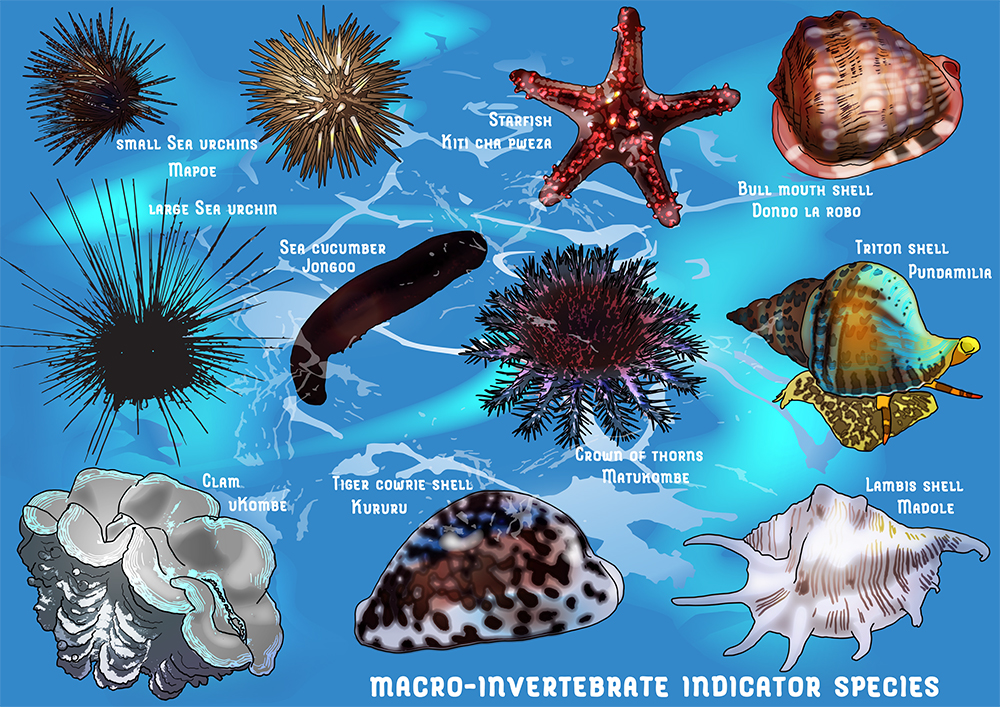 Coral Reef Monitoring in East Africa: A Guide for Communities, as stated in the guide's introduction, "provides guidance on how local communities, with minimal support, can independently undertake simple coral reef habitat and fisheries monitoring, data collection, analysis and interpretation of their data to improve understanding of the status of their resource and be able to devise appropriate management actions."
This coastal region is known for nutrient-rich waters and a diversity of marine life. Traditional fishing boats, called dhows, can be seen plying their trade, but fishers have been noticing more pressure and smaller fish in recent years.
Community members sought ways to better manage their fisheries.
In the past, efforts to teach monitoring to community members often got bogged down in excessive details and scientific jargon. "We have seen many community-based monitoring programs fail," says George Maina. "We realized we needed a tool that was not overly technical that also didn't sacrifice scientific credibility."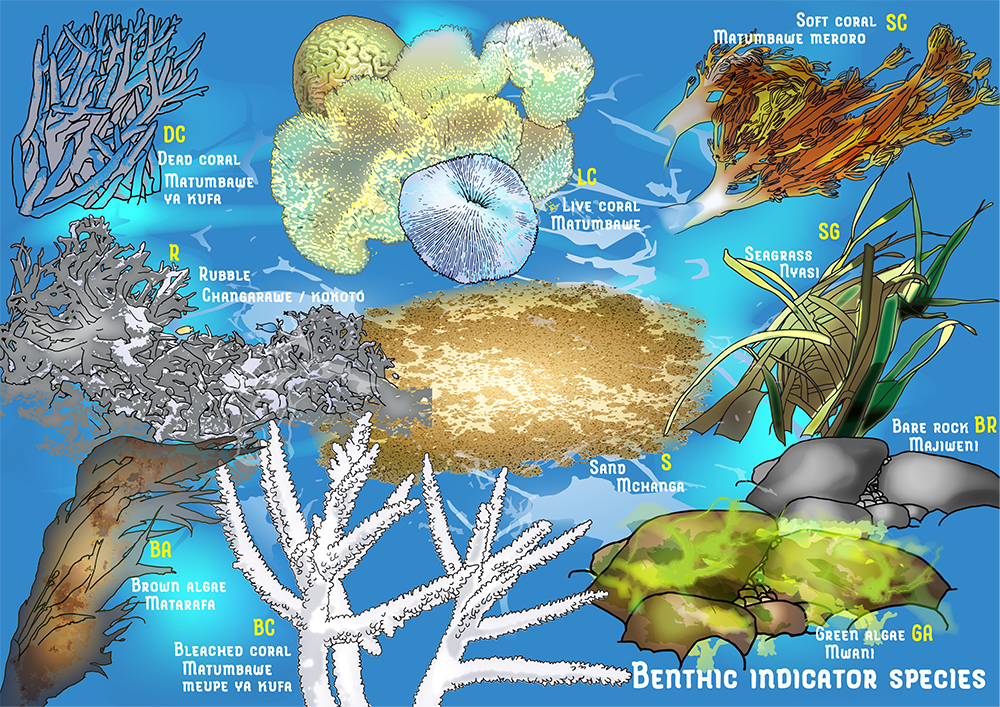 Maina said that many programs attempt to monitor all fish species, but the guidebook focuses on key indicator species. As with any successful community-based conservation initiative, the project began with the community.
"We sat down with the community and asked them what they wanted to see," Maina says. "They wanted more fish and healthy habitat, of course. They wanted to know the key indicators of a healthy coral habitat."
Working with the community, the partners developed a richly illustrated book – part instruction manual, part field guide.
The guide includes key food fish, ecologically important fish and endangered species. It includes – using both text and illustrations – information on how to achieve accurate counts as well as how to monitor invertebrates and substrates.
Twelve community members in Lamu have been trained using the manual. They carry laminated pages with them in the field. "They have been monitoring the reef and fisheries since last year," says Isa Gedi, Regional Director of NRT-Coast. "The results do not vary from professional scientific surveys."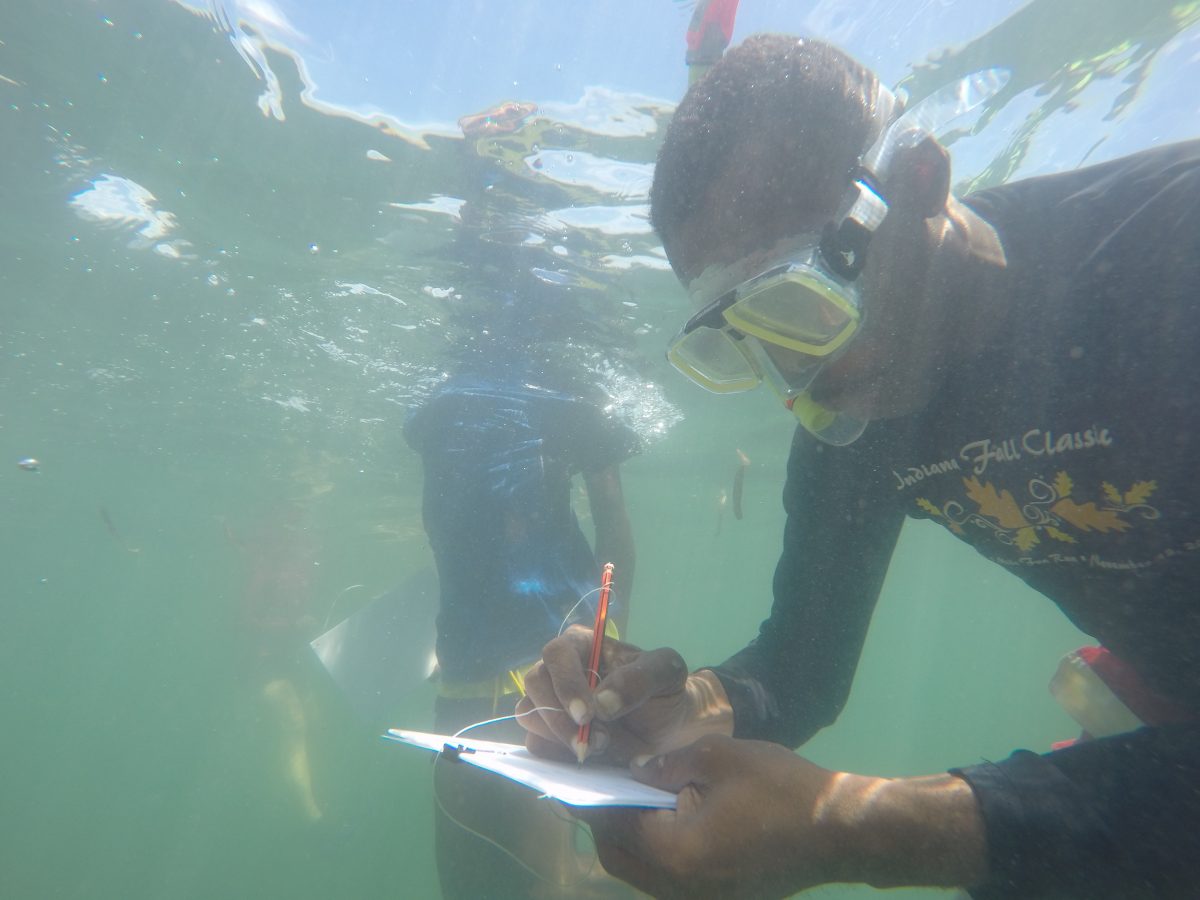 More than 70 percent of livelihoods in Lamu are reliant on fishing. People fish for their own food, as well as for local markets. They use traditional gear like hook and line and gill nets, but some fishers use nets that are destructive to the reef.
"With the monitoring, fishers see that areas that are fished using destructive gear has negative effects," says Nadhir Hashim, manager of Pate Marine Community Conservancy. "In areas that are closed, they see more fish. The community has been very excited because, even though they make their living from these fisheries, they are learning important new information due to the monitoring."
The challenges of Lamu – including increased fishing pressure, fewer and smaller fish and climate change – are faced by artisanal, small-scale fisheries around the globe. Only 5 percent of the world's 10,000 fisheries are managed using sufficient scientific data. Guidebooks like the one being used in Lamu could help empower local communities and allow them to better manage their fisheries – and their futures.
"There are well-established tools for monitoring fisheries and reefs," says Maina. "Often, these are presented to fishers and community members in ways that are overly technical and too ambitious. The guidebook at Lamu shows we can present a simplified methodology that is still scientifically credible, and that empowers communities to monitor their own resources."