Birds do it, frogs do it. The world is filled with a rich chorus of animal songs and sounds. Bird songs have inspired artists likely since before recorded history. Whale songs swept the world in 1970, inspiring musicians and conservationists alike.
Now Ben Mirin, a sound artist and National Geographic Explorer, has teamed up with the Cornell Lab of Ornithology to inspire a new generation of conservationists and musicians with BeastBox.
Mirin has been bringing the sounds of nature into modern hip hop music, educating and inspiring children with his Wild Beats digital and television series on National Geographic Kids. BeastBox gives you the chance to make your own beats using music and sound effects recorded by Mirin.
Mirin waxes lyrical about the project with an infectious enthusiasm: "BeastBox will give people, especially young people, a way to explore nature through sound and find their own creative approaches to conservation. If I can ignite that passion in somebody else, I've achieved my goal."
The project came together when Mirin performed at Cornell. Mya Thompson, a specialist in animal communication and the producer of BeastBox saw his performance.
"I thought, let's hand over the reins and let people be wildlife DJs," says Thompson. "It's such a transformative concept to think about how you might connect with the natural world. It's an ode to the music of the planet."
Make Your Own Beats
The game starts with beatbox beats inspired by six ecosystems, from the Great Barrier Reef to the Sonoran Desert. When you choose an animal, perhaps a humpback whale or a javelina, a cartoon version of that species joins the dancefloor and a recording of that animal is synched to the beat. An info button appears above the dancing animal – click it to learn a little bit about that species and its habitat.
Add up to five animals at a time to the dance floor to watch them dance and hear them make music together. If you select five species from the same ecosystem, you can unlock new "Beast Mode" tracks and prizes like free sound downloads from Cornell.
You can meet the animal stars of the game, the precise individuals Mirin recorded, by following Mirin on Instagram.
Every detail in the game was careful planned, from the wildlife included to the setting and the costumes. The stage and costumes are based on original source photos from 1980's New York City clubs, an homage to the origins of hip hop.
"We have a fantastic artist, Jeff Szuc, who did all of the art and illustrated the characters," Thompson says. "We went through a scientific review. I checked things like the markings of the birds and the shapes of elephant's ears to be sure they matched the species. You'd be surprised at how much even in a cartoon you can match real field marks. Then went through a cultural review with Ben Ortiz of Cornell's Hip Hop Collection and he made sure the costumes matched the cultural context."
Get Inspired
"I learn the most by presenting to people outside of conservation," Mirin says. "Music is something that reaches people beyond boundaries and attracts a more diverse audience, particularly music fans, to become fans of wildlife."
Whatever your age, if you love music or wildlife, you'll enjoy directing the wildlife chorus and dancing to the music on BeastBox.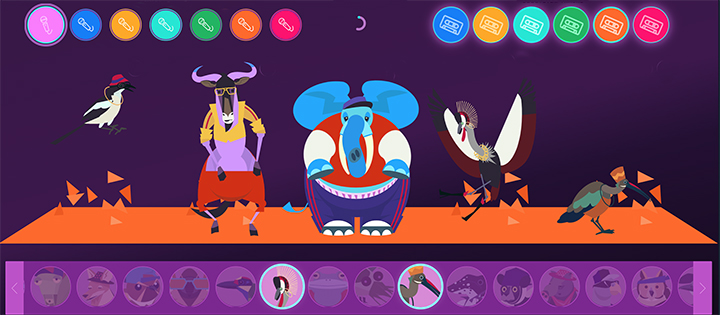 "We've seen people in their forties light up because they get the references to early hip hop culture. We tested with kids at a local elementary school and it was great to see them bouncing around in their seats and shouting out the names of animals they probably wouldn't normally know," says Thompson. "'Who's the cool hat dude?' 'Red-fronted coua!'"
The game has something for all personality types. Some will enjoy playing around with the beats and others will get into the puzzle and want to unlock more.
"Kids were really puzzling out what animals would live in what ecosystem," Thompson recalls. "A lot of them start with the Great Barrier Reef because it's easier to know which animals live in the ocean and then move on to more challenging ecosystems. They were really getting into it and learning. 'How do you say Chesapeake? Is it cheesecake?'"
Mirin and Thompson hope the game will encourage others to make their own nature-inspired creations. We'd love to hear about them in the comments here or in the Cornell discussion forum.