Where will you be on August 21, 2017 when the solar eclipse passes through North America?
Here's a guide to viewing opportunities, including Nature Conservancy preserves where you can catch the spectacle in beautiful surroundings.
Solar eclipses can be viewed from the earth's surface about two to four times a year, but they aren't viewable from all parts of the earth's surface and the path of totality (the places on Earth from which viewers can see the total eclipse) is only about 50 miles wide. Eclipse 2017 stands out because the path of totality cuts a wide swath through the United States and all of North America will have views of a partial eclipse.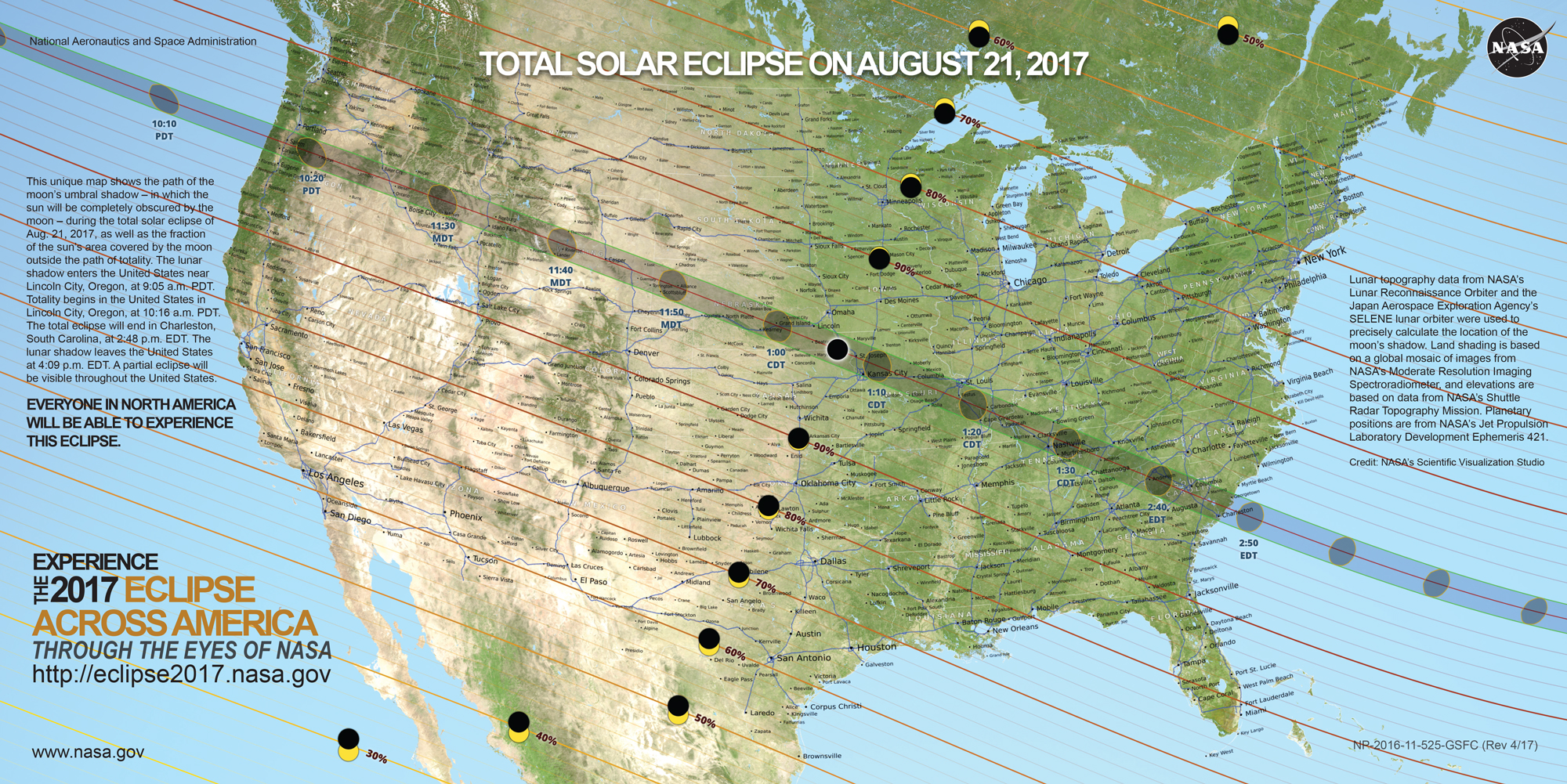 If you don't have plans yet, explore NASA's Total Eclipse site for loads of great information on eclipse events, science, safety and more. Not everything about solar eclipses is known. Citizen science projects will be collecting data on topics ranging from how the eclipse changes atmospheric conditions on Earth to revealing the plasma dynamics of the inner solar corona to documenting how animal behavior changes during the eclipse.
State and national parks are a popular choice for eclipse viewing. Unlike other astronomical events, light pollution is not a concern for viewing the solar eclipse because it takes place during the day when people have fewer outdoor lights on and it is very bright (so bright that viewing a solar with the naked eye at any time other than the total phase can permanently damage your eyes) and very brief (the total phase of the August 21 solar eclipse will last a maximum of 2 minutes and 43 seconds, depending on your viewing location).
Viewing the eclipse at a beautiful outdoor location like a National Park or nature preserve allows you to double down on the experience, exploring the beauty of nature here on Earth after viewing the magnificence of nature in the sky. And, if you're bitten by the astronomy bug, you'll be looking for more places to get away from the city lights and view the beauty of the night sky in its full splendor.
Find out when to watch the eclipse in your location.
If you can't make it to the path of totality or your eclipse is clouded out, watch livestreaming video of the total eclipse from NASA.
You are welcome to visit several Nature Conservancy preserves that fall in the path of totality during the eclipse. Please stick to the trails and follow the preserve guidelines; these preserves have delicate ecosystems that we need your help to protect. And come prepared with gear for safely viewing the solar eclipse and more, not all of these preserves have facilities for visitors.
Nature Conservancy Preserves in the Path of Totality
Showy evening primrose (Oenothera rhombipetala) in restored prairie at the Derr Tract of Platte River Prairies, Nebraska. Photo © Chris Helzer / The Nature Conservancy

State: Nebraska

Event Start: 9:30 AM CDT

Eclipse Start: 11:30 AM CDT

Notable Features:

The Platte River Preserve will be hosting an "Eclipse on the Prairie" event for members. The day will start with an optional outdoor talk by amateur astromer Austin Bontrager and The Nature Conservancy in Nebraska's Director of Science Chris Helzer. Participants will then hike out to the prairie to enjoy the eclipse. Bring your own eclipse viewing glasses, picnic lunch, and a lawn chair or blanket. Attendees must submit an RSVP to Eliza Perry. The preserve boasts 1,500 acres of highly diverse prairie, complete with a broad palette of wildflowers. Wildlife, including a birder's paradise of grassland birds, make their home on the preserve. In early spring, hundreds of thousands of sandhill cranes and a handful of endangered whooping cranes rest at the preserve before continuing their migration north.

Photo © Melissa Walthart

State: Missouri

Eclipse Start: 11:48 AM CDT

Notable Features:

The geology of Missouri is on display at Zahorsky Woods. A dolomite bluff overlooks the Meramec River with a talus slope below. Elsewhere along the trails an underground spring bubbles up through exposed dolomite and chert, a type of flint, provides the foundation for a woodland dominated by post oak, white oak, and black hickory. Each geologic feature is accompanied by a unique set of plants, including wildflowers like blue aster, golden glow, and trillium. Zahorsky Woods is open to the public and has hikeable trails that provide a scenic opportunity and stunning views of the Meramec River.

Grassy Slough. Photo © Tharran Hobson / The Nature Conservancy

State: Illinois

Eclipse Start: 11:53 AM CDT

Notable Features:

The Nature Conservancy in Illinois is restoring 1,600 acres of hardwood forest and 700 acres of wetlands at Grassy Slough. In the wetlands you will find cypress swamps (yes, in Illinois!) and thickets of buttonbush. These swamps provide habitat for birds like bald eagles and great blue herons, amphibians like bird-voiced tree frogs and spring peepers, and mammals like beavers and mink. The Farwell overlook located on Karnak Road between Karnak and Belknap is an ideal spot to watch the eclipse. Please note: parking is limited to approximately 12 spaces.

Clifty Creek Preserve, located beside the Emory River. Photo © Paul Kingsbury / The Nature Conservancy

State: Tennessee

Eclipse Start: 12:03 PM CDT

Notable Features:

Clifty Creek runs through a scenic gorge surrounded by 80 acres of hemlock-dominated forest. Globally endangered Virginia spirea grows along the rocky banks of the creek. Be prepared for a moderately challenging hike. To get into the main part of the preserve, you will have to cross Clifty Creek, so bring water shoes or waders and clothes that can get wet. The creek is usually slow and crossable.

Close up of a dwarf iris flower petal in Nine Times Preserve. Nine Times Preserve is a preserve in the Southern Blue Ridge Mountains that TNC owns and manages for public use. Photo © Clay Bolt

State: South Carolina

Eclipse Start: 1:08 PM EDT

Notable Features:

Located near the border between North and South Carolina where the Southern Blue Ridge Mountains meet the Piedmont, Nine Times Preserve contains five mountains that harbor a stunning 134 species of wildflowers. Black bears, peregrine falcons, and native trout call the preserve home. The preserve features several well-marked trails of varying difficulty, as well as easy-to-access parking.

Peachtree Rock as it appeared prior to 2013 in Peachtree Rock Preserve, South Carolina, United States, North America. Photo © Harold E. Malde

State: South Carolina

Eclipse Start: 1:13 PM EDT

Notable Features:

Along the trails of Peachtree Rock Heritage Preserve watch for marine fossils in the sandstone. Native longleaf pines interspersed with federally endangered Rayner's blueberry shade the trail and the only natural waterfall in South Carolina's coastal plain. Much of the preserve contains sandhill scrub vegetation, like sparkleberry bushes and sand myrtle. In September, the crane-fly orchid blooms. Salamanders, skinks, and a variety of birds can be found among the undergrowth and in the forest. The namesake of Peachtree Rock Heritage Preserve – a large sandstone rock in the shape of an inverted pyramid – toppled in 2013 but remains an impressive sight. A smaller, similar formation — called "Little Peachtree Rock" though it is larger than a car and taller than three people standing on each other's heads — remains balanced on its tip on a trail near the back of the preserve.

Bonus Nature Conservancy Eclipse Event (Outside the Path of Totality)

Dunlins foraging along the surf on Goosewing Beach, Little Compton area of Rhode Island. © Mark Godfrey / The Nature Conservancy

State: Rhode Island

Event Start: 2:00 PM EDT

Notable Features:

Come to the "Great American Eclipse" event at Goosewing Beach Preserve. The eclipse will be partial from this vantage (about 65% of the sun covered at peak). Email Celia McGuire to learn more or register for the event. Special glasses for safe eclipse observation will be available to registrants. Goosewing is a barrier beach, situated between Quicksand Pond (a pristine coastal lagoon) and the Atlantic Ocean. Breeding populations of the piping plover and least tern can be found on the beaches.

What are your plans for the solar eclipse?