If it's true that people reveal their true values by how they spend their money, coral reefs are very valuable indeed. In fact, according to a new study in the Journal Marine Policy coral reef tourism generates $36 billion (U.S) in global value every year.
Unfortunately, the clear economic value of coral reefs is rarely reflected in support for local, national and global efforts to manage coral reefs for the future.
That's a situation the study's authors – from The Nature Conservancy, the Natural Capital Project, World Resources Institute and Cambridge University – aim to change by putting the full economic power of coral reefs to tourism squarely on the world map.
Literally. And in high resolution.
The study, "Mapping the Global Value and Distribution of Coral Reef Tourism," differentiates the value of many in-water activities – such as diving and glass-bottomed boat trips – from what the authors call reef-adjacent values. The latter are the often-overlooked benefits that coral reefs provide: calm, clear waters, stunning views, beautiful beaches and seafood.
"Reef dependency is far, far greater than most people imagine," says Mark Spalding, lead author of the report and Senior Scientist at The Nature Conservancy, and Honorary Research Fellow in Zoology, University of Cambridge.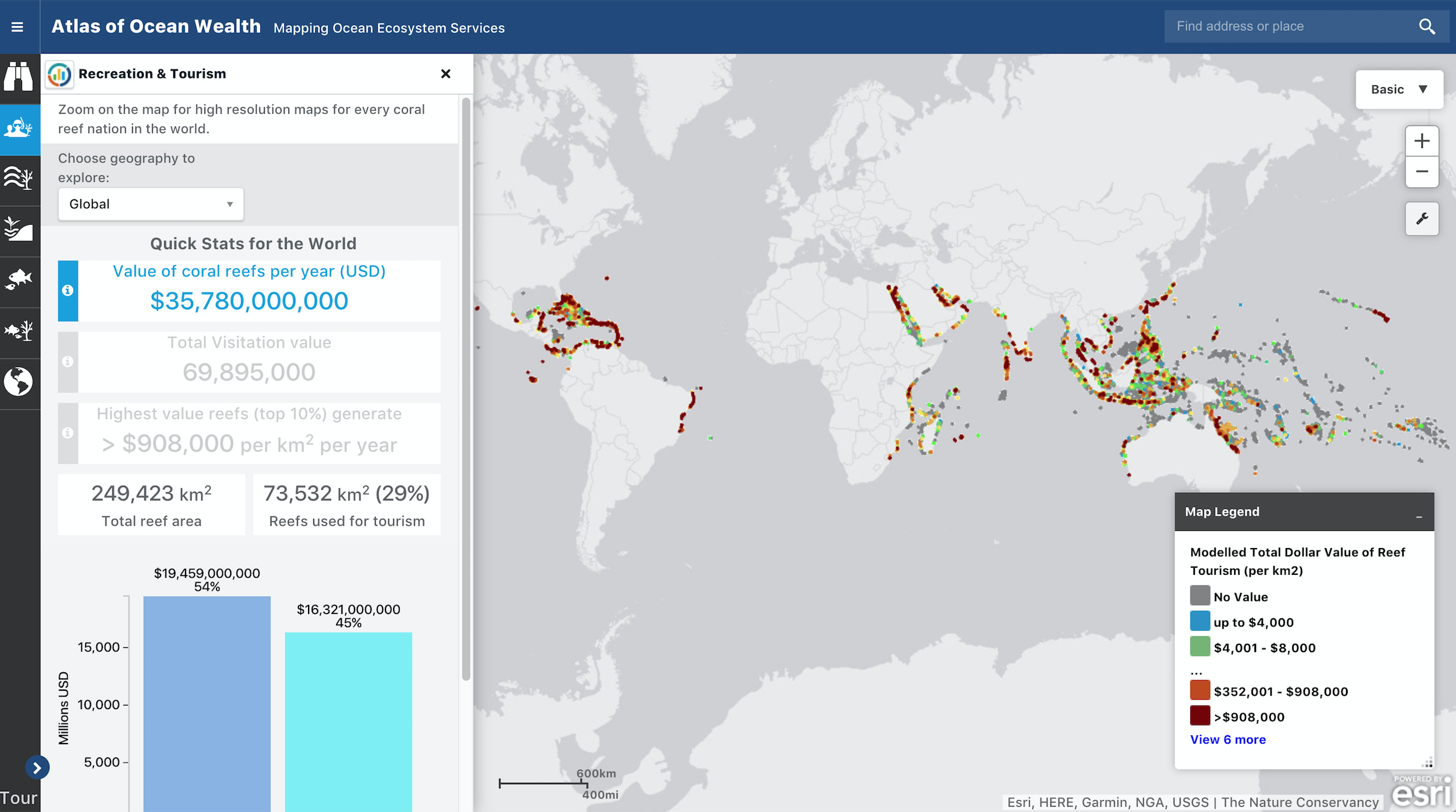 Million Dollar Reefs
In fact, more than 70 countries and territories have "million dollar reefs," – reefs that generate $1 million or more per square kilometer every year. These reefs are generating jobs, and critical foreign exchange earnings for many small island states that have few alternative sources of employment and income.
"These million dollar reefs are like precious works of art. To have one in your back yard is of course a wonderful thing, but it needs to be taken care of," notes Spalding.
The study revealed that tourism is concentrated on just 30 percent of the world's coral reefs, with the rest being too difficult to reach. Despite this, there are valuable reefs in coral reef countries in every region.World-wide, some 70 million trips each year can be attributed to coral reefs.
So how did scientists arrive at such a specific economic valuation and map it to specific locations? They followed the money by following the tourists who spend it all over the world.
With national level tourism statistics as the starting point, the authors turned to big data, social media and crowd-sourced datasets. Data from 20 million public photos on the social media site Flickr were mined to assess the intensity of visits to specific locations and to help select only visits and spending near coral reefs. Additional big data – 15,000 underwater photographs, 4,000 dive centers, 9,000 dive sites and 125,000 hotels were used to further assess the proportion of tourism spending that can be attributed to coral reefs.
Their work, and the innovative methodology and data analysis that drove it, recently won the World Travel and Tourism Council's prestigious Tourism for Tomorrow Innovation Award.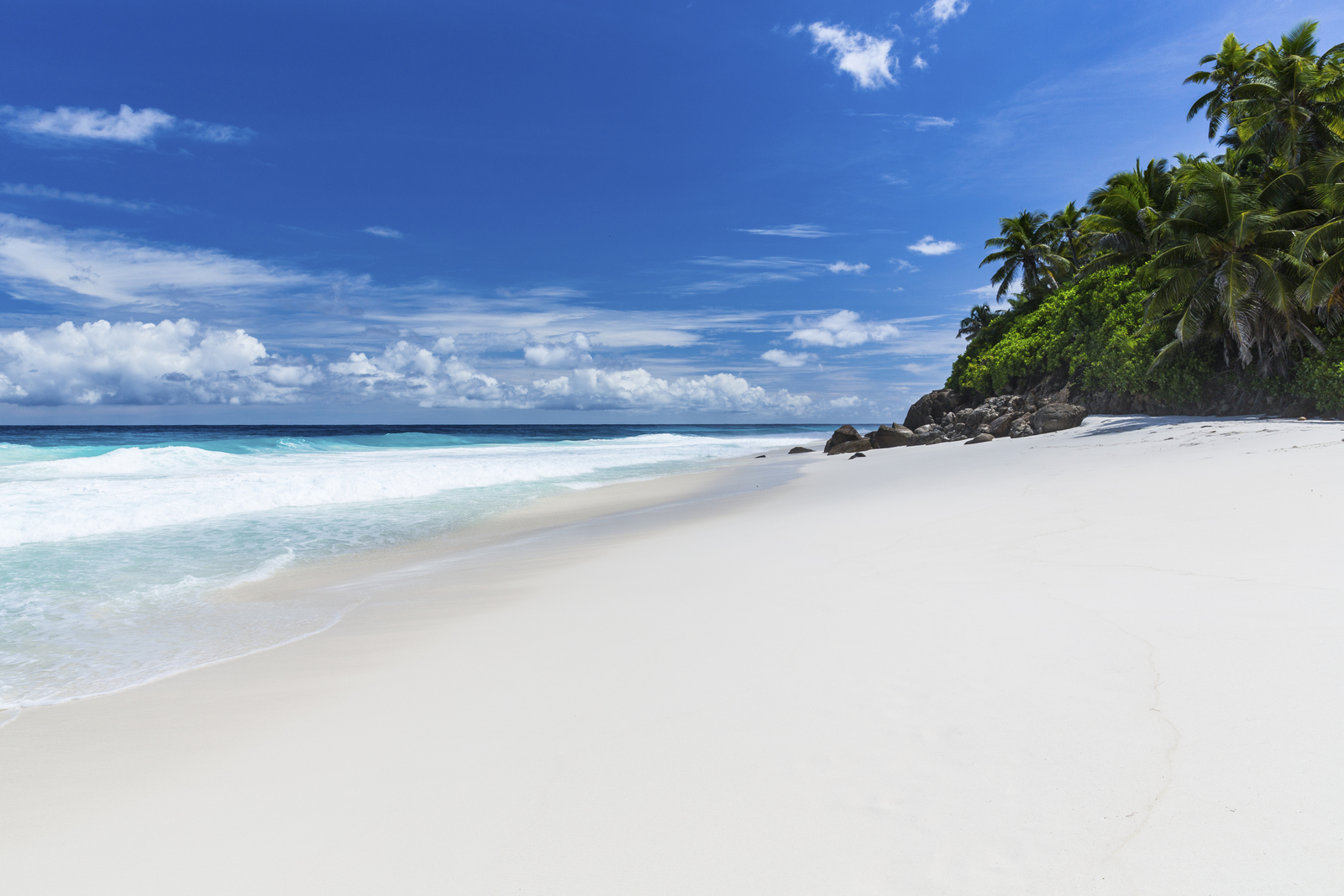 Travel and Tourism Industry has a Stake in the Health of Coral Reefs
Travel and tourism is arguably the world's largest industry, and unsustainable tourism can be a threat to reefs, with the capacity to destroy the very attraction that brought visitors in the first place.
"If we can convince the industry to take notice, as they clearly should, our hope is they will step up and support better management of coastal ecosystems like coral reefs. It's a sort of enlightened self-interest," says Lauretta Burke, report co-author, and Senior Associate at the World Resources Institute.
"Clearly, there are clear concerns about the long-term future of coral reefs in a changing climate, however the loss of coral reefs is not inevitable and no-one is talking about them suddenly disappearing," notes Spalding. "Even if reefs lose some of their vigour they remain vibrant, astonishing places that will continue to attract millions of visitors. What we hope is that these same visitors can create the demand for the best possible management that, in turn, can give reefs their greatest chance of continued good health."
FOR MORE INFORMATION: The full report, along with photos and other can be can be downloaded at www.nature.org/coralreeftourism  and an interactive site featuring maps and data from the report can be found at www.oceanwealth.org.