Great news for ocelots: This year, several females with kittens were documented in South Texas using remote cameras.
The U.S. Fish and Wildlife Service (USFWS) issued a public service announcement brimming with good news, including the first ocelot den documented in 20 years on Laguna Atascosa National Wildlife Refuge, and ocelots with kittens on the Yturria Ranch, a private ranch protected by conservation easements held by The Nature Conservancy and USFWS.
I've followed Texas ocelot conservation closely since I visited Laguna Atascosa and the Yturria Ranch in 2014. It's often difficult to find good news for these spotted cats. Their habitat faces numerous threats, and roads crisscross their range. Every cat counts. Losing even one has implications for the population.
Just weeks after I left, an ocelot was killed on a highway, a devastating loss. Then it got worse. This May, I reported on a shocking surge in ocelot road deaths, with seven killed in a one-year period. The future, I thought, looked bleak for this charismatic species.
But camera traps revealed a hopeful story. Ocelots are breeding and having kittens. According to Hilary Swarts, UWFWS wildlife biologist stationed at Laguna Atascosa NWR, a couple of years of abundant rainfall led to plant growth, which in turn provided food for the wildlife that ocelots eat, including rodents, rabbits and birds.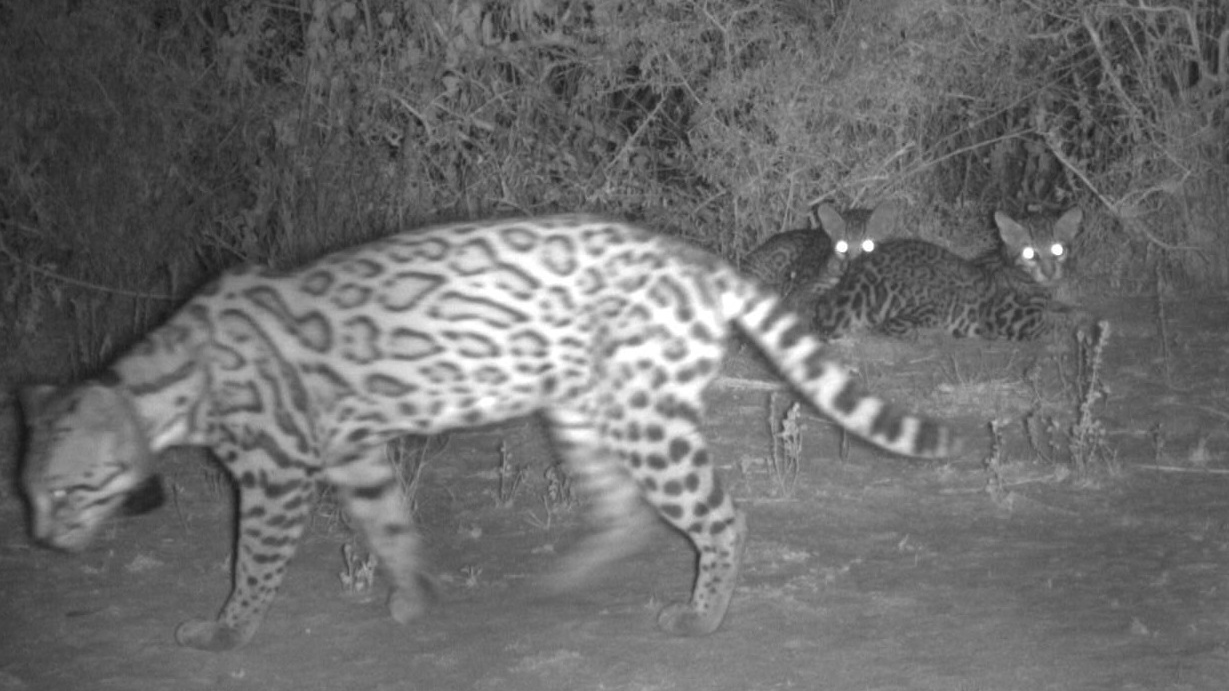 "With plenty of food and water, and minimal disturbance from humans, female ocelots have all the resources they need to reproduce successfully," said Swarts in the announcement.
Ocelots are elusive, stalking thick brush impenetrable to researchers. Camera traps and GPS collars provide researchers with a more complete understanding of the cats and their movements.
From the release:
Of the seven known adult female ocelots at Laguna Atascosa National Wildlife Refuge, two are just now reaching the age to reproduce, three have recently been photographed with healthy-looking kittens following close behind, and one adult female has not yet been seen with any offspring.  However, the seventh female brought researchers the most exciting discovery of all.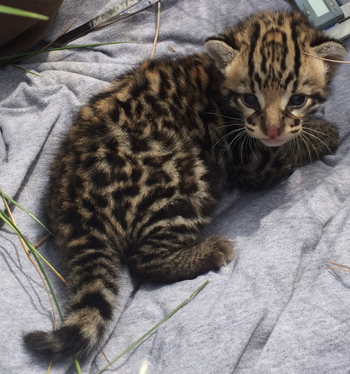 Using GPS technology, biologists tracked her movements and discovered the first confirmed ocelot den at the refuge in nearly twenty years.  At the den site, researchers rejoiced to find a male ocelot kitten, weighing just shy of a pound, estimated to be three weeks old.  The researchers took measurements and photos and left the area as quickly as possible in the interest of minimal disturbance.   His mother, approximately 11 years old, was not at the den at the time, but returned soon after.  USFWS researchers plan to track the kitten's growth and progress in the coming years.
Swarts and other researchers track and monitor ocelots in south Texas, collecting data on their population numbers, health, habitat use, range, and reproduction.  These new kittens are now part of this ongoing effort.
Research also demonstrates the vital role private ranchlands play in ocelot conservation. Of the adult females captured on camera by USFWS biologists at the Yturria conservation easement, at least three have kittens. One ocelot had twins.
I visited the Yturria Ranch with The Nature Conservancy's Sonia Najera during my field reporting trip. Najera's knowledge, her strong relationships with the ranch managers and the wildlife roaming typify The Nature Conservancy's approach. It's why I'm proud to work for this organization, and proud to be a conservationist.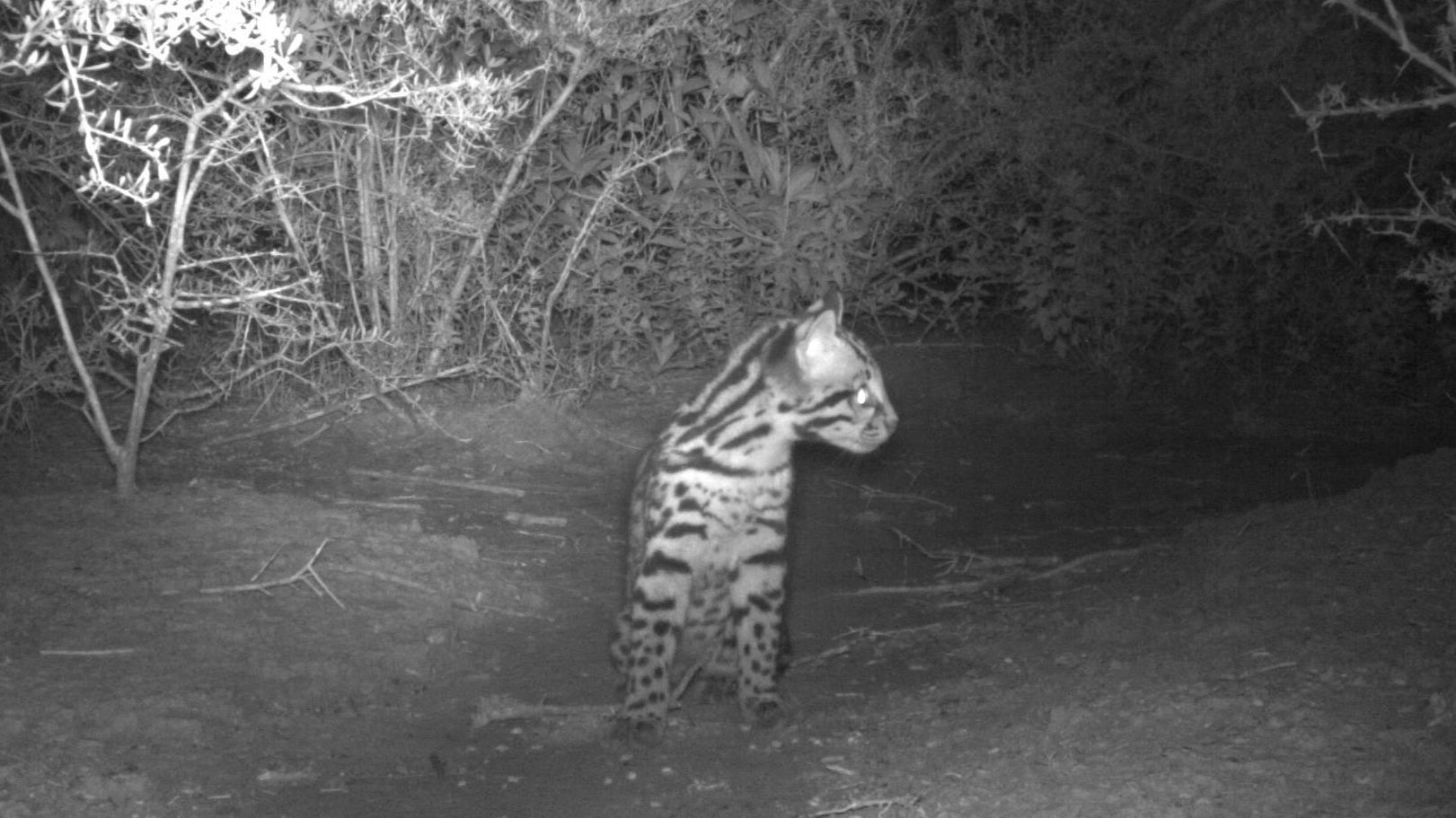 It's not always easy. As Aldo Leopold wrote, "'One of the penalties of an ecological education is that one lives alone in a world of wounds."
But seeing these images of ocelots reminds us the work is worth it. The ocelots are not safe yet. They face many perilous challenges. But they're still there, hunting and breeding and having kittens in the South Texas shrub. Long may that be true.