Will a baby boom bring sea stars back from the brink or will Pacific Coast populations succumb to a deadly wasting disease?
Sea Star Wasting Syndrome (SSWS) has now been linked to a virus. The virus in question has been found in museum specimens of sea stars from as long ago as 1942, long before the massive die-off that began in 2013. The presence of the disease for more than 70 years with no die-off of this magnitude suggests that there could be another factor leading to its recent virulence.
One possibility, suggested by another recent study, is that warm water temperatures lead to increased mortality from SSWS. In that study, unusually high temperature anomalies occurred at the same time as the 2014 mortalities in locations off the coast of Washington state.
Scientists are still working to understand the method of transmission and reason behind the virulence of the disease.  If you visit the Pacific Coast of North America, you can help by submitting observations of juvenile sea stars and diseased individuals or by monitoring a site long-term through the Multi-Agency Rocky Intertidal Network (MARINe).
This June, I was fortunate enough to join Dick Vander Schaaf, Associate Coast and Marine Conservation Director for The Nature Conservancy in Oregon and a self-described beach-comber turned scientist, on a morning trip to the tide pools off of the Nature Conservancy's Cascade Head Preserve. He has been visiting this location at least once a quarter and sometimes each month for the past three years to record the sizes and health of sea stars.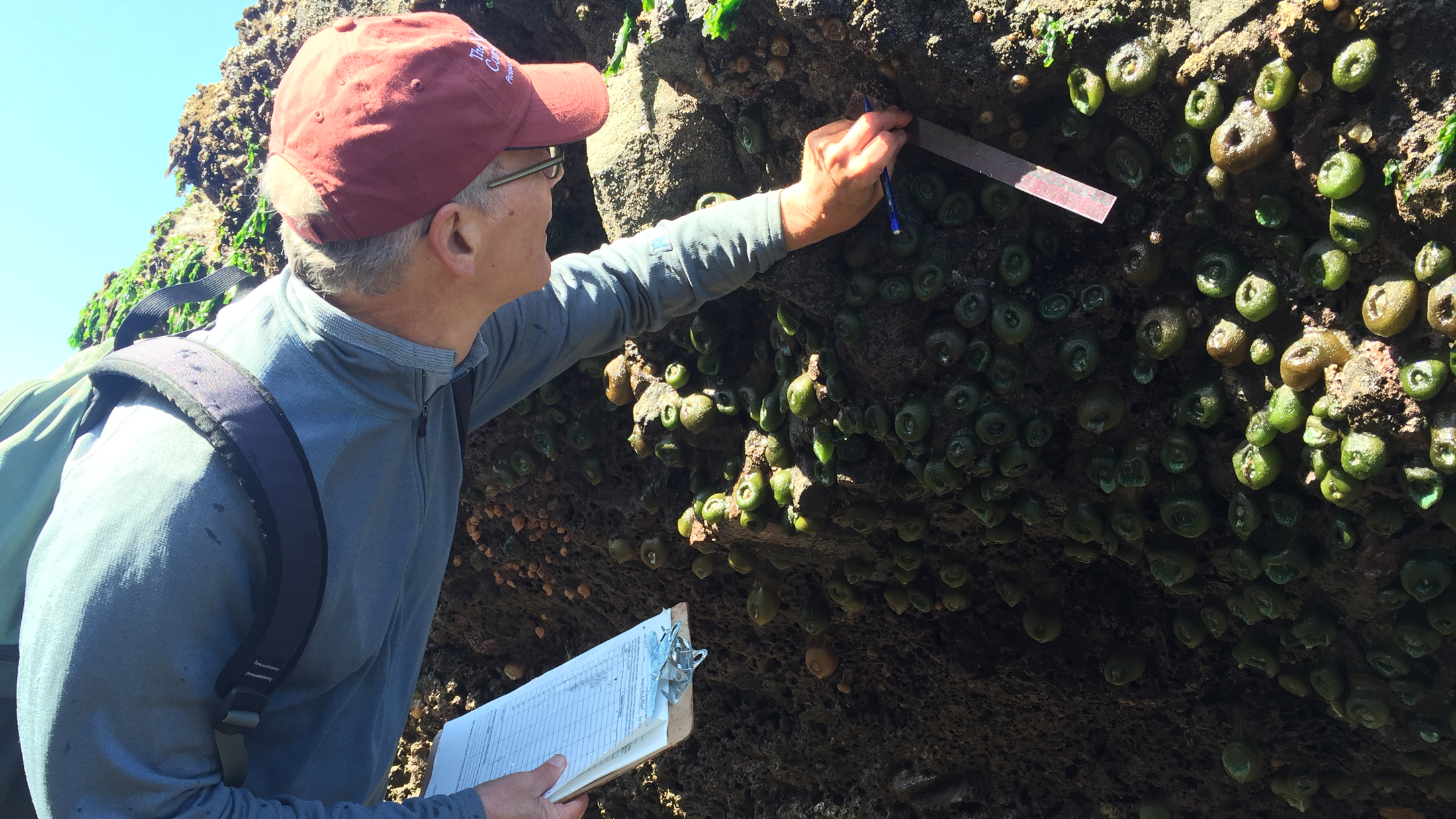 Impacts of SSWS
Ochre stars, normally a highly visible inhabitant of the intertidal zones of the Pacific Coast across North America, have been hit hard here and elsewhere by the disease. Several more species are susceptible to SSWS and some others, like sunflower stars, have also suffered large die-offs.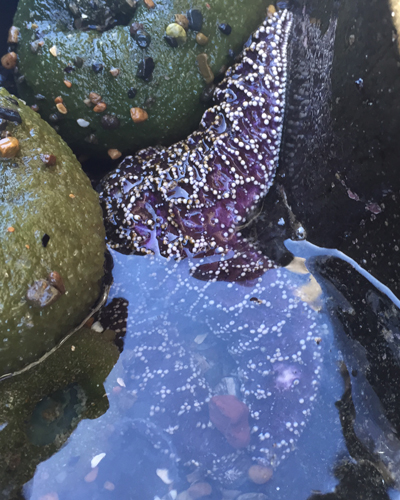 The disease is brutal, like something from a horror movie. Afflicted stars develop lesions, small at first, then larger and more widespread. Their arms begin to fall off and the star ultimately succumbs to the disease. Few, if any, survive once they have visible lesions.
The vast range of sea stars (ochre stars can be found from Alaska to California) makes it difficult for the limited number of scientists researching them to get good data on their populations. That is why recruiting citizen scientists across the Pacific Coast is crucial to understanding more about sea stars and SSWS.
Long-term monitoring offers hope though. Results in about 9 of 70 monitoring locations suggest that ochre stars are recovering more quickly than anticipated. These locations could be a nursery for source populations that will disperse to other sites.
When I joined Vander Schaaf for monitoring along the Oregon coast, there were hundreds of healthy stars. Sometimes as many as 100 on just one rock. Many of them were young, but some were growing up and remaining healthy into adulthood. The sea stars we recorded ranged in size from tiny juveniles the size of a dime to one big fellow that was the size of a dinner plate. All but two of them were healthy (of those two one was dead and the other had a small lesion, possibly an early sign of SSWS). These observations are very promising; at the height of the disease, observers saw few stars (or none at all), and those that they did see had lesions.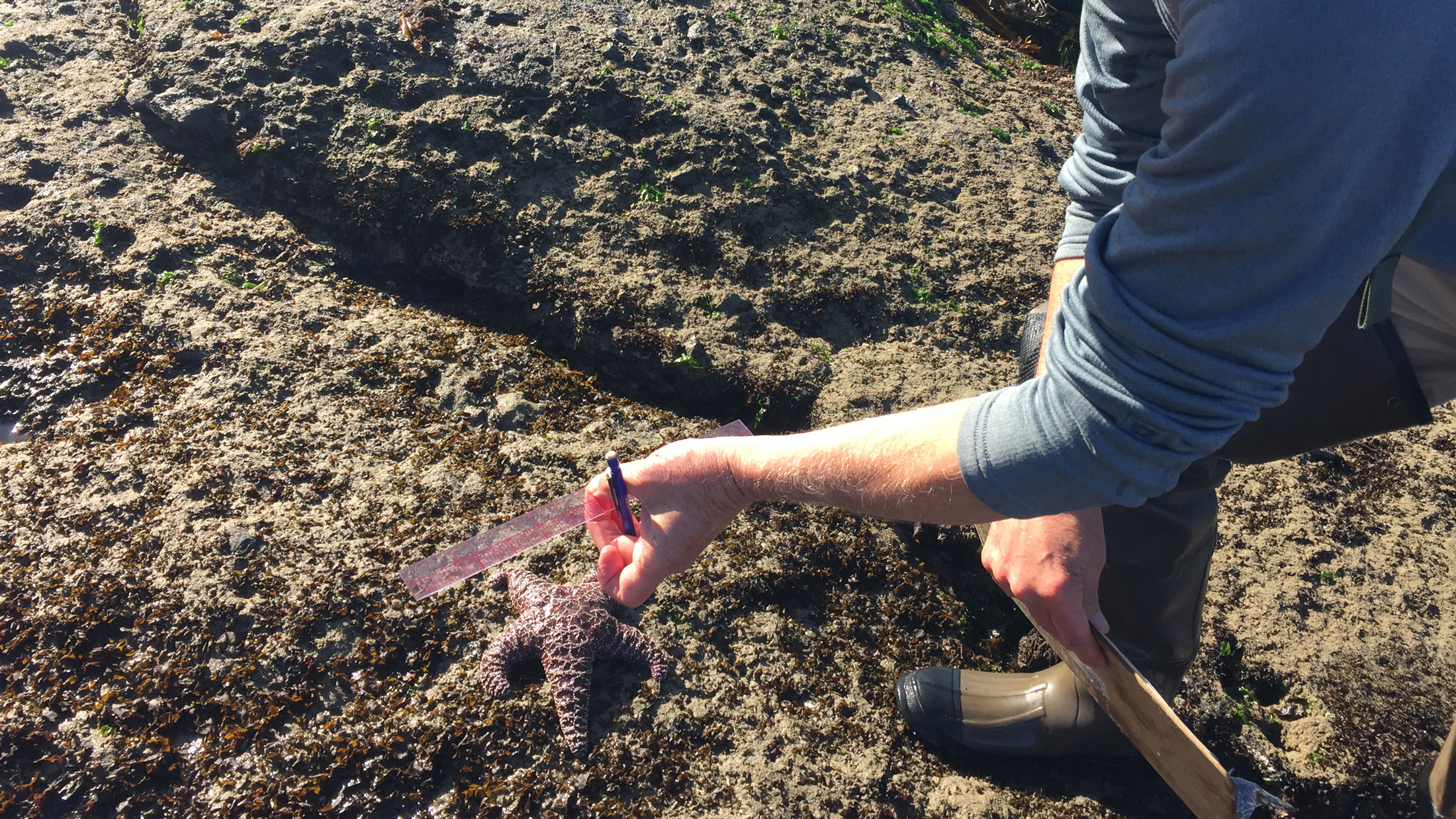 The MARINe project is concerned not only about the impacts on the sea stars themselves, but also about potential effects on the rocky intertidal ecosystem.
Ochre sea stars are the original keystone species. Foundational research by Bob Paine revealed that the removal of ochre stars from a tidal plain had a profound impact on the rest of the ecosystem. Mussels are hard for many species to eat, but sea stars are a predator, prying them open over the course of hours or days. When sea stars were removed, mussels dominated the ecosystem, outcompeting other creatures for resources and crowding them out of the area.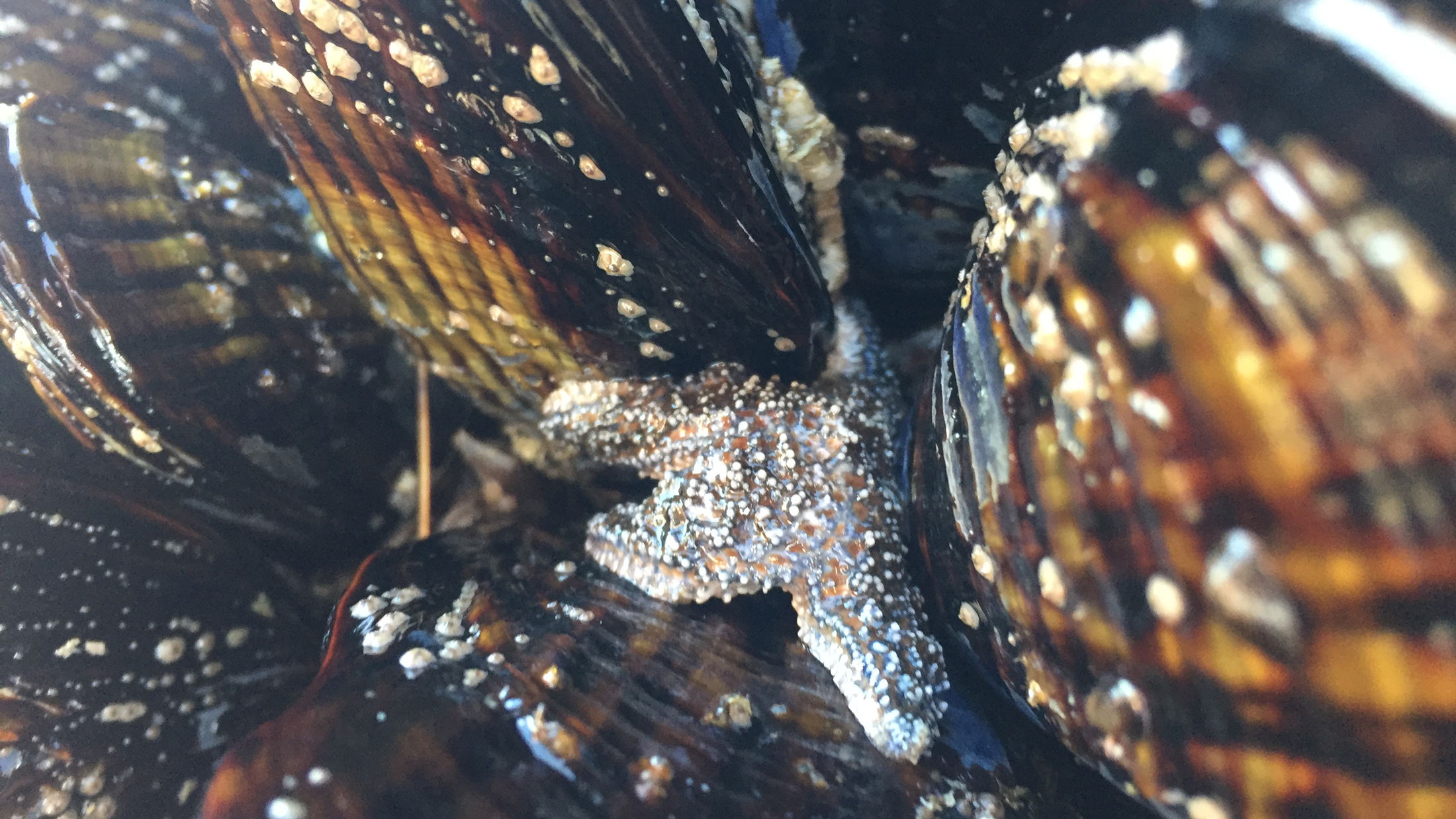 Impacts like this to Pacific Coast ecosystems will be greatly reduced if sea stars are able to bounce back quickly over a widespread area.
Get Involved
Sometimes you'll have to get up pretty early in the morning (we were up before dawn) to monitor your location at low tide, but it's well worth it to see the achingly beautiful landscapes of the Pacific Coast, get up-close to the many wondrous inhabitants of the tide pools (from crabs to nudibranchs), and contribute to important science on an iconic species all at once.
My day of monitoring was both wonderful and challenging. Here's what you can learn from my rookie mistakes:
Invest in waders. You will step in the water – it can be very cold in jeans.
Never turn your back to the ocean. Thankfully I was with experienced tide poolers and we didn't get stuck at sea, but it could easily happen, so stay alert.
Many tide pool rocks are covered in wall-to-wall anemones; they are very slippery. Try to avoid scrambling over tall rocks that are covered with them. It can be a nasty tumble onto rocks below.
Contact the MARINe researchers if you are interested in long-term monitoring. They will help you to get set up in a good location and teach you the protocols. Once you are set up, you'll visit your location regularly with a pencil, a monitoring sheet, and a ruler to collect data.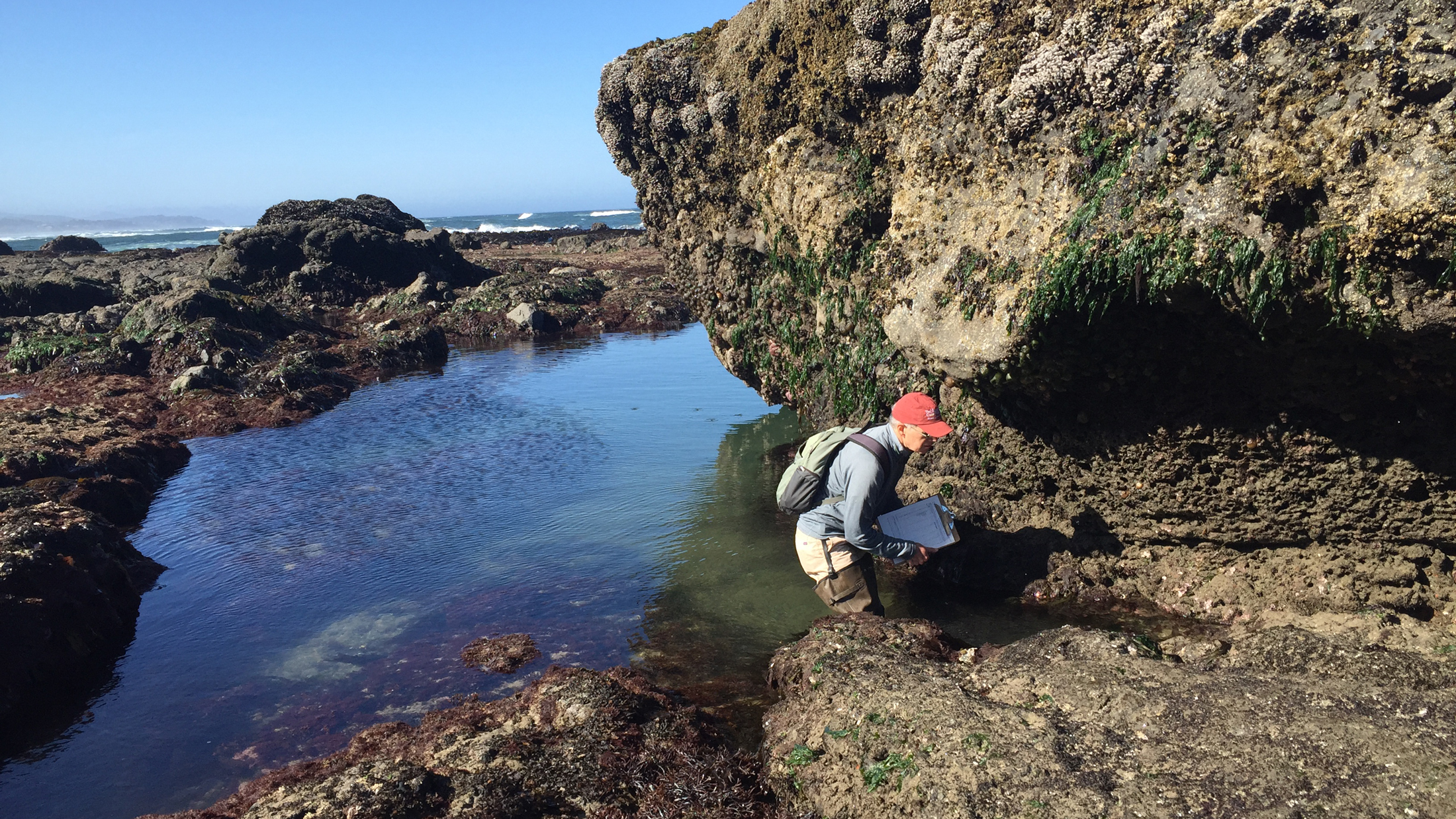 Sea stars love to hang out under the ledges of rocks, so you'll need to step into some deep tide pools and crouch under rocks to get a good count. Or, as Vander Schaaf says, be prepared for "intertidal yoga."
If you have a one-time observation to submit, you can report juvenile sea stars or diseased sea stars with a simple online form. Sending photos to document your sightings is encouraged, but not required. If you're not sure what kind of sea stars you've seen or how to assess the severity of the disease, MARINe has guides and examples.
Vander Schaaf calls the citizen science effort the "Tom Sawyer approach." He shows people how fun it is to monitor for sea stars and then they take it from there. The difference is that there's no trick; sea star monitoring really is fun and inspiring, and the data you collect is essential to the future of sea star research.