I do a lot of cycling to and from work.
You notice many things when you ride the same 20-mile route over and over again for 15 years — the seasons changing, the runners, the wildlife, and so forth. But one thing I noticed started bugging me: the lack of female cyclists.
First, I asked myself if this was a real trend, or just coincidence. And if it was real, why?
To answer the first question, I started counting. Starting mid-September of 2015, I counted every male and female cyclist passing me on the same busy section of my ride, a 4-mile section of the Custis Trail from Key Bridge to The Nature Conservancy's office. On 50 summer counts and 20 winter counts I tallied 3,655 bikers.
My results were startling: I tallied almost 4 male bikers to every 1 female. And it turns out that my back-of-the-envelope data backs up a real trend.
Less than 26 percent of bicyclists are female, according to a report from the Washington Area Bicycle Association (WABA). There have also been a number of peer-reviewed studies on the subject, and the findings are conclusive — the ratio of men to women cyclists is at least 2 to 1, and most often worse. In a study from Melbourne in 2008, during peak commuting times in the summer, the researchers counted more than 6,500 cyclists, and only 20 percent were female. The study included 15 locations, including off-road paths, on-road lanes and roads with no facilities.
In a more comprehensive cross-community analysis published in 2009, Davis, California was compared to five other communites; three in California, one in Oregon, and one in Colorado. These other cities had strong cycling communities, but varied in support for cyclists from very little to extensive. Rather than a count, this study was online and with the postal system, with 1,500 people targeted.
While the number of cyclists were, as expected, much higher than the US average (which is about 1 percent), this study again found that more men than women cycled on a regular basis (60 percent versus 40 percent). And we should note that Davis is a platinum-level Bicycle Friendly City that has actively promoted cycling since 1966.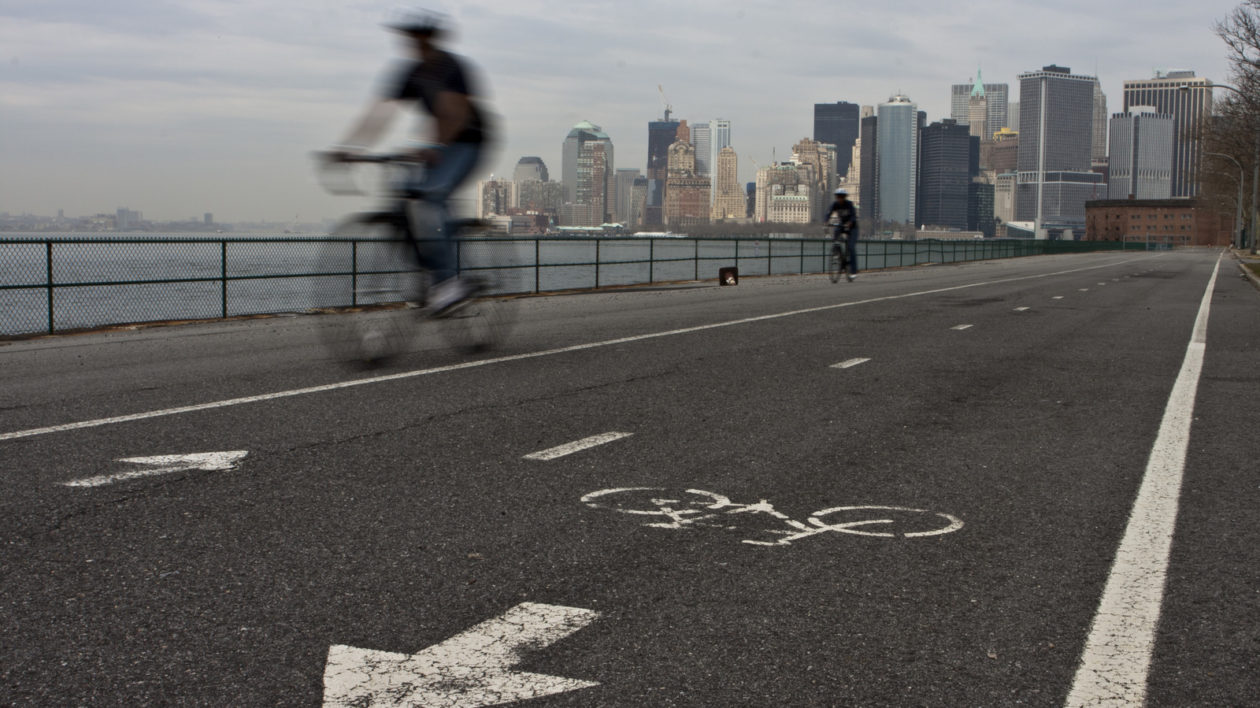 The big question is why?
Initially I started by asking follow cyclists. Answers ranged from "guys like the technology more" to "I feel intimidated and don't feel safe." Someone suggest that the majority of women drop the kids off at school, leaving them little time to bike to work. Some of the discrepancy may be due to the organization that people work for — specifically the facilities that are offered for storing bikes and showering. But then, why are there not more female cyclists at the Conservancy's headquarters?
Research suggests that the answer I got from some cyclists — "I feel intimidated and unsafe." — is the main factor behind the gender imbalance.
From the two studies discussed above, it turns out that the low female numbers of cyclists is due to the lack of adequate and safe infrastructure — including the lack of separate and safe paths and trails for bikers. The Melbourne study found that women are more risk averse (something surprising for social scientists) and prefer maximum separation from motorized traffic in the form of bike paths. The Davis study found that cities which had safe biking infrastructure had a much more equal biking gender balance, indicating that a gender imbalance is a good indicator of unsafe biking conditions.
Biking is good for you, good for your city, and good for the environment. So what can be done to help fix the gender disparity in cycling? Cyclists should support local biking associations (the more members they have, the bigger the voice) and also get involved — especially in local meetings about infrastructure — to make sure we have wider shoulders on roads and separate hiker-biker paths. This is truly a case where local involvement can make a difference.