There is a large body of science evidence from particular water utilities that urban water-treatment costs depend on the water quality at the city's source, which in turn depends on the land use in the source watersheds. And there is a lot of anecdotal evidence from particular source watersheds that land-use has really degraded water quality.
But nobody had a good estimate of how significant this process was globally. How much has watershed degradation really increased water treatment costs for the world's cities?
Our study, entitled "Estimating watershed degradation over the last century and its impact on water-treatment costs for the world's large cities" basically focused on quantifying this one number.
In order to get at that number, you need first of all to know where cities get their water from. This sounds simple, but is actually quite complex, as many cities are served by multiple water utilities, and most water utilities draw water from multiple sources, utilizing a complex mix of surface, groundwater, and other sources. We have been mapping these source as part of an effort called the City Water Map, a map that has been a couple years in the making. Here we use extract information for the water sources of 309 large cities (population > 750,000).
You then need information on the long-term trend in land-use in these source watersheds. Here we built off of efforts of the History Database of the Global Environment (HYDE), which allowed us to reconstruct changes in land-use and population density over more than a century. From there, we then estimated how much these changes in watershed use are correlated with water quality. Finally, we needed to make the link to water treatment costs, so we assembled a database of the technologies cities use to treat their water, which we can statistically related to water quality.
After all that, what did we find? We found that globally urban source watershed degradation is widespread, with 9 in 10 cities losing significant amounts of natural land cover in their source watersheds to agriculture and development. Watershed degradation has impacted the cost of water treatment for about one in three large cities globally, increasing those costs by about half. If you add up the impact globally, that is around $5.4 billion a year in economic impact.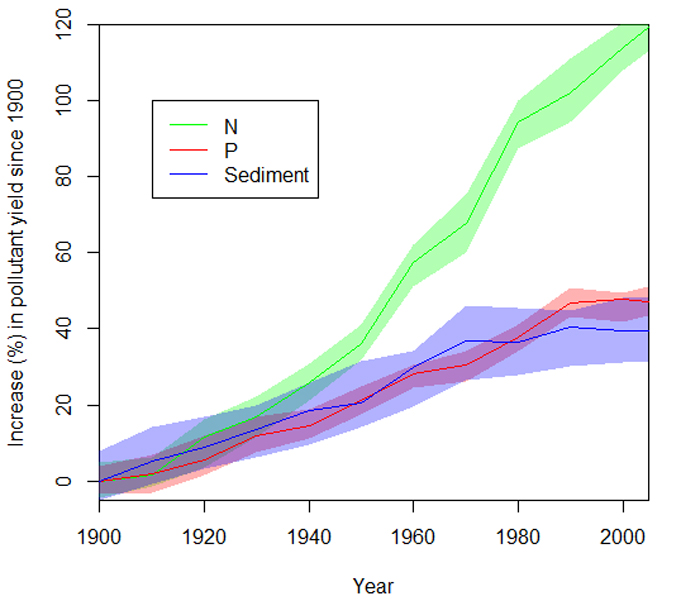 This increase in cost matters because increases in water-treatment costs are paid for by those living in cities, so watershed degradation has had a real quantitative cost to hundreds of millions of urbanites. There is a certain power in being able to say precisely what that cost is, particularly dealing with policymakers.
On the other hand, as I have talked to reporters about this paper, I have been painfully reminded of how one number can never be the whole story. Reporters understandably want to know the whole story: the problem, why our results quantifying the problem matter, and what the solution is. And I think some of the Nature Conservancy's conservation work can be part of the solution.
The Nature Conservancy works with cities globally to protect watersheds, both via traditional nature preserves and conservation easements; and with new funding strategies like water funds that connect urban residents with the protection of the sources of their drinking water upstream. These strategies all seek to connect the needs of water users and freshwater species, which both need clean water, with the landowners upstream whose actions control water quality. It won't be all of the solution, but on a world that is getting increasingly crowded, I am convinced it is part of the solution to the $5.4 billion problem.