When my son said he was going out to see if he could find a "charmander," I, quite understandably, thought he said, "salamander." He gave me a funny look when I told him to wear boots or water shoes, and watch for copperheads.
"No," he said, "charmander, not salamander."
Which is how I discovered he was an early adopter of Pokémon GO, because until then, I'd never heard of it. Now, everyone's heard of it and opinions seem to be falling along fairly predictable lines: those who think the app is great for getting people exploring outdoors, and those who think it's one more layer of artificiality between people – especially kids – and the world around them.
I've come around to the side of the people who think it could be a very good thing, but it took me some time to get here. My honest first reaction to the whole Pokémon GO phenomenon was squarely in the "Ugh. Really?" camp.
Pokémon GO is Like App-Assisted Birding? Well, Maybe
Why would anyone need to search for charmanders when there are so many amazing things to find (real salamanders, for instance) outside our own doors – no app required?
But then my teenager pointed out how much his Pokémon hunting – with the Pokémon GO app – was like my app-assisted birding and animal tracking. At their hearts, he argued, both activities are about getting outside, exploring and, in a way, collecting. It was a good point. (I kind of hated that he had such a good point because, well, teenagers. Give them one good point and they never let you forget it.)
Still he made me rethink my instinctive resistance. There are actually already some outdoor and nature apps that, if you squint a little, can be seen as pretty game-like: they have ways to record your sightings, and post images. They have social components, and even elements of competition (Bird lists, anyone?), clubs, teams and scavenger/treasure hunts (Hello, geocaching).
Which kind of made me wonder how easy it might be to encourage Pokémon GO players (or parents of players) to add some additional apps to their outdoor collection? If you're trying to get people to try new things, sometimes the best way is to build on the activities they are already familiar and comfortable with. What would be most likely to appeal? What would people need to know?
The Real Rules of the Game
I think that's the question — what would people need to know — at the heart of so much honest ambivalence about the potential Pokémon GO-ification of nature. It's about what might go missing in the gaps between the virtual and the real: the real rules of the game and the real stakes for the gamer.
Those rules and stakes gain importance every day because the gamification of nature, has, as my son pointed out, already begun. I do believe augmented reality and other games are likely to be effective portals and opportunities for people to find their way into nature. And while I also agree with the points made in a recent Washington Post piece that it could be a  big boon to wildlife biologists and conservationists, there's also a pretty big caveat.
A game-based approach to nature that isn't informed by science, and doesn't also give people a channel for their curiosity, an impetus for exploration, and a clearer understanding of the world around them and their place in it, is just one more fad. Angry Birds for Nature Lovers, or Pokémon GOes to Antarctica. Virtual. Disconnected. Pointless beyond the amassing of points themselves.
How to Go from Looking for Charmanders to Finding Salamanders
Fortunately, as noted above, there are already some good apps that could make a serviceable bridge between the virtual world of Pokémon hunting and the real-world of nature exploration.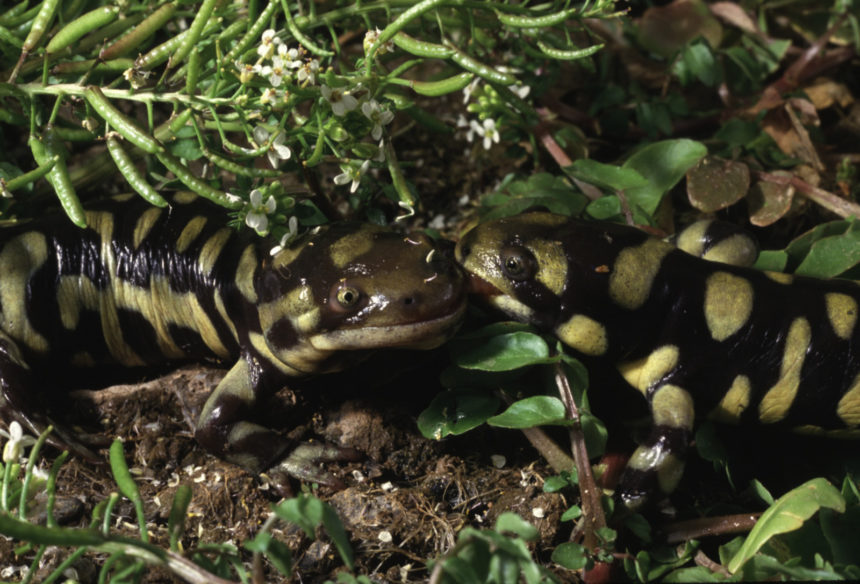 Like Pokémon GO, the apps below have elements of gaming that will be familiar to potential wilderness-going newbies; however, unlike Pokémon GO, they are (or can be — I'm looking at you, geocaching) about more than just the individual player, the app or the game.
They have the potential to allow players to contribute meaningfully to science, especially for conservation, to engage more deeply with the living world around them, and they do a better-than-average job of advocating and explaining responsible citizen science and field observation. To wit, observe from a safe distance. Be aware of your surroundings. Avoid going off trail as much as possible. And don't harass wildlife. Really, just don't.
Difficulty ratings are purely subjective, based on clearly unscientific estimates of how people proficient in Pokémon GO, but not necessarily "the outdoors," might make the transition.
5 Apps for Leveling Up Your Outdoor Game
Merlin

Level of transition difficulty from Pokémon GO – Easy (Android & iOS)

Left: Rhea pennata or Darwins Oestrich wanders across the patagonian grasslands of Estancia Monte Dinero, Rio Gallegos, Argentina. Photo © Nick Hall. Right: Screenshot of a Doduo on Pokémon GO via Wikimedia Commons through Fair Use

My love for Merlin is well documented. It's the app that unlocked birding for me and I've never looked back. Developed and maintained by the Cornell Lab of Ornithology, it could be seen as a kind of match game. When the person using the app, let's call her a "player," sees a bird, selects some specifics about it – color(s), size, activity (flying, on the ground, etc.) and then the app – based on the date of the sighting and your location – offers a list of most likely birds. From there it becomes a process of elimination to ID the bird.

Conservancy Birder Tim Boucher, he of the-more-than-5,000-lifetimes-sightings, recently updated his list of the best birding apps if you want more options.

eBird

Level of transition difficulty from Pokémon GO – Moderate (Android & iOs)

Left: Lincoln's sparrow. Photo © Andy Reago & Chrissy McClaren / Flickr through a Creative Commons license. Right: Screenshot of a Spearow from Pokémon Go. Photo © Real_T63 / Flickr through a Creative Commons License

If a player/birder wants to level up to keep track of her sightings, she can turn to eBird – a related app – that enables you to record your sightings as lists, also based on date and location. Depending on how involved a player wants to get, she can also see others' sightings all over the world, or focus in on her specific geography. For players who like to collect, it can be fun to watch the birding lists grow, sort them in different ways, and, see other people's lists as well – depending, of course, on privacy settings.

iNaturalist

Level of transition difficulty from Pokémon GO – Easy to Moderate (Android & iOS)

Left: Portrait of a youthful Santa Cruz Island fox (urocyon littoralis santacruzae). Photo © Ian Shive. Right: Screenshot of an Evee. Photo © Virginia State Parks / Flickr through a Creative Commons license

Another personal favorite. iNaturalist is hands-down the best app I know for discovering and identifying plants and animals from your backyard to the backcountry. According to their site, iNaturalist is "a place where you can record what you see in nature, meet other nature lovers, and learn about the natural world. [It's] an online social network of people sharing biodiversity information to help each other learn about nature. You can use it to record your own observations, get help with identifications, collaborate with others to collect this kind of information for a common purpose, or access the observational data collected by iNaturalist users."

The app also works without wifi or cell coverage. It can take a little bit of patience to get up to speed on how to make the most of it, but iNaturalist richly rewards the time invested in learning how to use it.

iTrackWildlife

Level of transition difficulty from Pokémon GO – Easy (Android & iOS)

Left: Animal tracks (probably Opossum) in mud at Dolly Sods Wilderness. Photo © Kent Mason. Right: Screenshot of the world map showing Pokémon locations on Pokémon GO via Wikimedia Commons through Fair Use

This is another app that is backyard and backcountry friendly. (We used it to identify fox tracks in our suburban backyard and solve the mystery of why our dog kept going crazy at 3 am. He is not a fan of foxes.) The app offers instruction on the best ways to photograph tracks (from above, include something for scale).

It also has a matching-game element to it because players can view tracks from mammals to invertebrates to help determine what kind of tracks they've found. Pro tip – for players who want some quick "wins," one of the best places to find tracks is in the mud along streams, lakes and rivers, and in suburban flowerbeds and gardens. (See above: fox)

If a player/tracker wants to level up, they can cross-over with iNaturalist and join the North American Animal Tracking Database project. Joining the project in iNaturalist adds a social and team component, and enables players to meet others and ask for expert help identify tracks they find if they can't figure it out themselves.

Geocaching

Level of transition difficulty from Pokémon GO – Easy to Moderate (Android & iOS)

Left: Geocache. Photo © Virginia State Parks / Flickr through a Creative Commons license. Right: Pokémon GO Plus device. Photo © Gieson Cacho / Flickr through a Creative Commons license

The ultimate treasure hunt. Geocaching is probably the closest analog to Pokémon GO and geocaching.com is the best site I've found – especially for beginners. It has a great video that explains the principles, but briefly, geocache players use maps, clues and GPS coordinates to find things other people have hidden. Usually some kind of container with different kinds of "prizes" inside.

The rule is, if you take something out of the cache, you leave something behind. (I keep a stash of Nature Conservancy stickers and other material in my pack to leave behind in caches I find.) Some caches are easy to locate — great for children and beginners — and some are extremely difficult.

Geocaching is open to any player with a working GPS-app, coordinates from local geocaches, and a sense of adventure and curiosity. There is also a strong social element, and opportunities for meet-ups, team play and other competitions. If a player has an account on the site, they can leave notes about caches they find. It's a great family activity. Who doesn't love a treasure hunt?

The Conservancy has several preserves with geocaches. All you need is your GPS, a well-charged battery and a sense of adventure.

Caveat – a friend from Australia recommended this app. I haven't mastered it enough to give a decent overview. What I can say is that I find it and its premise extremely intriguing and am looking forward to using it on an upcoming trip to North Carolina. According to their website, "QuestaGame is a global venture started in the town of Canberra, Australia in 2013. Its mission is to get people outdoors and enjoying nature as a way to discover and help preserve life on this planet."