The Nature Conservancy in Canada's forest expert Ronnie Drever puts the fiery chaos into perspective.
News finally came this week that the wildfire raging in Alberta, Canada, has been classified as "being held" — which means the fire is not yet under control but is no longer expected to grow.
This is after a change in weather that dumped almost two inches of rain on the region. Thousands of firefighters have been flown in from across Canada, the U.S. and even as far away South Africa to battle the fire, which has been burning for almost seven weeks. Caused by hot, dry and windy weather, the fire covers almost 580,000 hectares of boreal forest, an area 100 times the size of Manhattan.
A fire of this size and intensity is inextinguishable, even with the most aggressive fire-fighting efforts. Nature started this fire, and only nature can put it out.
All Natural
On average, five to 10 million acres of Canada's boreal burn every fire season, a natural process of renewal and diversity that plants and animals have evolved with over thousands of years. To protect biodiversity here, conservation areas must be large enough to sustain a typical fire and still support differently aged forests. Sustainable forestry aims to 'mimic' fires, by leaving areas unharvested (fires almost never entirely burn an area, skipping wet areas or shifting direction with the wind) and by emulating the irregular pattern and shape of fires.
But here's our modern-day challenge: More people are living in close proximity to Canada's boreal forest than ever before. Nearly 90,000 Albertans fled their homes over the last month as a wall of fire drew towards their communities.
And so boreal conservation must also take into account an interconnected system of people and nature. At TNC Canada, we consider not just protection but also sustainable use.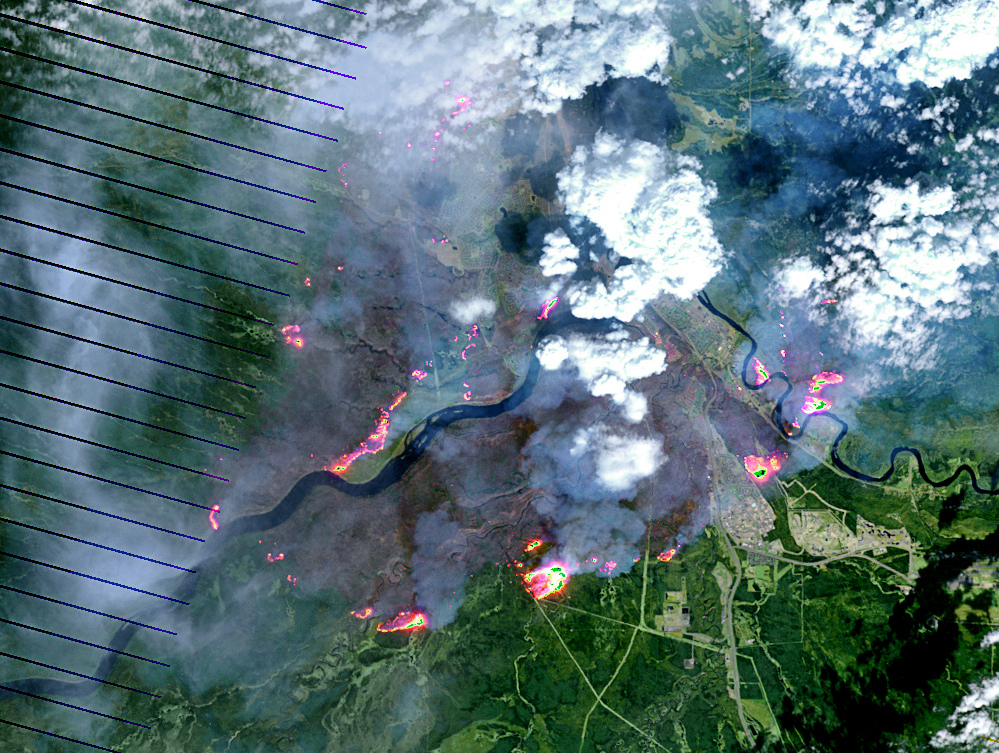 Balancing Act
If it sounds challenging — well, it is! But think about the opportunity: Canada's boreal is the largest intact wilderness on Earth. Unlike most of the world, it has the same ecological rhythms that have occurred since the glaciers covered the poles more than 10,000 years ago. It has the same run of wild rivers and the continental-scale migration of large animals and fish that have pulsed through this landscape for ages.
Here's what we don't want: uncoordinated development of the region's vast natural resources that does not take into account the cumulative impacts of logging, mining, oil and gas exploration, fracking and hydropower development. In many cases, development undermines the rights of Indigenous peoples to have a say about resources in their traditional territories. Piling on top, climate change is increasing the rate of natural disturbances, like forest fires and insect outbreaks.
And so TNC Canada's theory of change begins with a simple idea: local people taking the lead on resource decisions.
Local People Power
Canada's boreal is home to hundreds of Indigenous communities with deep and ancestral connections to the land and water, and with knowledge systems that reveal how the boreal and its wildlife can be sustained.
When local communities have authority over decisions about resource use, and when they are out on the land or water to monitor changes in the environment, these conditions allow the sustainable use of natural resources and conservation of life's diversity.
Forestry is also an important source of livelihood. Our efforts include supporting a healthy, modern forest industry based on the highest management standards in areas where forestry makes sense ecologically. We set protection goals while ensuring fibre supply and exploring opportunities for local ownership of forestry assets and certification to world-leading standards.
And our work involves the provincial and federal governments as well as financial institutions. With these partners, we are working to develop innovative financing like trusts for resource stewardship or using carbon markets to pay for conservation.
Fuelled by science and cooperation, we are blazing the trail so Canada's boreal forest remains both a wonder of nature and a place that people can call home.