Separated from the main land by a narrow channel and protected from the vast Indian Ocean by a series of long coral reefs, the Lamu archipelago along Kenya's northern coast boasts an impressive diversity of ecosystems and marine life.
Here, Lamu's traditional fishing boats, known as dhow, dot the seascape with their characteristic tall triangular sails. Dhows are emblematic of this region and are believed to have ancient roots dating back to the first visitors from the Arabian Peninsula, Persia and even India.
And while the dhows have largely remained the same for countless generations, Lamu's fisheries have not been so fortunate. As in many other parts of the world where local fishermen depend on fishery resources that are becoming scarce from mismanagement and overexploitation, all of Kenya's fishing communities are in need of management advice, capacity and resources.
It's that need that brings The Nature Conservancy and its partners to Kenya to work with local fisheries managers and scientists to test the efficacy of a new user-friendly application that enables countries with limited resources to manage their fisheries for long-term productivity and sustainability.
More Fishers, Fewer Fish
Located at the southern end of the Somali upwelling system, the nutrient rich waters of the Lamu seascape produce three of the seven most productive fishing areas in the country – everything from reef and pelagic (open ocean) fish to lobsters and shrimp. But the balance of man and nature has become unequal here as increased fishing and reduced fish sizes in recent years have raised concern over the sustainability of the fishery. Additional fears over the long-term condition of Lamu's rich marine resources are linked to expanding coastal development and a growing tourism industry.
"The number of fishers in Kenya has increased over the last 30 years," says George Maina, the Conservancy's Kenya Marine projects coordinator, who is based in Lamu. "And while total fish production has remained fairly consistent over the years, individual fishers are coming back to the fish landing sites in Lamu with fewer and fewer catch each day." 
In his eyes, and in the eyes of the fisheries agencies and fishermen in Kenya, something must be done, but what exactly to do, and how to sustainably manage the fisheries is the question. Maina notes that leaders are eager for new tools to protect their resources and the local communities that depend on them for survival.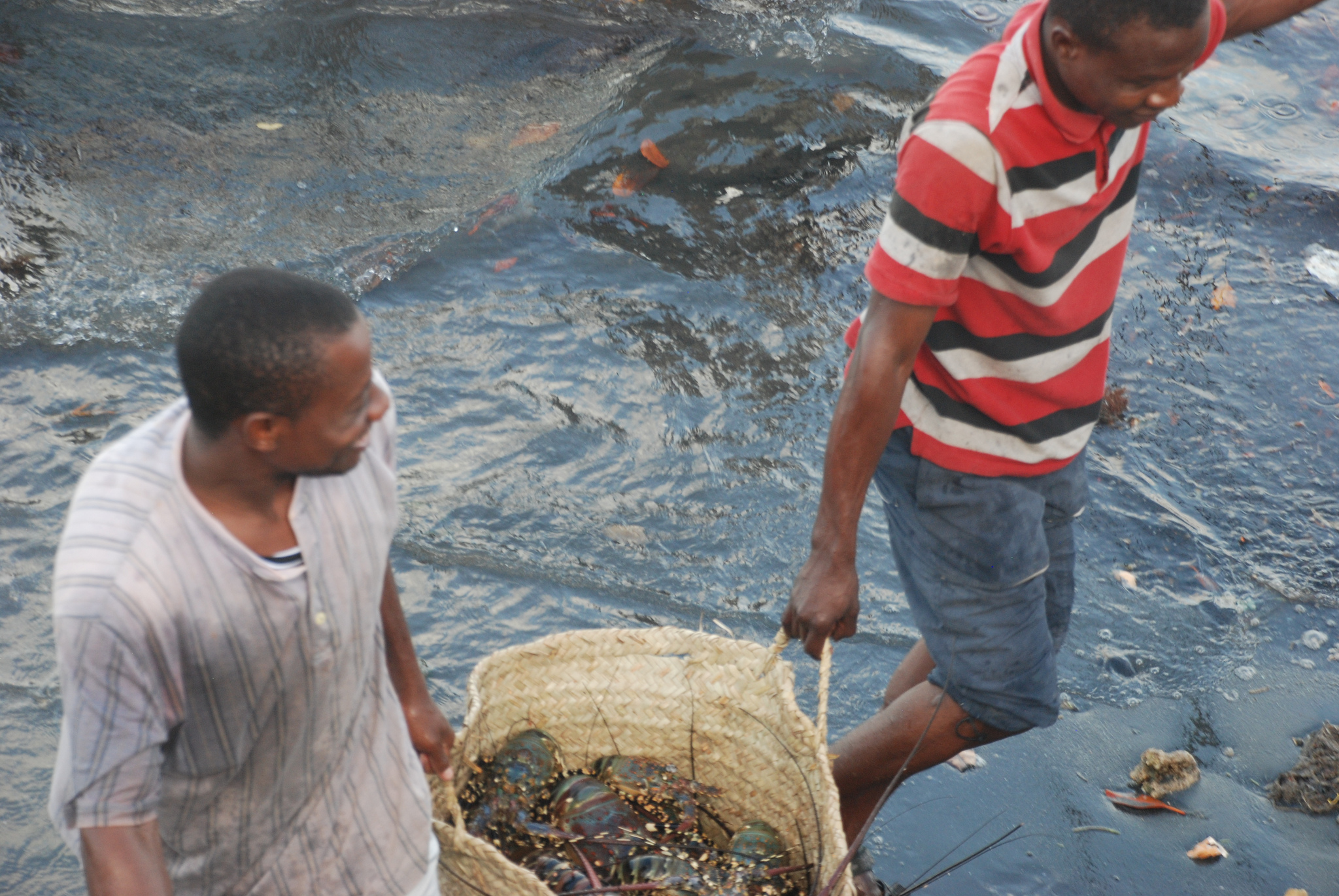 Unfortunately, what's happening in Lamu isn't unique.
Globally, more than 68 percent of fisheries are either overfished or their stocks are declining. The majority of these fisheries are data and capacity-limited – meaning they are unassessed, unmeasured and, therefore, poorly managed.
Only 5 percent of the more than 10,000 fisheries worldwide are currently managed with robust scientific methods that measure the health of the fish stocks. Additionally, the multi-species and multi-fleet nature of many tropical fisheries, like those in Kenya, makes assessment and management even more complex and prohibitively expensive.
"Kenya's fisheries managers and fishing stakeholders," noted Maina, "need guidance on which data to collect, which stock assessment models to use for our specific fisheries, and how to evaluate whether attempts to improve fisheries management are working or not."
The Path to Sustainable Fisheries is Paved with Data
To provide that guidance and answer pressing questions, The Nature Conservancy and partners from the U.S. National Oceanic and Atmospheric Administration (NOAA), the Commonwealth Scientific and Industrial Research Organisation (CSIRO) and the Science for Nature and People Partnership (SNAPP)[i] have been working together with leading stock assessment scientists to develop a new user-friendly application, called FishPath.
FishPath helps guide a stakeholder process to identify fisheries management strategies that put fisheries on the path to sustainability. Specifically it guides the user in identifying the appropriate monitoring, assessment and management options for a specific fishery, given its socio-economic and governance context, goals and needs.
"While FishPath is user-friendly software application, its strength is the direct and process-oriented engagement with fisheries managers and practitioners in the field," says Carmen Revenga, who leads the Fisheries and Aquaculture Program for the Conservancy and co-leads the SNAPP working group that developed FishPath. "Indeed local stakeholder consultation and guidance is at the core of FishPath."
Because fisheries are idiosyncratic, one solution does not fit all; local knowledge, context, and support is essential to making fisheries management recommendations practical and implementable, which is what brought the FishPath development team to Kenya. The tool is flexible enough to work in fisheries around the world, but the key to its success is its ability to be tuned and applied to the specific needs, challenges and goals of specific fisheries in specific geographies.
FishPath in Kenya
In October 2015 and March 2016, the FishPath partners organized two workshops with the Kenya State Department of Fisheries, the Kenya Marine and Fisheries Research Institute, Kenyan Fisheries scientists, and conservation practitioners to conduct trainings and improve Kenya's capacity in stock assessment and management of its data-poor fisheries
"We had two great workshops with active participation from all attendees, including two days of stock assessment training for agency staff led by the NOAA fishery scientists in our team," said Dr. Jono Wilson, a Senior Fishery Scientist at The Nature Conservancy, who led the FishPath team effort in Kenya. After the workshop Wilson underscored his excitement "at getting these simple solutions to the people that need them most."
Managing fisheries sustainably matters in Kenya as an estimated 12,000 people are directly employed in the fisheries sector. It's a dependence that's echoed in fisheries around the world:  upwards of 700 million people, counting those that are directly or indirectly employed in fishing and related industries.
Application of FishPath in Kenya is helping create synergy with ongoing initiatives by the Government of Kenya and local partners including community-led initiatives that aim at supporting fisheries governance reforms within the Kenyan Exclusive Economic Zone (EEZ).
Through continued engagement and positive management outcomes, there is optimism that FishPath can be built into government policy as protocol for establishing a fisheries management system.
After the second FishPath workshop earlier this year, Dr. Harrison Charo, Deputy Director of Fisheries at Kenya State Department of Fisheries, echoed this sentiment saying, "The best fisheries management approaches demand participatory engagement between science, the people and policy. We are hoping FishPath will guide us in this direction."
"This initiative is timely," said Dr. Edward Kimani, the Assistant Director of the Kenya Marine and Fisheries Research Institute (KMFRI) during the recent SNAPP workshop in Kenya. "Fisheries resources have the potential to sustainably support the economy if managed based on science."
From Kenya to the World
The Conservancy is committed to continue working both with local stakeholder groups in Lamu, as well as with the fisheries management agencies in Kenya to refine and improve stock assessment and management strategies for key fisheries, including spiny lobster and reef fisheries.
The goal is to develop and prove the efficacy of community-based management and innovative tools like FishPath to help coastal communities have more say over the management of the resources they depend on and conserve habitats so that they can benefit people and nature.
Lamu stands on the brink of great change, and how that change affects the environment comes down to proactive planning by the people who depend on it. And the changes Lamu faces are echoed in other fishing communities around the world.
By working together with key government institutions and directly with the communities that depend on fisheries, FishPath can provide a pathway to conservation, sustainability and, ultimately, help preserve the balance between man and nature.
[i] SNAPP is a collaboration between National Center for Ecological Analysis and Synthesis (NCEAS), The Nature Conservancy (TNC) and Wildlife Conservation Society (WCS).