How do you love your oysters? Raw on a big tray with a favorite dipping sauce? Fried on a po-boy? Served in a creamy wine sauce?
OK, maybe the real question is: Mouth watering yet?
Yeah, mine too.
But did you know that the fate and future of this coastal shellfish and your favorite oyster dish may rely on decisions about freshwater that are often made hundreds of miles away from the coast and for reasons that have nothing to do with oysters?
For example, in some inland cities, water can be allocated for industry or municipal growth without consideration of what those decisions mean for fisheries and other coastal needs downstream.  And in places like Louisiana, water could legally be sold from our rivers and transferred to other states to quench the cumulative thirst of growing populations.
Scientists and conservationists know that water use upstream has effects on the coast, but we had no way to easily illustrate this connection, much less be able to test the effect of changes in water use on coastal resources.
So we created an app for that.
OysterFlows is a new web app in TNC's Freshwater Network that allows you to make choices about water use upstream and see the relationship between your choices and those oysters on your plate.
It also provides the scientific power necessary to test real-life scenarios about upstream water use and coastal resources.
Oysters Need Balance
The oyster is an amazing animal. It is a filter feeder. Each adult oyster can filter about 2 gallons of water per hour – or about 50 gallons per day. And in the process, they gobble up algae and remove excess nutrients and dirt from the water. In fact, it's been estimated that in the 1880's before Chesapeake Bay's oysters were decimated, they cleaned the entire volume of water in the Bay in a matter of days.
Oysters also create reefs that are the temperate version of coral reefs, providing critical habitat for fish, shrimp, crabs, and other aquatic creatures. These reefs also serve as wave-breaks, and protect marsh shorelines from erosion.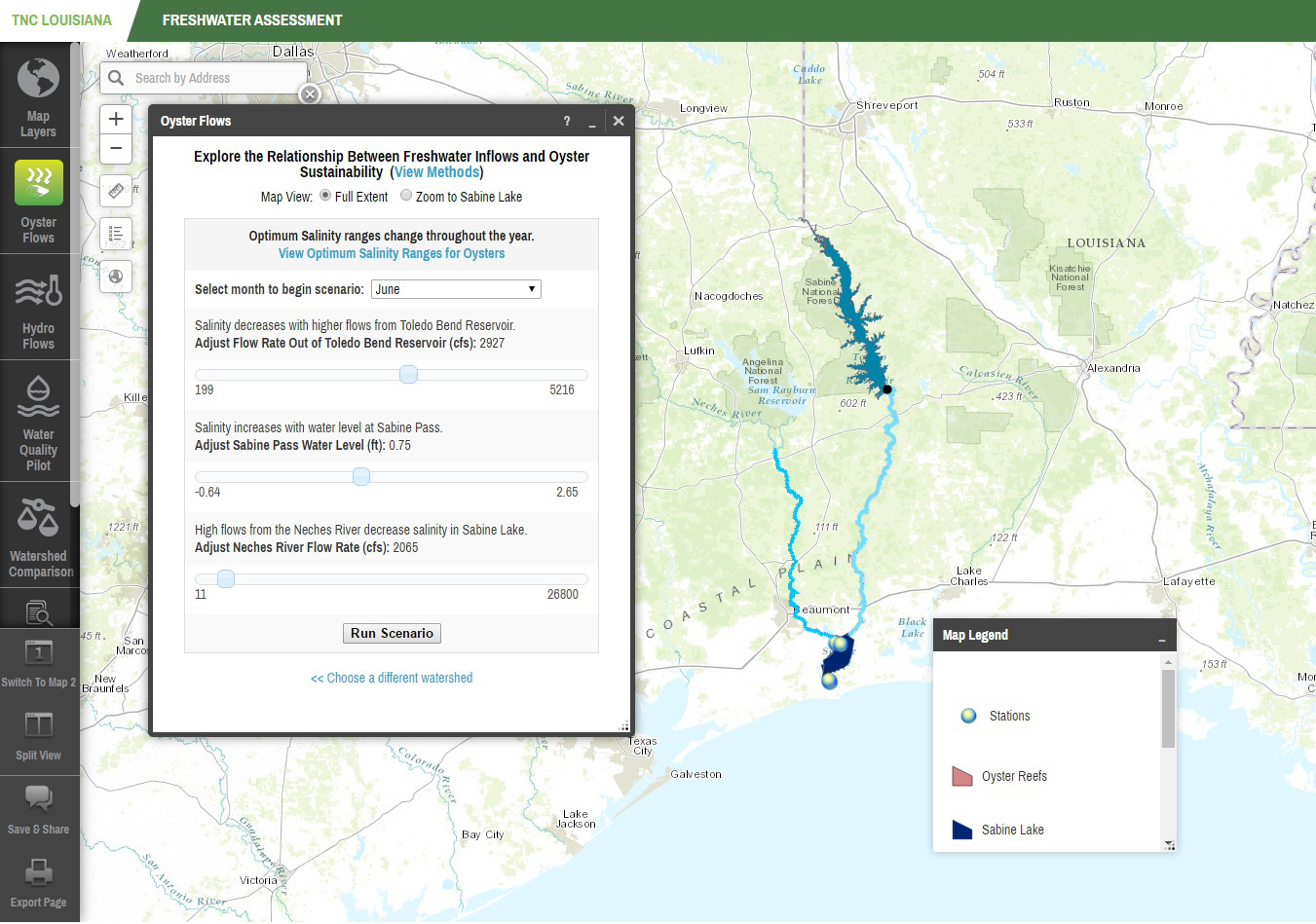 Like corals, oysters are also the indicator of a healthy environment. Oysters need a mix of both fresh water and salt water to thrive, making them signs of a balanced coastal marsh system.
Problems can arise if that mix is unbalanced for extended periods during the year.
Too much salt water makes great conditions for organisms that do oysters harm, like a tiny protozoan named Perkinsus marinus that creates a disease called Dermo, which is the oyster version of clogged arteries. Another is a snail appropriately named the oyster drill, and, yes, this one does to an oyster exactly what its name suggests. Fresh water is critical to keeping both of these salt-loving oyster pests at bay.
While oysters need fresh water to keep them disease and predator free, too much for too long is also not a good thing. Oysters need to maintain a salt balance in their cells and tissues. If the water is too fresh for too long, that balance gets destroyed, which can be fatal.
OysterFlows App
OysterFlows is about understanding this balance by manipulating it.
It combines water information from models and gages with the physiological needs of oysters all in one handy web app.
This version of OysterFlows works in the Sabine and Calcasieu River basins in Louisiana. Prior to OysterFlows it was difficult to see and interpret the connection between upstream water use and coastal resources for these river basins. To address this need, the Louisiana Chapter of The Nature Conservancy worked with a team from RTI International to build both the modeling capability and eco-flows analysis that run behind OysterFlows and the web app itself.
First, TNC and RTI built a comprehensive water flow model that covers the entire states of Louisiana and Mississippi. This model, the largest of its kind in the Gulf Coast, provides daily estimates of water flow down all the bayous, rivers, and streams of these two states and provides daily estimates of current conditions – the flow over the past 30 years – and future predictions of flow out to 2045. It even considers climate change and future projections of water use. We also built a viewer (HydroFlows web app) for the model.
This model allows OysterFlows to consider the freshwater side of the balance.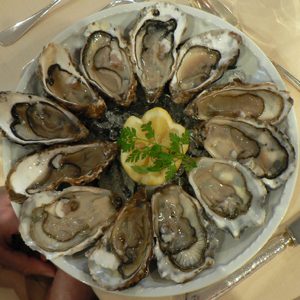 To consider the saltwater side of the balance, we used water gage data from the US Geological Survey, the Texas Water Development Board, and the Louisiana Coastwide Reference Monitoring System.
And last, we used well-accepted information on oyster biology to provide the optimum salinity conditions oysters need each month to thrive.
While this web app currently works for two river basins in Louisiana, OysterFlows can be expanded across any river basin in Louisiana and Mississippi and anywhere there is flow modeling or appropriate gage data to support it.
OysterFlows is about providing information to help make decisions. Whether you are a seafood lover or a water policy wonk, when you use OysterFlows, you will see the connection between fresh water and coastal resources and the effects of your decisions on what is important to you. But perhaps the best part is that because the flow model provides a hydrologic foundation, we can alter the model to test the effect of any future proposed water-use scenario.
How it Works: You Choose
OysterFlows calculates the effects of your decisions in both the Sabine and Calcasieu River basins. While these rivers are close to each other, water management challenges in each are very different. So are your decisions.
The Sabine River forms a portion of the border between Louisiana and Texas. At the coast, the river flows into Sabine Lake, which is home to the Sabine Lake Oyster Reef, the largest remaining oyster reef in the Gulf of Mexico.
Because the river is so important for the water supply, it seems like every time there is a drought, the concept of diverting water out of the Sabine and sending it westward is raised.
Here you can investigate the downstream effects of transferring water out of the Sabine River for other uses. To do this, you operate a dam and release or hold back water from the Toledo Bend Reservoir, control the flow of water from the Neches River in Texas, and control the amount of salt water entering Sabine Lake from the Gulf of Mexico.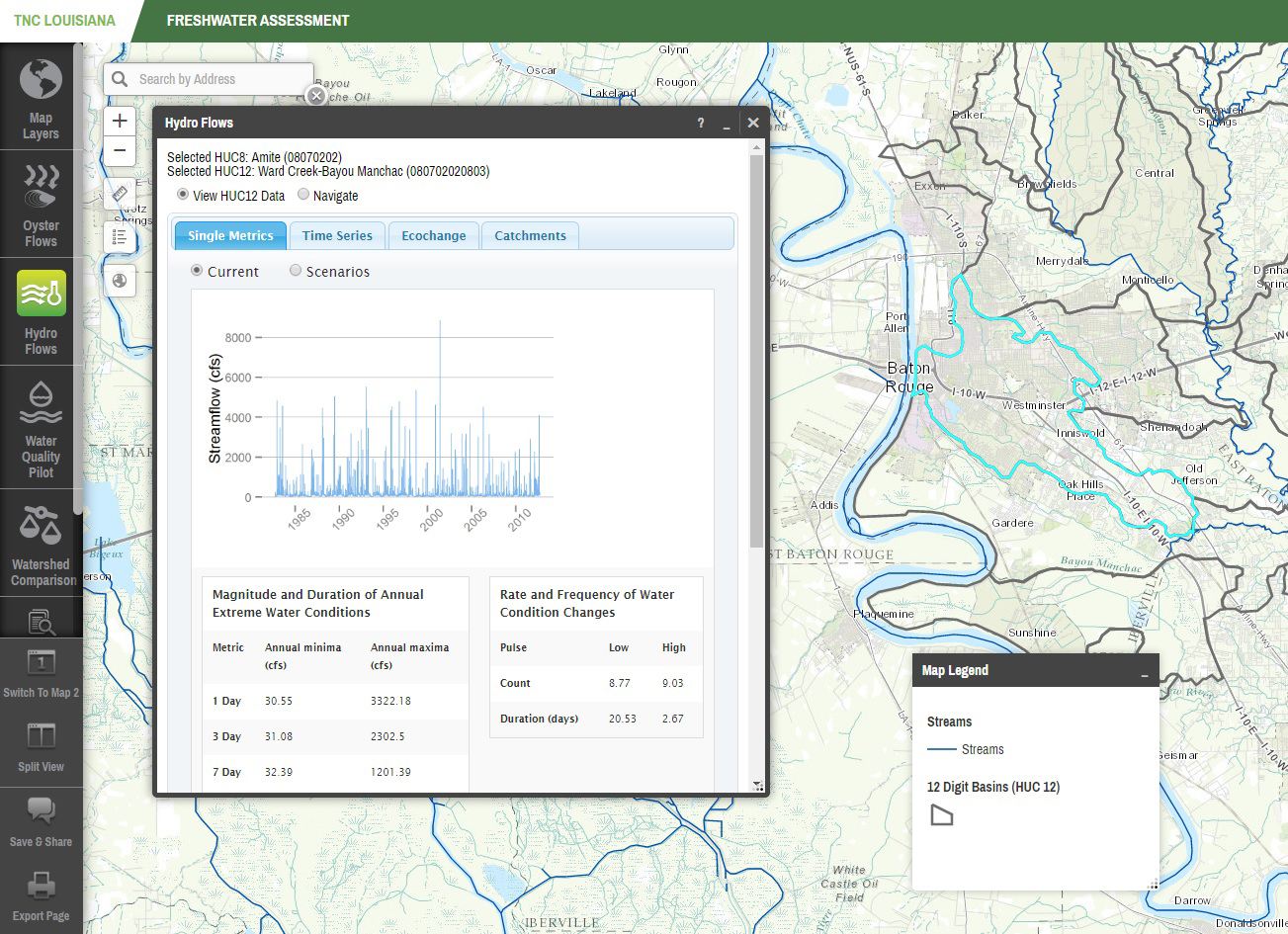 The Calcasieu River begins in Vernon Parish, Louisiana and flows about 200 miles into Calcasieu Lake at the Gulf of Mexico coast. Calcasieu Lake is rimmed with coastal wetlands and contains commercial oyster reefs that are both public and private and are harvested each year.
On its way to the Gulf of Mexico, the Calcasieu River flows through Lake Charles, a growing city, where Calcasieu River waters are heavily used for industrial and municipal purposes. Here, you decide how much additional water you'd like to withdraw from the river at Lake Charles and investigate the downstream effects of your actions.
Solving Water Challenges
Like many states, regions, and nations, Louisiana is contemplating its water future. A sustainable water plan will be hard to realize without the proper tools to support making good choices.
But the oyster can lead the way to a better future, and science can help us get us there.
The oyster can show us how to manage water in a balanced and integrated way so that we can meet the needs of nature and people.  OysterFlows and all of the web apps in the Freshwater Network can provide Louisiana and other states a comprehensive picture of their water resources and powerful analytical tools to make their water future a bright one.
And as this network grows, our ability to provide that picture at greater scales increases.
We can bring this technology to the world so that whether you're eating Oysters Rockefeller in New Orleans or slurping raw oysters in Sydney, you can be sure that our coastal bounties are being considered when making decisions about fresh water.
While I love oysters many ways, my favorite is a Cajun oyster stew with shallots and a side of French bread.
What's yours?