Forget Batman and Wonder Woman—for many coastal communities, salt marshes are the real superheroes. Salt marshes provide incredible benefits, including reducing costs to homeowners from storm or flooding damage, increasing revenues for fisheries, and generating tourism revenue from recreation like birding, boating and hiking. By providing multiple risk reduction and social benefits, salt marshes are valuable nature-based solutions for the challenges often faced by coastal municipalities.
Yet despite their proven benefits, adoption of nature-based solutions, like salt marsh restoration or preservation, is not widespread at the local level in coastal municipalities. Why?
Lack of awareness may be one reason—municipal leaders and residents simply do not understand the value of these natural areas to their bottom lines. When we can prove the social and economic value of coastal habitats by assigning concrete dollar amounts to the services they provide, we increase the chances that nature will factor into community decision-making processes. While perceived benefits and costs may matter more for certain early adopters, data still matters in certain decision-making contexts.
The alternative is risky. Coastal regions that continue to operate without an understanding of the contribution made by salt marshes will continue to harden shorelines with bulkheads, seawalls and development, losing the valuable social and economic benefits that a natural solution would have provided. Sea level rise and increasing erosion exacerbates the problem, as tidal marsh acreage is lost at an alarming rate. For example, here in New Jersey, 67% of New Jersey's coastline is at high or very high risk to coastal erosion and 60% of the coastline is projected to be at a high or very high risk to sea level rise.
Not enough compelling salt marsh research has been completed to appropriately influence decision-makers in coastal areas about their value. The Nature Conservancy has completed a guidebook that we hope will galvanize more studies quantifying the economic and social value of coastal habitat. The guidebook supports the case that:
Having and showing quantifiable, local data on the benefits provided by natural areas to key community decision makers can increase their support for coastal restoration projects.
Research underscoring the multitude of benefits provided by coastal habitats can spur investment from new and expanded funding sources, including those that would not traditionally support "ecological" projects.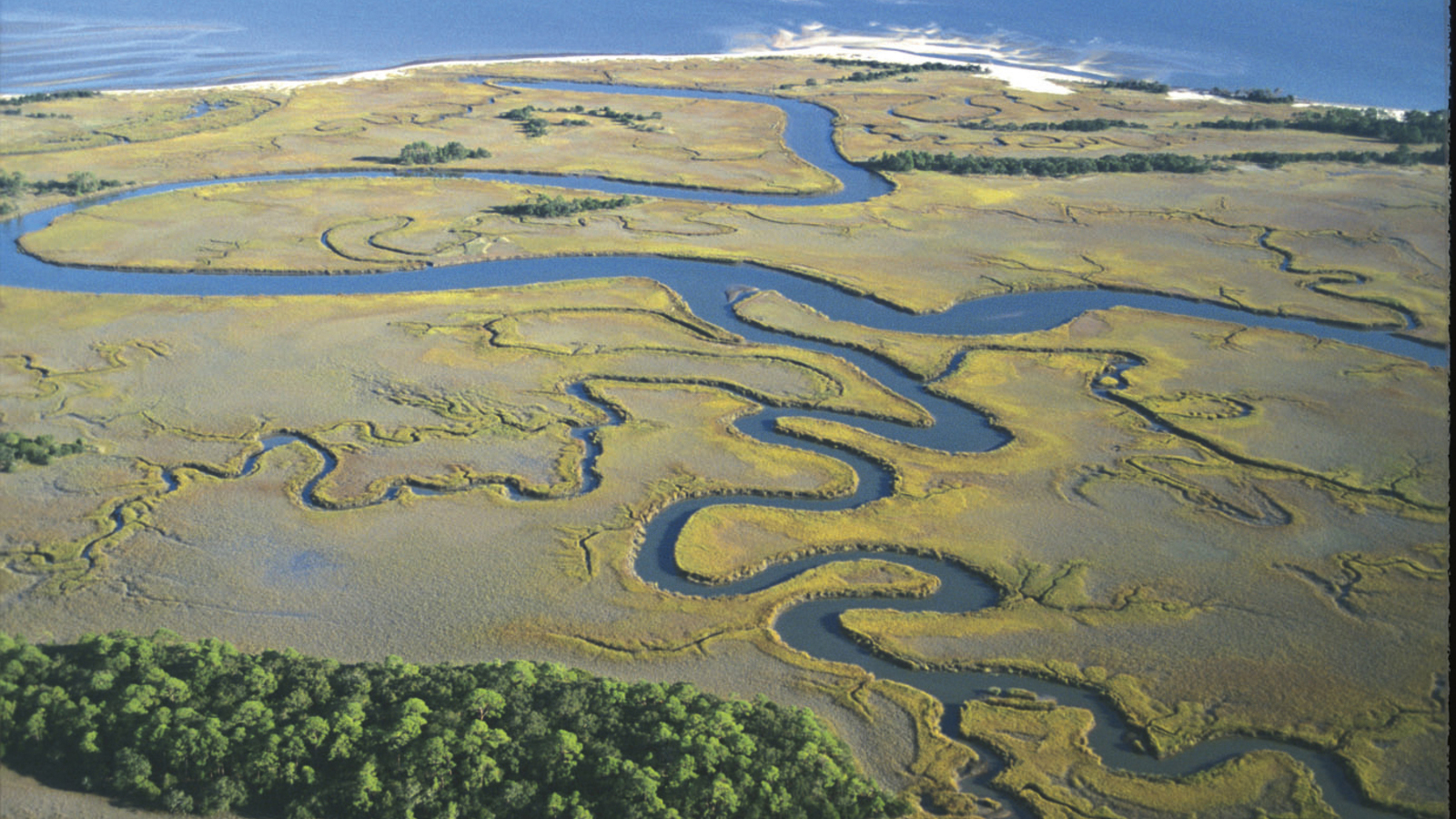 Within the guidebook is a comprehensive table showing ways to measure social and economic benefits of a variety of coastal restoration projects – not just salt marshes, but also oyster reefs and living shorelines. Examples of benefits include:
Difference in cost between hardened structure and a living shoreline ($)
Number of homes or structures benefitting (#)
Change in damage costs to surrounding homes ($)
Changes in the number of days per month that road is flooded (#)
Change in revenues for commercial fisherman ($)
Change in shellfisheries' closing days (#)
Change in spending by birders ($)
Number of new visitors to the restoration site (#)
Market value of water quality credits in a water quality market ($)
Change in number of visitors because of reduction in number of beach closings (#)
OK, so salt marshes are superheroes, leaders should adopt natural solutions to combat community challenges and we have charts to demonstrate the economic and social value of all of it. But, what does this really mean in a practical sense for someone championing a coastal restoration project? Let's break it down into steps: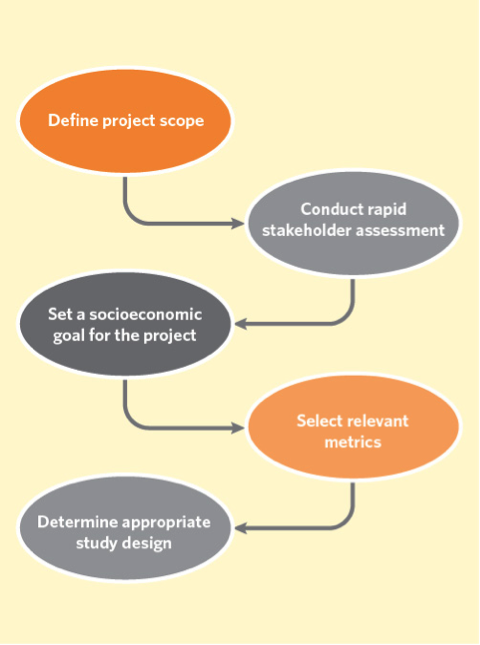 1) Define project scope.
Keep in mind, the scope of a study which places a value on the benefits provided by salt marshes may be larger than the site where the ecological restoration project is taking place. A more accurate depiction of the full benefits provided by that restoration project can be achieved by evaluating the benefits from several projects located in close proximity to each other. For instance, a wetland restoration project might be occurring in conjunction with the construction of a boat ramp, a new trail with interpretive signage and an environmental education center. Therefore, the scope of your valuation study could encompass all four projects.
2) Conduct rapid stakeholder assessment.
A rapid stakeholder assessment is designed to quickly give the restoration project team information on the expected project benefits, expected magnitude of benefits, who might benefit, and who could influence the success of the project. The process helps increase stakeholder support for projects by ensuring that the benefits relevant to key stakeholders are considered.
3) Set socioeconomic goal for the project.
Goal setting is desirable because clearly articulating project goals helps ensure that projects included within the study are designed and managed to meet those stated goals and then monitored to ensure the goals were met. Projects can have both an ecological and socioeconomic goal.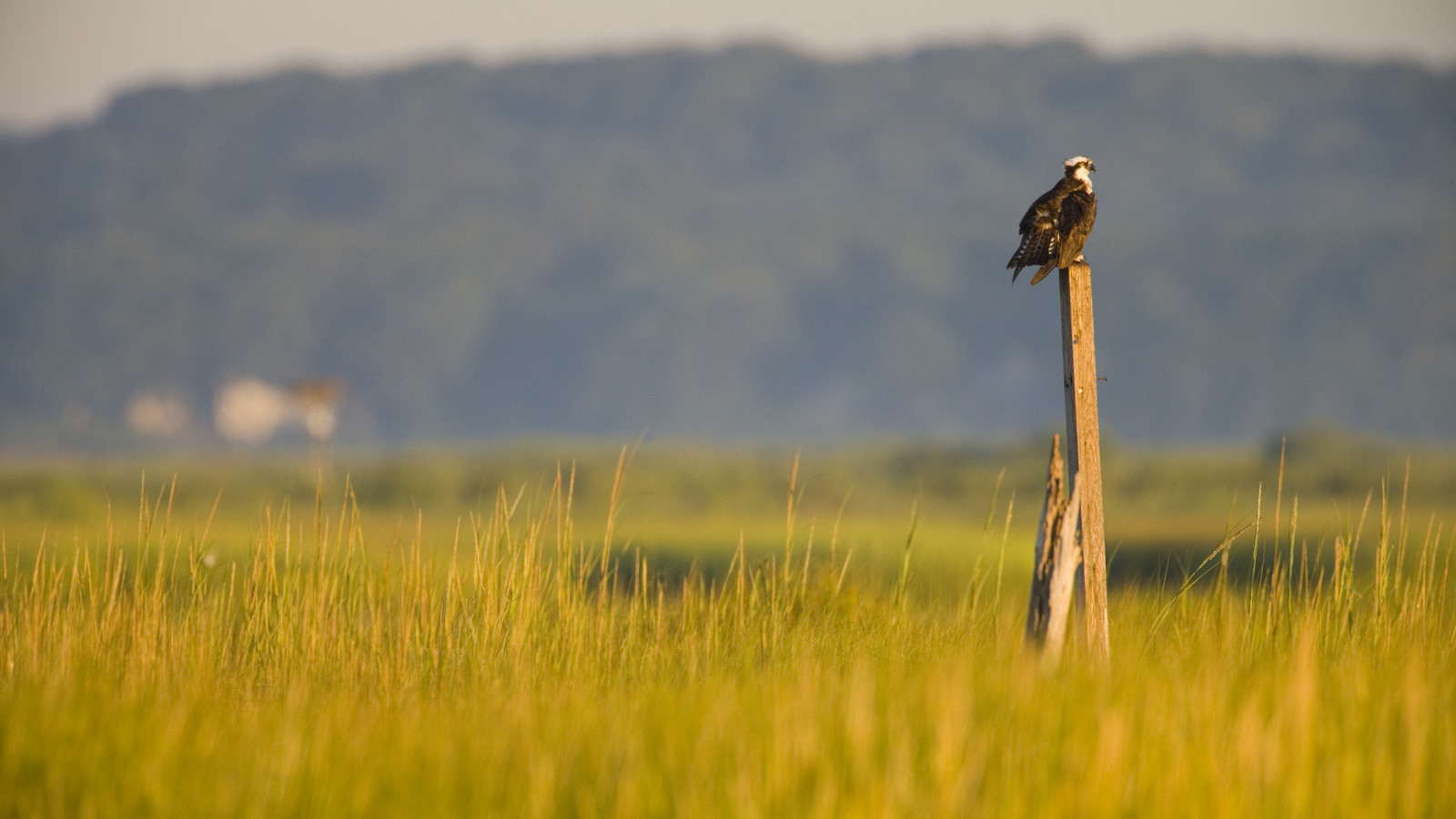 4) Select relevant metrics.
Socioeconomic metrics are used to assess whether the socioeconomic goal was met. Socioeconomic metrics may be represented with dollar value (e.g., change in damage costs to surrounding homes) or may be non-monetary (number of people benefitting from flood reduction). Meeting the socioeconomic goal will be dependent upon certain ecological changes; thus it is often necessary to choose a mix of socioeconomic and ecological metrics to assess project success.
5) Determine appropriate study design.
Studies can be designed to have a higher or lower level of rigor. During the rapid stakeholder assessment, a target audience for the socioeconomic study would have been selected. Only some audiences desire a rigorous study with high confidence in the results. Other target audiences may not need the highest level of rigor and thus, a lower cost, less rigorous study may be sufficient.
By following those steps, we will have increased the buy-in from communities from the beginning of a restoration project. With that increased support and acknowledgement of the multiple benefits from the project, we have increased our chances for getting funding from a wider range of non-traditional sources. By measuring success, we are more likely to achieve the benefits to communities from our restoration projects. And by quantifying our results and distributing this new information on the social and economic benefits to more communities, additional nature-based solutions are more likely to get implemented by more municipal partners.
Achieving those social and economic benefits and promoting them in a way that is backed up by science can slowly, over time, begin to convert more and more skeptics at the local level. And in the future, we can begin cultivating a new batch of champions for nature-based solutions in coastal communities.