The Pedernales may not be your picture of a Texas river. Green, lush, shaded and clear, it didn't fit my image of a typical Lone Star river when I moved here 10 years ago from the East Coast. In fact, when most people think of Texas's many superlatives, water resources probably don't make the top 10, but the more you explore the state, the more you discover that Texas's water resources are surprisingly diverse, intricately connected, and incredibly rich.
They are also widely oversubscribed and under increasing stress.
It's a problem that calls for science-based solutions and spurred The Nature Conservancy to create the Texas Water Explorer an online application that offers an array of information to aid freshwater policy makers, water managers, scientists and others as they work to manage the intricacies of Texas's surface and groundwater resources.
Texas's Water Challenge
Right now, water demand outstrips water supply in Texas, a problem that is only projected to get worse as the state's population is expected to double by 2050.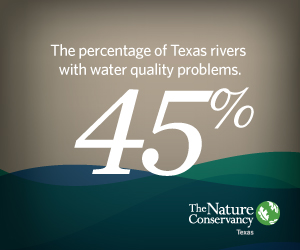 Extensive water pollution, invasive species, and river fragmentation only add to the challenge. All of this adds up to a bonafide Texas water crisis extending to all aspects of the state's water resources.
It's a crisis that has been further complicated by a lack of centralized and easily accessible information. Essentially, people, from decision makers to landowners to town managers, business owners and elected officials, have been doing their best to manage the intricacies of Texas's water supply without a clear line of sight to how decisions in one area affect water quality and quantity in others.
The Texas Water Explorer
Imagine you need to figure out how to manage water along the Pedernales River. You need to consider the connection of its surface water to groundwater and you need to balance the water needs of Austin, the Texas state capital, with traditional land values and culture along the river.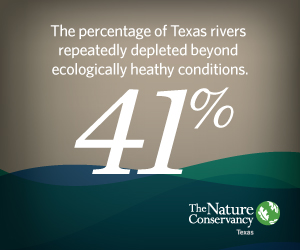 To do this you would need to know things like if the quantity of water in the river and aquifers that feed it are declining, how efficiently water is being used by cities, how water sustains the local economies, and what recreational opportunities exist on the river.
The Explorer can answer all of these questions, and all in one website.
Prior to the Texas Water Explorer, it was difficult to get a centralized view of different water policies, trends and uses and their effect on our state's water system. To address this gap, the Conservancy's Texas Chapter and Global Water Team worked with a team of representatives from state and local agencies, academic institutions, non-profit organizations, scientists and water managers to centralize this information and develop indicators to summarize the state of Texas's water.
The Explorer brings together the latest in Texas water information from all sides of the sustainability spectrum – water quantity, water quality, water conservation, economic productivity, ecosystem health and governance. The site includes 24 indicators that summarize the state of Texas water, and this menu will continue to grow. A custom online mapping application allows users to view these indicators as interactive maps and graphs and pull out specific information of interest.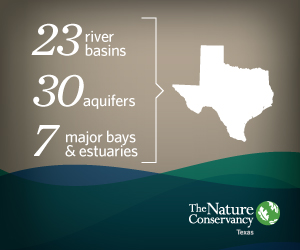 The Explorer is all about providing information to help people make decisions. Major water policy issues are playing out in the Texas legislature and in local, regional and state water planning and regulation, and it can be hard to make choices without visibility to how decisions in one area may affect others.
We want to arm Texas's leaders and landowners with a fuller picture of the state of Texas's water so they can better address these issues.
How it Works: Mapping Conservation Opportunities
As conservation evolves to meet the human crises, the geography of conservation must evolve with it. The Explorer uses maps that visualize the geography of conservation opportunity – for nature and people.
Strategy and opportunity maps show us the best places to act to address pressing water conservation needs. For example, maps of groundwater over-pumping may serve as a guide for action on groundwater policy or community engagement.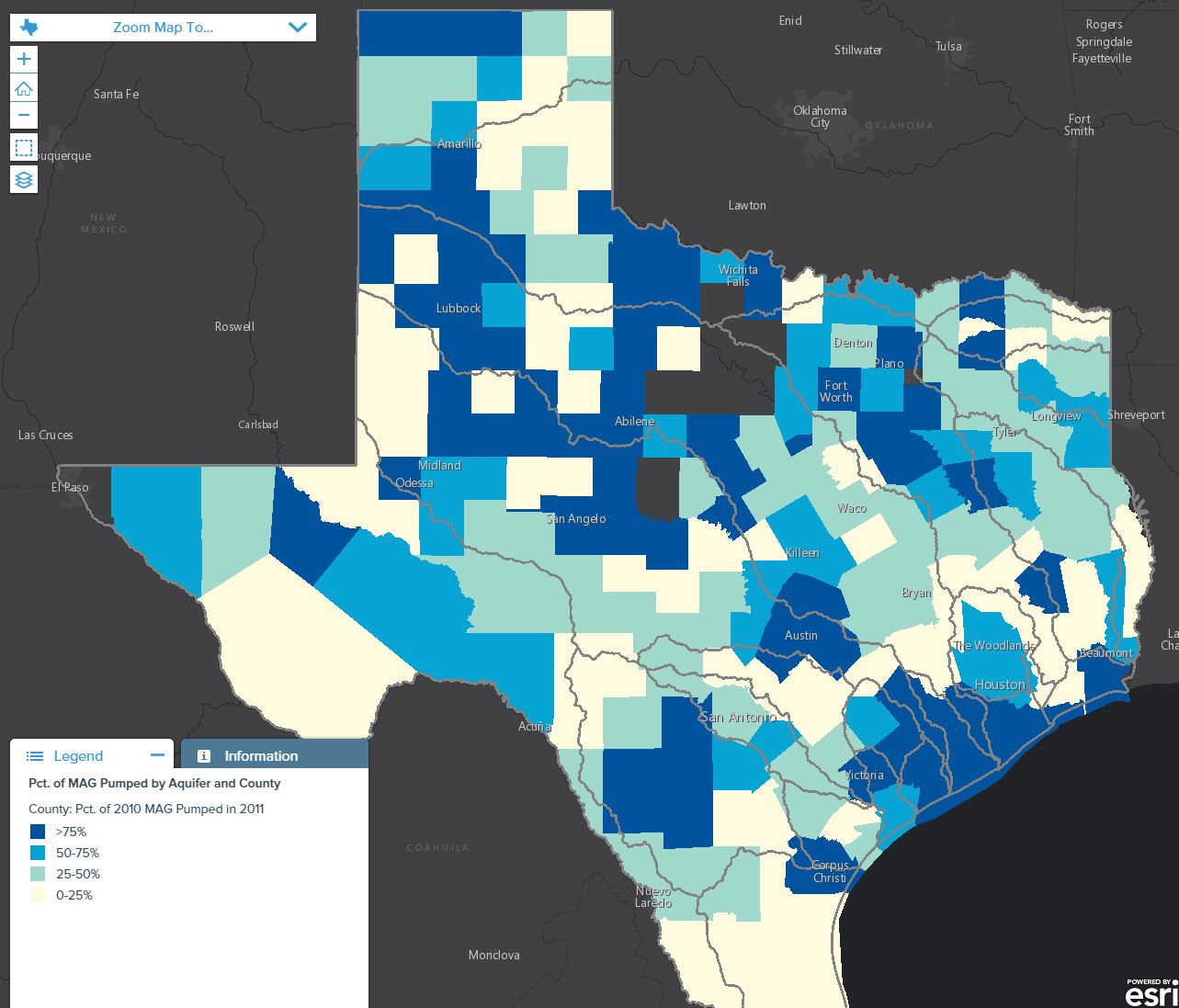 This map shows areas where Texas counties are already approaching limits on future groundwater pumping set during a stakeholder-based water supply planning process. These are pumping limits agreed to by local groundwater managers that will ensure that the needs of people and nature are met over the long haul. And some counties are already pushing these limits.
Organizations working locally to inform the public on the importance of groundwater or improve water conservation and drought management could use this map to identify focal areas.
Viewing this map in the Explorer side by side with maps of groundwater quality concerns or endangered aquatic species can identify flashpoints or areas where multiple management and governance processes may converge and create conflict. This will be important if we want to keep spring-fed rivers like the Pedernales and the services they provide us healthy and robust.
The Explorer provides many maps to guide other types of conservation action such as water markets and other flow restoration strategies, water quality improvement, invasive species management, and many others. Nearly all of the data used to create the maps are standard statewide datasets and can be downloaded from the website for use in anyone's own analysis.
A Global Challenge
A similar water story is playing out across the globe. Responsible and sustainable water management is one of the most pressing issues of the 21st century, as places like California and the Colorado River basin in the American West and the Murray-Darling River basin in Australia are discovering. Tools like the Explorer could also help address these crises across the globe by enabling people to make informed decisions.
So let's explore. And let's use tools such as the Texas Water Explorer to help us take focused conservation action. This will help us ensure that we keep our unique and vital resources like the Pedernales River.