Conservation science is plagued by a disastrous lack of inclusiveness. The field at large consistently fails to include both the many different values people hold for nature and the viewpoints of women and diverse ethnicities and cultures.
In 2014, Nature Conservancy acting chief scientist Heather Tallis published a letter with Oregon State University professor Jane Lubchenco and 238 others in Nature outlining how this failing is harming conservation and making recommendations to create a more diverse conservation landscape. To address these problems, they recommended that, among other changes, conservationists create more opportunities to "elevate the voices of scientists and practitioners from under-represented genders, cultures and contexts."
In the academic world, much of this debate centers around how to keep more women in science, technology, engineering, and mathematics (STEM) careers. The key word there is keep: Even though women earn about 50 percent of the doctorates in science and engineering in the United States, just 21 percent of full science professors and 5 percent of full engineering professors are female, according to the United States National Science Foundation. Lack of female role models, implicit or outright sexism, sexual harassment, pay and funding disparities, motherhood penalties and other challenges continue to create hurdles for women in STEM, both inside and outside academia.
Last month, Tallis co-hosted the 2016 Women in Science Summit at the California Academy of Sciences along with Meg Lowman of the California Academy of Sciences and Rita Mehta of the University of California, Santa Cruz. The event aimed to help mentor rising young scientists through the challenges common to women in STEM careers. Several themes emerged from a day of stories and advice from world-renowned leaders like Jane Goodall, Sylvia Earle, and Jane Lubchenco.

Academia Is Not the Only Option
Jane Lubchenco, U.S. Department of state's science envoy for the ocean and professor at Oregon State University, pointed out that the challenges facing women in science — and the solutions to those challenges— extend not only to academics but to scientists in the private sector, government, and nonprofits. Part of encouraging diversity in science is not just promoting gender diversity, she says, but the diversity of options that one can pursue with a PhD in science.
"Today, success should not be solely defined as becoming a professor at a research university," says Lubchenco. "Leaving the academy should not be seen as failure." She pointed out that even the very language surrounding discussions about women in science — the so-called "leaky pipeline" — reflects this bias towards a narrow view of what a good scientist is and does with their training.
Tweet this quote
Celebrating Progress While Facing Challenges
Throughout the wealth of stories at the summit, one thing became abundantly clear — the challenges that women in science face today have shifted from the challenges faced by women 20 or 30 years ago.
Meg Lowman, a tropical biologist and director of global initiatives at the California Academy of Sciences, earned her PhD at the University of Sydney in the early 1980s. "The head of the department came up to me and he said: 'I don't know why you want to do this PhD, because you're just going to get married and have children,'" she recalls. Lowman did marry and start a family in Australia, but faced immense pressure to give up her work as a scientist. "My mother-in-law would babysit if I went to get my hair done but not if I wanted to go to the library," says Lowman. "That was how firmly convinced she was to try and help me see straight what I needed to do with my life."
When pregnant with her second child during her postdoc, Sue Rosser of San Francisco State was advised by her supervisor to end her pregnancy because it put the timeline of their research project at risk. And Lubchenco was welcomed to her Harvard ecology program in 1972 by being told that this was the first class of students with an equal gender ratio, but that was only because male graduate students weren't happy unless there were women around.
Those challenges have been replaced by different ones today, including the challenge of simply getting people to take the struggles of women in science seriously. "A major reason women are told they have less success in science is because they don't want it as badly," said biological anthropologist Kate Clancy in a presentation on the data behind women in science. Clancy explained that the mark of success as a scientist is recognition by peers — if a scientist's work is not seen as meaningful by the rest of their field its effectively meaningless. Some scientific evidence exists showing that women typically have a less strong desire for recognition, linked to the fact that they are often punished when they do receive recognition. "Remember," says Clancy, "there is no such thing as an uppity man."
Kathy Sullivan, NOAA administrator and under secretary of commerce for oceans and atmosphere, emphasizes that the way forward is to both support other women and produce excellent science. "We all have to support and encourage each other as we innovate and explore new territory, but at the same time in all we do, we must strive for excellence and deliver outstanding performances," she said. "Because at the end of the day it's what we each deliver that has the prospect to change the course of the world."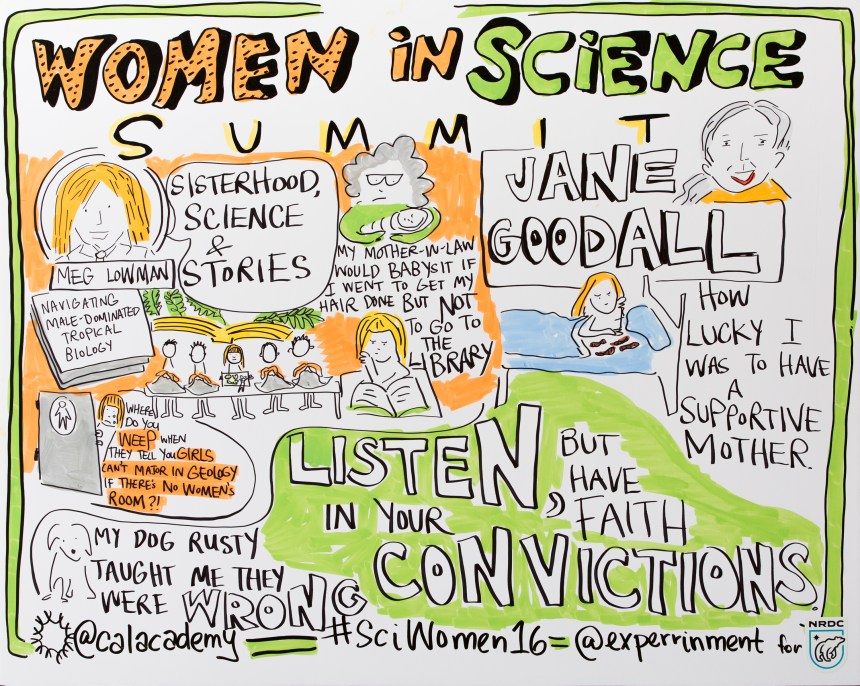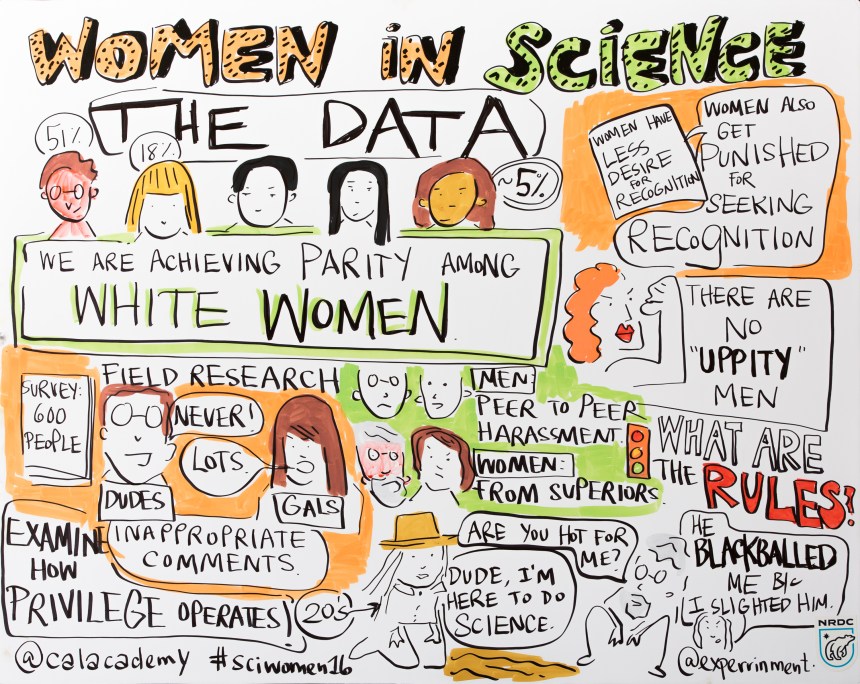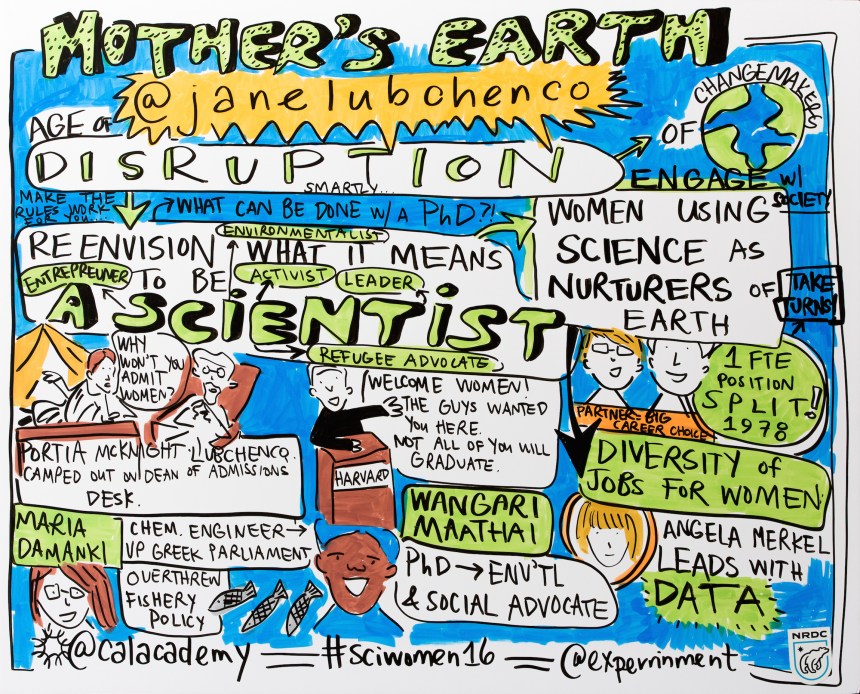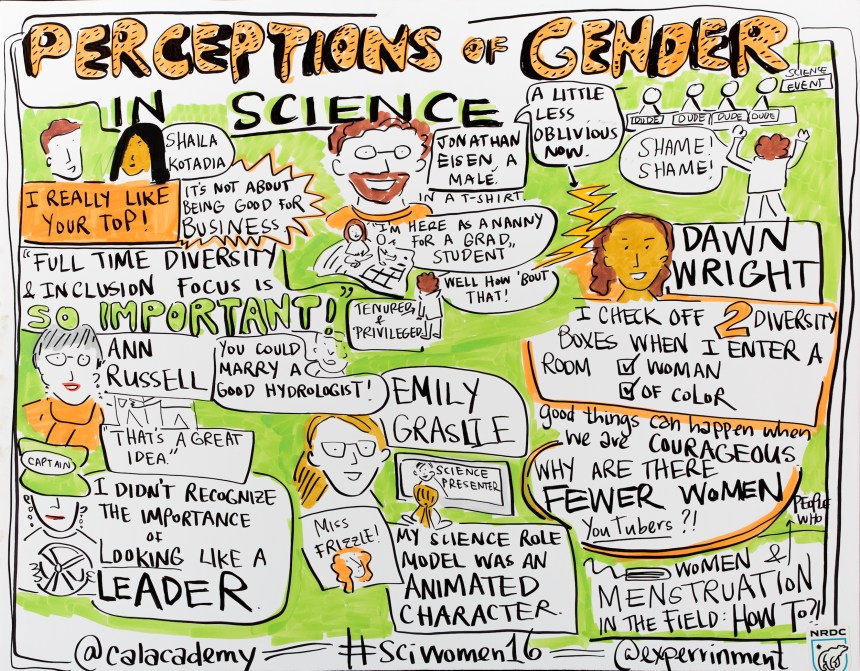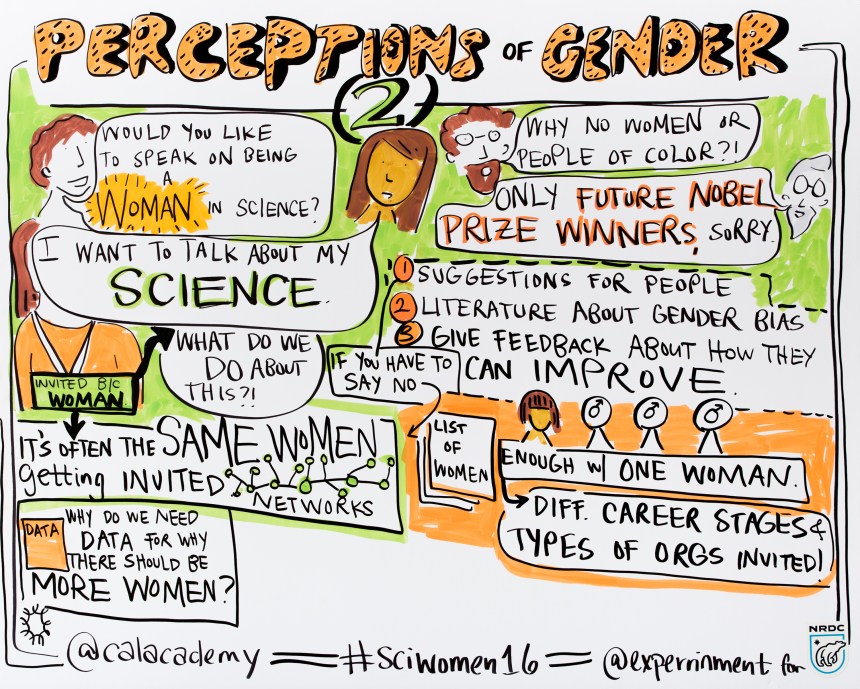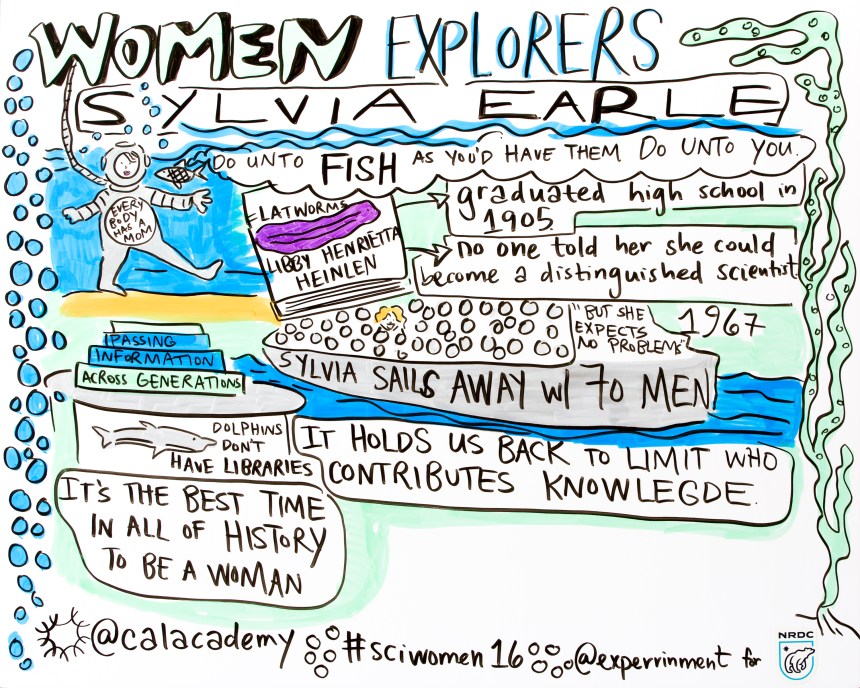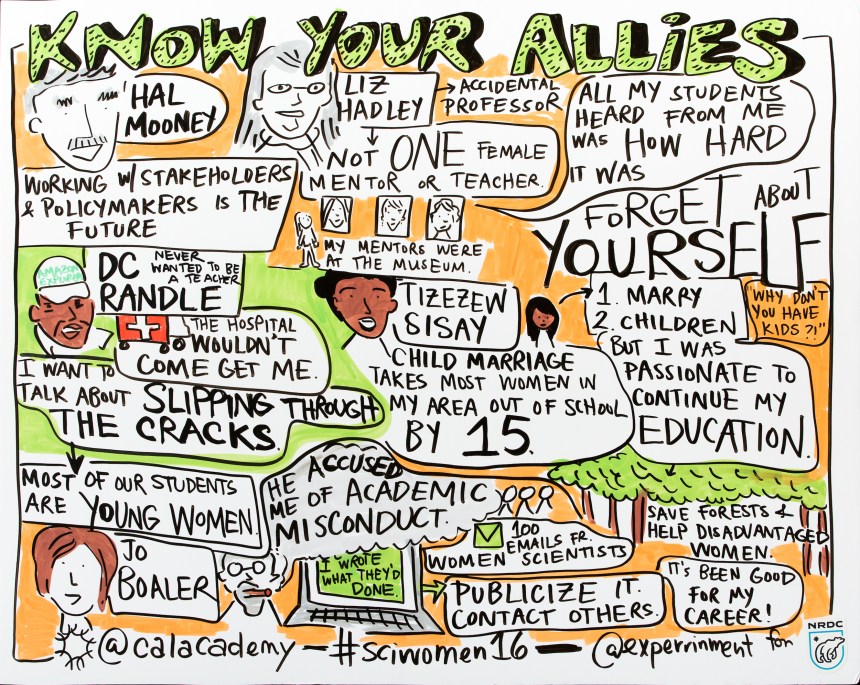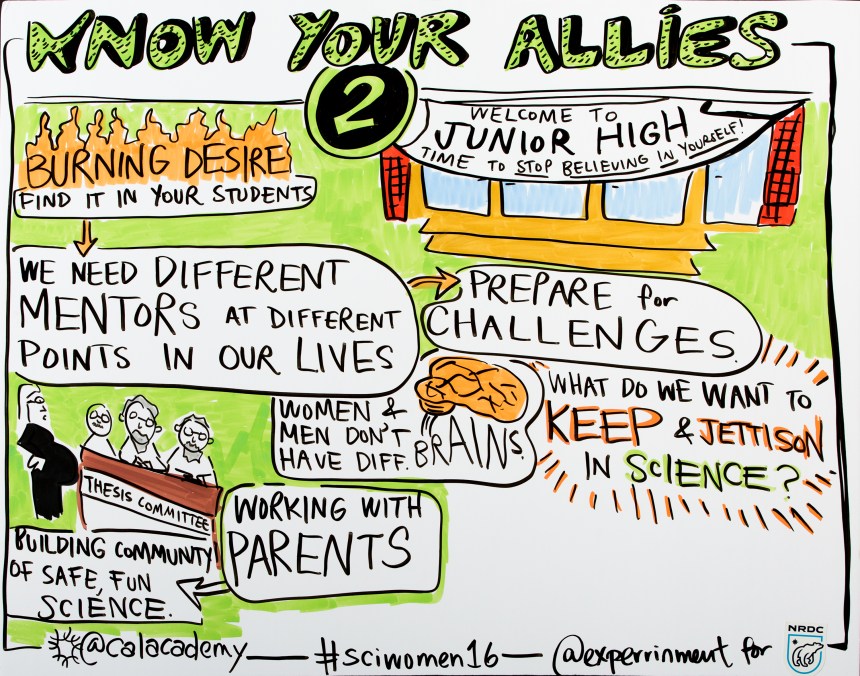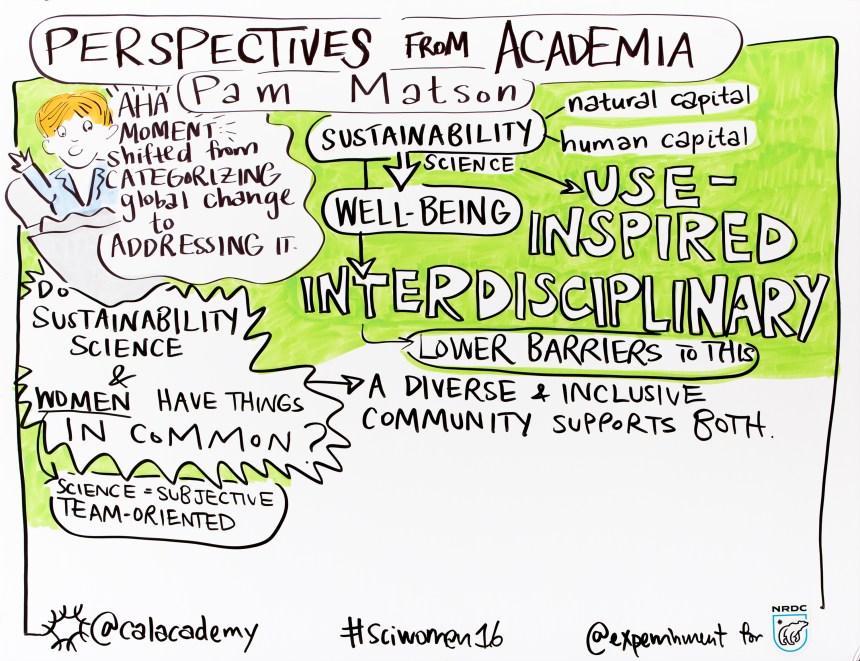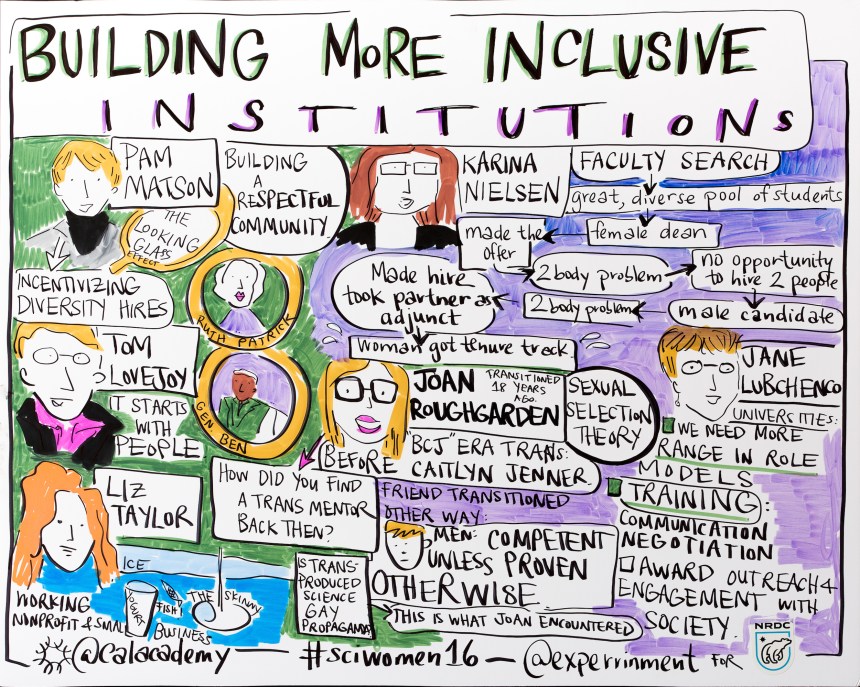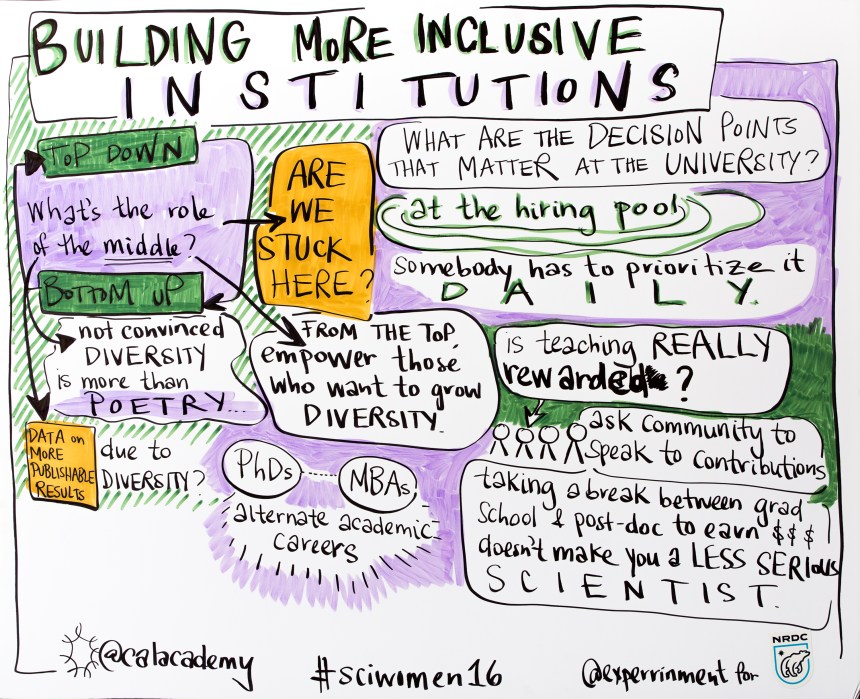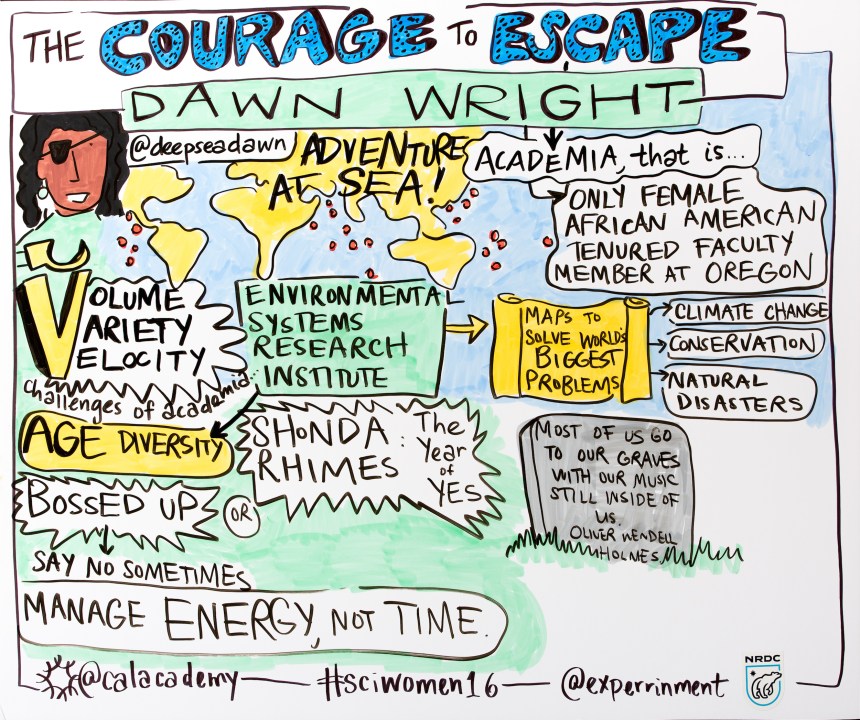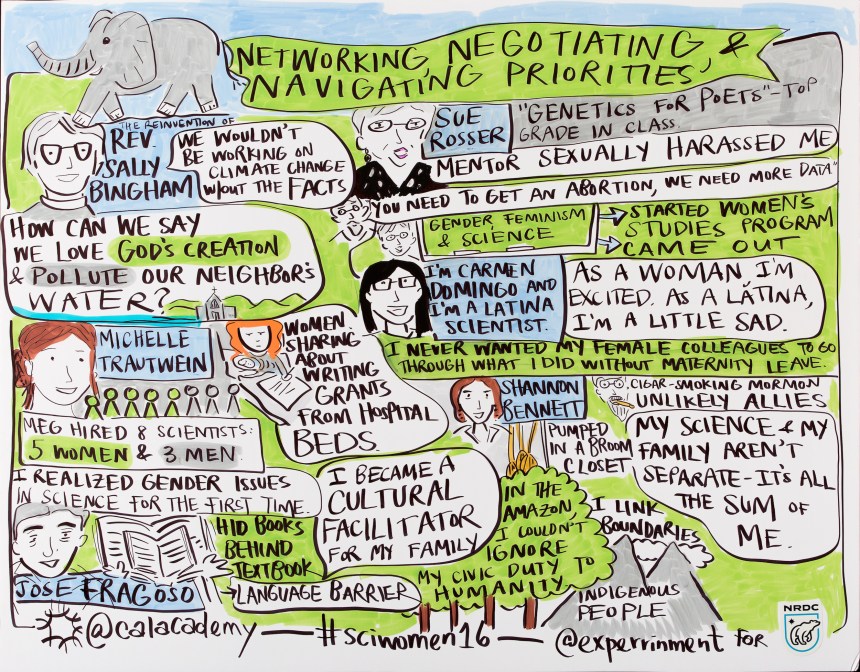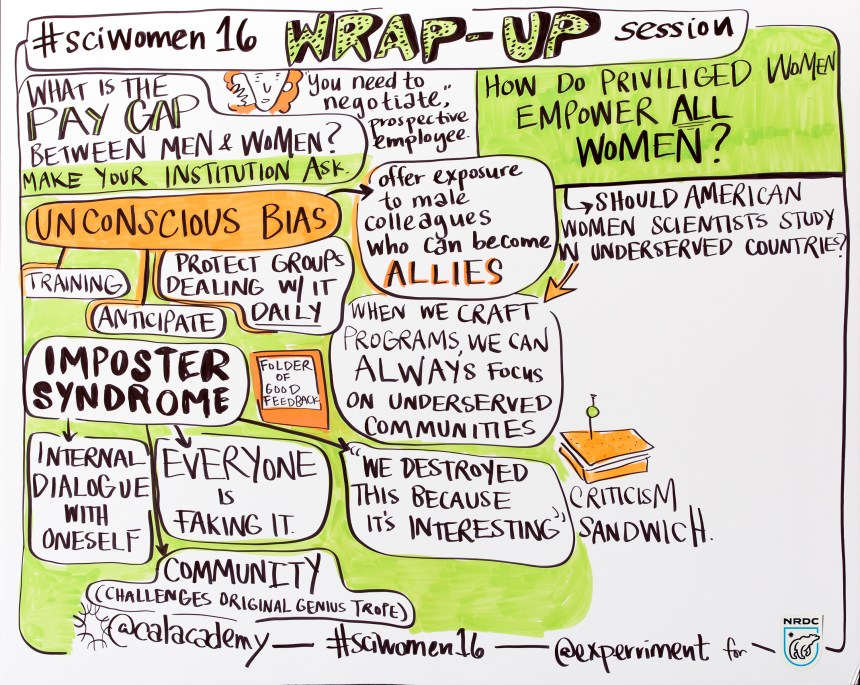 Click to enlarge |

1

of

14
X
Dealing with Unconscious Bias
While blatant and outright sexism is far less common today than it used to be, women in science still face pervasive, low-level bias against their competency.
Research has shown that both men and women are perpetrators of this type of discrimination, often called unconscious bias. In one study, researchers presented other scientists with identical applications for a lab manager position, except one applicant was female and the other was male. Despite the identical qualifications, both male and female scientists rated the female applicant lower in competence, hireability, and the desire of the scientists to mentor them.
Tweet this quote
Summit speakers and panelists recalled their own experiences with unconsious bias. In the process of writing her 2014 paper calling for more diversity of people and ideas in conservation, Tallis received feedback from several co-authors, both male and female, asking for citations to other research on the value of women to science.
"I was immediately reviled," says Tallis. "And I sat there and I thought why do I feel this way? What am I reacting to?" She explained that as scientists, it is natural and even automatic to support your statements with evidence. But in this case, that instinct revealed an unconscious bias by both men and women. "No one has ever asked a man why we should have men in science," she says. "Where are all the publications that explore the utility of male contributions to science in a scientific way?"
And Pamela Matson, dean of the Stanford University school of earth, energy, and environmental sciences, advocated for reevaluating how we define excellence in science. "I think very often we evaluate excellence by looking in the looking glass," she says. "But when most of the people making those decisions are white males, excellence begins to look like white males, so our challenge is to disrupt this somehow, setting new metrics and measures to understand and evaluate excellence."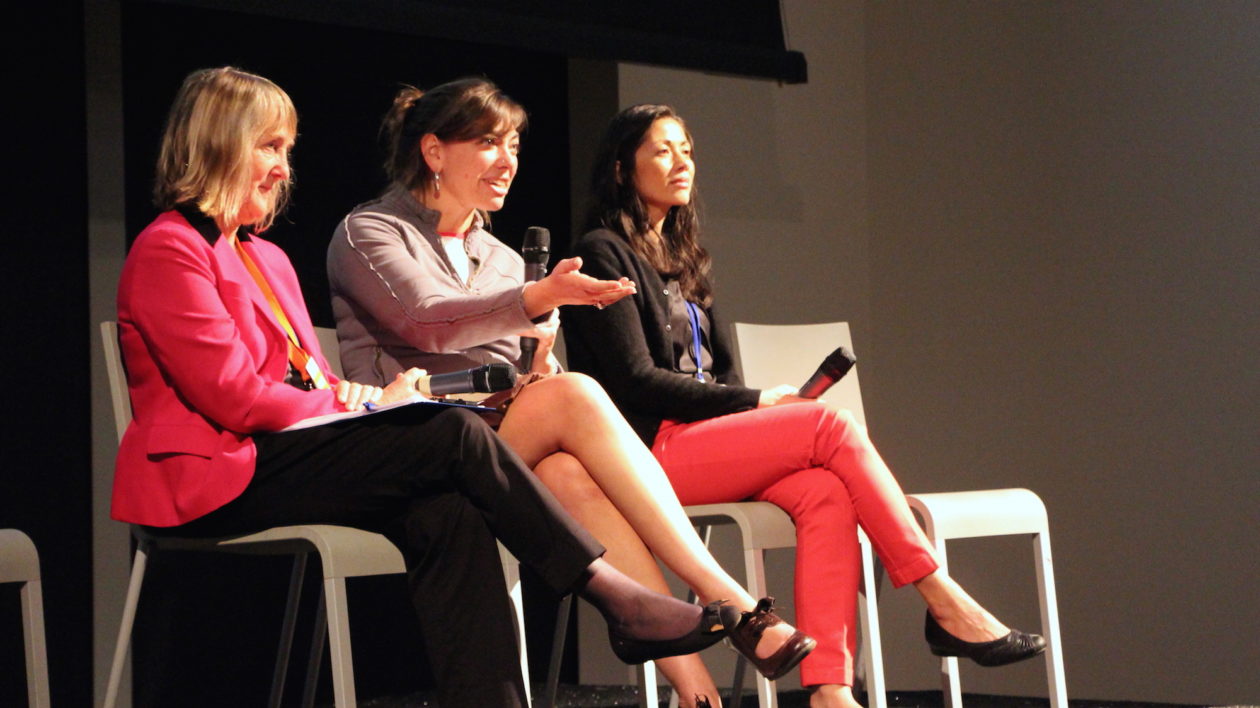 The Elephant in the Room: Work-life Balance
Much of the discussion about work-life balance centered around the challenge of having children while pursuing a full-time science career.
"No time is going to be perfect [to have a child]," says Michelle Trautwein, assistant curator and chair of dipterology at the Cal Academy. "It's always hard, so if you want to do it, you just have to decide to do it." Many of the women on the panel echoed this sentiment, and stressed that surrounding themselves with supportive colleagues and family was key to their ability to pursue science and motherhood.
ESRI's Dawn Wright encouraged women to forget the worn-out idea of time management, and instead focus on managing their energy. "Time has limits to it," she said, "but hopefully our energy and our love for what we are doing is unbounding." Wright also pointed out that part of a successful work-life balance is learning how to say "no," but just as important is learning how to say "yes" to new experience and opportunities.
Tweet this quote
Be Disruptive, But In A Smart Way
In her keynote, Lubchenco offered some advice for the young women in the room as they continue in the footsteps of those that have come before. She said that we live in an age of disruption, where seismic social and technological shifts are changing the way we live on earth and the way women define their role in science and in society.
As we continue facing and overcoming the obstacles that remain for women in science, Lubchenco encouraged us to challenge them in the right way. "Recognize that there are smart ways to disrupt, and there are career-killing ways to disrupt," she said. "So should you choose to be disruptive, think about how to do it in a smart way."
And legendary oceanographer Sylvia Earle reminded the audience that they are not alone in disrupting the tide of history that, until recently, kept women out of science entirely. "We are the beneficiaries of changes in the social structure of humankind that has enabled women, as well as men, to emerge in positions of responsibility, or authority, of power," said Earle. "It's the best time in all of history to be a woman."
To hear more from the 2016 Women in Science Summit speakers, watch the archived YouTube broadcast or read continuing coverage on Cool Green Science.