Nature Conservancy scientists publish almost 200 scientific articles each year. There's an impressive body of work. But how can you find these articles? We're pleased to announce that it's now easier than ever.
The Conservancy, as a self-proclaimed "science-based organization," has a long history of applied science, and in using science to do conservation planning and adaptive management. Our recent evolution of "conservation by design," pushes us to better incorporate evidence into our planning. We also have many scientists on staff (including about 350 full time science and spatial analysis staff, and more than 600 staff with science degrees).
But in some scientific circles, the strength of your science is measured by your publication record in the peer-reviewed scientific literature. The Conservancy publishes a list of recent publications in its internal science newsletter, the Science Chronicles. But there has to date been no way to look at the entire body of publications TNC scientists have produced over the years.
Until now. We have pulled together a searchable list of over 2,000 journal articles and book chapters authored by TNC scientists during their tenure at our organization:
https://www.conservationgateway.org/ConservationPlanning/ToolsData/sitepages/article-list.aspx
You can search by author, title, journal, keywords, etc., and in many cases we provide a link directly to a pdf of the article.
This allows us to respond to the questions we regularly get about our publications: which areas of science we are strong in, who is an expert on specific topics, whether we are publishing in high-impact journals, how many publications we produce overall, etc.
One interesting finding is how TNC has really ramped up our publications in recent years. Our former chief scientist Peter Kareiva pushed hard to get TNC scientists to publish more ever since he was hired in 2002, and it appears to have had an impact, as we are now publishing almost 200 articles per year (note that 2015 looks low because we don't have all of the recent publications entered yet):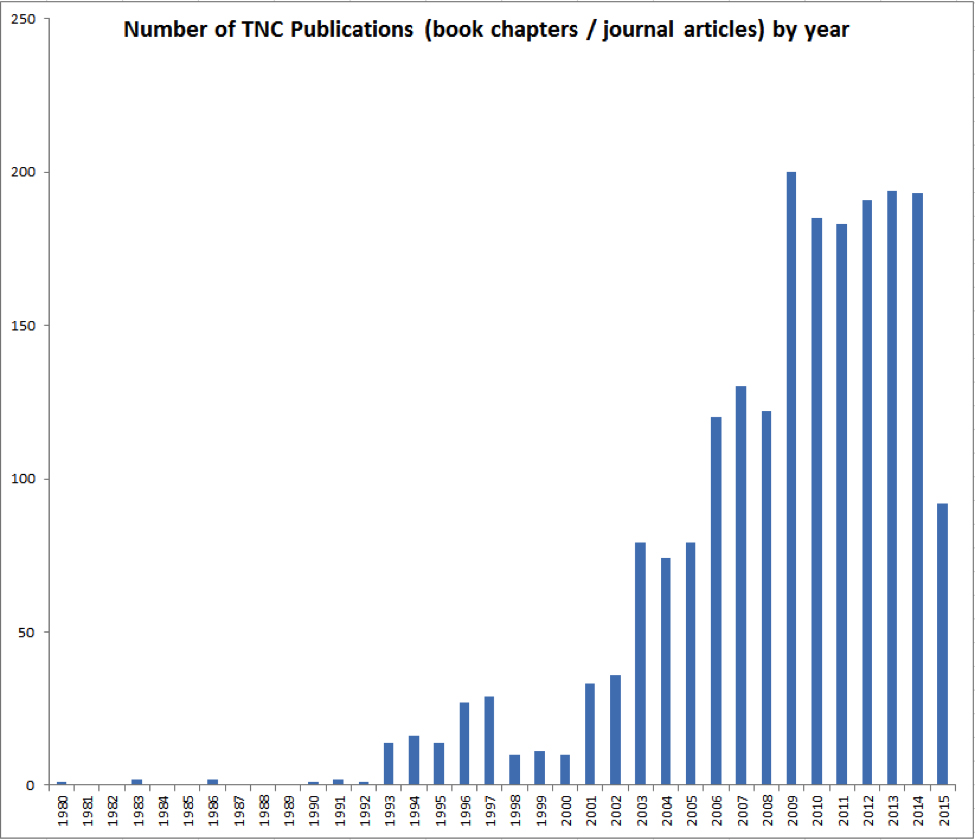 You can also see that some of TNC's publications are appearing in top journals (e.g. 35 articles in Science and Nature), and being heavily cited by other scientists. For example, a paper on marine nurseries by TNC Lead Marine Scientist Mike Beck has been cited over 1,000 times.
We hope to keep this repository current as new articles are published; we will bring in new articles as they appear in Science Chronicles.