According to Bill Patzert, a climatologist at NASA's Jet Propulsion Lab, we may be heading to one of the strongest El Niño events on record: "this is the biggest signal since 1997. Not a puny El Niño but a Godzilla El Niño."
The latest El Niño forecast from the National Oceanic and Atmospheric Administration (NOAA) shows a greater than 90% chance that El Niño conditions will continue through the Northern Hemisphere winter. Strong El Niños usually mean higher than average precipitation levels for California, which is really good news for the drought-parched state.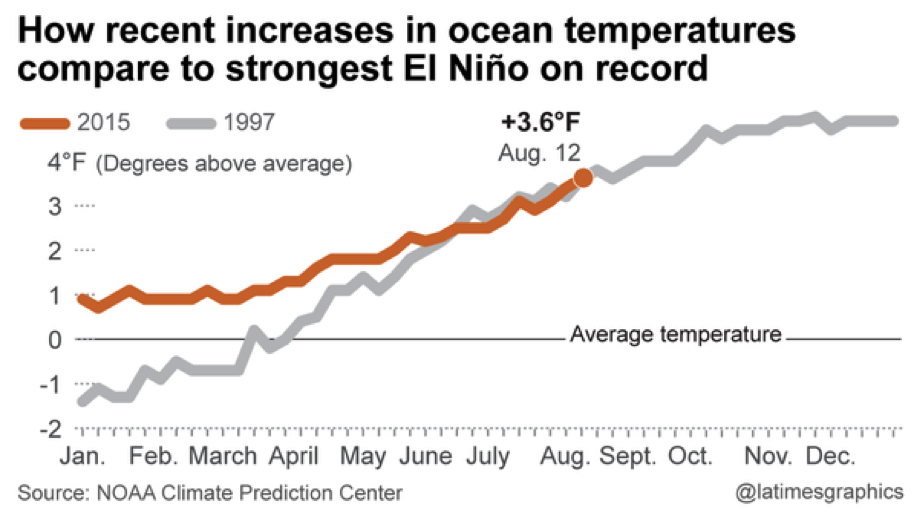 However, during strong El Niño events, large volumes of rainfall typically occur in short bursts causing soils to become oversaturated. Once the soils can no longer absorb water, the resulting runoff greatly increases the chances of flooding. During the last strong El Niño, in the winter of 1997/1998, California was hit by six different storms and received a year's worth of rain in a single month; seventeen people lost their lives and 35 counties were declared federal disaster area.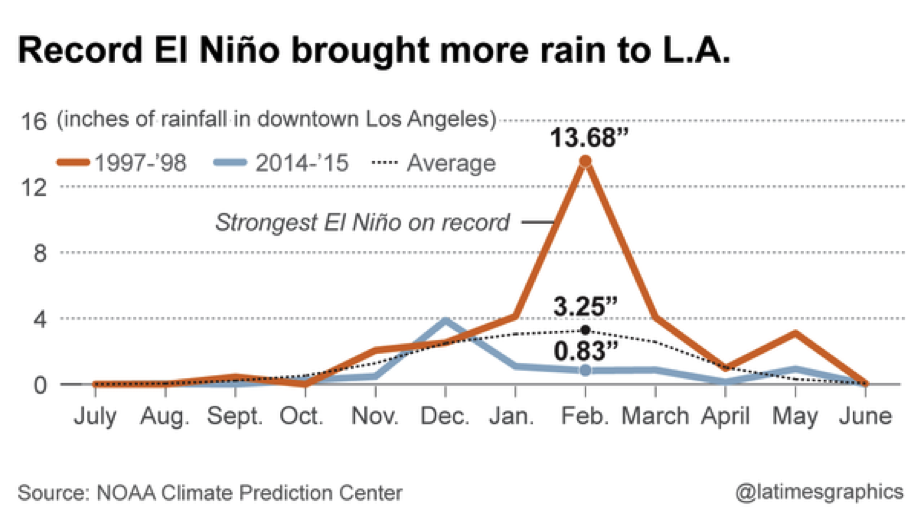 It is important to note that flooding is a natural part of earth's hydrological cycle, and one could argue that a Natural Disaster only becomes a disaster when humans are added to mix. With existing and ongoing risky development in areas prone to flooding, the exposure of people and properties to natural events is on the rise.
NOAA estimates the economic contribution of coastal counties to the U.S. GDP in 2011 at more than $6.6 trillion. In 1968, the National Flood Insurance Program (NFIP) was created in response to wide spread demand for private insurance resulting from a series of catastrophic flood losses. Since its inception NFIP has paid more than $38 billion in flood claims, more than a third of which has gone to the one percent of policies that experienced multiple losses and are classified as Repetitive Loss Properties (RLPs).
At the same time, as urban areas along the coastline continue to grow, the degradation of coastal habitats remains a constant threat. From the 1780s to the 1980's California lost 91% of its coastal wetlands, the highest percent loss in the entire country. And unfortunately, several RLPs are located in wetlands, areas that usually include swamps, marshes, and bogs, and are the first places to flood after heavy rains. As a result, these properties are exposed to flooding events, and the loss of permeability resulting from their construction, prevents the wetlands from protecting the surrounds areas from excessive runoff, a double whammy.
What can we do about it?
Fortunately, there are programs put in place by FEMA (the Federal Management Emergency Agency that Manages the NFIP) that provide funds to cities and states to reduce the impacts from natural hazards. And these programs have significant funds attached to them. In 2013, FEMA announced national grant opportunities for two of these programs. The Pre Disaster Mitigation (PDM) and the Flood Mitigation Assistance (FMA) offered $23.7 million and $120 million in grants respectively. These funds may be used to acquire and remove or relocate structures away from risky areas, but to date that has not yet been a widespread activity. From 1989 through 2011, only 28 acquisition projects were funded in California.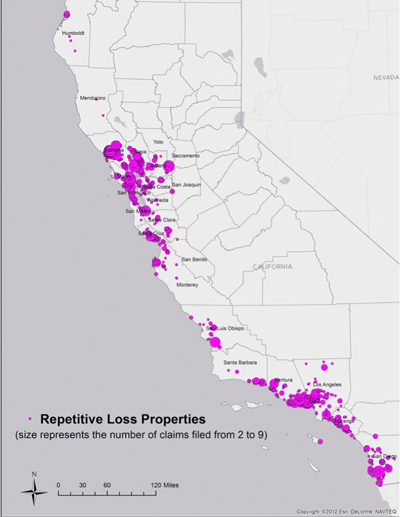 According to FEMA, there are over 3,200 Repetitive Loss Properties located throughout California (Fig 1). In the 21 coastal counties included in the study area, 2,395 Repetitive Loss Property owners filed 6,794 claims against the NFIP from 1978 to April 2010. The majority of properties (1,589 properties or 66%) are located in areas of conservation interest. We also found that Sonoma County is a hotspot of repetitive loss in California with 36% of all RLPs and 40% of all claims filed from 1978 to 2010.
In our recently published study, we propose an approach for identifying developed and federally-insured lands that are prone to flooding, and therefore not ideal for development, and where valuable natural resources, such as salmon habitat or wetlands, are also present. We show that, by defining appropriate flood exposure and conservation proxies, decision makers can identify and prioritize parcels and neighborhoods where flood exposure reduction and conservation objectives can be achieved simultaneously in California. Further, we describe the above mentioned federal funding programs that can be applied to achieve achieve these objectives. Our method prioritizes lands based on various data sources, including FEMA's Repetitive Flood Claims program and Digital Flood Insurance Rate Maps (DFIRM); sea level rise projections from the California Climate Change Center; and spatial data on natural habitats and other indicators of conservation value in California.
We found that there are at least 11,243 km2 in coastal California which represent both flood exposure reduction and conservation value, and where property/structure buyouts and habitat restoration projects would meet multiple objectives.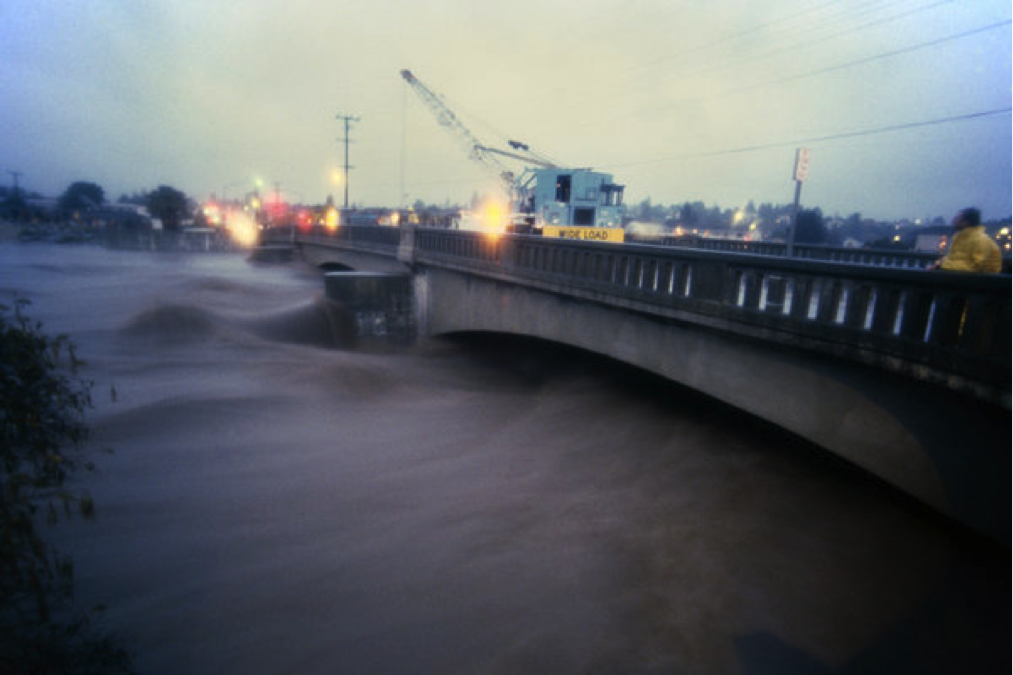 The several benefits of the proposed approach include:
The relocation of structures from floodplains, eliminating future risk.
The restoration of floodplains that can regain their natural functions including flood protection and providing additional ecosystem services.
The reduction of the financial exposure from FEMA by removing the riskiest properties from NFIP's portfolio, enhancing the floodplain's ability to buffer floods.
Nonprofit organizations, federal, state, and local agencies, and other decision makers should use analyses like the one presented here to strengthen the case for the application of hazard mitigation funds to acquire properties or engage in restoration in areas with both high flood exposure and high conservation value.
If we use existing policies to relocate repetitive loss structures from floodplain areas, and carefully plan where we build in the future, we may just have a chance against Godzilla in the future.