What good is scientific research if no one ever knows about it?
Unfortunately that is often the case — critical research is either inaccessible, difficult to locate, or simply never consulted.
A new tool from scientists from a Science for Nature & People Partnership (SNAPP) working group on evidence-based conservation could solve this problem. They outline the creation of an evidence-map for science at the intersection of human well-being and conservation action, published today in Nature.
The SNAPP working group includes researchers from Conservation International, UCLA, the University of Exeter Medical School, The Nature Conservancy, University of Illinois, the World Bank, and others.
Why Evidence Matters
A jury would never convict a criminal without evidence — yet decisions by policymakers and conservationists are often not so well supported. For example, creating protected areas is often promoted as an effective way to protect biodiversity and benefit local people and economies. But the evidence is often less robust than many decision-makers realize, and many lacked the capacity or time to consult the evidence to back up their assumptions.
Even if decision-makers actively try to examine the evidence they face obstacles. The science is often inaccessible due to journal paywalls, buried in the depths of poorly designed websites or archives, or never released to the general public.
"Conservation strategies have a greater impact when they are informed by the latest science," says Yuta Masuda, a social scientist at The Nature Conservancy. "So we need to make evidence easily accessible to decision-makers at all levels."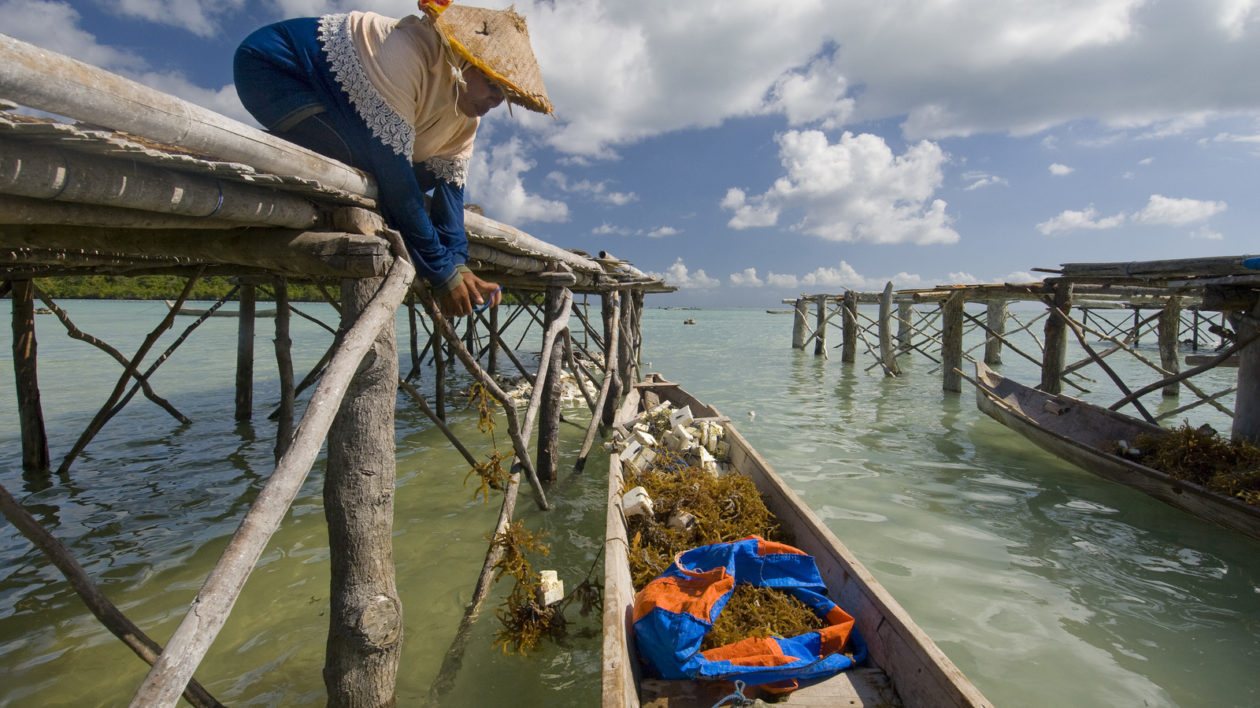 Mapping Conservation Action & Human Well-being
Conservationists increasingly seek to measure the impacts of their activities on human well-being. Does conservation actually benefit people? To help answer that question, the SNAPP working group used a systematic protocol to pull and categorize more than 1,000 studies. They then mapped them using a data visualization tool developed by 3ie. "The tool provides a snapshot showing how much work has been done for any given conservation intervention and human well-being dimension," says Masuda.
For example, the relationship between area protection or land/water management and economic living standards is comparatively well studied. But very little is known about how those conservation actions influence health or freedom of choice.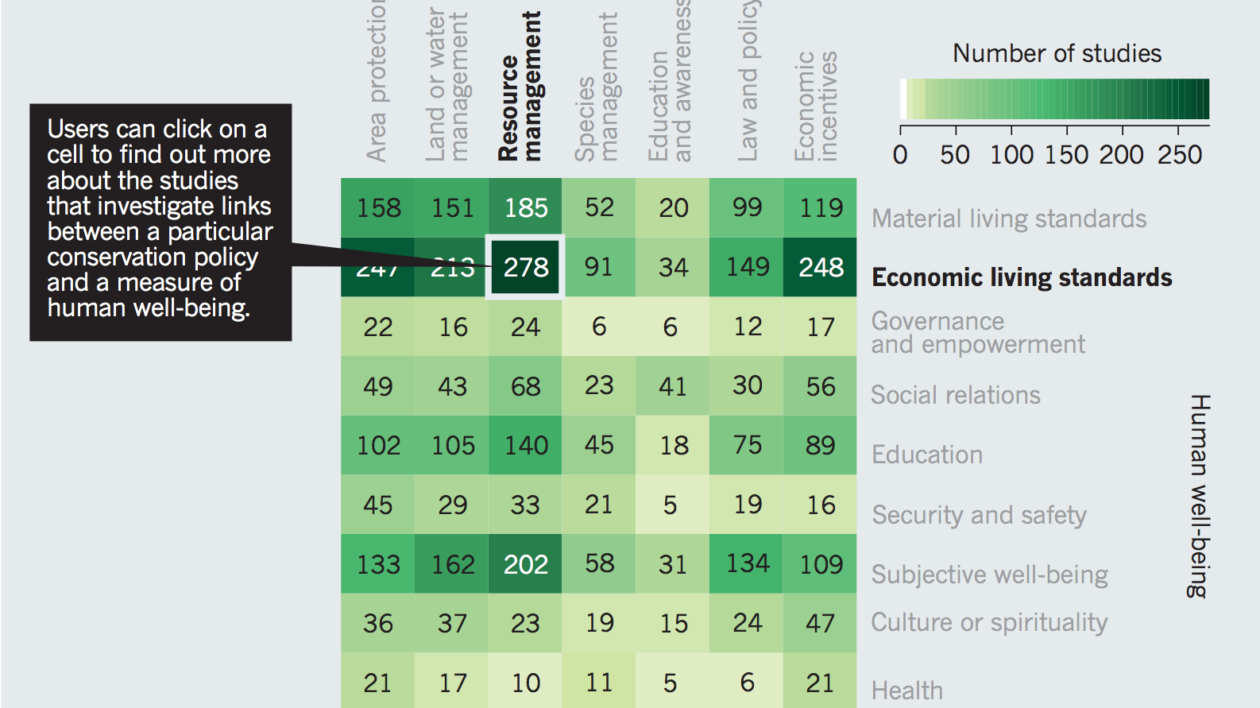 The tool allows anyone to dissect this information in a number of ways. For instance, mapping the research by biome reveals that the majority of conservation and human well-being research focuses on forests and grasslands, with little work done on deserts and none on tundra environments. Additionally, mapping by geography shows that the vast majority of research occurs in a small number of countries, including Brazil, Madagascar, Indonesia, India, and Nepal.
This tool allows conservation scientists to quickly identify areas where we need to better measure the relationship between conservation and human well-being, and direct their efforts toward filling in those gaps.
"The tool is a powerful way to gauge the level of uncertainty of any given link between conservation action and human well-being," says Masuda. Knowing that the effect of resource management on economic living standards is well established can help decision-makers be confident that a particular conservation action is a viable tool to improve human livelihoods, and that resources devoted to that conservation action will work. And knowing that the relationship between area protection and health is not well researched will force people to examine that evidence carefully.
"Both conservationists and policymakers have limited resources and capacity," says Masuda. "To have the biggest impact possible we need to decrease our uncertainty, be very clear about what we do and do not know, and formulate a strategy based on the evidence."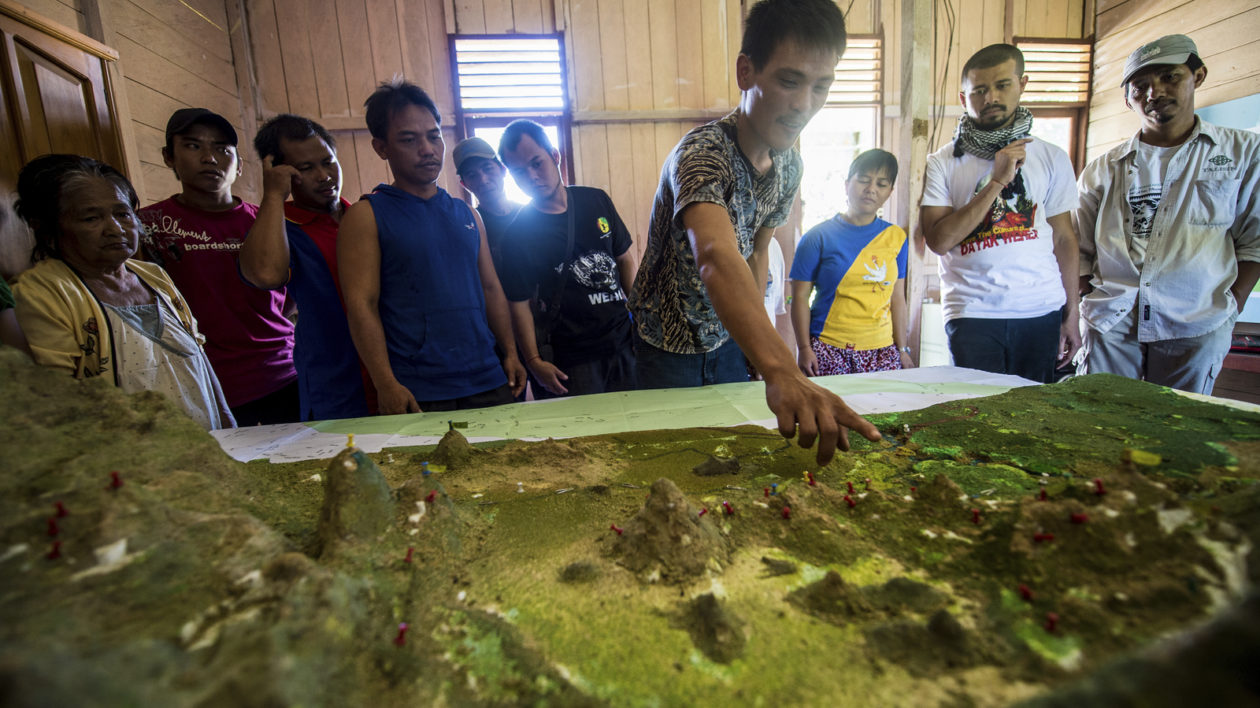 Stepping Up the Game for Sustainable Development
The next step will be to improve the mapping process, hopefully by creating a dynamic tool that won't require long lag times between updates. The working group will also investigate if future evidence-mapping exercises can be aided by automated literature review.
Masuda hopes that mapping the evidence helps strengthen links between conservation and human well-being, especially in light of the United Nation's new Sustainable Development Goals.
"Many of those goals elevate the role of the environment as a key component to sustainable development for human well-being," he says. "If conservationists want to be part of the solution, we need to clearly understand how conservation can advance human well-being so we can be part of the larger conversation."
About the Science for Nature and People partnership
Founded in 2013, the Science for Nature and People Partnership (SNAPP) is the world's premier innovation engine of conservation science and sustainable development policy, partnering with public, non-profit and private sector organizations around the world to transform the relationship between people and nature. Backed by The Nature Conservancy (TNC), the Wildlife Conservation Society (WCS) and the National Center for Ecological Analysis and Synthesis (NCEAS) at the University of California, Santa Barbara, SNAPP funds, convenes and supports expert Working Groups addressing challenges in four focus areas: Food Security and Nature, Water Security and Nature, Community Resilience and Climate Change, and Ecosystem Services and Biodiversity Benefits. For more information, visit http://www.snappartnership.net